Customer satisfaction is an integral part of a successful business, as it influences the time gap between when you get your first customer and the next few customers. Bad customer experience is known to spread faster than a good customer experience will. 
It is common knowledge in business that your customers are your biggest product evangelist. But how do you get them to not only come back but also tell other people about your product? 
A high level of customer satisfaction is at the core of customer retention and referrals. Businesses deal with a diverse group of customers, which is why they need to take customer satisfaction surveys to know how to satisfy them. 
What is a Customer Satisfaction Survey?
A customer satisfaction survey is used to investigate customer satisfaction levels with an organization's products and/or services. It is a type of customer experience survey that gauges customer needs, and investigate the problems facing the organization's products and/or services. 
There are different techniques used in carrying out customer satisfaction surveys depending on the kind of investigation being carried out. For example, an organization may likely use star ratings to investigate how customers feel about their mobile application, but use open ended questions to ask what the same customer thinks they should have done better. 
Best Question Types for Customer Satisfaction Survey 
Multiple Choice Questions
Multiple choice questions (MCQ) are a very common type of question used in customer satisfaction surveys. They provide respondents with multiple answer options. 
Some of the types of multiple choice questions you can use in your survey to get the best answers are; multiple select choice, single select choice, radio buttons, checkboxes, etc. Let us consider the following examples of MCQs:
How was the texture of the meat? 
Too hard
hard
Perfect
Too soft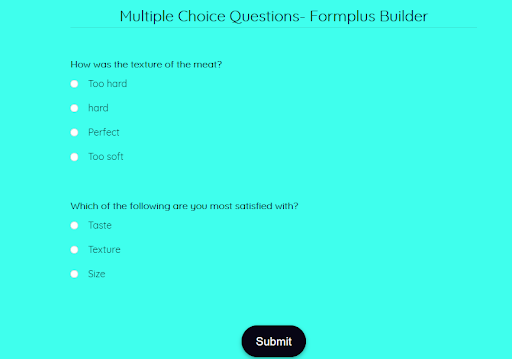 Which of the following are you most satisfied with? 
Pros of Multiple Choice Questions
It is less time consuming and can be easily administered. 
It is easy to analyze
Cons of Multiple Choice Questions
There is a limitation to the kind of surveys that can be carried out with MCQ. 
It sometimes collects incorrect data. Customers may sometimes choose random answers just to get rid of the prompt.
Open-Ended Questions
The open-ended question is a more descriptive question type compared to multiple choice questions. Rather than provide the customers with a list of options, they are given the freedom to fully express how they feel about service rendered.
This type of question is used to collect nominal data. Consider the following examples:
How do you think we could have served you better? _____
What about our service do you not enjoy? _____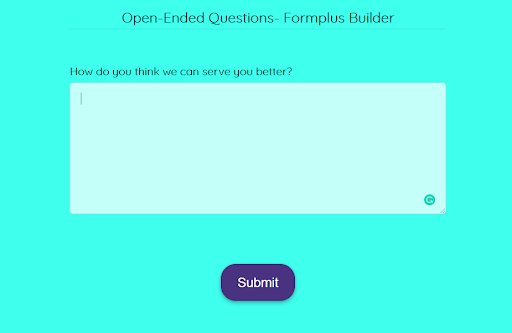 This kind of open-ended question may come after a multiple choice question asking the customer whether he/she enjoyed the service with a yes or no option. If the customer answers yes, a thank you prompt may come up, while II. will come up if the customer answers No. 
Pros
It allows the customer to freely express their emotions. 
It helps collect useful information that will help the organization understand which specific parts of the products or services need improvement. 
Cons
It takes time and customers are not usually very patient to give reviews. 
It is difficult to analyze. 
Close Ended Questions
The close-ended questions are a superset of multiple choice questions. They can be further categorized as completely close-ended questions and closed open-ended questions. 
The close-ended questions provide the respondents with a predefined list of options to choose an answer from. The closed open-ended question has an "Other" option in addition to the list of options. For example:
What do you like most about our product? 
Durability
Size
Weight
Features
This example is a fully closed-ended question.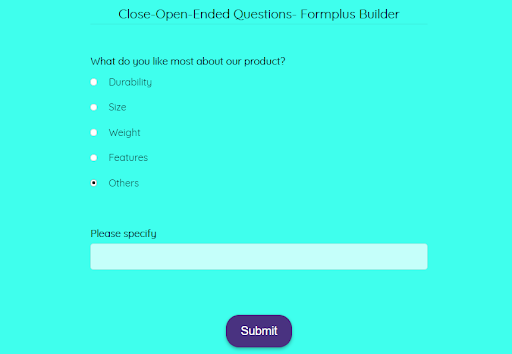 What do you like most about our product? Others, specify. 
Durability
Size
Weight
Features
Others _____
This is a closed open-ended example. 
Pros
It is user-friendly as it gives respondents flexible options.
It collects both brief and descriptive data
Con
Organizations may have to deal with irrelevant data added to the Other option. 
Likert Scale Questions
Likert scale is a common question type used in  collecting ordinal data. It displays options in an ordered linear scale which may be arranged in ascending or descending order. 
There are different types of Likert scale questions, namely; 3-point, 5-point and 7-point Likert scales. The difference between these Likert scale types is the number of choice options they have. 
The 3 point has 3 choice options, 5 point has 5 choice options and so on. For example:
How was the meal? 
This is a 3 point Likert scale example
How fast is our file compressor? 
Very fast
Fast
Normal
Slow
Very slow
This is a 5 point Likert scale example. 
Pros
It can be easily analyzed
Cons
There is no standard scale of measurement on the list. 
Some customers may find it confusing.
The "Don't" Question Types for Customer Satisfaction Survey
Double Barreled Questions
A double-barreled question is a question that touches on two or more issues at the same time. It is not advisable to be used for customer satisfaction survey because it will be confusing for both the customer and business. 
For example, let's have a survey that asks the question, "Please agree or disagree with the following statement: You are satisfied with the meal and ambiance of the restaurant". In this case, the customer will not know whether to agree or disagree because he/she may be satisfied with one and dissatisfied with the other. 
Also, the restaurant will be confused about whether the customer agrees to both or only one. 
11 Free Customer Satisfaction Survey Template
After using a product or service, it is important to send a customer satisfaction survey forms to the customers immediately. The questions should be tailored specifically for the product used or service rendered. 
It is also important to note that people are mostly free to express their feelings if they are anonymous. Therefore, it is highly unnecessary to ask them to enter their personal details. Or better still, have them choose whether they want to remain anonymous or not. 
Event planners may need to get attendee's feedback after the event. Especially if it is an annual event, getting feedback will assist them in planning better for the next year. 
Therefore, event planners need to ask questions about specific parts of the event. For example, there should be a general question about the overall event, event venue, panel sessions if any, attendees, etc. 
 Patient satisfaction surveys are used by hospitals to get feedback from patients who have passed through the hospital. Hospitals are where lives are saved, making it more delicate and in need of feedback. 
Hospitals may ask questions about treatment from doctors, nurses, hospital equipment, environment, wheelchair accessibility, etc. 
This is similar to the event satisfaction survey. It also investigates how attendees feel after an event. Questions about the food, event activities, etc. are asked from attendees. 
Attendees may not be available to take surveys at the location of the event. So, it is important to take their personal data like names and emails which may be used to send the survey to them. 
Restaurant surveys are important so restaurant owners can get feedback on how they can improve their service experience. 
This survey should be made easily accessible to customers by using a scannable QR code for the restaurant satisfaction survey. This code should be placed on fliers, doors, tables, and even on the plate so they can easily scan the code and give feedback immediately after finishing their meal.
Improve the standards of your hotel or guest house by allowing customers to provide feedback about your hotel services through a hotel satisfaction survey. As a hotel owner, you can embed a form link in your website or even send it to customers immediately they check out of the hotel. 
Use an online general complaint form to receive customer complaints or employee feedback about your business or services. This will help increase customer trust and may fish out shady employees. 
A customer may easily make a complaint of extra charges by an employee for example, exposing an employee stealing from customers and sabotaging the business. 
With a refund request form, customers can easily request for a refund when they are unsatisfied with a product or service. This way, brands can mitigate problems that may be caused by unfulfilled customers and also get information about why they are unsatisfied.
As a brand, you can work on these complaints in order to better satisfy the customer in the future. 
Improve the enrollment in your institution and student general learning experience with a student satisfaction survey. This way, you can get feedback about lecturers, courses, materials and learning environments. 
Student satisfaction surveys should also be kept anonymous so they can be confident enough to share how they feel. 
If you want to receive feedback after employee training, student training or general training as an organization or training firm, you should create a training evaluation form. 
A training evaluation form will help trainers get feedback about whether the training was really educating, the environment was conducive or they had access to enough materials. This information will be useful when planning future training.
You don't have to wait until  when a customer purchases your product, it is important for a business to take general online feedback from time to time. It is, in fact, better to leave it open and accessible all the time. 
However, it is better to perform some validation so as to avoid spammers from hijacking the form and loading it with irrelevant information. 
Can't find the Customer Satisfaction Survey Template you were looking for? Sign up now to create your customer survey with Formplus
7 Question Samples for Customer Satisfaction Surveys
Question one: How would you rate your experience with our customer service agent? 
Question two: Kindly respond with agreeing or disagree with the following: 
You enjoyed your meal
The waiter was friendly… 
Question three: Which of the following did you enjoy most at the event? 
Food
Drinks
Panel sessions…
Question four: How often do you use our service? 
Question five: How long have you been using this device?
Question six: Have we been able to resolve your complaint? 
Question seven: Why do you want a refund? _____
Tips for Creating a Perfect Customer Satisfaction Survey 
It is important to be clear and straightforward when creating a customer satisfaction survey. You are asking your customers to give you some of their time and so you need to ensure that you make the most out of it.
Use simple sentences that are easy to understand. This will not only help improve the customer feedback rate but also make sure that you collect relevant data.
Don't ask questions about broad concepts or ideas; ask about specific concepts or ideas. This will make it easier to identify things that need improvement. 
For example, if an organization uses a double-barreled question in a feedback survey, customers will most likely be confused about how to answer the question. They are most likely to choose a random answer and move on. 
It is no doubt important to ask as many questions as possible so as to get detailed information about what needs improvement. However, most customers find it hard to answer too many questions. Some even go to the extent of scrolling through all the questions first before attempting to answer, and when it's too much, they don't answer. 
That way you don't make them feel like they are being stressed. This will help increase the customer feedback rate.
A lot of people lack confidence and are scared of saying the truth or being blunt when asked a question because of their identity. But giving customers the option of choosing to remain anonymous will encourage them to give feedback. This will not only help increase the feedback rate but also ensure that customers give true feedback.
Organisations should stay away from asking irrelevant questions from customers. They get tired easily and may even get suspicious of the questions.
For example, a shopping mall may have recently introduced the use of POS into its malls and want to know whether they are working perfectly. After asking whether the customer had issues with using the POS, further questions like which bank or kind of card used may seem suspicious to the customer.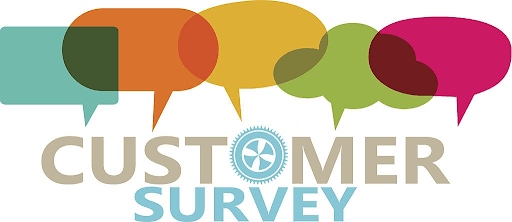 Why Use Formplus For Online Customer Surveys? 
Multiple Choice Options on Formplus
Formplus has many multiple choice options you can choose from, depending on the kind of data that needs to be collected. Some of those are
Checkbox: This is the most ideal type of multiple choice question in which multiple options can be selected. It is available in the choices section of the Formplus form builder menu. 
Multiple Select: With the multiple select,  respondents can select multiple answers from a list of choices. In some cases, they may select all the choices.
Single Select: The single select allow respondents to select only one answer from a list of choices. This is very useful for true or false questions. 
Radio Choice: The radio choice gives you both the single select and multiple select options. That way, respondents can select both single and multiple choices depending on the type of validation. 
Form Beautification
Customers feel more encouraged to participate in visually appealing surveys. With Formplus, you can increase your customer survey response rate through beautiful form designs. 
Aside from the many features lets you change the color and add images, Formplus surveys give you the freedom of adding your own CSS file to further beauty the surveys. 
Data Storage
You no longer have to worry about losing the data collected from your surveys, no matter how long ago it was taken. Formplus understands that you may need data from past surveys in order to investigate improvement and perform some other analysis. 
Therefore, you have access to unlimited data storage space in the cloud. The data is automatically stored in the database, and you also have the opportunity to choose to store the data in your personal storage. 
Export Options ( CSV & PDF)
For easy analysis, Formplus allows you to export data in both CSV and pdf format. Exporting the data in your personal storage space or device does not delete it from the formplus database, except you delete it yourself. 
You can export any type of data from the Formplus database.
Rating Options
There are different rating options available in the Formplus form builder. The highly interactive rating options will help visualize choices and improve customer response rates. 
With Formplus, you can choose to either use only one of these options or use all of them. 
Conclusion
Customers expect an exceptional experience from your company, and people, unfortunately, talk about bad customer service than they do good ones. Therefore, how do you ensure that customers have no bad reviews to talk about as a business owner? 
Customer satisfaction surveys have been proving to help reduce bad reviews and is therefore important for every business. Formplus has therefore made this easy by creating easy-to-use customer satisfaction survey templates.