One of the many ways to gather information about customers is through a market research survey. A market research survey, thus, is an affordable and reliable way for organizations to collect useful information from prospective consumers and target markets.
Apart from leveraging online data collection platforms like Formplus for your market research survey, it is also important for you to ask the right questions in your survey in order to gather the most relevant information. In this article, we'll share some market research survey templates and question examples for your business. 
What are Market Surveys? 
A market survey is a data collection tool used to gather information from target markets with regard to a particular product/service. It involves gathering feedback on the needs and preferences of customers by asking a series of questions that reveal the inclinations of your target market. 
Typically, organizations depend on the results of market research surveys to create effective marketing strategies. Through a marketing survey, you can understand the expectations of prospective customers as well as gain insights into your competition. 
Why Administer Market Surveys? 
Market surveys are essential to the success of every business; whether new or existing. Understanding the needs of your target market means that you would be able to create and improve products to suit their specific demands, and therefore, record more sales and revenue. 
Here are some other reasons why you should conduct a market research survey for your business:
With a market survey, you will gain direct feedback from your customers on their expectations for your product. Such critical information plays a key role in product marketing and feature enhancement. 
A market research survey provides key insights into consumers' purchasing behaviors. You would know what customers are most likely to purchase, the product features that appeal to them, and what they think about your competitor's product or service. 
Effective Marketing Strategy
This is one of the most important reasons for conducting a market research survey. Findings from this research activity reveal customer inclinations and this information can help you to create an effective marketing strategy. 
Findings from a marketing research survey often translate to better decision-making for your business. Instead of investing in trial-and-error processes, you would make decisions with a high level of predictability. 
It helps you to optimize your business operations by investing in product features that appeal to your customers. 
It maps out a clear path of demand and supply in the target market (s). 
Tips for Conducting the Best Market Research Surveys  
Define a clear goal for your survey. You should be specific about the aim and expected outcomes of your market research survey.
Identify your target market for the survey. Make your data more relevant by focusing on the right target market. Avoid generic data by ensuring that your target market aligns with your product or service. 
Use the right market survey tool like Formplus. 
Employ a thorough analysis method to process the data gathered via the survey into actionable findings. In the Formplus analytics dashboard, you can access important survey metrics and even generate a custom visual report.  
Engage the services of a market research survey expert to help you get the best results from the process. 
11 Market Research Survey Templates
Use this market survey form to gather actionable insights into consumers' preferences and behaviors. In the drag-and-drop form builder, you can edit this template by adding different form fields to help you collect a variety of information from your target audience.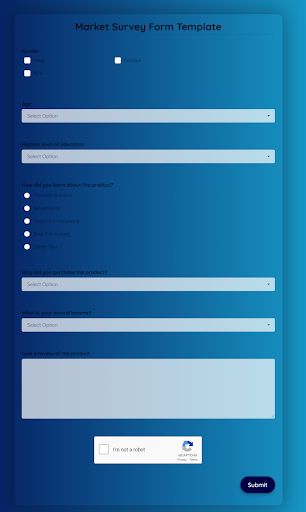 Do you want to know whether you're charging too much or too little for your product? Then use administer this product pricing survey to gather information about your client's preferred pricing range. With the Formplus product pricing survey, you will gather first-hand data on the customers' perception of your pricing.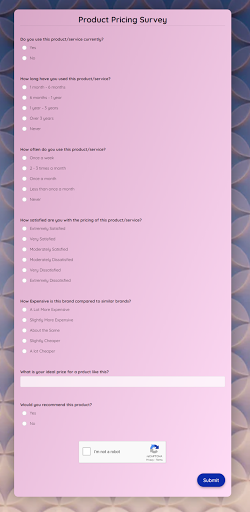 Use this product evaluation form to collect feedback from consumers about your product and improve your product features. The Formplus product evaluation form will help you gather information on the strengths and weaknesses of your product from your customers' points of view.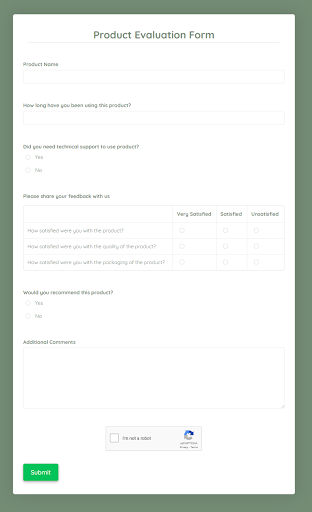 Customer Satisfaction Survey
Find out how well your product meets up with the expectations of your customers using the Formplus customer satisfaction survey. In the drag-and-drop form builder, you can tweak this form to suit your organization's needs by adding different form fields and changing the appearance of the form.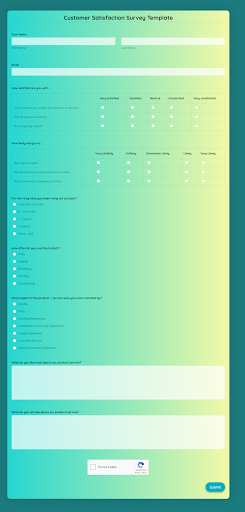 This demographic survey will help you to better understand your customers. You can collect information about the age, marital status, gender, educational level, religion, and income of your customers to help you create objective buyer personas. 
Use this interview consent form to collect authorized permissions from participants during qualitative and quantitative research. This form would help you prevent any breach of data privacy, and you can also collect digital signatures from participants in your form.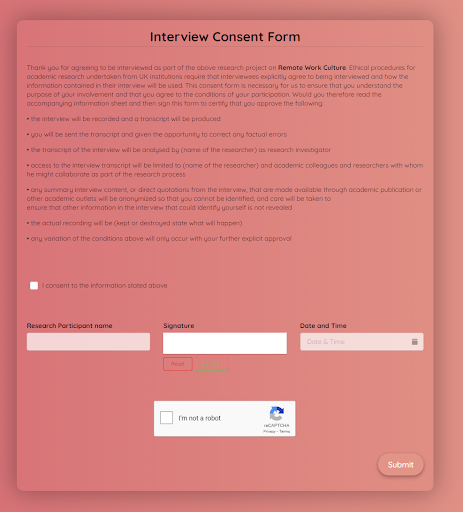 This opinion poll template is an easy way for you to sample the public's opinion on a range of issues. You can edit this template and share the poll's link with participants in order to understand how they feel about the issue at hand.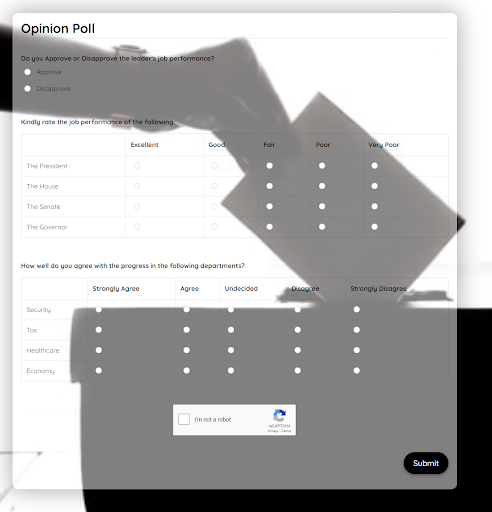 Patient Satisfaction Survey
After providing medical services for a patient, you can administer this patient satisfaction survey to get feedback on how he or she feels about your service delivery. This survey form is a great way for hospitals and other healthcare practitioners to gather feedback from patients and improve their overall service delivery. 
Restaurant Satisfaction Survey
Use this restaurant satisfaction survey to gather feedback from your clients on the quality of your service delivery. Find out what clients think about your brand and how you can improve the overall service experience and perception of your business. 
This straw poll template can be easily modified in the form builder to suit your organization's needs. With this form, you can collect useful data from respondents about their interests, thoughts, and other important consumer demographics. 
Website Evaluation Survey
Gather first-hand feedback from website visitors about their experience on your website with the Formplus website evaluation survey. You can embed this survey form on your website to make it easily accessible to visitors. 
How to Create Market Surveys with Formplus
Seamlessly create and administer your market research survey in little or no time with Formplus. After creating your survey, you can use any of the multiple form-sharing options to get your market research survey across to your customers and target markets.  
Formplus also has a form analytics dashboard that displays important metrics like the total number of form submissions and the total number of form views. With the teams and collaboration feature, you and your team members can work on the market research survey and organize responses and folders, together. 
Here is a step-by-step guide on how to create a market research survey with Formplus: 
Sign in to your Formplus account to access the form builder. If you do not have a Formplus account, create one here. 
In your dashboard, click on the Create new form button to get started.  
Start by adding a title to your form, e.g. Market Research Survey. 
Next, drag preferred fields into your form from the builder's inputs section. You can edit form fields by clicking on the pencil icon beside them. 
After dragging and dropping preferred fields into your form, click on "save" to move to the form customization section. You can add background images, insert your organization's logo, and change your form layout with custom CSS.  
Copy the form's URL and share it with the respondents. You can send out email invitations to form respondents and also embed your market research survey on your organization's website. 
Market Research Question Examples 
Question Samples for Target Markets 
To better understand your target market and customer demographics, here are a few questions you can ask: 
How would you rate your spending habits?
How much do you spend on groceries every month?
How do you like to make purchases?
Would you be willing to pay a premium subscription fee for this service?
What is your preferred service payment plan? 
Market Research Questions for Your Customers
Gathering feedback from your existing customers can provide great insights into your product's market performance and help you to meet up with the expectations of your clients. Here are 5 questions you can ask here:
How well does our product meet your needs? 
What do you like best about our product?
What product feature would you like to see? 
How would you rate our service delivery?
Has our product improved your daily output?
Market Research Questions for Competitive Analysis
These questions would provide a clearer picture of industry competitors and how they are perceived by your target market:
What is your favorite toothpaste brand?
Why did you choose this brand? 
What benefits do you get from this product?
What milk brands are you familiar with? 
Other market research questions are;
How would you rate your last experience with our product?
How likely are you to buy this product?
How often do you make use of this product or service? 
Why did you choose our services?
How would you rate our pricing for this product?
How likely are you to subscribe to our services?
Best Types of Questions for Market Research Surveys 
Open-ended Question
An open-ended question is a fluid question type that does not restrict respondents to a set of premeditated responses. In other words, it is a type of question that allows respondents to freely communicate their thoughts, feelings, and perceptions as they provide answers to it. 
In market research surveys, open-ended questions provide an opportunity for you to get extensive and descriptive information from respondents. Since there is no limit to the responses that can be provided, open-ended questions help you to gain better insights into the behaviors and preferences of your customers.  
Examples of open-ended questions are: 
How would you describe your experience with our product?
How do you think we can improve our product for you?
What factors influence your spending habits? 
Close-ended Questions
A close-ended question is a rigid survey question type that limits respondents to a set of predetermined responses; typically in the form of options. Close-ended questions restrict respondents to already-provided responses (options) and these types of questions are mostly employed in quantitative research. 
In market research surveys, close-ended questions are typically used for evaluation; that is when you want to assign statistical values to your customers' perceptions. Close-ended questions target specifics rather than long-form responses, and they make your data collection process faster and cost-effective. 
Examples of closed-ended questions are:
1. Did you enjoy using our product?
Yes
No
2. Would you recommend our services to other people?
Yes
No
3. How would you rate our service delivery?
Excellent
Good
Average
Poor
Very poor
Multiple Choice Questions
A multiple-choice question is a common type of closed-ended question that allows respondents to select one or more answers from the options provided. Multiple choice questions can restrict respondents to only one option or allow them to choose multiple options that are applicable to them. 
Examples of multiple-choice questions include: 
1. How long have you been using our product?
0-3 months
3-6 months
6-12 months
More than 1 year
2. How often do you use our product?
Always
Very often
Somewhat often
Rarely
Never
Rating Scale Questions
A rating scale question is a type of survey question that requires a respondent to choose a rating option that best represents his or her perception of the subject matter. It usually displays a scale of answer options set within a specific range (like some sort of gauge). 
Net promoter score questions in customer experience surveys are good examples of rating questions. 
Conclusion 
A market survey is an important data collection tool for new and existing businesses that intend to create customer-centric products while recording increased sales and revenue. In your market research survey, ensure that you list questions that will prompt respondents to provide relevant answers. 
Also, outline specific aims and objectives for your market research survey and tailor your questions to reflect these. Finally, use Formplus to achieve a seamless data collection process from start to finish – you can create your survey, share it with respondents, and analyze the resulting data with little or no hassle.