A leadership survey is a set of standardized questions that stakeholders use to assess people in leadership positions in any organization. It helps stakeholders to understand organizational leadership from multiple perspectives. Whether in a school, startup, or big enterprise, leadership surveys equip stakeholders with first-hand information that helps with objective decision-making. 
Before creating a leadership survey, you should have a clear goal in mind. Do you want to assess people presently occupying leadership positions or are you looking to gather general feedback on leadership styles and methods? Once you map this out, you can go ahead to create different leadership survey forms on Formplus. 
Types of Leadership Survey
Leadership Survey for Students
Teachers usually conduct leadership surveys to assess students' leadership skills. The survey results can further be used to map out a framework for capacity building with respect to how students demonstrate leadership skills during different activities.
You could also ask students to assess different leadership styles and provide feedback on your school's leadership methods. Responses from this survey will also help discover new ways to get students actively involved in leadership. 
Leadership Survey for Employees
To know what employees think about your organization's leadership, you can ask them to respond to leadership surveys and questionnaires. These surveys and questionnaires will pay attention to core leadership areas in terms of values, behavior, qualities, and effectiveness of team leads and managers. 
Leadership surveys allow employees to score managers' leadership skills against specific criteria. From the survey responses, you can generate actionable insights that will help to improve the leadership style and output of your organization.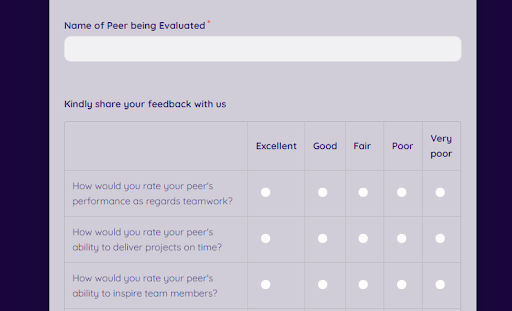 Leadership Survey for Managers
This is carried out in the form of self-assessment where managers evaluate their skills and reflect on their strengths and weaknesses. The survey questions should encourage managers to admit and highlight their accomplishments, and show how this has helped the organization achieve its goals.
25 Top Leadership Surveys Questions
 Leadership Questions for Managers
1. How well do you interact with others? 
Excellent
Average
Poor 
To be a great leader, you need to have effective communication skills. This question allows the manager reflect on their interactions with team members and rate their communication skills as well.
2. How likely are you to support others in achieving their goals? 
Very likely
Somewhat likely
Neither likely nor unlikely
To achieve success as a leader, it is important to align team members with the goals of the organization and support them in achieving their individual goals.  
3. On a scale of 1–10, how would you rate your people management skills? 
People management is an important skill for leaders. The extent to which a leader can effectively manage members of their team determines the team's success. 
4. On a scale of 1–5, how well do you collaborate with others?
Like people management, collaboration is an important leadership skill. Managers should know how to leverage the strengths of team members to achieve organizational goals. 
5. Would you describe yourself as a team player?
This is a dichotomous question that gives you a clear idea of how much the manager values teamwork. Managers must be great team players to effectively execute tasks. 
6. Describe your process of setting up team targets? 
This is an open-ended question that allows the manager to share details on her leadership process in terms of goal setting and target setting. 
7. How do you monitor team execution? 
This question gives you insights into the manager's leadership methods and style. 
8. How do you handle criticism as a leader? 
No leader is perfect. A good leader should be open to criticism and constructive feedback from team members. 
9. Do you ask for feedback and suggestions from your team members? 
Leadership is a two-way street. As leaders provide team directions, they must continuously seek feedback from team members to improve processes. 
10. Do you act on feedback and suggestions from your team? 
This is excellent for figuring out whether or not leaders utilize this feedback and suggestions.
11. Are you willing to take responsibility when a team member fails to deliver against expectations? 
Leaders should demonstrate the ability to take responsibility for team shortfalls; without passing the bucks to others. 
12. How do you ensure that team members execute their tasks on time? 
This question gives you insights into the leadership process of the manager. Here, the manager can share strategies for team follow-up and on-time task execution. 
13. How often do you hold strategic team sessions? 
Strategic team sessions help managers create an effective leadership plan and outline tasks to be done. 
14. How well do you delegate tasks to other employees? 
Very well
Somewhat well
Not at all
Effective delegation is an important part of leadership. This question helps you to understand how well leaders utilize the strengths of others to execute tasks. 
15. Do you work well under pressure? 
Leading a team comes with very high demands. Therefore, the manager needs to be able to make clear-headed decisions during peak hours. 
16.Do you define your goals before embarking on a project?
This is an important question as goal-setting is a core requirement for leaders. 
B. Leadership Survey Questions for Employees
1.Have you held a leadership position before? 
This provides better context in understanding feedback from employees. 
2. What would you say are the biggest leadership gaps in this company?
This question allows respondents to share insights on leadership gaps in your organization. You can use this feedback to improve your leadership style. 
3. How long have you worked in this organization? 
Employees who have worked with your organization for a long time may be able to provide more comprehensive feedback on the organization's leadership process and managers. 
4. Do you feel confident in your manager's effectiveness?
This question allows the employee to endorse her manager's leadership style. You can take things a step further by asking respondents to justify their answers.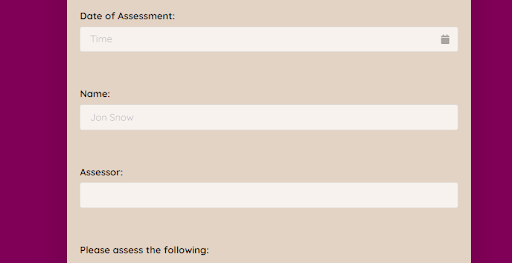 5. Does your manager involve the entire team in big decisions?
Responses to this question will help you discover how much of a team player the manager is. 
6. In what ways could your manager improve as a leader?
Employees interact frequently with their managers; they also have first-hand experience with their managers' leadership styles. With this knowledge, they can provide actionable suggestions that can improve leadership in your organization. 
7. What 3 things will you change in this organization? 
Use this opportunity to get feedback on other areas of your organization. Encourage the employees to share suggestions that cut across different organizational processes.  
8. Does your supervisor provide you with constructive feedback?
This question allows you to track how well the manager provides feedback on team members' tasks. 
9. What department are you currently working in?
This helps you to narrow the employee's feedback to specific team managers. 
10. Are you interested in leading a team?
This question helps you to identify potential leaders you can prepare for leadership positions. 
Best Leadership Survey Templates
Use this form to review employees' performance at the end of a fiscal year and discover how well-fitted they are for leadership roles. With the Formplus annual leadership survey form, you can rate different aspects of an employee's performance including work ethics, leadership skills, and on-task performance. 
Find out what employees feel about working in your organization with this simple employee attitude survey. From the responses given, you can evaluate an employee's soft skills for leadership. You can also gather feedback on the company's leadership using this form template. 
Use this competency assessment form to grade employees based on different workplace parameters. This form template allows you to effectively assess employees' skills and find out if they qualify for leadership positions in your organization.
Employees can nominate their colleagues for leadership positions using this employee nomination form template. Employees can review their colleague's performance and nominate them for positions based on different skills and qualities including teamwork, collaboration, and efficiency. 
The Formplus employee evaluation form allows you to track and review employee performance regularly. The form can be used to monitor employee's performance in leadership roles, identify training needs and improve communication and workflow. 
This form allows co-workers to assess each other's skills, behaviors, and disposition in the workplace. The peer evaluation form helps you to gather direct feedback from respondents which can help you identify potential leaders, assess existing ones and improve the leadership style of your organization. 
Importance of Leadership Survey
A good leadership survey helps an organization to discover employees' untapped leadership potential. It helps stakeholders to identify individuals who have the right skills and charisma to lead small and large teams in the company. 
It helps you to discover common leadership styles in your organization. Results from leadership surveys show you how people lead in your company and whether any improvements need to be made. Understanding your organizational leadership styles can help employees to work better and improve collaboration.
Leadership surveys are an important part of grooming excellent leaders for your organization. As you appraise managers' performance levels, you identify areas in the leadership styles that need to be improved. By acting on feedback from the surveys, managers can become better leaders. 
With leadership surveys, you can boost organizational growth by fully utilizing your team's capacities. When you're using your employees' leadership abilities to full capacity, they feel accomplished, respected, and appreciated.
It provides useful insights that result in objective decision-making. 
Leadership surveys provide an eagle-eye perspective on the skills and strengths of individual employees. 
It serves as an objective means of self-assessment which is crucial for employee development in the workplace. 
When to Conduct Leadership Surveys 
A leadership survey is an important part of growth and development in many organizations. As an employer, HR manager, or C-level executive, you should also conduct leadership surveys during your team's performance reviews. 
Ideally, these surveys should happen every 6–12 months to allow the team to provide valid feedback and act on new resolutions. You should also conduct leadership surveys during time-defining moments like a pandemic or when your organization secures a new funding series. 
Leadership surveys will help you discover and explore new dimensions and map out the way forward for your team. 
Conclusion 
Bad survey questions can ruin your leadership survey so you should avoid them. These types of questions include leading questions, loaded questions, and vague questions that deliberately put respondents in a box. Instead, frame your leadership questions in a way that the respondent clearly understands the information you need. 
In this article, we've looked at the 25 best survey questions that you can add to your leadership survey. After creating your online leadership survey with Formplus, you can use any of our multiple sharing options to send them to respondents and to organize their answers into insightful data.