Conducting a training survey, before or after a training session, can help you to gather useful information from training participants. Training surveys typically prompt participants to share their thoughts, expectations, and experiences, and you can leverage this data to improve the quality and effectiveness of your training. 
In this article, we will discuss different types of training surveys and also show you how to create and administer an effective training survey with Formplus. Whether as a business, educational institution, or organization, knowing how to create an effective training survey is a very important skill to have.
What is a Training Survey? 
A training survey is an evaluation tool that allows you to gather information about a training session from (prospective) participants. That is, it is the process of gathering qualitative and quantitative data and insights from stakeholders, to improve the framework and processes of a specific training program. 
A training survey usually lists different types of close-ended and open-ended questions, and these questions typically reflect the training context. You should also know that there are different ways to administer a training survey including paper forms, online forms, telephone interviews, and focus groups. 
Numerous benefits come with training surveys. Apart from serving as a credible method of knowledge assessment, a training survey also helps you to measure the training's return on investment, outline training outcomes, and to see things from the participants' perspectives. 
Types and Benefits of Virtual Training Surveys 
There are different types of training surveys, with each tailored to the kind of training in question. For example, the type of survey you would administer after a classroom training session is quite different from the survey conducted by the HR team after an organizational training session. 
To better understand the different types of training surveys, let's categorize them based on time and industry
Based on Time
Training surveys are grouped based on the time they were carried out—either before or after the training session.

Pre-Training Survey
A pre-training survey is a type of survey that is conducted before a training session takes place. It is a good way to assess the knowledge and expectations of the trainees as well as to get them acquainted with the aims and objectives of the training.
A pre-training survey helps you to gather useful knowledge that informs the direction of the training exercise. It also allows you to tailor the training exercise to meet the needs of the participants; thus creating more value for all stakeholders.
Benefits of Conducting Pre-training Survey
It provides better insights into the expectations of the participants.
It helps you understand prospective trainees better; especially in terms of their level of knowledge, backgrounds, and abilities.
With a pre-training survey, you would be able to focus your training to meet the needs of the participants. 
A pre-training survey provides ample opportunity for you to highlight the aims, objectives, and usefulness of your training. 
Post Training Survey
Just as the name suggests, a post-training survey is one that is conducted after a training exercise must have taken place. It allows you to evaluate the effectiveness of your survey while gathering feedback from participants to help you improve future training exercises. 
Typically, a post-training survey covers 5 key elements which are: Effectiveness, comprehension, attractiveness, engagement, and suggestions. Without a post-training survey, it is nearly impossible to know how well participants received your training and whether the training modules delivered enough value for the participants.
Benefits of Post Training Survey
It allows you to track the progress of the participants.
A post-training survey is a valid means of assessing your training goals and objectives.
It helps you to gather actionable feedback and suggestions from participants. 
Based on Industry
Training surveys can also be grouped based on the industry in which the training is being carried out—Education, Human Resources, etc.

Employee Training Survey
An employee training survey is a type of survey conducted in the workplace. It can be done before or after a workplace training session, and it helps you to clearly outline training goals, assess the effectiveness of this exercise and, to gather objective feedback from participants.
Typically, organizations recognize training as an important ingredient for employee capacity building. This means that to get the most out of your workforce, you must invest in equipping them with practical organizational skills and talents that are mutually beneficial. 
However, it is not enough to map out different training exercises for your staff, you must ensure that these suit their needs and ultimately align with the goals and objectives of your organization. An employee training survey helps you to achieve these and more. 
Benefits of Employee Training Survey
It helps you measure the overall improvement of your workforce.
An employee training survey is used to measure employee satisfaction with the training exercise.
It helps you track the effectiveness of the training instructor (s).
With an employee training survey, you'd be able to understand how your training fits into the career goals of your employees. 
Educational Training Survey
This is a type of survey that is administered for an educational training session. It can be sent out before or after the training and it helps you to gather useful information that will inform present and future educational training.
Educational training surveys cut across different training contexts within the educational sector. In the classroom, for instance, a teacher can organize a pre and post-training educational survey to assess students' levels of knowledge or expertise. 
Also, senior stakeholders like educational regulatory bodies can organize educational training for teaching staff and use training surveys to collect information on expectations and experiences before and after the exercise. Whether for students or teachers, educational training surveys play a vital role in educational development. 
Benefits of Educational Training Survey
It helps you to measure performance levels in the classroom.
Educational training surveys also allow you to track learning in terms of knowledge acquisition.
It helps you to determine the best teaching methods for knowledge impartation. 
Business Training Survey
Just like the other types of training we have discussed, a business training survey is a method of gathering qualitative and quantitative information from stakeholders about a business training session. It helps you to measure knowledge, identify grey areas needing further clarification, and generally improve the training process. 
You can administer a business training survey using several methods including physical forms and online surveys. You can also conduct face-to-face interviews with the participants to gather feedback and suggestions that will prove useful to all stakeholders in the long run. 
Virtual Training Survey Question Examples
Post-Training Questions
Did the training meet your expectations? This is a simple yes or no question that gives you a fair idea of the value of your training. 
How would you rate the quality of the training? Let participants provide feedback on the overall quality of the training. You can leverage this data to improve future training. 
How would you rate the quality of the instructor? Participants should also provide feedback on their respective instructors since they must have had first-hand intersections with them. 
Did you learn anything new? This question provides a simple way for you to collect direct feedback on your training in line with imparting knowledge. 
How relevant was the training to your career goals? Here, participants can provide information on how well the training serves their present career goals. 
Kindly share any suggestions to improve this course. Get participants involved in the course improvement process and other decision-driven actions. 
Would you recommend the training to colleagues? This is a simple question that helps you to know the participants' overall disposition towards your training. Typically, participants recommend training when they are satisfied and have positive experiences. 
Were the training objectives clearly defined? You should always provide a clear description of the training objectives as this makes accountability and assessment possible, post-training. 
Were the topics covered relevant to you? Use this simple question to determine the relevance of the training topics to individual participants. 
Was the training well-structured? This question allows participants to assess the structure of the training and to identify any grey areas. 
Was the content well organized and easy to follow? This question helps you to collect feedback on the training material. 
Was the content structure clear and logical? This also ties to collecting feedback from participants with regards to the structure and presentation of the training. 
How was the quality of the teaching? With this question, participants can rate their instructor's performance and at the same time, identify weaknesses that need to be worked on. 
What do you think of the trainer's proficiency? Here, participants can provide feedback by assessing the skill and proficiency of the training. 
Did the trainer provide relevant examples during the training? Here, participants can freely evaluate the instructor's performance during the course. 
Was the trainer able to answer all your questions and concerns? Use this question to gauge interactions, teaching methods, and the knowledge of the instructor. 
What did you like the most about the training? This question allows participants to identify the core strengths of the training. 
What would you change about the training? Here, the participant highlights any areas needing improvement. It is a way of providing indirect feedback on the aspects of the training that need improvement. 
How can we improve this training? This is a direct means of gathering data about shortfalls in the training. 
Was the course different from what you initially expected? If so, how? This question helps you to determine how well the course or training aligns with the goals and expectations of the participants. 
Pre-training Questions
What expectations do you have for this training program? You need to know participants' expectations as this would help you to meet up to these expectations. 
What topics would you like to learn more about during training? This question allows you to streamline the training to provide value for participants. 
Which skills would you like to improve upon during this training? Again, leverage the responses provided here to tailor the training to the primary needs of your participants. If you want to create a real impact, you must strive to equip participants with the skills they need. 
What are the most important things you hope to learn? This ties to the goals and objectives of the participants. The purpose of this question is to provide useful data that you can use to modify your training materials before time. 
What would you need for this training? Let participants identify any special tools or resources they need to make learning easier and more effective during the training. 
When would you be available for the training session? Get the data you need to help you plan for key training areas like logistics. 
Would you like an instructor to be assigned to you? This question helps you to cater to the different learning needs of the participants. People learn differently and while some participants feel more comfortable with joint classes, some others prefer to learn independently with a sole tutor. 
Do you have any specific learning needs? Ask participants to identify peculiar learning needs and then, align your training to cater to this. 
What are you looking to get from this training? With this question, you would have a clearer idea of the goals and expectations of the participants. 
What level of expertise do you expect from this training? This question helps you to determine the level of skilled facilitators that you should bring on board for the training. 
How To Conduct a Training Survey with Formplus
Visit www.formpl.us and click on the 'Access Dashboard' button.
Next, click on the "create new form" button on your dashboard. This takes you to the Formplus builder.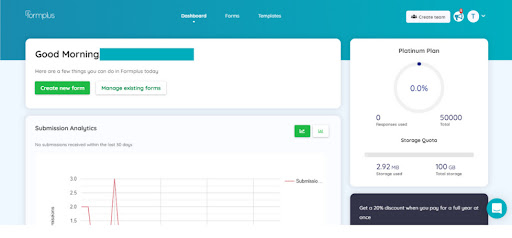 Go to the field section located on the left side of the form builder. Choose a form field option then drag and drop it into your training survey. Do this for all the fields you want in your survey.
For each field, click on the pencil icon to access the "edit" section of the builder. Add questions and options, if any, to your form field here and save the changes.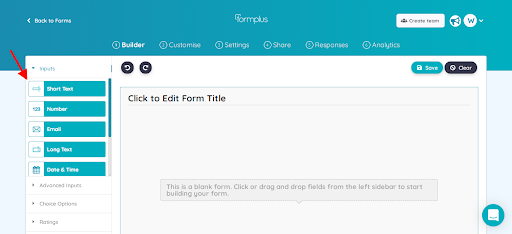 Next, save your form by clicking on the "Save" button located at the top right corner of the form builder. This would automatically take you to the form customization section. 
Use the different customization options here to change the appearance of your training survey. You can add background images, change the form font, and choose a new form layout. 
Copy the survey link and share it with stakeholders to start collecting information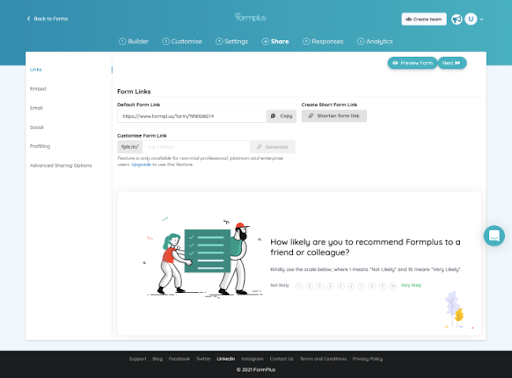 Virtual Training Survey Template Examples 
Do you want to gather feedback from participants about different aspects of your employee training, educational training, or business training? You can do this with the Formplus training evaluation form that aids seamless data collection, processing, and organization. 
This form template has different fields that allow participants to provide numerous pieces of information for your survey. With the rating fields in the form, participants can rate different aspects of your training and provide practical feedback.  
Gather feedback on your onboarding process using this employee onboarding survey template. This template makes it easy for new employees to communicate their thoughts on your organization and to provide feedback on different aspects of your onboarding process. 
After organizing a workshop, you can use this workshop feedback form to gather information from participants. These pieces of information would help you to determine the success of your workshop and outline areas needing improvement for subsequent workshops. 
Conclusion 
One of the most common ways to determine the effectiveness of a training exercise is to survey the participants. A training survey is one of the simplest and most cost-effective ways to determine whether the conditions were right for training to take place.
A training survey is just as important as the training and this is why you must pay attention to the details and take extra care to get it right. In reality, a training survey is quite easy to put together once you clearly understand the ropes and you can tailor it to suit the needs of the training context.