If you are an event planner or intend to organize an event, then you need to carry out an Event Survey. With an event survey, you can gather relevant information from event attendees before and after the event.
The best event surveys are tailored to each survey respondent so that you can gather accurate data to improve the overall event experience. This article explains the 33 best questions you can list in your event surveys to help you get the most relevant responses.
What is an Event Survey?
An event survey is a simple data collection tool that event organizers can use to collect relevant information or feedback from attendees and guests before and/or after an event. It provides an ample opportunity for event organizers to understand the expectations and experiences of the audience.
You can administer event surveys using both online and offline survey methods including telephones, video calls, and online forms. Event surveys are integral to the success of any event and interestingly, 54% of event planners assert that these surveys help them to gauge attendee satisfaction and the overall event success.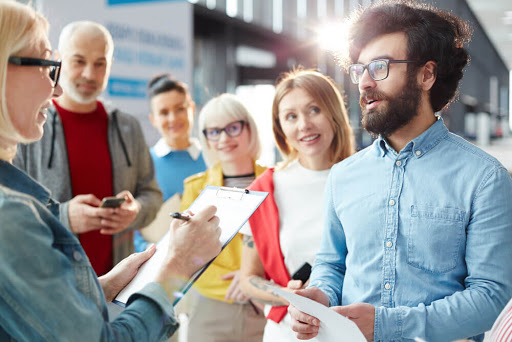 Types of Event Surveys
Pre-Event Survey
Just like the name suggests, a pre-event survey is a type of event survey that is administered before the event. It typically lists questions that prompt prospective event attendees to hint at their expectations and communicate their preferences for the event.
While planning for an event, it helps to know your audience's expectations as you can leverage this information to make the right event planning decisions. While your experience as an event planner counts for something, a pre-event survey provides factual information to back your decision-making process.
In most cases, knowing what your audience wants will help you pull off a great event. While you can make guesses and assumptions about what event attendees would like, it is much easier to just ask them for their preferences.
Importance of Pre-event Surveys
It helps you to make valid and audience-centric decisions for your event.
With a pre-event survey, you'd be privy to information about your audience; that is, you'd have a better understanding of who your audience is.
It helps you to tailor your event to the specific needs of the attendees.
A pre-event survey is a good way to achieve maximum audience cooperation for your event.
11 Pre-event Survey Questions Examples
How did you hear about this event? This is an open-ended question but if you like, you can list the different marketing channels for your event. This question allows you to identify the marketing channel with the highest number of conversions for your event.
Why did you choose to attend this event? This question prompts the respondent to clearly state his or her reason for registering for the event.
What do you expect from this event? Responses to this question provide a clear idea of your audience's expectations for your event.
Have you ever attended this type of event?
If this is a successive edition of your event, you can ask the respondent instead, to state whether he or she attended the previous edition (s). This question provides a reference point for your event in terms of what people would expect in a generic sense.
5. What high points are you expecting in this event? This question helps you to identify the most anticipated aspect of your event. It can be your guest speakers, panel sessions food, or keynote speakers.
6. Do you have any special needs we should know? This is an open-ended question that allows respondents to communicate their individual needs so that you can plan accordingly. For instance, if a prospective attendee states that he is visually impaired, you'd need to make provisions to cater to him.
7. Did you encounter any challenges while registering for this event?
This question helps you to identify any areas needing improvement in your event registration process for future events.
8. How would you rate our list of speakers?
Here, respondents can communicate their degree of satisfaction with the speaker line-up for your event. If many participants are uncomfortable with your speaker list or panel choice, you can make necessary adjustments before D-Day.
9. Identify 3 key areas you expect this event to focus on. Use this simple open-ended question to gather information about respondents' preferences to help you define your event context accurately.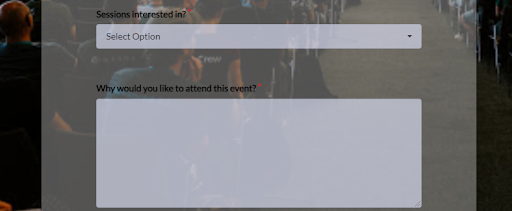 10. Have you shared the event details with anyone in your network?
Depending on the answers you get to this question, you would be able to follow up on registered prospective participants and encourage them to share your event details with their colleagues, friends, and family.
11. Share any other questions, suggestions, and observations you have. This is a blank cheque that caters to aspects of your event that you did not cover in your event survey form.
Top Pre-Event Survey Template
This event registration form from Formplus allows people to register to attend your event seamlessly while providing useful information for your pre-event survey. As respondents fill in their bio-data, they can also answer pre-event survey questions in the same form.
In the form builder, there are different form fields that you can add to your event survey template framework to make it suit the needs of your team. To make your form unique, you can add your organization's logo and change the survey's background to your chosen image.
Post-event Survey
A post-event survey is administered after the event to gather attendees' feedback on the overall conduct of your event and to also identify areas needing improvement. It is an objective method of evaluating different aspects of your event and to rate your event's performance.
Event attendees usually leave your event with multiple diverse experiences. Since you cannot be everywhere at the same time, the best way to have a holistic view of your event and to assess it successfully is by conducting a simple post-event survey.
The questions you'd find in a post-event survey are mostly rating and open-ended questions. These questions, to a large extent, allow the event attendees to freely communicate their thoughts and experiences without the limitations that come with predetermined answer options.
Importance of Post-event Surveys
Post-event Surveys serve as objective methods of assessment for your events.
It further helps you to identify any grey areas in your event process. This means that you can leverage this data to significantly improve on future events.
Post-event Surveys allow you to see the event from the perspective of primary stakeholders; that is, event attendees.
22 Post-event Survey Questions Examples
1. To what extent did this event meet your expectations?
Absolutely
Somewhat in the middle
Not at all
This is an easy question that allows respondents to score your event against the expectations earlier stated in your pre-event survey.
2. How would you rate this event? Here, respondents can assign specific scores, emojis, or symbols to your event after considering the overall value of the event.
3. What did you like about this event? This question helps you to identify the strong points of your event from the perspective of individual event participants.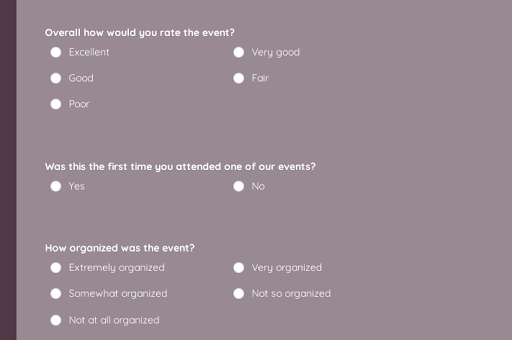 4. What did you dislike about this event? Here, respondents can highlight areas needing improvement with regards to event preparation, coordination, timing, and the like.
5. What was your biggest takeaway from this event? This question requires event participants to identify individual event highpoints.
6. What would you want us to improve on for future events? Regardless of how perfect your event was, event attendees would identify one or more areas needing improvement. This question allows you to gather information about that.
7. How likely are you to attend our events in the future?
Very likely
Somewhat likely
Highly unlikely
If responses to this question lean more towards the positive option, it shows that event attendees were satisfied with your event, in general.
8. Would you recommend this event to your friends and network?
Responses to this question also help you to gauge the level of satisfaction of your attendees.
9. Kindly provide feedback on the 3 speakers and panelists? This question allows event attendees to give specific feedback on different speakers and panelists at your event.
10. How would you rate the event venue? You can have this a star or heart rating question in your survey. This question allows attendees to score your event aesthetics.
11. How satisfied are you with the event check-in process?
Very satisfied
Somewhat Satisfied
Neither satisfied nor dissatisfied
Somewhat dissatisfied
Very dissatisfied
This question allows event attendees to rate the check-in process at the venue of your event? How long did the process take and did they find it effective?
12. Did you find the event uncomfortable at any point?
Here, event attendees can inform you about any behaviors or actions during the event that made them uncomfortable. You can use this information to improve future events.
13. What activities did you find most enjoyable during this event? You can also have this as a close-ended question with different event activities listed as answer options. With the responses to this question, you'd be able to determine the best activities to include in future events.
14. How would you rate the sound quality of the event? This question allows you to gather feedback on the technical quality of your event. You can draft this as a part of a matrix question and ask respondents to rate different technical aspects of your event including light and sound quality.
15. How friendly/knowledgeable did you find the staff? Here, event participants can provide feedback on the conduct of the event staff. This information helps you to conduct objective appraisals for your employees.
16. Did this event meet your expectations?
.This simple question allows participants to provide specific feedback on the quality of your event.
17. How would you rate the quality of networking opportunities at this event?
One of the primary reasons for attending events is networking. Use this question to find out if your event provided attendees with ample opportunities to grow their networks.
18. Did you learn anything new or valuable at this event?
Responses to this question provide clear insights into the value of your event for different participants.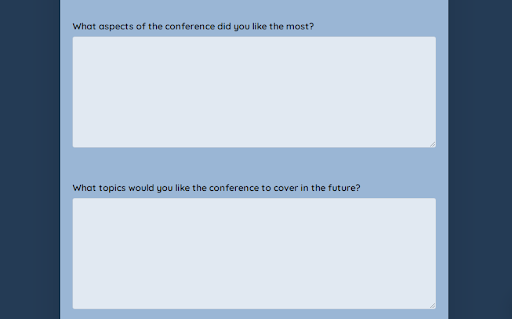 19. Do you have any feedback or suggestions to share?
Collect useful feedback from event attendees to help you plan and execute your next event seamlessly.
20. Do you think the event met its goal?
Here, respondents can score your event in terms of the goals and objectives you outlined earlier.
21. How satisfied are you with the quality of the speaking sessions at the event?
Very satisfied
Somewhat Satisfied
Very dissatisfied
This question allows event attendees to rate different speaking sessions at your event and also highlight the strong and weak points of each section.
22. Is there anything we could have done to make your event experience easier or more convenient? Here, you can gather feedback and suggestions from event participants to help you improve future events.
Top Post-Event Survey Templates
Event Satisfaction Survey: This event satisfaction survey helps you to gather information about how satisfied event attendees are with your event. You can include different objective survey questions that prompt attendees to share their perceptions of your event.
Online Feedback Form: This is a general feedback form that you can use to collect information from event attendees after your event. You can tweak this form in our drag-and-drop form builder and include questions that reflect the context of your event.
Post-event Survey: Use this post-event survey template to gather feedback from event attendees after your event. In this form, event attendees can share their experiences and thoughts on different aspects of your event, and they can also suggest improvements for future events.
Can't find your preferred post-event survey? Sign up for free to create any kind of survey you want
Why Use Formplus for Event Surveys?
Multiple Form Sharing: Formplus allows you to share
your event survey using multiple methods and this makes it easier for you to collect responses from all interested event attendees. For instance, after creating your survey, you can share the form as personalized email invitations to attendees.
You can also add the form to your organization's website or the event's web page to make it easier for attendees to access and complete the survey. Formplus allows you to use social media direct sharing buttons to share your pre-event and post-event surveys with your online community.
With Formplus, event participants can fill and submit your event survey even when there is poor internet connectivity or no access to the internet. This means that poor internet access can no longer prevent you from collecting the data you need after your event.
Event attendees can access and complete your survey from the comfort of their internet-enabled mobile devices. Formplus forms are mobile-friendly which means that you can view and fill them out using your smartphone or any other internet-enabled device.
Also, our forms perfectly fit into any type of screen that they are viewed on; making it possible for you to complete event surveys without having to pinch out or zoom in on your mobile device screen. The form builder is also mobile-responsive and allows you to create your event survey on the go.
Take your event survey a notch higher by changing its look and feel using our numerous form customization options. Without a single line of code, you can change your form layout, choose preferred form fonts, and add your organization's logo to your event survey. With Formplus, you can create beautiful event surveys for use.
Custom Subdomain to Host Forms
Customize the URL of your event survey form by adding your organization's name to it to make it appear more professional. Sharing your form via a custom subdomain is a great way to promote your event/organization by keeping your brand name in the minds of your target market.
Redirect after Submission
After event attendees fill and submit responses to your survey, Formplus allows you to automatically redirect them to your preferred web page. This is a good way to drive organic traffic and engagements to specific pages and forms on your organization's website. For instance, if you would like them to register for upcoming events, you can automatically redirect them to the event registration forms.
To make team collaboration even easier, Formplus allows you to add your team members to a shared account and work on forms, data, and responses with them. This way, your team members can be fully involved in the event survey process.
As the administrator of the shared account, you can set permissions to grant or restrict access to forms and folders, and also assign roles to form collaborators. The shared account has an audit trail that allows you to track any changes and suggestions made to your forms, reports, and folders.
Conclusion
Event surveys can uncover useful details and information about your event attendees that you had no idea of. However, this only happens when you create a smart event survey with good survey questions that prompt objective responses from participants.
Before deciding on the questions to list in your survey, you must, first of all, define the context of the data collection process; that is, whether it is a pre-event or post-event survey. Ensure that your survey questions are precise and straight to the point to get the best responses from your target audience.