Whether online or offline, you need to politely approach survey respondents and get them excited to fill your questionnaire when carrying out a research survey. Therefore, before going into the questions you want to ask, you need to kickstart your data collection process with a compelling survey or questionnaire introduction.  
Generally, only a few people would even listen to you if you shoved your survey in their faces without a simple introduction first. Survey introductions in online questionnaires help you prepare the minds of your respondents ahead of time and gather the best responses. 
What is a Survey Introduction?
A survey introduction is a concise description with relevant information about a survey. It is the first part of the survey that prospective respondents interact with and it helps them decide whether to fill your questionnaire or not. 
Think of survey introductions as abstracts that communicate the entire essence of the data collection process. Without a good abstract, your thesis gets delayed or unapproved. 
Following through with this thought means that the more exciting your survey introduction is, the higher your chances of collecting the right number of quality survey responses.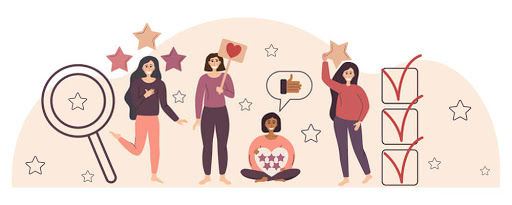 Features of a Survey Introduction
A good survey introduction must answer these 5 questions: 
Who is conducting the survey?
Here, you should include the name of the person or organization that is carrying out the research. 
What is the research about?
Survey respondents need to understand the aims and objectives of your research. This shows them why your survey is important and why they need to be part of it. 
How long will the survey take?
Prepare their minds ahead of time by adding an estimated survey-completion time. While shorter surveys are likely to have more respondents, don't give a false estimation to bait people to fill your survey. 
Data privacy and protection is a huge concern for everyone. Since you plan to collect data from respondents, you need to tell them how you will use this information. You can include a link to your company's privacy policy.
How will I fill the survey?
Include instructions on how to fill the survey. Include information about relevant documents for the survey too. 
Your survey should be written in simple language your audience understands. It should be friendly, human and show the respondents how much impact they'll make by taking part in the survey. Always include a nice "thank you" note in your survey introduction. 
Types of Survey Introduction 
Market Survey Introduction
If you're conducting market research using a survey, then you need a market survey introduction. To get more information about your customers/ target market, you need to conduct a market research survey. A market survey introduction gives your target audience a clear picture of what you want to achieve and how their participation is an important part of it.
Market research serves multiple purposes—sometimes, it is all about getting real-time data to inform product launches. Other times, it is for business expansion or product improvement. With a market survey introduction, you can get your audience on the same page and let them know the exact information you need from them. 
A market survey introduction should answer all the questions we looked at when we discussed the features of a survey introduction. After naming your organization, you should also introduce your product or product idea for brand awareness.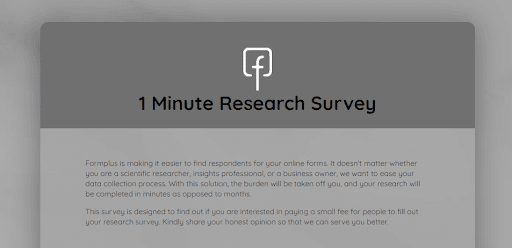 Because of the type of information, market surveys are longer than other types of surveys; sometimes, they have multiple sections. So, in your market survey introduction, give respondents a heads-up and let them know completing your survey will take more time than the average. You can add a nice reward they can claim after filling the survey. 
Example of Market Survey Introduction 
At Formplus, we are working to improve online data collection for you. We'd really like to know what you feel about online data gathering tools. Take this 20-minute survey and win a free 1-month Formplus premium subscription. Your data will be collected anonymously and only used for this research. Thank You! 
Student Survey Introduction
A student survey is a method of sampling students' opinions about the school, teachers, and overall learning experiences. From measuring student satisfaction to evaluating courses, student surveys help you to make the right changes to your school. 
A student survey introduction is the first step in getting the best responses from your students. Encourage students to provide objective feedback and let them know how the information will be used.
In the survey introduction, indicate that all responses will be recorded anonymously. Students need to be sure that they can provide honest feedback in the survey without getting harassed or victimized. 
Example of Student Survey Introduction 
Thank you for being one of our students at Salthill College. Please complete this short 3-minutes survey to let us know how satisfied you are with your overall student experience at our college. All responses are recorded anonymously so feel free to provide honest feedback. Your responses will help us improve our teaching and learning environment. 
Research Questionnaire Introduction 
You need a good research questionnaire introduction during the data-collection phase of your research. People are more likely to fill your questionnaire when they clearly understand what you want to achieve and why your research is important. 
In the research questionnaire introduction, you can include facts, data, or statistics about the research problem. Then, show how the data collected via the questionnaire will contribute to solving the problem. The introduction should also address data privacy, data protection, and participant's consent. 
Even if you plan to share the questionnaire physically, a good research questionnaire introduction will help collect responses faster and save time. 
Example of Research Questionnaire Introduction 
Hello, I am a postgraduate researcher at the London School of Tropical Medicine. I am conducting a study on effective treatment options for communicable diseases in West Africa and I would like to know your experiences with the signs, symptoms, and treatment of communicable diseases. Please complete this 30-minute survey. Your responses are anonymous and you can skip any questions you are not comfortable with. Thank you for your participation. 
Customer Satisfaction Survey Introduction 
Your customer satisfaction survey introduction should communicate 2 things—appreciation and brevity. First, you should let your customers know how much you love their patronage. Next, tell them that the survey will take just a few minutes. 
Throw in an honorary mention of your brand and then, go through some of the information you'll need from them in the survey. To increase response rates, you can reward respondents with a gift, discount, or special offer. 
Example of Customer Satisfaction Survey Introduction 
Thank you for shopping at Wreaths and Flowers! We'll like to ask you a few questions about your shopping experience. Your responses will help us make shopping more enjoyable for you. This will only take 1 minute and you get 30% off your next order when you complete the survey! 
Importance of Survey Introduction
It outlines the most important information about your survey
People need to know what they are getting into before filling your survey or questionnaire, and that's exactly why you need a great survey introduction. 
It's a great way to welcome respondents
You wouldn't just walk up to someone to ask for something without a proper introduction so why would you want to do this with your survey or questionnaire? A questionnaire welcome page sets the mood for requesting responses from your respondents. 
Quality survey introductions help you gain respondents' trust
Many people are not excited about filling surveys and questionnaires, which is why they need a push. A survey or questionnaire introduction helps respondents to trust you and heightens their interest in filling your survey. 
A survey introduction answers all the questions participants may have about the questionnaire. Think of it as some sort of FAQs that allows respondents to have a full grasp of your data collection process. 
A questionnaire welcome page boosts survey participation and reduces survey dropout rates. 
It helps survey participants to feel like an important part of the overall data gathering process. Survey introductions show participants that you value their opinions. 
Survey introductions build the participants' interest in your survey or questionnaire. 
Why Use Formplus to Create Surveys?
Pre and Post Submission Page
Formplus allows you to add exciting survey introductions to your questionnaire. On the form's intro page, you can provide a brief description of your survey, information on data privacy, and any other thing they need to know before filling the form. 
You can also customize the form's post-submission page and include a nice "thank you" note for respondents after they complete the survey or questionnaire. Learn more about our intro and post-submission pages here:
Intuitive Easy to Use Survey Maker 
The Formplus builder is easy to use and you can build surveys and questionnaires from scratch in no time without writing a single line of code. It has a drag-and-drop feature that allows you to add more than 30 different fields to your form seamlessly. 
Survey participants do not have to see or fill out all the fields in your form. With conditional logic, you can show or hide form fields and pages based on answers provided by respondents. This means survey respondents only have to fill the fields that are relevant to them. 
Conditional logic helps you collect the right type of information from different survey participants. This way, you can avoid extra clutter and collect as much data as you want. 
Formplus supports offline data collection and this means you can collect data in areas with poor or no internet access. Survey participants can fill and submit your questionnaire when they are offline. The data they provide will be automatically synced with our servers or your preferred cloud storage when internet access is restored. 
Customized Surveys and Questionnaires
Formplus allows you to create beautiful and unique surveys with zero design experience. With the flexible design options, you can change the questionnaire's background, colors, fonts, and create visually appealing designs. You can also add images and your organization's logo. 
With multiple form-sharing options, you can send out your survey and collect responses in many ways. Apart from adding your questionnaire to your website, you can also share it using the social media direct sharing buttons and via email invitations. 
Google Sheets Integration
With Google sheets integration, you can automatically update form responses in your spreadsheet and keep all form collaborators up to date. This makes it easy for you to import and export data, and collaborate with multiple people at the same time. 
Sharing your questionnaire via a custom subdomain adds an air of professionalism to your overall data collection process. When creating your custom URL, you can include the name of your organization as a means of promoting your brand. 
Custom subdomains are simple and easy to remember too. Hosting your survey on a custom subdomain also serves as an extra layer of security; especially when you share the link via email. 
After receiving a new response to your questionnaire, you can send out an automated automatic confirmation email to the survey participant in the form of autoresponder messages. In your autoresponder email, you should include a thank you message and any links to special offers and rewards. 
Many people fill out surveys and questionnaires on their mobile devices and this is why all Formplus forms are mobile-friendly. Participants can complete the survey right on their mobile devices without having to bother about pinching out or zooming in on your form. Formplus forms can be viewed and filled out on any smartphone, tablet, or internet-enabled mobile device. 
Conclusion
In this article, we've looked at different survey introductions for different types of questionnaires and surveys including customer satisfaction surveys and research questionnaires. Whether you are collecting data online or offline, the right survey introduction will boost participants' interest in completing your survey. 
With Formplus, you can add unique survey introductions to your form before sharing it with respondents. On the post-submission page, you can include a beautiful "thank you" note for respondents who complete your survey. Try out the pre and post-submission page option as well as other exciting features when you sign up for a free Formplus account.