Have you noticed some changes in your employees' performance, professional disposition, and overall attitude to work? Then, you need to carry out an employee survey to find out the factors responsible for these changes you have observed. 
An employee survey is a great way of getting your employees' feedback on their workplace experiences and their perspectives on workplace culture, management strategies, and collaborative techniques. Seeing that an employee survey is integral to the success of any organization, it is important for you to know how to design and administer one. 
What is an Employee Survey?
An employee survey is an important tool used by organizations to get their employees' feedback on the workplace, track employees' performance, monitor employees' morale, and their overall engagement with the organization's culture. It is a means of opinion sampling and employee evaluation which helps to inform an organization's decision-making process.
Usually, an employee survey is kept anonymous because workers are more likely to give truthful feedback about their experiences without any form of hesitation when they respond anonymously. Recent research shows that 50-70% of organizations depend on employee surveys to implement core staff and management decisions.
As an organization, you can get the most out of employee surveys when you craft them carefully; paying attention to extreme detail. This can be achieved by making use of any of the well-designed employee survey templates on Formplus or creating a specific employee survey using the Formplus builder.
Types of Employee Surveys
Employee Performance Survey
An employee performance survey is a method used to track and evaluate an employee's performance in the workplace based on his or her job role. It often informs any management decisions taken with regard to the employee's promotion and career growth.
An employee exit survey is a method of getting feedback from exiting employees and evaluating their reasons for leaving your organization. It contains specific questions that bother the employee's reasons for leaving, his or the reason for choosing the new firm and the overall view of your organization's work culture.
Employee Satisfaction Survey
An employee satisfaction survey is a method of gaining insight into your employees' level of satisfaction with your organization and its policies. Administering this survey would help the organization understand how well its workplace culture and policies sit with its staff.
A workplace safety survey is a tool used for evaluating and tracking safety methods implemented in the workplace and monitoring improvements that are made over time. It allows employees to provide feedback on workplace safety and areas that require improvement.
Employee Performance Surveys 
An employee performance survey, also called a review survey, is a great tool used by organizations to track and evaluate their employees' performances. It allows the organization to provide feedback on how well their staff perform in their job roles and highlight possible areas of improvement. 
In addition, data gathered from an employee performance appraisal often serves as a strong basis for employee promotion and improved remuneration. It also helps the organization decide on recognition and reward parameters for high-performing staff, and improve on management-employee communication channels.
A review survey is an important means used by employers to accelerate workplace productivity levels. It is a step-by-step method of tracking employees in order to understand their strengths and weaknesses and map out the most suitable career growth paths for them.
10 Top Employee Review Survey Questions
How would you rate the work environment?
What are the major challenges experienced in your role?
What is your biggest achievement so far?
Do you feel like you are qualified for your current role?
How often do you consult external sources when carrying out your duties?
Do you need more training for your job role?
How well do you collaborate with other team members?
How well do you work in line with your team's goals and objectives?
What areas do you think you need to improve?
What are your goals for the next year?
Best Form Templates for Employee Reviews
Annual Employee Review Form
This annual employee review form enables management to track the progress of an employee, and his or her overall attitude to work. It contains specific questions that are usually responded to by the employee's teammates or team lead(s) in the organization.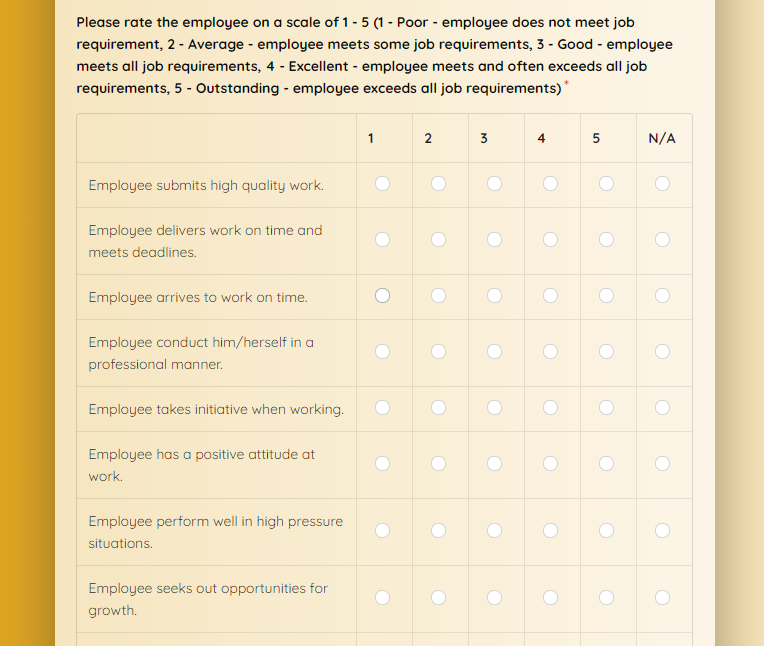 An employee evaluation form is an important means of tracking and reviewing an employee's performance on a regular basis. It helps the personnel team to determine the progress of an employee, identify training needs, and make better career path decisions for an employee.

Interview Evaluation Form
This interview evaluation form helps your organization to fast-track the hiring process by finding the most suitable candidate in record time. It also helps your hiring team to manage the data of prospective employees better and to easily grade prospective candidates based on stipulated parameters.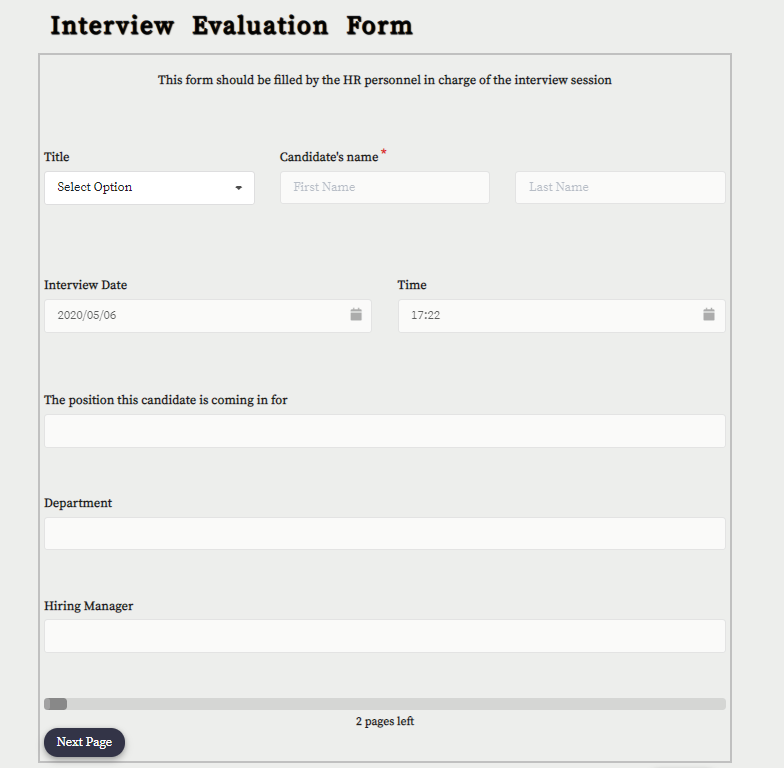 A training evaluation form helps you to easily receive and process feedback from employees after training. The course training evaluation data gathered via a training evaluation form helps the organization to identify and improve on any grey areas in the training.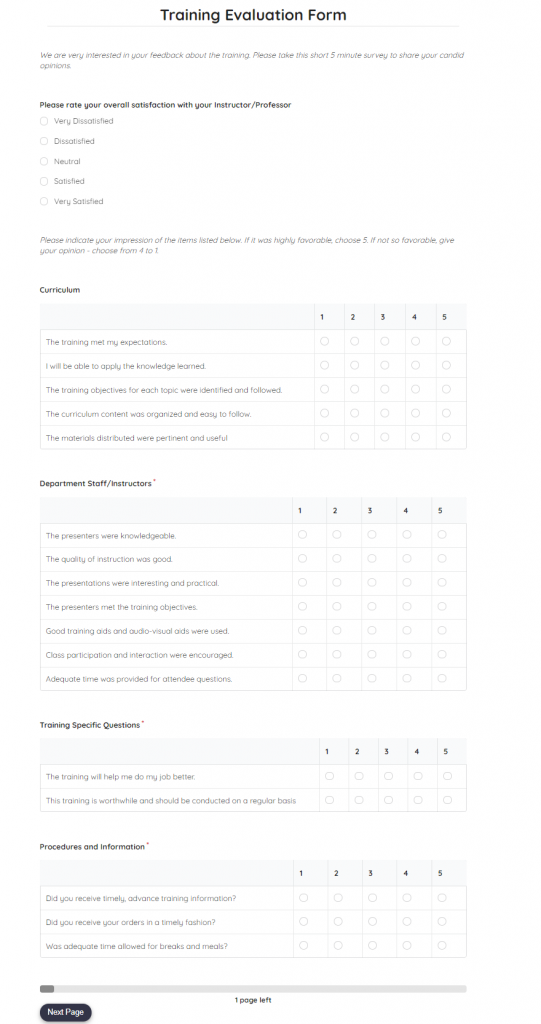 An employee review form helps you to collect and easily process feedback on an employee's performance. It helps your management team to save time when carrying out performance reviews for the staff.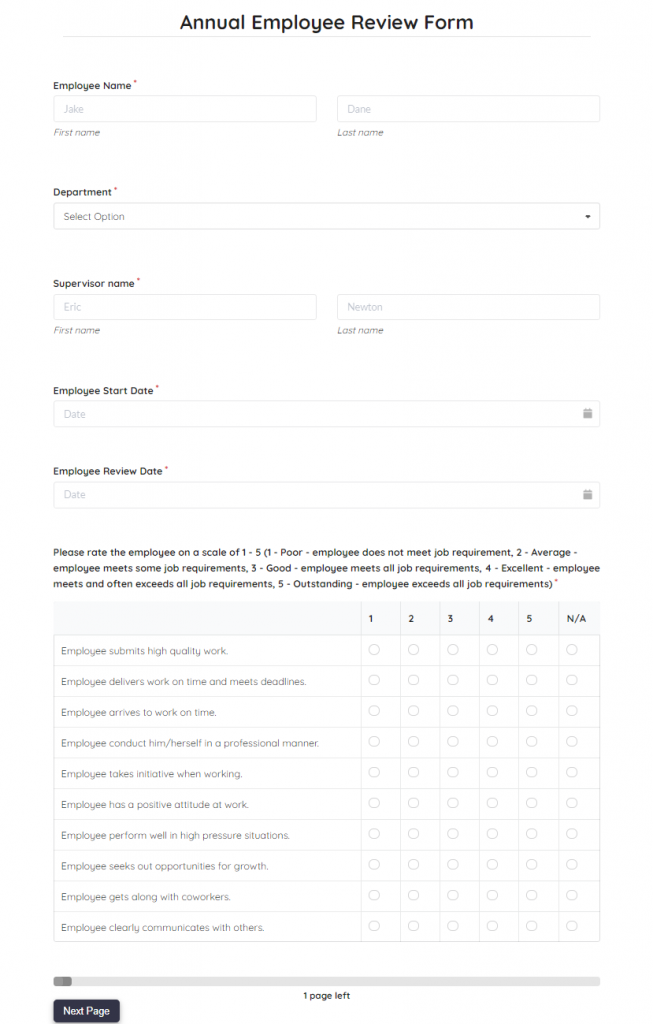 Employee Exit Surveys
An employee exit survey is a method of gathering feedback from outgoing employees on their experiences during the period of employment, their opinion about your organization's work culture and their reasons for choosing the new organization. It is an important process because it provides useful information that can help an organization improve its overall disposition to employees.
An employee exit survey helps you to gather and process information from exiting employees in real-time. It typically consists of questions that require outgoing employees to freely share insights from their experiences during their period of service with your organization.
10 Top Employee Exit Survey Questions
What are your reasons for leaving this organization?
How long have you worked here?
How well did you get along with your team members and other staff?
What is your most memorable experience in this organization?
Would you consider returning to the company?
Do you think you were given enough opportunity to excel in your role?
What do you think about the organization's work culture?
Would you recommend our organization to the general public for employment opportunities?
How well were you compensated during your job?
Would you be willing to tell us the organization you are joining and why you chose it?
Best Form Templates for Employee Exit Surveys

An employee exit survey is an important method of obtaining objective feedback with regards to your company's culture from outgoing staff. It contains specific questions that require exiting employees to provide information about their experiences while working for your organization.
This survey is very important because it provides the organization with useful information that can inform its workplace culture and decision-making process in the future. Employee exit surveys are usually confidential so the exiting employee can express his or her honest opinions without any hesitation.

An employee suggestion form is a data-gathering method that allows employees to provide direct suggestions to the organization's top management on how they can improve on the overall workplace productivity. This form enables employees to contribute to top-level management decision-making by sharing their views on issues affecting the organization.
This method is very useful because it boosts the communication flow from the management to the employees. Employees feel like an important part of your organization when they are allowed to have a say in making the decisions that would affect them, in the end.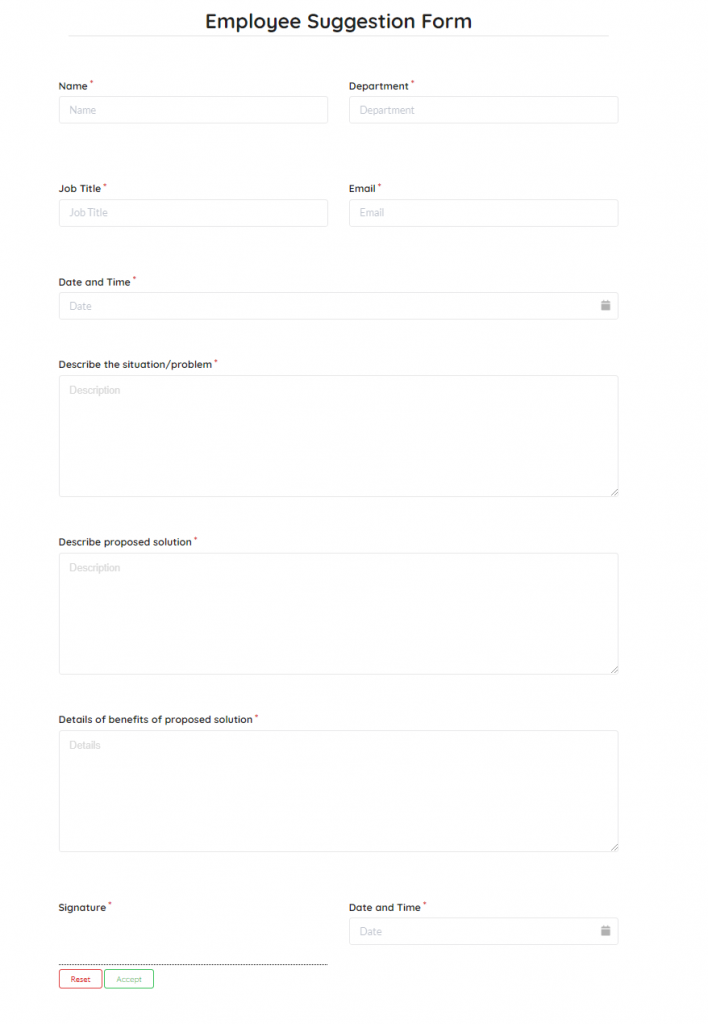 Employee Satisfaction Surveys
An employee satisfaction survey is a data-gathering method used by organizations to get feedback on their staff level of satisfaction with policies and the overall work culture of the company. It is important because results from the survey often play a major role in organizational policy-making by informing the policies drafted and the implementation methods.
To get the most out of your employees in terms of their output and attitude to work, you must ensure that you draft policies that are employee-centric, among other things. The best way to achieve this is by getting your employees to provide insights as to their level of satisfaction with your company.
10 Top Employee Satisfaction Survey Questions
How long have you worked for this company?
What can you say about the growth opportunities in this organization?
Are you satisfied with your job?
Do you receive adequate compensation for your job?
How would you rate the spirit of collaboration in our organization?
Does the organization provide you with the tools necessary for your job?
Do you feel shortchanged by the organization?
Have you ever been trampled upon or victimized in the course of your job?
Do you feel like your voice counts in this organization?
Do you think this organization has developed you career-wise?
Best Form Templates for Employee Satisfaction Surveys
Employee Satisfaction Survey
An employee satisfaction survey is a type of questionnaire you can administer in the workplace to find out how satisfied your employees are in their jobs. It is an important method of tracking how well your workplace policies sit with your staff.

An employee complaint form is important because it helps your employees to swiftly report any cases of workplace harassment. You can make use of this template or modify it to fit your organization's specific needs: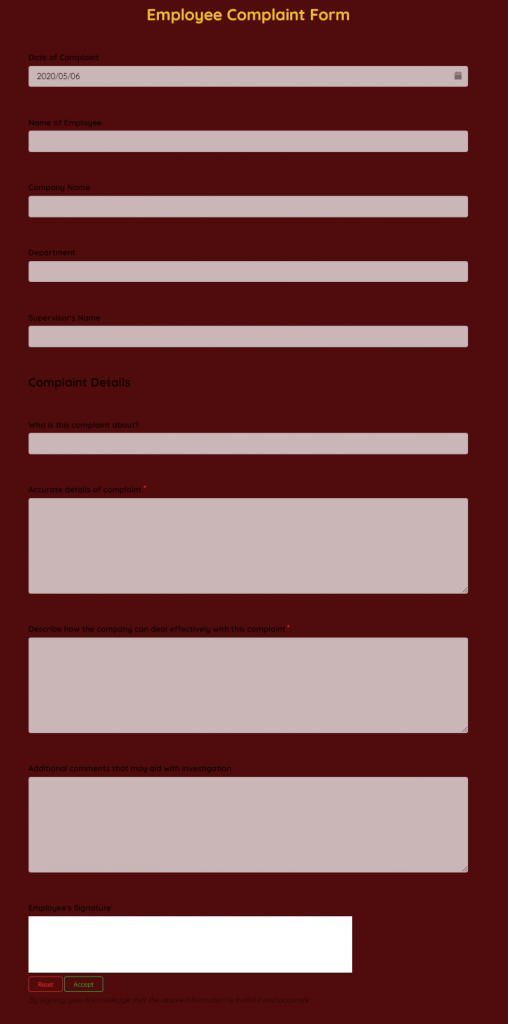 The incident report form is an important method of tracking and documenting any incidents in the organization. With this form, an employee can easily report any workplace accidents, injuries, and disasters, and hopefully, help the organization to prevent future occurrences.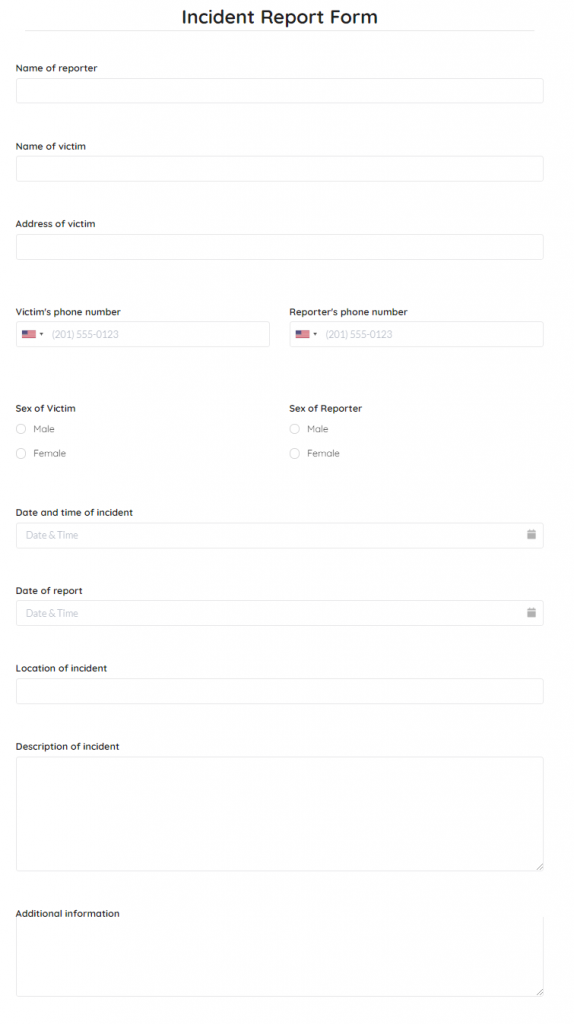 An employee suggestion form is a method of collecting suggestions from employees. It enables employees to give direct suggestions to the management of the company's operational structure and helps to bridge the gap between the staff and the organization's executives.
Workplace Safety Surveys
A workplace safety survey, also known as an employee safety survey, is an important feedback mechanism that allows an organization to rate the extent to which its safety measures are effective. It helps the organization to monitor its safety methods and identifies the areas that need to be improved.
It is important for a workplace safety survey to be administered regularly because workplace safety is the core of every organization. It allows your employees to highlight areas lacking adequate safety methods which may not necessarily be known by the management team.
Workplace safety surveys are usually completed anonymously because this makes it easier for employees to communicate their observations without any form of hesitation. You can administer your survey through a third party or you can create your own workplace safety survey on Formplus.
10 Top Workplace Safety Survey Questions
Have you undergone any safety training in the years of your employment?
Do you think there are sufficient emergency exists on the company's premises?
Do you think the organization is committed to workplace safety?
Is the organization's management team actively involved in workplace safety?
Are there any barriers to workplace safety that you've noticed?
How would you rate the organization's accident response time?
Are there appropriate channels for reporting accidents?
Do you feel involved in the organization's safety plans?
In your opinion, what is the greatest threat to safety?
How many safety trainings have you been part of this year?
Best Form Templates for Employee Workplace Survey

An employee safety survey form helps you to gather and process feedback from employees with regards to your organization's health and safety practices. Use this form template to gather responses or modify it to meet your organization's specific safety inquiry needs.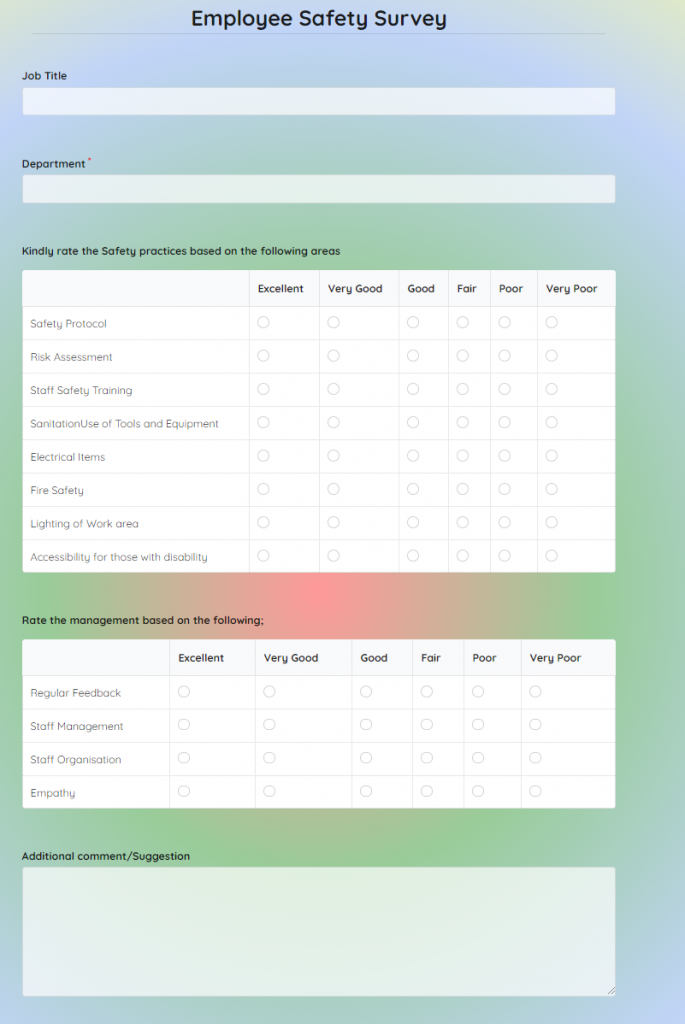 Sexual Harassment Complaint Form
A sexual harassment complaint form is an important means of reporting cases of sexual harassment and sexual assault in the workplace. It allows employees to bring any cases of harassment to the management's notice for appropriate actions to be carried out.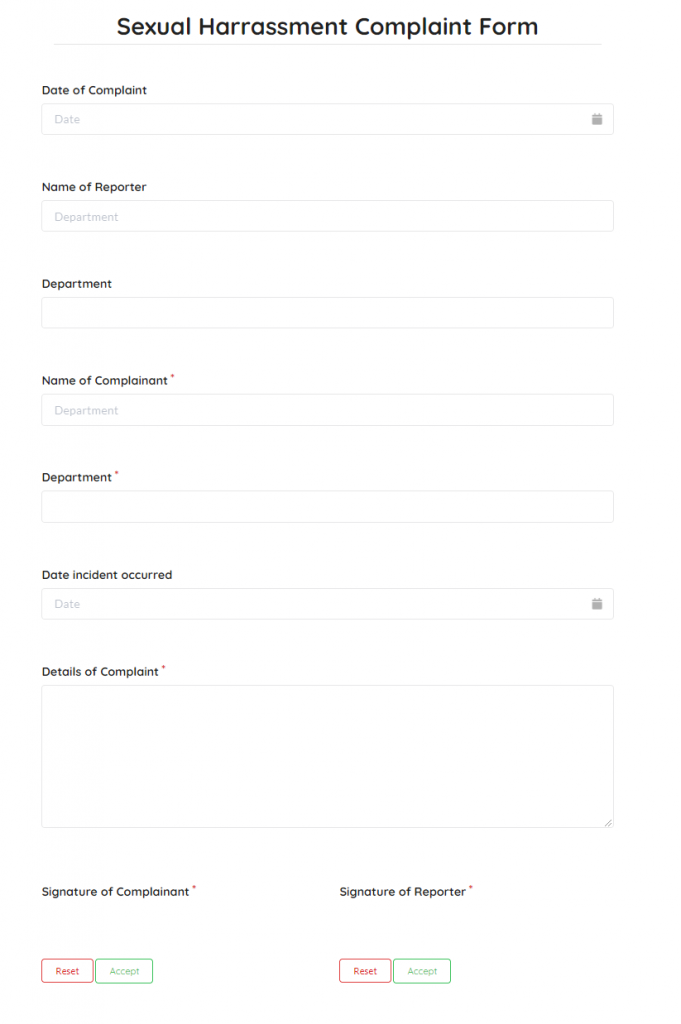 Employee Sick Leave Form
An employee sick leave form allows employees to easily notify you of any health occurrences that may cause a sense of work. You can embed this form on your organization's website in order to track any reports of illness from your workers.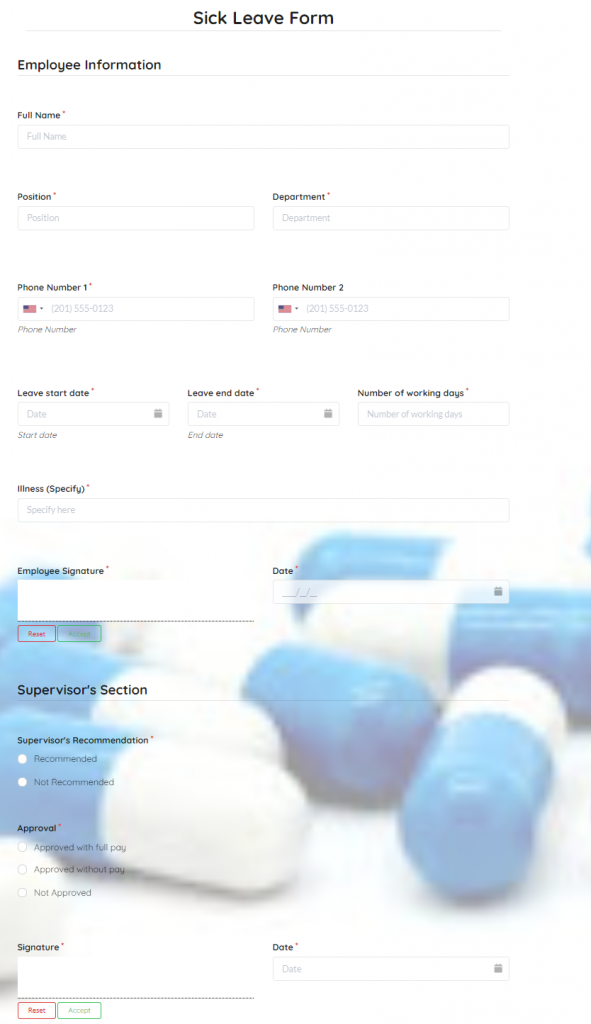 Workplace Harassment Form
This workplace harassment form would make it easy for employees to report any cases of harassment or assault. You can use this workplace harassment form template to profile and track all reported cases of assault and bullying in your organization or you can create yours on Formplus.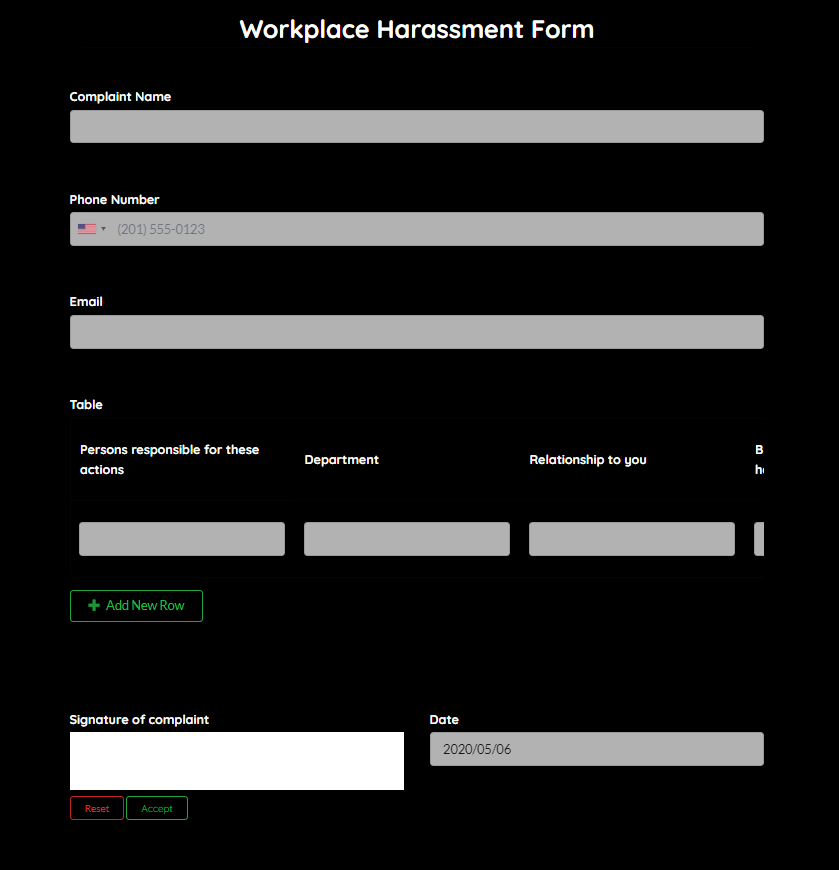 Tips to Conduct Employee Surveys
Know The Best Time
In order to get the most appropriate and objective responses to your employee surveys, you must take extra care to ensure that you administer them at the right time. If your employees are under a lot of pressure as at the time of responding to your survey, they may provide biased responses and this would negatively affect your survey.
It is best to pick out a specific period for administering surveys which can be the end of the year, quarterly, at the annual general meetings, staff meetings or monthly. This way, respondents can be emotionally prepared to respond truthfully to the questions in your survey.
Avoid Bias Questions
Biased survey questions can lead to survey response bias and high survey dropout rates which can negatively affect the outcome of your survey.
Know the Type of Question to Ask
There are different types of questions that you can ask in a survey and each type of question is best suited for a particular purpose. For example, if you want your respondents to freely communicate their thoughts and desires, you may have to choose open-ended questions.
Use Online Survey Forms
Online survey forms work better for employee surveys because they enable you to gather and process numerous responses in little time. Data-gathering platforms like Formplus provide different templates that you can use for employee surveys and you can also create your unique employee survey form using the Formplus builder.
Conclusion
Administering different types of employee surveys regularly is extremely important in any organization because feedback received from these surveys go a long way in determining management decisions. Ensure that your organization sets out specific periods of time to administer employee surveys to its workforce.
To get the most objective results from your surveys, be sure to ask the right questions and more importantly, keep the surveys anonymous. Employees are more likely to provide objective responses when they are kept anonymous.
In addition, administering employee surveys using online forms makes it easier and faster to gather and process responses. Data-gathering platforms like Formplus provide you with numerous form templates for employee surveys plus you can create your unique survey in the Formplus builder.