Job application forms have become one of the most critical parts of the recruitment process. They help companies to capture important information from applicants, and make hiring faster and less cumbersome. 
In this article, we will share some tips for creating and administering effective application forms with Formplus. 
What is a Job Application Form?
Also called an employment form, a job application form enables employees to gather relevant information on the work experience of prospective employees. 
It consists of several sections where potential employees can provide details about themselves. These include things like education history, relevant skills, experience, references, hobbies, and interests.
The employer will then use this information to make an informed decision about whether or not they want to hire the applicant for their position.
Types of Job Applications
As an employer, you might receive any of these job applications. 
Solicited Application: A solicited application happens when you put out a formal job advert for a vacancy in your organization. You can create a simple job application form to receive submissions from interested candidates, or they can send it to you via email or a job board. 
Unsolicited Application: Like the name implies, an unsolicited application is one sent when there's no formal job advert for a position in an organization. Candidates who feel like their skill set is relevant to a company's goals might send a pitch to the hiring manager. 
Most companies have a generic email or portal to receive unsolicited job applications. 
Read: How to Write a Leave Application Letter [+5 Letter Samples]
Job applications can also be classified based on the method of submission. In this case, we have the following: 
Paper Application: Some organizations still receive job applications via in-person paper submissions from interested candidates. In some cases, candidates are asked to complete paper applications at the company's office or location.  
Online applications: submitted through websites such as LinkedIn and Monster or via job boards like Indeed and Glassdoor. Some job boards ask candidates to create profiles for submitting applications. 
Email Applications: Some companies ask candidates to send in cover letters and resumes for advertised positions. 
Read: Consent Letter: Writing Guide, Types, [+12 Consent Samples]
What are the Sections of a Job Application? 
Job applications differ from one company to another. However, most applications contain these four(4) sections:
1. Personal Information/Bio-Data: The first section requests the candidate's name and contact details including email address, phone number, and postal address. It may also include information about previous employment, education, hobbies, and any awards or achievements.
2. Skills and Experiences: Here, the candidate inputs relevant information regarding any skills, experiences, and certifications that are useful for the job. The information required in this section includes things like languages you speak, computer programs you know, and any certificates or qualifications you hold.
3. Personal Statement: This section provides an opportunity for the candidate to sell themselves as the best-fit applicant for the role. It's typically worded as, "why should we hire you?" Or "why do you want to work with us?" 
The best way for a candidate to respond to these questions is by explaining why they want this particular job and what makes them stand out from the crowd. They might talk about their strengths and weaknesses, career goals, and anything else that gives the hiring manager an insight into who they are, and what they have to offer. 
Read: Purchase Order: Writing Guide, Types & Template Examples
Other sections include:
File upload fields for CVs, resumés, and certifications
Salary expectations
Links to published works (optional) 
References 
Additional information 
Examples of Questions and Information in a Job Application Form
Let's take a look at the common questions and information required in a job application form. 
Applicant's bio-data: Name, veteran status, ethnic background, and contact information
Employment history: Previous positions and accomplishments
What is your salary expectation for the role? 
How soon are you looking to move into a new role? 
Why are you the best candidate for this role? 
Why do you want to work with us? 
Why did you leave your last role? 
How did you learn about this role? 
Are you authorized to work in the country where this job is located? 
Where are you located? 
Are you open to relocation? 
Do you have any contacts in the organization? 
How to Create a Job Application Form with Formplus
Formplus is a multi-purpose data collection tool that allows you to build surveys, forms, questionnaires, and polls easily. You can create and administer effective job application forms on Formplus. Here's a step-by-step guide on how to pull this off. 
Step 1: Sign in to your Formplus account to access your personalized dashboard. If you don't have a Formplus account, you can create one for free here. 
Step 2: On the left side of your dashboard, click the "create new form" button. This takes you to the drag-and-drop form builder.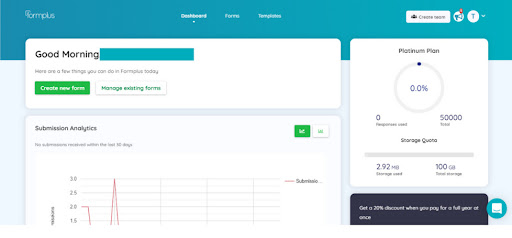 Step 3: The Formplus builder has several sections to help you create forms, surveys, questionnaires, polls and the like easily. 
Step 4: On the left side of the builder, you'd find an inputs section with multiple field options. You can add different fields to your job application form by dragging and dropping them into the form's work area. Formplus has more than 30 fields to help you gather data in different formats. 
Step 5: Next, click on the pencil icon beside each field to edit them. In the editing section, you can add questions, options and make fields "hidden" or "read-only". After making the changes, click on the "save icon". Doing this also takes you to the form customization section automatically. 
Step 6: The form customization section has several options for tweaking the look and feel of your job application form. For example, you can add your organization's logo, change the form font and background, or create and apply a custom theme. 
Step 7: Go to the "sharing" section and choose how you'd like to share the job application form.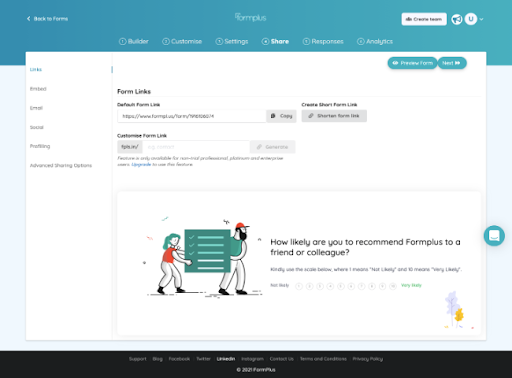 You have several options including embedding the form on your website, sharing it via QR code, sending out email invitations or simply copying the form link and sending it out. 
Examples of Job Application Form Templates
Formplus Job Application Form Template 
With this versatile template, you can easily gather responses from applicants for a job vacancy in your organization.
This form also allows you to collect files and signatures directly from respondents to your preferred cloud storage including Dropbox and Google Drive. 
Try out the Formplus Job Application Form here 
Brand Ambassador Application Form
Are you looking to recruit ambassadors for your organization? The Formplus brand ambassador application form is all you need to coordinate your recruitment process seamlessly. With this application form, applicants can fill out their contact information, social media handles, and so on.
Try out the Brand Application Form for Free 
Babysitter Application Form 
Use this babysitter application form to collect submissions from people interested in your vacant babysitting position. You can tweak the form to suit your unique needs and preferences in the Formplus builder. 
Try the Babysitter Application Form for Free 
Affiliate Application Form
Are you setting up an affiliate program for your business? You can use the Formplus affiliate application form to collect information from persons who want to take part in the program. When you have all their details, you can export the data to Google Sheets for easier access. 
Try the Affiliate Application Form for Free
Tips for Using a Job Application Form Template for Recruitment 
Ensure to customize the template to suit your organization's recruitment needs. If the template cannot be customized, then it isn't the right one for you. 
Make the application form skimmable and easy to read. Formplus allows you to create multi-page surveys which improves the engagement and numbers of responses in your job application form.   
Allow applicants to save their responses and resume at a later time. 
FAQs
Do employers need to use application forms when hiring?
Not in all cases. For example, if you're expecting a small volume of applications, receiving them via email or DM might suffice. However, if you're geared up for a large number of applications, then an application form is the way to go. Using an application form helps you to save time and organize applications in one place so you don't miss anything. 
When should I use a job application form?
You should use a job application form when you're dealing with a large volume of applications. Recruitment forms allow you to capture, organize and streamline candidate's data easily 
Conclusion
The quality of your job application form can make or mar your recruitment process. If it has too many questions or a disorganized structure, candidates might be discouraged to complete it or fill in quality responses. This is why you should use Formplus. 
Formplus allows you to create customized job application forms seamlessly.