Traditionally, a purchase order is used to regulate the purchasing of products and services from external suppliers. With an existing Purchase order template, you can make a seamless order transaction with your suppliers. Placing purchase orders can be quite confusing but by using purchase order form samples, one is able to ease the burdens of this.
Whenever a buyer wants to purchase supplies or inventory on the account and needs to fulfill orders and process payments, he draws up a purchase order. A purchase order is much more than just a form; it's a form that many businesses use to run their daily activities.
Purchase order forms are useful in order to send professional-looking documents to summarize the goods and services you'd like to purchase. These days Purchase order computer systems have made the purchasing order process more efficient and allow for better inventory and payment tracking.
What is a Purchase Order?
A purchase order by definition is a commercial document issued by a buyer to a seller indicating certain key details such as the type, quantity, and agreed upon price for a product and/or service. purchase order identifies a specific seller and sets out the descriptions, quantities, prices, date of performance or shipment, other terms and conditions.
Legally, a purchase order is a binding document between a supplier and a buyer. It details the items the buyer agrees to purchase at a certain price point. It is also expressed as a buyer-generated document that authorizes a purchase transaction which when accepted by the seller, becomes a contract binding on both parties.
It's important to note that a purchase order is created before an invoice is sent since it defines the contract of sale. With purchase orders, you can easily track outstanding orders.
Do you want to create an online purchase order? Signup for free on Formplus to create your industry specific PO or get started with our purchase order form templates here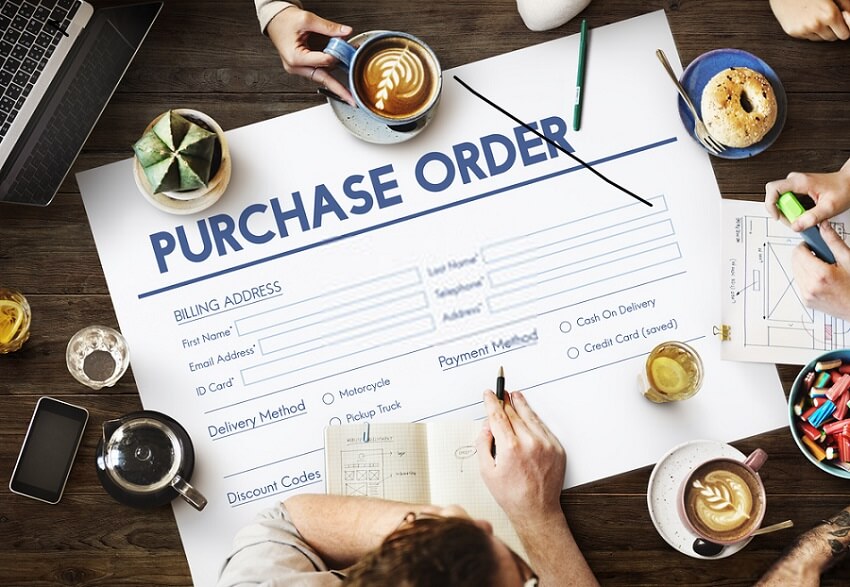 Types of Purchase Orders
Contract purchase order is a formal version of the planned purchase order, involving a legal agreement between both sides. A contract purchase order offers the most protection. Listed on the contract are a number of items that a company will purchase and the price that the seller will sell.
A breach result in penalties that will vary but can involve legal action. Once either party has drafted a contract, lawyers from each side will review it before moving forward.
A standard purchase order is useful to order materials when the need arises. Listed in a standard purchase order is the number of items, price, and timeframe. To keep up with increasing demand a standard purchase order is necessary for businesses who encounter a customer who places large orders.
The concept behind the blanket purchase order is that rather than planning one purchase order in advance, blanket purchase orders involve planning several orders at a time. This will most likely consist of an informal pricing agreement between the company and its supplier. This is because getting several orders from the same company is relatively more cost-effective than acquiring new clients, suppliers will readily offer discounted rates, enabling both sides to benefit from the arrangement.
With a planned purchase order, a business leader will try to predict the future needs of a company to determine how many items the company will need over time. Based on the number of employees and/or customers a business has, managers can make an educated guess. A company won't always need the same number of items, but having a plan creates a guideline to follow.
Features of a Purchase Order
This feature is basically designed to answer specific questions which include whether or not the goods you've ordered have been properly delivered and/or if they came in the right quantity, the quality that was requested, what to do if they have not been delivered. It basically allows you to put workflows in place and resolve issues that may range from lateness in the delivery of goods to whether they were delivered in a poor condition or not delivered at all. A Purchase Order software that has a receiving management functionality is key for these scenarios.
Status tracking benefits your team to properly plan their activities in readiness for the next purchase order. As an added bonus, the sales team will also be able to better communicate with your customers about when they can expect to fulfill their orders.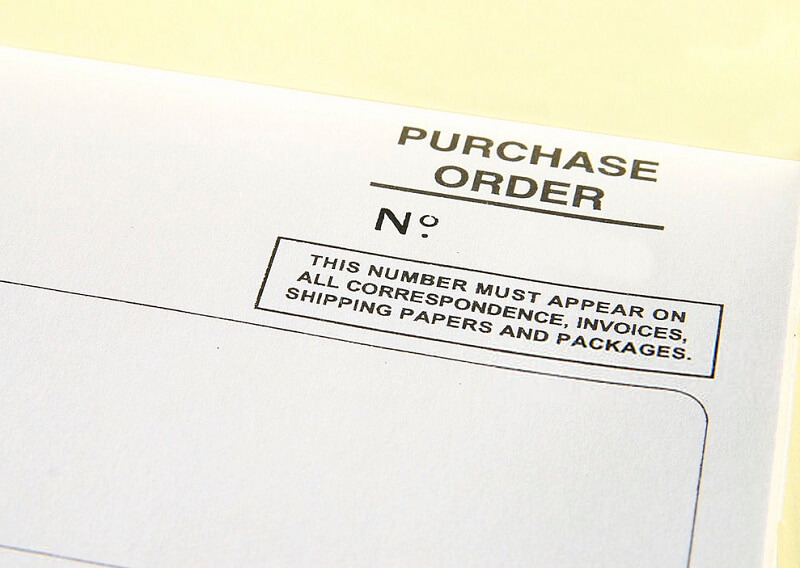 Matching Outgoings and Incomings
Since purchase orders are created by the buyer and presented to the seller, in turn, invoices are created by the seller and delivered to the buyer. The purchase order explains to the vendor what goods, in what quantity, by what date and for what price are expected to be delivered, while the invoice is more a reminder by the seller to the buyer to pay for the goods he has delivered.
Obtaining the start times for Purchase Orders, from when they were initiated to when the order was received, helps identify the vendor's average lead times. This exercise is important for decision making as a vendor with a low average lead time will probably not be able to meet demands and can often only slow the operation down. It is a good way to select the best supplier is to see what their lead time is.
Manage Approvals and Requisitions
The goal of purchase orders is to control costs. Without a clear-cut purchase order requisition and approval process, the business will suffer. Therefore, having a properly functioning, formalized, and refined purchase order for approval, requisition, and review process will help control the associated costs of running the business.
A vendor database is a database that basically tracks vendor/supplier order histories and payment and service terms. Without one, it will be difficult to track different pieces of information about the vendor. Above all, selecting the best vendor out of the available options is key and this database provides a holistic view and gives clarity to the decision-making process.
Automated Purchase Orders
A feature, most beneficial to employees of an organization. Rather than have every purchase order from scratch, this feature allows for the automatic creation of purchase orders when certain conditions are met. The positive side is that it reduces the team burden as there is no longer a need for manually authorizing every single purchase order. With Formplus, you can create automated purchase order workflow forms that will help you save time and get approvals for every order.
Create a Purchase Order Document
Ideally, a Purchase order software like Formplus should be able to create documentation that will enable seamless communication with your vendors and track procurements inside your company. This is probably the most important feature a Purchase Order software has. It ensures there isn't a break in communication or a communication lag, or worse still completely lost.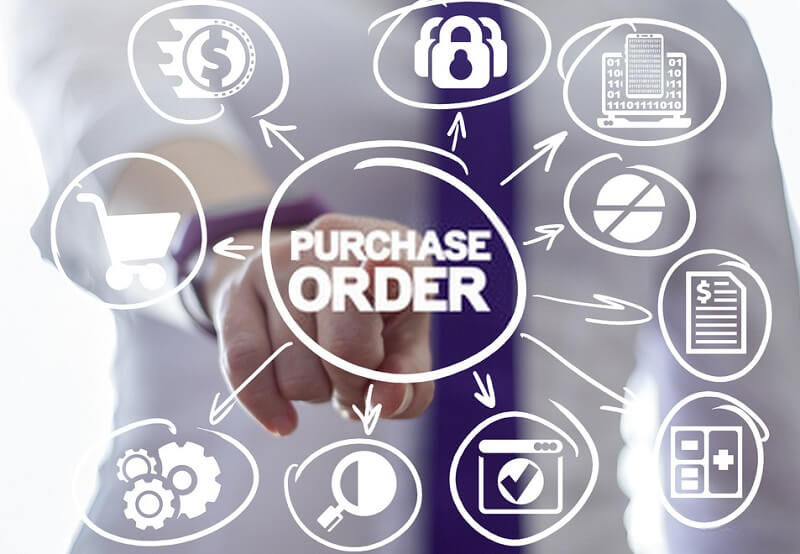 Step-by-Step Process of Issuing a Purchase Order
Below are a few, easy to understand in the process of issuing a Purchase Order. Note that upon the completion of these steps, the purchase order process is not complete until the goods or services are delivered and inspected. Thereafter, the seller issues an invoice to the purchaser, payment is made, and then the transaction is complete.
STEP 1 - Buyer creates Purchase Requisition
To begin, the purchase order process starts with a purchase requisition. To that effect, a document that is created by the Buyer and submitted to the procurement department. The Department will choose to either approve, reject or flag your request for further discussion.
STEP 2 - Buyer issues Purchase Order
After receiving approval from the procurement department for the purchase requisition, the purchase order is issued to the seller. Purchase orders are typically created using electronic purchasing systems which assist businesses to track Purchase Orders and submit them electronically.
STEP 3 - Seller approves, rejects, and/or submits Purchase Order for review
The penultimate step. The seller will peruse the purchase order thoroughly, with close attention to quantities, prices, the total amount due, and terms and conditions. If the seller approves the purchase order, they will prepare to deliver the goods or services. If they've run out of stock for the item under review or if there are other associated concerns with the order, it is flagged and sent back to the purchaser for further dialogue.
STEP 4 - Buyer Records Purchase Order
The final step. The Buyer records the Purchase Order. It is key to note filing Purchase orders improves the efficiency of transacting business.
How to Create an Online Purchase Order Form with Formplus Builder
Register or sign up on the Formplus builder to start creating your preferred form. You can sign up with either your Google, Facebook or Email account in seconds.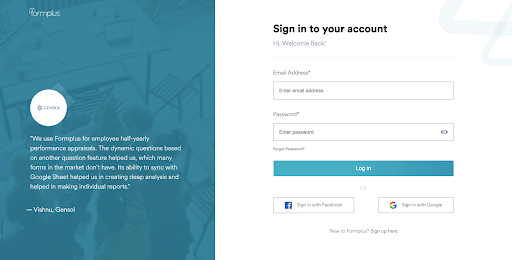 Input your Purchase Order form title and use the form builder choice options to start creating a purchase order form.
Use the choice option fields like single select, multiple select, checkbox, radio, and image choices to create your preferred multi-choice surveys online. Create a slot for your web visitors to fill out their names, email addresses, etc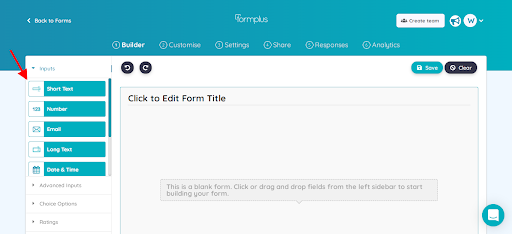 You can mark each field, be it required, hidden or read-only, with minimum and maximum word counts for the comments.
Create a professional design with Formplus Customization features
Change the theme color
Add your brands' logo and image to the forms
Change the form width and layout
Edit submission button if you want
Change text font color and sizes
Do you have already made custom CSS to beautify your purchase order forms? If yes, just copy and paste it to the CSS option.
Edit your Purchase Order form settings for your specific needs
Choose where you decide to store your files and responses. Select a submission deadline, choose a timezone, limit respondents' responses, enable CAPTCHA to prevent spam and collect location data of customers.
Embed links to your Purchase Order form on your website
There's an option to copy and share the link as "Popup" or "Iframe Embed code" The data collection tool automatically creates a QR Code for contact form where your customers can fill out appropriately.
Allow Formplus to Organize your Responses
The number of times the purchase order form was filled
The number of customers who filled out the purchase order form
Location of customers/respondents.
Let Formplus Analytics interpret your purchase order data
With online form builder analytics, business administrators can determine;
The number of customers/times you've done business with a particular customer.
The number of goods requested.
The aggregation of amounts incurred.
Location of business.
Still confused about creating a PO form? Click here to use our specially created purchase order form template now!
Why Use Formplus to Create Purchase Order Form?
The Formplus template form lets your purchasing or accounting unit to collect information about goods and services needed to be purchased by different departments in your organization. With this online purchase request form, you can finally centralize all your purchase data and allow your team to work on every request as it comes.
With premium features like Workflows, Team Collaboration, Data Storage, Private Forms, Response Notification, etc., your company can easily manage purchase request workflows and solve multi-chain bottlenecks associated with order permission. For emphasis, a few key reasons, as well as premium features, are explained below.
The truth remains that a slow purchase order process can greatly hamper your business. Manual purchase order processing and archaic systems hamper the purchase order process and do more harm than good. Using Formplus to Create Purchase Order Form eliminates all these concerns. The Formplus Purchase Order Form won't have any bottlenecks and compliance issues. It also won't involve an endless loop of emails and people or be cumbersome, inaccurate, and error-prone.
Formplus provides three plans; Platinum, Professional, and Starter. With each coming with a variety of features to meet your needs.
The starter plan allows for a single user, pegged at $20 per month, billed annually. The professional plan allows 3 users, pegged at $36 per month, billed annually. The Platinum plan allows 6 users and is pegged at $68 per month billed annually.
Some other outlets provide purchase order tools which by comparison, are billed annually some in the region of $690 for their professional plan equivalent and upwards of $1290 for their platinum plan equivalent for an unlimited amount of users.
With Formplus, you enjoy a 20% discount on yearly plans while retaining key features including up to 5 users and an unlimited number of responses.
Formplus has a flexible storage platform. You can choose to store your received data in your cloud storage of choice. You also have the option to opt-out of storing your data on our servers. With unlimited file uploads, users can submit files via your online forms without any restriction to the size or number of files that can be uploaded. Also, you can store files received from your form on Formplus or in your preferred cloud storage option(Google Drive, Microsoft OneDrive and Dropbox are currently available).
With Formplus, you can add multiple people within your organization and permit them to collect, review, and edit information on your company's forms. You can also combine our powerful online form builder with logic to implement flexible automation across your organization.
Download Purchase Order forms as PDF
Formplus platform provides an option that lets you download Purchase Orders as PDF files. Using the purchase order form template available on Formplus, you can then save your completed order as a PDF file.
How to Craft Purchase Order Terms and Conditions
Every purchase order requires a terms and conditions field that states the obligation of both parties and what the status of an item will be if any mishap happens.
The terms and conditions is an agreement between both parties and can be negotiated in another document entirely.
To craft your terms and conditions, you can choose to speak to your legal representative or get started with a purchase order terms and conditions template.
When editing your purchase order template, ensure that the terms and conditions include;
A description of what the purchase order is
Buyer and suppliers rights
The specifics of the payment terms
Taxes
Delivery date and point
Confidentiality
Warranty (if any)
Termination terms
Limitation of liability
Do you want to create an online purchase order? Signup for free on Formplus to create your industry specific PO or get started with our purchase order form templates here
Why Online Purchase Order Forms are Better than Paper Purchase Orders?
Purchase orders are an integral tool that businesses use to ensure shrewd use of the budget. For a number of reasons, Purchase Order forms trump paper purchase orders. Without purchase orders tracking expenses is more difficult.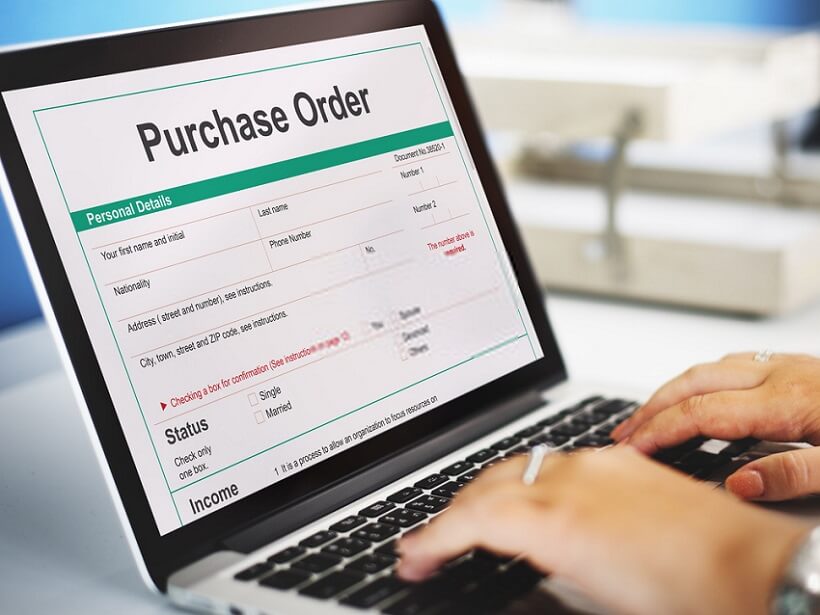 Paper purchase orders are also prone to errors and validating delivery reports becomes nightmarish. Three key positives of using Purchase order forms include that it helps you to; monitor your expenses accurately and timely, prevent money-losing mistakes and stay within your budget.
Uses of a Purchase Order
Let your purchasing or accounting unit use this purchase request form template to collect information about goods and services needed to be purchased by different departments in your organization. With this online purchase request form, you can finally centralize all your purchase data and allow your teamwork on every request as it comes.
Let your potential client request for product orders with these forms. With this online purchase request form, you can send it as a document going to an outside party as part of a sales transaction. It details the items the buyer agrees to purchase at a certain price point. It also outlines the delivery date and terms of payment for the buyers.
Differences Between a Purchase Order and Invoice Orders
A Purchase Order is generated when the customer places an order for a good/product, while an invoice is generated after the order for said good/product is complete.
A Purchase Order details the contract of sale which is a legal contract for the purchase of assets by a buyer from a seller for an agreed-upon value in money, while an invoice confirms that indeed the sale has been completed.
Buyers hold copies of Purchase Orders to track and monitor the timely receipt of the items, while sellers use invoices to compare ordered inventory to inventory shipped and on hand for accuracy. They also track when payments have been made on specific orders
Whilst a Purchase Order is issued by a buyer to a seller indicating types, quantities, and agreed prices for products or services while the invoice is sent to the buyer listing products or services given and the cost of those services.
The Purchase Order is drawn up and prepared by the buyer when they order goods or services, while an invoice is created by the seller to request payment for the goods sold.
The Purchase Order spells out the order details and the delivery date of the order, while an invoice includes the price of the order, terms, and conditions of payment, as well as the payment due date.
Difference Between Purchase Order & Sales Order Form
By definition, a Purchase order is a written document that is sent to a particular supplier in order to provide the specified goods or products in the specified quantity, at the price, terms, and conditions on which it is agreed.
A sales order on the other can be described as a written commercial document, which confirms the sale of specified goods/products. It is prepared by the seller and sent to the customers, contains the details of a particular item or goods, quantity, quality, at the price, terms, and conditions agreed upon.
Key distinctions include:
Purchase Order is prepared by the buyer and is sent to the supplier of goods and services, whereas the supplier issues the Sales Order to the buyer.
While the acceptance of a purchase order leads to a binding contract between a buyer and seller, the acceptance of a sales order approves the sale.
A Purchase Order dictates whether or not an order is placed for goods and services, while sales order specifies the date, time, and mode of delivery of goods and services.
Do you want to create an online purchase order? Signup for free on Formplus to create your industry specific PO or get started with our purchase order form templates here
Conclusion
A purchase order is the first contract to the seller stating that the importer is ready to commit to purchasing the goods. A purchase order must be taken seriously since it covers important details between the seller and buyer.
To avoid duplicating orders, have ease in preparing financial audits, avoid surprise price increases, track of incoming orders, keep your invoices in check, ensure clear communication and have legal documentation of your business activities, you need a purchase order form. Select this purchase request form template for use or signup to create a customized online purchase request form for your firm.