If you own or manage a hotel, you're probably looking for ways to attract more direct bookings due to the impact of the covid-19 pandemic. The good news is that there are many ways to do just that. 
In fact, there are several things you can do right now to make sure your hotel is ready for the influx of guests who will be coming to your area this season. Here are some tips on how to attract more direct bookings for your hotel. Keep reading
Covid and the Hotel Industry
Many hotels are struggling to fill rooms. The Coronavirus, which has caused widespread travel disruption across the globe, is partly to blame.  Coronavirus is a common respiratory illness that causes mild to severe illness. It can be spread through close contact with an infected person, or by touching objects or surfaces that are contaminated with the virus and then touching your eyes, nose, or mouth.
Coronavirus is a common cause of illness in adults and children, but it can also be serious for people with weakened immune systems.
People with mild illnesses have symptoms such as fever, cough, and runny nose. Some people may have diarrhea or vomiting. People with more severe cases may need hospitalization due to breathing problems caused by a lung infection known as bronchitis (inflamed airways).
Use This: Free Hotel Reservation Form Template
The effect of this was the global lockdown of 2020 which impacted the hospitality industry badly and still does as of today. The CDC says, "The Coronavirus has been identified in all 50 states and the District of Columbia, as well as in many countries around the world." 
That means anyone traveling anywhere is at risk of getting infected if they don't take precautions. And because hotels are one of the most common places for people to stay while traveling, they're also one of the most likely places for an outbreak.
With the introduction of vaccines, things are getting back to normal as more people are able to travel. However, for the hospitality industry, it is not yet as it used to be. 
Other than the disruption of the coronavirus, many people now opt for Airbnb for various reasons that stem from luxury to privacy, further affecting the hoteliers. In the next paragraph, we shall discuss proven tips on how to increase bookings in your hotel.
Explore: Free Hotel Feedback Form Template
How to Increase Bookings to Your Hotel
1. Integrate a booking engine to your website: This will allow people to easily make reservations on your site and reduce the number of people who call or email to make their reservations.
2. Optimize your website to rank on Google: People will be more likely to find you if they search for hotels in your area, so make sure that all of your content is written with search engines in mind. This means making sure you have content that aligns with the keywords people are using when they search for hotels in your area.
You can do this by monitoring what keywords people are using on social media and in reviews, as well as how many times those keywords appear in your site's content.
3. Highlight social proofs for your website visitors: This can include reviews from TripAdvisor or other travel sites like Yelp. You can also highlight positive reviews from local newspapers or magazines in print or online publications about your hotel as well.
4. Let your visitors compare rates:  let visitors compare rates on different nights at once by providing them with an easy-to-use calendar tool on the same page where they're making their reservation request form including availability and pricing details for each date selected by default.
5. Implement a live chatbot to attend guest inquiries: This will allow you to respond to guests' messages quickly and efficiently, and it will help them feel like they're being heard by a human being instead of just another robot.
6. Make the most of metasearch engines: Make the most of metasearch engines by using high-quality images and content, as well as making sure your location is listed correctly on each site (you can do this by contacting their support team).
7. Manage your online reviews: Manage your online reviews by responding to all negative reviews with a genuine apology and an offer for compensation, or a way for them to contact you directly so you can address their concerns in person.
8. Let guests book directly from social media: If you want to increase your direct bookings, it helps if you make it easy for customers to find you on social media platforms. You can do this by creating a Facebook page or Instagram account dedicated to booking directly with your hotel. You can also create an app for mobile devices so customers can book from their phones.
9. Use OTA's: use OTAs (Online Travel Agencies) like Expedia or Booking.com. OTAs have access to far more inventory than any one hotel could ever have, so they can help take some of the load off of your sales team by handling some of these bookings themselves (and leaving more room on their calendars for direct bookings).
10. Use A GDS (How to connect your hotel to a GDS): use GDSs (Global Distribution Systems) like Amadeus or Sabre to connect your hotel with other providers in the industry so that they can see what you have available when they input your number into their system during a search for flights or car rentals.
How Formplus Can Help Hoteliers
Formplus is a simple-to-use online form builder that will help you create custom forms for your website, email marketing campaigns, and more. You can use these forms to collect information from your customers in order to streamline their experience.
On the side, you can also collect the data you need to improve your business processes and make the most of your marketing efforts.
Formplus makes it easy to build custom booking forms that get results, with no coding required. Here's how:
Create a custom booking form using our simple drag-and-drop builder
Select from over 100 pre-built templates (or create one from scratch)
Set up a collection of rooms and prices for each one, then set your desired rate for each room type at each date/time combination on the calendar
Choose which questions you want to ask in your form, and how many times they should appear on screen at once. You can even include multiple-choice questions if you want to collect more information about your guests for later reference or analysis (for example, you might want to ask if they have pets so that when they check-in, the hotel staff can be prepared). 
Embed this form on your website so prospective guests can easily book them online.
Have A Look: Free Ticket Booking Form Template
To achieve all these, check out these Formplus templates that can be of great benefit to your hotel.
1. Table Reservation Form Template:  Formplus has already made it easy for you to collect information from your clients and create a table reservation system that works perfectly with your business needs.
2. Hotel Reservation form template: this is one of the best templates we recommend for you. This online booking form template can be used by hotels and guest houses to let prospective clients book rooms, equipment, and more.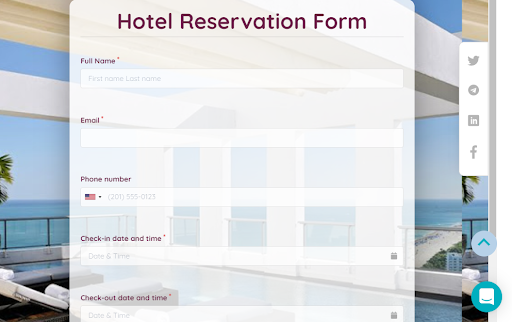 3. Free Hotel Feedback Form Template: This template allows you to collect feedback from your guests about their stay. You'll be able to ask them about everything from room service quality to whether or not they'd recommend your hotel to others! This is an important part of improving your hotel services and making sure that you're providing everything that customers need.
4. Feedback Form template: Users can submit their questions and concerns directly to your team while they're still browsing around online. And they can choose to do so anonymously.
5. Dinner Reservation Form Template: This template allows users to make reservations on restaurants and other food establishments. You can also add it as a form on your website as well so people can directly book tables without having to call or email you first.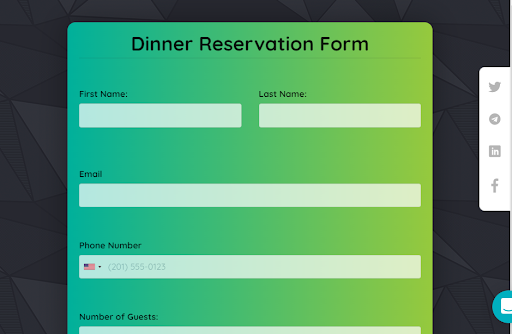 6. Free Ticket Booking Form Template: This template is perfect if you want to host events and need attendees' information such as name, address, email address, and phone number so they can purchase tickets online instead of buying them at the door or over the phone which could cost more money due to shipping fees, etc…
7. Valentines Day Dinner Registration Form Template: If you're looking to increase the number of direct bookings for your hotel, look no further than Valentine's Day Dinner Registration Form. If you want to make sure that your guests have a great time at your hotel, this is one of the best templates for making sure that they do.
It includes all the information that a guest would need in order to plan their stay, from booking information to dietary restrictions and more. You can also use this template as a way to promote special events or packages that are running through the holiday season and even offer them as part of an incentive for booking directly with you!
Try Your Hands On: Booking Cancellation Form Template
Hoteliers can also opt to integrate their existing registration system into the form using our API integration feature. This allows them to seamlessly transfer user data from Formplus into their existing system without requiring any additional work from users or employees.
Conclusion
The best way to get your hotel back on track and increase your booking is by implementing new tactics that can attract your customers. Follow the steps above and you will see positive results.