It's the first Halloween post-covid and everyone is out to make the best out of this season.
This is why we've created some Halloween-themed templates to not only help businesses rack up more sales but to infuse a little Halloween spirit in your parties or team events.
Here are five templates you can use to spook up your Formplus builder and get fang-tastic forms this season
1. The Halloween Party Invitation Template
Are you a member of the HR team planning an office party this month? Or are you an individual who wants to throw an exclusive Halloween party this year?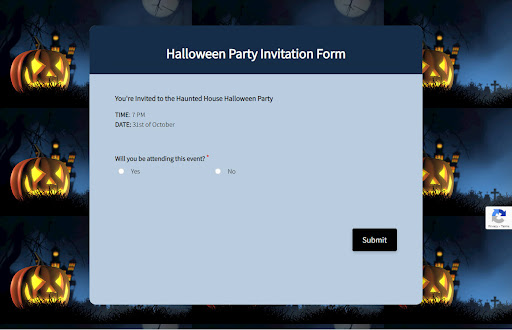 Well, here's a simple pumpkin-themed party invitation form template you can use to get started. With this form, you can invite your network, identify the number of guests attending and properly plan for your party. Let's just say, you'll be the only one dishing out the surprises this year.
2. The Halloween Candy Donation Form
Here's a chance to put a smile on children's faces this Halloween. With the candy donation form, individuals and non-profits can request for Halloween donations from their network.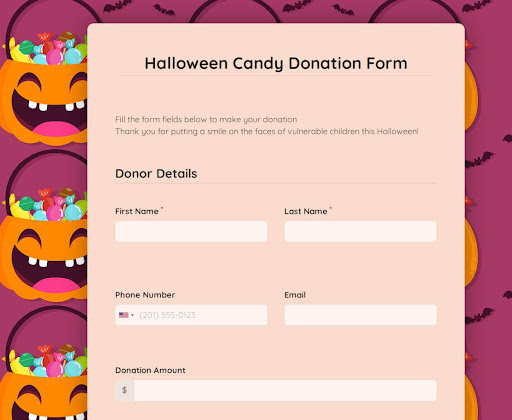 You can receive payments directly with our payment integrations on this customizable candy form. Share this form by using any of the available sharing options or embed it on your website.
Put the 'treat' in the 'trick-or-treats'.
3. The Halloween Costume Order Form
Running a costume rental store or any other business online this season? Here's a chance to streamline your orders and make a ton of sales this year.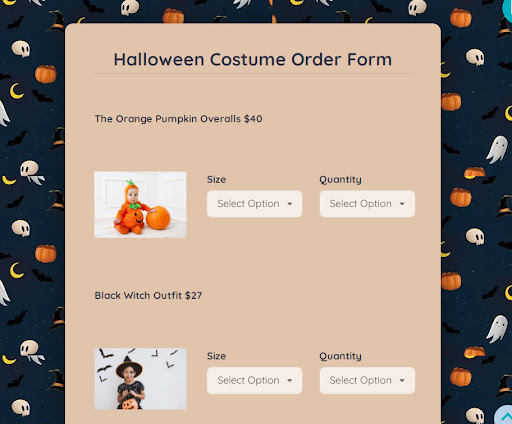 The Halloween costume order form is a simple form to showcase your collection and manage the Halloween rush by allowing prospective customers to order your products ahead.
You can customize this form by adding images of your stock and receive orders by embedding it on your website. Integrate with PayPal, stripe, or any of your preferred payment processors.
Whether baked goods, candy or decorations, this form customization is up to you.


4. The Halloween Trivia Form Template
Want to create a little fun in the classroom, office, or at an event? Infuse the Halloween spirit by using this Halloween trivia form.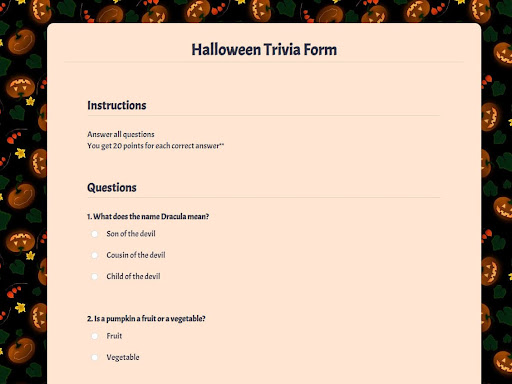 Anywhere between 5-8 questions is a perfect number of questions to set the ball rolling. It's also great for creating a competitive atmosphere.
Start by customizing this form with your preferred colors and questions for free today.
5. Halloween Costume Contest Form Template
Another way to really turn up the Halloween festivities this year is to create a costume contest and this contest template is an easy way to streamline the process.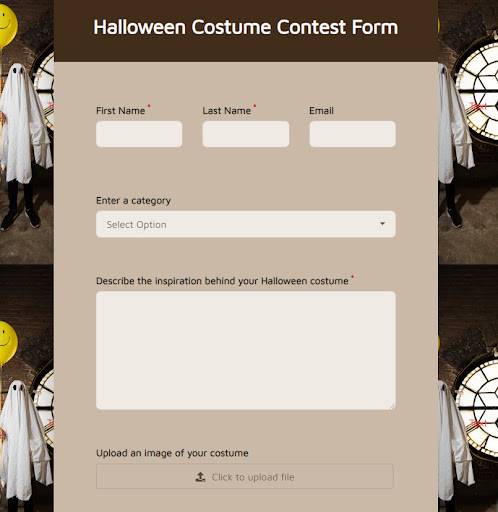 Receive entries for your contest with this simple file upload form and integrate them to your google drive or favorite file management tool. You can customize the fields for your preferred questions.
With the social share icons, you can share this entry form to your entire social network and rack up more entries.
We do hope you'll enjoy using these Halloween templates on Formplus. If you haven't created an account, sign up for free to get started. No credit cards or trials are required.
Have an eek-tastic Halloween!