Collecting donations is a popular fundraising method adopted by non-profit organizations, social clubs and other social welfare programmes. If you are directly or indirectly involved in fundraising campaigns, then you should know that a convenient method of processing donations is through the use of a donation form.
Needless to say, the overall structure and outlook of your donation form go a long way to influencing the perception of prospective donors. Since the more appealing your form is, the higher your chances are securing donations, extra care must be taken to capture necessary details and information when creating a donation form.
What is a Donation Form?
A donation form is a document that you can use to raise gather and process useful information with regards to donations. A donation form is important because it can make or mar your fundraising project depending on the structure, interface and the type of information you are requesting for..
These days, many fundraising campaigns create online donation forms with data gathering platforms like Formplus as opposed to paper donation forms. An online donation form is more effective than a paper donation form because you can easily share it with so many people at the same time while incurring minimal costs.
Uses of Donation Forms
The most obvious use of a donation form is to get actual donations towards a cause. Whether you're a non-profit, religious body or organization, once you are engaged in any form of humanitarian service or social work, you might need to solicit for the public's support.
With a donation form, it is easier to communicate your vision with multiple persons at the same time. You can share your donation form created through the use of data collection platforms like Formplus via email, social media or through your website.
Donation forms help you easily collect, process and track donations in real-time.
If you are seeking sponsorship from the general public or organizations, creating an online donation form may be a great boost for you. You can share the link to your sponsorship form with prospective donors via social media platforms.
For Fundraising and Crowdfunding
A donation form is a useful method of soliciting for funds during a fundraising campaign. You can embed your online donation form directly on the website of your fundraising campaign and track donations as they come.
Using a donation form to facilitate donations is an alternative to writing and sending out donation request letters to individuals and organizations. A donation form is a faster and more effective method of crowdfunding too.
5 Online Donation Form Templates
Online Donation Form Template
Formplus provides users with a simple and easy-to-use online form template for collecting and tracking donations from the public. The online donation form template contains a series of fields requesting specific information from prospective donors such as name and contact details.
This donation form template can be integrated with different payment processing platforms which allows you to collect donations and track all transactions with ease. It also has an automated calculator to track and sum up donations within the same form.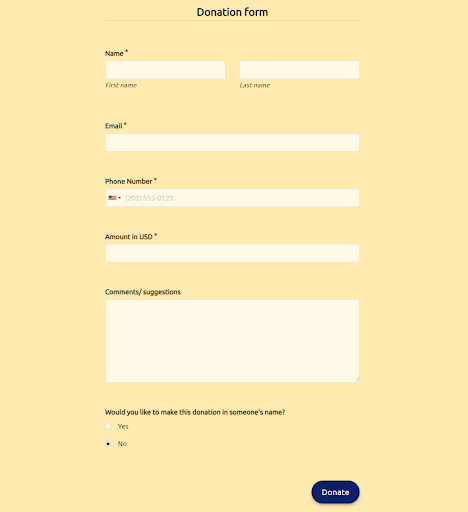 Use this Donation Form Template
The fundraiser form template is a simple form type with a beautiful user interface, which you can embed directly in your website. This form template has an integrated data analytics feature that allows you to easily monitor donations and track fundraising progress.
It also has several integrated payment options such as Stripe, PayPal and Flutterwave which you can use to directly collect donations through your fundraiser form. You can directly share your fundraiser form to your prospective donor's email inbox, track form filling and carry out bulk prefilling.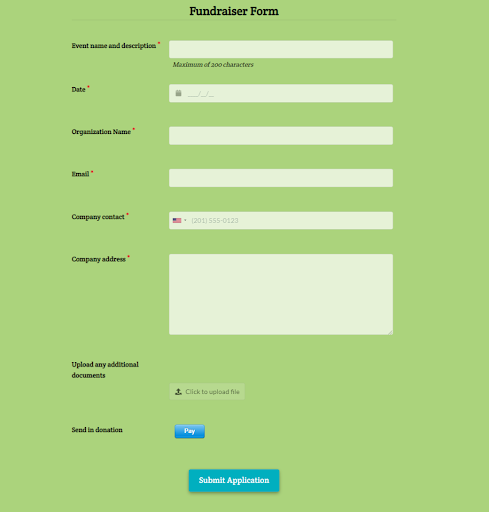 Use this Fundraiser Form Template
Blood Donation Form Template
The blood donation form template helps you connect with and obtain information from prospective blood donors. You can easily embed this form to your hospital, the blood bank or NGO's website or convert your form to a QR code that can be shared anywhere.
This blood donation form template contains several compulsory fields requesting general and specific health information of prospective donors including their blood history. With the information provided, you can easily match each donor with a patient who needs an urgent blood transfusion.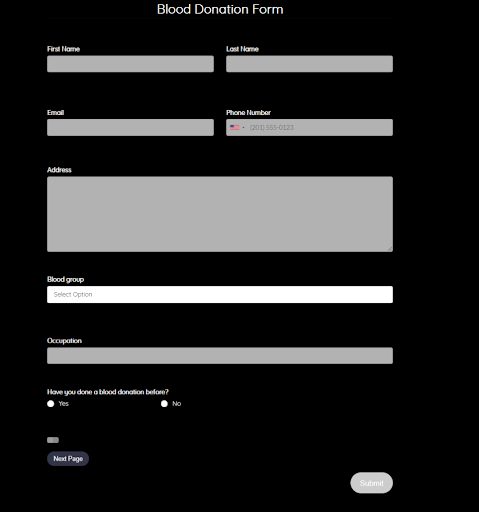 Use this Blood Donation Form Template
A sponsorship request form is a simple form that can be used across different sectors to solicit support from the public. You can add payment details, and send the form to potential sponsors via Email Invitation.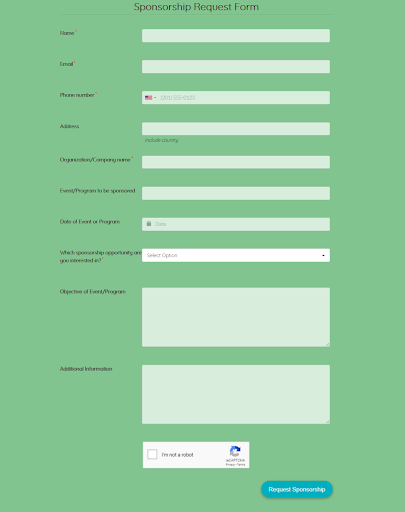 Use this Sponsorship Request Form Template
The PayPal order form is a simple form that enables you to process orders and payments for goods and services through PayPal. You can share this form with your customers via email or social media or, you can embed it to your website to receive funds directly.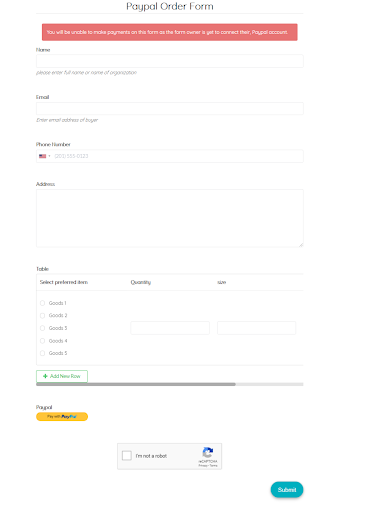 Use this Paypal Order Form Template
Can't find your preferred donation form template? Sign up on Formplus to create your preferred online donation form
How to Create Online Donation Forms with Formplus
The Formplus builder allows you to create custom forms including online donation forms. You can also edit the donation form template directly in the Formplus form builder.
To use the Formplus builder, you will need to create an account on Formplus.
Once you do this, sign in and click on "Create Form " to build your donation form from scratch.
To edit the donation form template, click on the "use this template" tab. This will take you to the "sign in" page.
Input your log-in details to access the form builder. Once in the builder, you can edit the donation form template to suit your organization's needs.
Edit Form Title
Click on the field provided to input your preferred form title, for example, Donation Form.
Edit Form
Click on the edit button to edit the form.
Add Fields: Specify form field inputs in the Formplus builder inputs column. There are several field input options for donation forms on the Formplus builder.
Add fields for honorary donor information.
Edit fields
Add Payment Options: The payment feature in Formplus allows you to integrate different payment processing platforms such as Stripe, Flutterwave, and PayPal to your online donation form. This is an easier and more convenient way to directly receive, process and track all donations that come in.
You can access the online payment processors in Formplus but you would be required to enter your payment credentials in the "settings" tab before you can start receiving donations through your form. All payment processing platforms integrated with Formplus are Payment Card Industry (PCI) compliant so that all information provided here is totally secure.
step-by-step guide on how to integrate payment processing platforms to your online donation form
Locate the drop-down list in the left navigation bar of the Formplus builder.
Click on the Payment section to access the available payment gateway options. Formplus has 3 possible payment options namely; Stripe, Flutterwave, and PayPal. Each of these platforms has its specific requirements.
To receive payments through PayPal you need to provide your PayPal client ID.
You will be required to provide your Flutterwave public and private keys to integrate Flutterwave with your form.
You need to grant access to your Stripe account to receive payments via Stripe.
Click on "Save"
Preview for
Click on the "customize" tab to personalize your online donation form. You can change the color theme of your form, change background images and insert your organization's logo to make your online donation form appear more unique.
Stripe and Flutterwave work best for online donation forms because they allow donors to specify the amounts they intend to donate. Click here to find out more about payment integrations in Formplus.
Why Use Formplus for Online Donation Forms
Collect Donations with Online Forms
You can create different types of online forms using the Formplus builder. Formplus also provides an online donation form template that you can customize easily and then embed in your website.
You can integrate payment processing platforms directly to your forms to enable you to collect online donations and track donors. Formplus offers PayPal, Stripe and Flutterwave payment gateway options for online donation forms.
The customization feature in the Formplus builder allows you to make your online donation form more unique and appealing to prospective donors. Personalize your online donation form by adding your organization's logo, URL, changing background images and adding preferred color themes to your form.
Formplus enables you to further specify appearance details of your form including font size and form width. You also have multi-choice options for your forms.
Formplus offers different form styling options for you which you can use to create beautiful forms in line with your organization's culture. You can change pre-built form templates, form themes, form layout, and even stylize your online donation forms using your own CSS.
Formplus allows you to share your online donation form with multiple prospective donors using personalized email invites. You can embed your form as a pop-up on your website or even share customized form links via different social media platforms or as a QR codes.
All Formplus forms are SSL enabled protecting your donor details. We understand how important your data privacy is and so, we do not allow any unauthorized party to access your forms or responses.
Our data privacy and data security practices are in line with the EU's General Data Protection Regulation (GDPR), and our PayPal, Stripe and Flutterwave integrations are Payment Card Industry (PCI) compliant.
In addition, all payment processing platforms integrated with Formplus are Payment Card Industry (PCI) compliant so that all information provided through the integrated payment processing platforms are entirely secure.
With the donors' permission, Formplus collects their bio-data and other important information which are then stored in the Formplus secure database. This data is extremely useful because you can use it to improve on your fundraising strategies, to understand your donors' preferences or for form response analytics.
All data gathered through your online donation form is organized and stored in the Formplus secure database. In addition, the cloud storage feature allows you to store your form's data and view received files on external cloud storage systems like Google Drive, DropBox, and Microsoft OneDrive.
Intro & Post Submission Messages
On Formplus, you can add custom messages that will be displayed to donors before and after they fill your online donation form. Your intro message can communicate any relevant information you wish prospective donors to know before making donations while the post-submission message can be one of appreciation and gratitude.
Where do you need a donation form?
A Non-Profit is an organization that is committed to social change and impact by providing free services for concerned citizens. In many cases, non-profit organizations typically depend on donations and grants to raise the funds needed for planning and executing projects.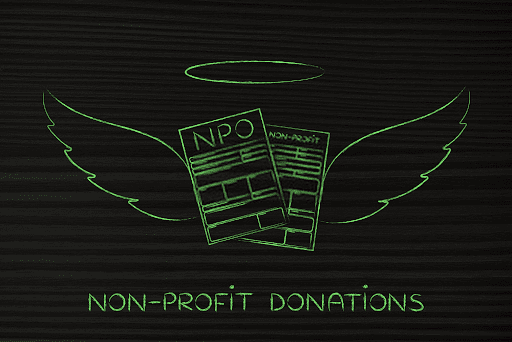 To advocate for and track donations, non-profits make use of donation forms which are usually sent to prospective donors. These forms contain compulsory fields requesting specific information from the prospective donors, with the aim of getting them to that point where they actually make a donation.
As a non-profit, it is necessary for you to understand the many ways through which using the right type of online donation form can help you raise funds for social work. More importantly, you should know how to create a well-structured donation form.
In the healthcare sector, a donation form is extremely useful and can be used for different purposes. For example, a hospital or healthcare provider may require prospective blood donors to fill out blood donation forms before giving out blood.
Some hospitals run a charity arm that depends entirely on donations from the general public; hence the need for a donation form.
Religious bodies such as churches and mosques engage in different types of humanitarian services that often run entirely on donations. Many times, religious bodies distribute donation forms to their members and also encourage members to share these donation forms with friends and family.
Many corporate bodies perform corporate social responsibilities that may involve getting donations from the general public. In order to easily track and facilitate these donations, they often make use of online donation forms which are created using data-gathering tools and shared with the general public.
Donation Request Letter Sample
XYZ Foundation,
NY City,
New York.
January 27, 2020.
The Head,
NY Welfare Department,
New York.
Dear Madam,
Request for Donation for the Homeless Children Campaign
I write on behalf of the XYZ Foundation, to solicit your financial support towards our 2019 fundraising campaign for homeless children in New York. Now in its 3rd year, the homeless children campaign is aimed at rehabilitating street children and providing low-cost accommodation for them.
In the past 3 years, the campaign has successfully resettled nearly 1,000 children who are now either schooling or engaged in other positive social endeavors. We are very proud of our achievements so far and we hope to do more this year, with your support.
This year's fundraiser is targeted at raising $15,000 for resettling 300 children. As always, we will need your kind donations to make this project a reality.
All donations can be made online via fundraiser form template. If you wish to make your donations physically or through other means, you may drop by at our head office. Our 24/7 support team will be there to assist you. After your donation, you'd get a campaign badge that can be shared with friends and family.
Thank you for support in giving these underprivileged children another shot at life.
Kind regards,
Susan Willie
Secretary, XYZ Foundation
Conclusion
Using a donation form is a great way to canvass for and process online donations. As clearly highlighted above, there are different types of donation forms and each of these types is peculiar to different sectors.
Online donation forms are better suited for processing donations because they help you track multiple donations at the same time. In addition, you can do more with online donation forms such as integrating payment processing gateways to your form and extracting data that would be useful in the future.
Formplus is a great tool for creating online donation forms because it has different functionalities to make your online donation and fundraising efforts a lot easier. You can use the online donation form template that is already provided or you can create your own online donation form using the Formplus builder.
Accept Online Donation with Formplus (Start Now)