Car rental services are common in many cities across the world. In the process of renting a car for short or long periods, you will be asked to sign a car rental agreement.This agreement holds both parties to a number of responsibilities.
It is important for you to understand what a car rental agreement is and the information that would be required of you when filling this document.
What is a Car Rental Agreement?
A car rental agreement is a legal document that you have to fill and sign when requesting a car hire service. It is an agreement between you and the leaser or car rental company. This agreement is binding on both parties.
Typically, a car rental agreement highlights the terms and conditions that should be met during the car hire period. Different rental services have different terms and conditions that are applicable during the car rental period.
A car rental agreement holds you liable for the car throughout this period. Hence, ensure that you read and understand it thoroughly before appending your signature.
What are the Features of a Car Rental Agreement Contract?
Condition of the Vehicle:
A car rental agreement clearly highlights the condition of the vehicle to be hired. It is expected that the vehicle should be leased in perfect working condition.
At the end of the car hire period, the car hire company examines the car to ensure it is returned in the same working condition. Any negative changes would result in the payment of damages.
Sometimes, existing car damages are stated in a separate document known as a checkout form.
Examine the car to ensure that all existing damages are listed before you pick it up. If any damage is not stated, contact your car rental agent immediately.
Mileage Limit and Gas Tank Reading
The mileage limit term is usually included at the discretion of the car rental service. Some rental services provide unlimited mileage for their vehicles. For some others, you may be required not to exceed the stipulated mileage contained in the agreement. In the latter case, you will be asked to pay extra charges to cater for the extra mileage.
Most times, a car rental agreement contains a fuel policy and gas tank reading. Often times, the car-for-hire has a full fuel tank and you are required to fully refuel the rental car before returning. This is known as the "full to full" policy.
Ensure that you check the gauge to confirm that the fuel level is the same as what is written in the agreement.
A rental agreement clearly stipulates the duration of the car rental. For example, many car rental services require you to pick up and return the car at a particular time. If you do not keep to this, you will have to pay extra charges.
Most car rental services have a grace period of 30 minutes for the car return after which you will be charged for an extra day.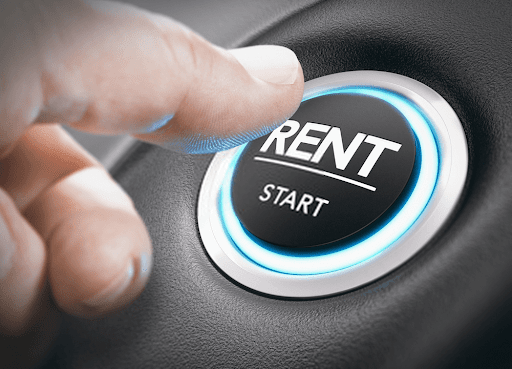 A car rental agreement outlines the full details and specifications of the car-for-hire. These details include the car type, model, color, license plate, and vehicle category.
In some cases, the type of vehicle delivered may not match your initial specifications.
It includes an undertaking statement in which the hirer pledges to take adequate care of the car for the duration of the car rental.
Here, the hirer also pledges to be liable for any damages incurred during the rental period.
The car rental provides a written attestation that confirms that the car is leased out in an excellent working condition.
Rental Agreement Terms and conditions
In a car rental agreement, the hiring company also states its terms and conditions. This varies according to the preferences of the hiring company or general guidelines provided by a supervising body.
For example, some car hire companies require you to not exceed stipulated mileage while others provide unlimited mileage.
It also contains the basic rental fee and any additional charges. Usually, the rental company will block a certain amount as a deposit on your credit card.
Car Rental Agreement Sample
This car rental agreement is made between Miss Ruth Ruthie (hereafter referred to as "the renter" and ABC car rentals (hereafter referred to as "the owner").
The owner formally agrees to lease the following vehicle to the owner with the following specification:
Car Type: SUV
Car Make: Lexus
Car Model: Lexus RX300
Year: 2008
Colour: Dark Blue
License Plate: FGY5687
The renter will rent the car from December 26, 2019, at 6:00 am to December 27, 2019, at 6:00 pm.
The renter agrees to pay a base fee of 50 dollars plus 5 dollars per mile over agreed extra mileage. 
The Renter agrees to return the vehicle in its current condition (with exception to normal road wear-and-tear) to the Owner on November 27, 2019, at 6 pm, with a full fuel tank. 
The Renter attests that she has a legal and valid license to drive this type of vehicle in California, United States. She further confirms that there are no outstanding warrants against her driver's license. 
Renter's driver's license is FJA6601BB7. The Renter further swears and attests that she has insurance that will cover the vehicle during the rental period.
The Renter agrees not to use the vehicle for any illegal purposes. She further agrees to abide by all stipulated federal and state regulations guiding the use and operation of the hired vehicle.
The Renter agrees to indemnify and release the Owner for any damages, injuries, property loss, or death caused while the Renter operates this vehicle. 
The Renter is responsible for any damages that may be incurred during the rental period.
The Renter has inspected the vehicle before the commencement of the rental duration and she confirms that the vehicle is in good operational condition.
The Owner attests that the vehicle is in good working condition and has no operational faults. 
______________________________________
(Renter Signature)
______________________________________
(Owner Signature)
_________________________________________
(Date)

Types of Car Rental Agreement Form
A paper form is a common method of data collection. You can create car rental agreement paper forms. A paper form is not subject to variables like erratic power supply or poor internet connection. Once you've printed it out, it can be filled at any time.
However, it is more difficult to process; especially when you are dealing with large volumes of data. Paper forms can easily get damaged as they are susceptible to weather elements like fire and water. With paper forms, you cannot be assured of maximum data security. Data privacy can easily be breached.
In addition, it is more expensive to create paper forms. You will spend a lot of money printing paper forms. This money can be channeled to other aspects of your rental business.
Online form is the best method of data collection. Online forms help to collect and process thousands of data in little or no time.
An online form is a more convenient and efficient means of data gathering. Data gathering platforms like Formplus help you to create a custom car rental agreement form for your company.
It is easier to track and analyze data gathered via online forms. Also, online forms are more convenient because they can be filled at anywhere and anytime.
Additionally, your data is stored in a secure database so there's no need to worry about losing your information.
However, you cannot complete an online form without an internet-enabled device. This makes it a bit restricted.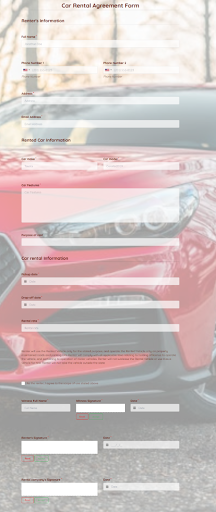 Formplus Online Car Rental Agreement Template
The Formplus car rental agreement form template can be used to sign an online basic car leasing contract between your car rental service company and prospective customers. Eliminate paper forms and store important data by collecting customer data online.
You can get started with this car rental agreement sample or sign up to create your customized agreement forms in 90 seconds! and you can edit to suit their taste.
How to Protect Your Car Rental From Theft or Accident
An electronic tracking device monitors your car's location at all times. This makes it a useful device for combating car theft.
Although a car tracker may not necessarily be able to prevent theft, it can help the law enforcement agencies to track down your car's location after it has been stolen. Car trackers use GPS to locate cars wherever they are parked.
The automated geofencing function in car trackers enables you to create a virtual perimeter for your fleet. You will be notified if any of your cars leave this perimeter. This way, you can track and curb cases of theft.
Car trackers also come with an automatic vehicle alarm system. This system uses the tracker's GPS communication system to send out text alarms during a theft.
As a car rental organization, it is important for you to have full vehicle insurance for all your cars-for-hire. A car rental company needs to have insurance policies covering both the business and the cars available for hire.
Usually, car rental agreements hold the renter responsible for any damage incurred during the rental period. Regardless, it is important for the rental company to have its own insurance.
You can opt for one or more fleet insurance policy for your cars. Additionally, you can subscribe to general business insurance to cover your employees, workspace and on-site liabilities.
Some insurance policies offer fleet and business insurance as a single insurance package. You can also opt for a customized car rental insurance policy.
Do Background Check of Renter - Credit Card, National ID
Ensure that prospective renters present valid identity cards before they can qualify for a car lease.
Also, do a background check on the renter. You may also require them to submit a personal bio-data to aid their profiling.
Best Types of Insurance for Car Rentals
Collision Damage Waiver (CDW)
Collision Damage Waiver, also referred to as Physical Damage Waiver (PDW), is a policy that requires the renter to pay a fee of 9 dollars per day for cars costing less than 30,000 dollars and 12 dollars per day for luxury cars over 30,000 dollars.
In the event of theft, the rental company gives a waiver that covers all or part of the cost of the stolen car. However, for this to apply, the car must have been driven by an authorized party who is a renter, at the time of the incident.
Collision Damage Waiver does not cover incidents that result from personal carelessness such as drunk-driving.
Supplemental Liability Protection
Supplemental Liability Protection, also referred to as supplemental liability insurance, involves paying a daily fee of 10.95 dollars. This amount, over time, allows the rental company to supplement company liability insurance payment.
Supplemental liability insurance serves as the auto-insurance cover for rental cars. It provides up to 1 million dollars in liability insurance coverage. In many cases, this is enough to protect renters from lawsuits which may result from accidents.
If you already have your personal automobile insurance policy, you may not require an SLP.
Personal Accident Insurance
Personal accident insurance policy provides indemnity in the event of death or injury which may result from accidents. It involves paying a daily fee of 3 dollars. Personal accident insurance gives you certain medical, ambulance and death benefits.
The medical coverage is almost 3,500 dollars while the ambulance benefit is 150 dollars. Usually, the death benefit is 175,000 dollars for the renter and 17,500 dollars for the passenger(s).
Personal Effects Coverage
Personal effect insurance policy indemnifies the renter in cases of theft that lead to the loss of personal belongings. It requires a daily payment of 2 dollars. Under this insurance policy, the renter enjoys up to 500 dollars in liability coverage.
Personal Effect Coverage provides nearly 1,500 dollars compensation in the event of theft leading to the loss of the renter's personal belongings.
Why Use Formplus your Car Rental Agreement
Download Response as a PDF
You can download completed car rental agreement forms as PDF documents. This makes it easier for you to process responses.
Once downloaded, you can share the agreement with the renter as a soft copy document or in hard copy.
Formplus allows you to add signature fields to your car rental agreement form. This makes it possible for renters to directly input their signatures when completing the agreement online.
To receive e-signatures in your car rental agreement form, you have to add the e-signature field to your form in the Formplus builder. All inputted signatures will be stored as images in your cloud storage.
Collect Files/Upload Image
Using Formplus, you can add file upload fields to your car rental agreement. These fields allow you to receive files of any size directly in your agreement.
You can easily rename all received files to make data processing even faster. Additionally, you can directly upload images from your computer to your car rental agreement.
Formplus allows you to store car rental agreement data in its permanent storage database. This means that you do not have to bother about syncing your data to Google Drive or other external storage systems anymore.
Using Formplus, you can directly link your car rental agreement form to your preferred payment solution. This allows you to directly receive base rental payments plus any additional costs from your renters.
Presently, Formplus provides 3 payment solution platforms for you. These are Stripe, PayPal and Flutterwave. You can your preferred payment gateway using the Formplus builder.
You will be asked to provide your payment information in order to integrate the gateway with your form.
Branding & Form Customisation
Using Formplus, you can create unique online car rental forms. Under the customize section, you can add background images directly from your computer to your forms. Formplus allows you to resize background images in your form or make them look repeated or fixed.
You can also include your car rental company's logo in your form in multiple positions.
Formplus enables you to further specify appearance details of your car rental agreement including font size, color, theme and form width. You also have multi-choice options for your forms.
Formplus has an offline form feature that allows you to complete a car rental agreement form without an internet connection. Renters can complete car rental agreement forms in remote locations or areas with poor internet connectivity.
These responses are automatically uploaded to the cloud storage when the internet connection is restored.
Intro & Post Submission Message
You can add an introductory page to your car rental agreement using Formplus. This page can include a summary of your car agreement, rental company's name and the name of the renter. In your introductory page, you can highlight all the information you need the renter to know before proceeding with the agreement.
You can also leave a customized post-submission message for the renter. Your post-submission message largely depends on the next line of action after the renter completes the car rental agreement.
Formplus offers flexible subscription plans that you can cancel at any time. You can choose from a range of subscription bouquets such as the starter plan, professional plan or platinum plan. You enjoy a whopping 20% discount on your yearly subscription plan.
Conclusion
It is necessary for all prospective renters to complete and return a car rental agreement before proceeding with a car rental. This helps to mitigate any crises that may come up during the rental period. Ensure that the car rental agreement covers all important areas especially insurance and the stipulated rental period.
You can create your custom car rental agreement using online data gathering platforms like Formplus.
Create Online Rental Agreement with Formplus