A submission form, as the name implies is a form used to receive submissions from respondents. If you've ever had to submit or collect entries for academic purposes, events, competitions, work, then you'd be familiar with a submission form.
Submission forms make it easier for you to collect data, receive applications, etc from a large number of people. In this article, we will discuss 7 top submission form templates that you can use for free in your organization.
What is a Submission Form?
A submission form is a data-gathering tool that allows you to collect different pieces of information from respondents. Submission forms are versatile, and in many cases, you can use them to collect information in different formats.
Submission forms can be used for different purposes by tailoring them to your specific needs. When organizing a writing competition, for instance, you can use your submission form as a registration form so that interested persons can register for the competition and also turn in their writing entries at the same time.
Since submission forms support seamless data collection, they are somewhat indispensable in our everyday lives. Thus, as you become more data-focused, you will need to rely increasingly on them to help you gather and organize large volumes of data in the least time possible.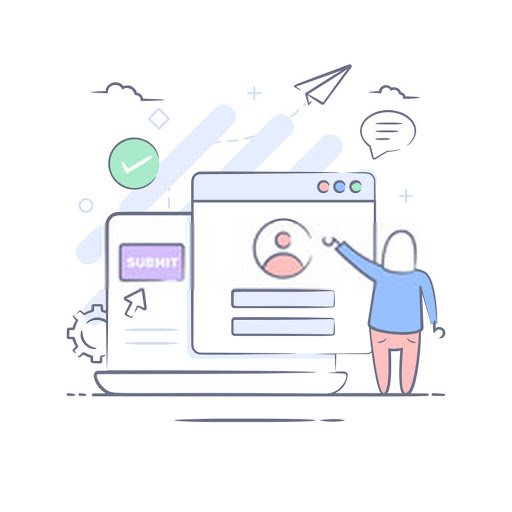 7 Free Submission Form Templates
Are you collecting abstract submissions from individuals for a research paper or publication? Use this abstract submission form to gather useful information from prospective respondents including bio-data, their level of education, author's specialization, and the title of the abstract.
This form template has a file upload field where respondents can submit copies of their abstracts for perusal and vetting purposes. You can also add new form fields and change the overall look of the template right in the Formplus builder.
Are you organizing an art exhibition or any other art-related event? Use this simple art exhibition form to help gather important information from all the artists who want to display their works at your event.
With the form, artists can fill in their bio-data, a summary of their work, a description of the artwork, and pricing for the piece(s). The file upload field in this form template allows respondents to directly upload and submit files of any size.
Use this article submission form template to collect essays and manuscript entries from teachers, students, and authors. While submitting their essays, respondents can also provide information about the essay category, word count, and summary of the article.
The Formplus journal submission form template will help you to easily collect and organize journal entries from respondents. Apart from submitting relevant documents in the form, respondents can also provide information about their qualifications, type of journal, journal description, and author's bio-data.
Manuscript Submission Form
Do you want to collect manuscripts for publications from authors? This Formplus manuscript submission form allows authors to seamlessly provide information about their manuscripts, upload the files, fill in any other details and send them in for review. It helps you achieve seamless coordination between authors and editors.
Do you want to receive video submissions from respondents as part of the requirements for an activity? Use this Formplus video submission form to easily collect and organize video files of any type and size. With the file upload field, respondents can submit different file types.
Research Paper Submission Form
Researchers can easily submit their works for vetting and peer review using this Formplus research paper submission form. You can edit this form template to suit your needs in the drag-and-drop Formplus builder. In this form, researchers can submit their personal information and also upload multiple documents.
Easily collect project submissions for review with this Formplus project submission form. This form is designed to help you collect all the data you need from individuals and teams including their contact information, file uploads, and project description.
Can't find the template you are looking form? Sign up to create personalized submission forms for free
Uses of a Submission Form
Submission forms help you to collect and organize large volumes of information seamlessly. If you have 2,000 prospective participants for a video contest; and you had to record their information manually, it would take lots of time with the possibility of wide-margin errors occurring.
However, if you ask these participants to submit entries and register for the contest using your online submission form, you can easily collect, organize and vet the information they provide to help you make the right choice.
Seamless Workflow Coordination: Using a submission form for data collection helps you to achieve seamless coordination and a smooth workflow. In other words, it makes the job easy for you as you can gather and organize large volumes of data in time while putting in minimum effort.
It serves as a cost-effective method of data collection for all stakeholders. You can save time and resources when you ask all respondents to provide all details plus submissions in a simple form that is easy to use.
How to Create an Online Submission Form on Formplus
Formplus is an easy-to-use data collection tool that you can use to create and administer different types of online forms including submission forms. This tool supports numerous features that make data collection seamless for you. Let's show you how to create your online submission form using Formplus.
To access the form builder, you need to sign up for your Formplus account. You can do this by logging on to www.formpl.us. After creating your Formplus account, simply log into your dashboard.
Click on the "create new form" button on the top corner of your dashboard to access the form builder.
Add the title of your online submission form in the builder's title field.
On the left corner of the builder, you'd find the form fields section. Here, there are more than 30 form fields that you can add to your online submission form.
Add preferred fields to your form by dragging and dropping them from the builder's form fields section. You can also add preferred fields by simply clicking on them.
After adding the fields, click on the edit icon to input questions and/or answer options for every field. Save changes to your form by clicking on the save button located at the top right corner of the builder. This automatically takes you to the builder's customization section.
In the form customization section, you can use different options to change the look and feel of your online submission form. For instance, you can change the form theme and also add preferred background images to your online submission form.
Copy your form link and share it with respondents.
Why Use Formplus to Create a Submission Form?
WordPress-friendly Submission Forms
After creating your online submission form, you can add it to your WordPress website by making use of the embed forms feature. To add your online submission form to your WordPress site, simply follow these steps:
Go to the form builder's "Share" page (You'd find it on the builder's navigation panel right at the top navigation bar).
Click on the "Embed" tab on the sidebar.
You'd see 4 options here: Use as Pop-up, Use as iFrame embed, Embed in Facebook Page, and Embed in WordPress site. Click on "Embed in WordPress site" and copy the displayed shortcode.
Paste the code inside your WordPress editor to add the form to your website.
Offline Forms
Formplus also supports offline data collection which means that form respondents can fill out and submit your online submission form; even with zero or poor internet connection. This makes it possible for respondents to make form submissions in places without an internet connection.
Offline form responses will be automatically synced with the Formplus servers immediately the internet connection is restored. With offline forms, you can collect data from respondents in remote areas and expand your reach.
Notifications
Send out custom email notifications to respondents and other stakeholders when there is a successful submission in your form with the Formplus notification feature. When sending out the custom email notifications, you can also attach copies of form submissions to them.
Select how often you'd like to receive email notifications in your form settings. This means that you can automatically send and/or receive email notifications as you please—daily, weekly or monthly summaries.
Security
Formplus forms support secure data collection which means you do not have to bother about data breaches or losses for your online submission form. Our forms are SSL enabled and this secures all data exchanges between our servers and your website.
In addition to this, Formplus automatically enables CAPTCHA in all forms. CAPTCHA prevents spam entries or fake information from being submitted via your submission survey.
Receive File Attachments
Formplus allows you to receive file attachments with your online submission form using the file uploads fields. Add the file upload fields in the form builder to allow form respondents to submit different file types and sizes.
In addition, you can choose to save received files in your preferred cloud storage including Google Drive, Dropbox, and OneDrive, as an alternative to Formplus servers. You can also add rename fields to help you rename files uploaded by form respondents.
Easy Monitoring
Besides easing form submissions, you can also monitor these submissions with Formplus. For instance, you can send out email invitations to form respondents to prevent multiple submissions in your form. Sending out mail invitations allows you to track form entries too.
Formplus also has an analytics dashboard where you can access useful insights about your online submission form. You can view metrics like the total number of form submissions, total form views, unique views, abandonment rate, conversion rate, etc., to track your form performance.
Conclusion
Submission forms play important roles in our everyday lives as they help us to collect, organize and track different kinds of data. As we've asserted in this article, you can use these forms to collect information for peer reviews, manuscript submissions, journal submissions, video entries, etc.
By now, you should know that submission forms can support both online and offline uses. However, to get the most out of submission forms for seamless data collection, it is always better to use an online submission form like Formplus, which is tailored to your needs.