Online forms serve as really useful tools for gathering data; whether it is collecting feedback, conducting a survey or receiving orders, they are an essential tool for data collection.
In order to create an online form, you have two major options;
As a form building solution, some of the most popular we get asked, even at events is, "What makes Formplus different from every other form builder" or "How do I know the best online form builder?"
These questions are very valid and for someone who may be new to the world of digital forms (yes, it's a very big world), you might be a tad confused on which one works best for your needs.
To help you figure out which form builder would serve as the right fit for you, whether your use case is personal, professional or business, we have compiled 20 of what we regard as the Top Online Form Builders out there. Some can be adapted for any purpose, while others are specific in their use cases e.g Education-focused forms, Business forms, Lead Generation forms, etc. We also made a cost-comparison as well as their star features to help you decide.,
While Formplus makes it really easy for you to create online forms, in this comparison we have tried to be as objective as possible, focusing only on the strengths of each builder and how they can help you be more efficient.
Please bear in mind that this list of online form builders is not chronological in any way and so there is no particular order, feel free to let us know which ones you have tried and the ones you are currently using.
Wufoo – Making forms easy + fast + fun
Wufoo is one online form builder that comes with a powerful report generator. The parent company of Wufoo is SurveyMonkey and so you can see why they help you track form data performance with an analytics dashboard. With this you can build reports that will offer better insights for your business.
Star Features
Pricing
The Wufoo free plan gives you 3 Forms with 100 Entries and 10 Fields. The other plans include Ad Hoc at $19.00/month, Bona fide at $39.00/month, and Carpe Diem at $99.00/month.
What Wufoo is best known for: Complex form reporting and form analytics
Formplus – Create Simple but Powerful Forms
Formplus is all about simplicity; this makes it really easy to create beautiful online forms in minutes even if you have no programming skills. This online form builder allows you make forms by clicking or dragging and dropping fields; these forms have a native Google Sheets and Google Drive integration which is helpful if you will like to receive file/attachments on your forms. Formplus also has offline forms; offline data collection is so easy as forms can be filled offline and then synced once the device is connected to the Internet.
Pricing (annual, education, and charity discounts available)
The Starter plan is priced at $25/month and offers 1000 submissions and the Professional plan is priced at $45/month with an unlimited number of form submissions. However, there is a Free Trial period for 21 days during which you can try out all the features on your preferred plan
What they are best known for: A powerful alternative to Google Forms as Formplus online forms can accept file uploads without restrictions.
FormAssembly – Your new data collection solution
FormAssembly places security over everything else; if you need to collect sensitive data, this online form builder is for your enterprise. They are HIPAA compliant and the health, education, and government sectors have found this form builder to be suited to their processes.
Star Features
Pricing
Their plans start at $89/month for the Professional, while the Premier goes for $224/month, Enterprise at $599+/month and Compliance Cloud.
What they are best known for: Safe data-heavy digital forms i.e personal surveys and online applications.
123FormBuilder (Formerly 123ContactForm) – Build an online form as easy as 1-2-3
123FormBuilder can be used to create contact lists and lead generation forms. They have template forms that are set up to capture a customer or client details and you can tweak them to suit whatever need you might have for a form (surveys, quizzes etc).
Star Features
Pricing
123formbuilder allows you to start off with the free plan and this offers 5 Forms and 100 Submissions a month (this option is currently disabled). They also have the Gold plan at $19/month, the Platinum plan goes for $39/month, while the Enterprise plan costs $349/month.
What they are best known for: 123Forms can be directly integrated into a number of Content Management Sites like Blogger, Joomla, Wix, and Facebook.
Jotform – Easiest Form Builder
Jotform allows you to quickly create mobile-friendly forms with loads of themes to choose from at varying costs. You can also easily integrate a variety of payment platforms even on the Free plan and so it is well suited for ecommerce sites/dealers.
Star Features
With the Free plan, you can receive 100 responses per month and the Bronze plan at $19/month, Silver plan at $39/month and the Gold plan at $99/month.
What JotForm is best known for: For creating simple online forms from templates even without an account
Formstack – The Smart Way to Collect and Manage Data
With this form builder you can connect to over 40 apps to help you cover all your business admin bases. Formstack has about 8 payment gateways including Stripe, PayPal, Authorize.net, which makes collecting payments easy
The Silver plan costs $39/month for 20 forms with 1,000 responses, the Gold plan costs $99/month, and Platinum plan users at $249/month.
What they are best known for: For creating professional-looking business forms.
Read More: Why you Need a Sub-domain for your Online Forms
Typeform – Turn Data Collection into an Experience
Typeform recently went through a revamp, but the fundamentals remain the same – one-question/field-at-a-time. This type of online form generator is ideal for situations that may require a more personal touch like surveys, quizzes and lead generation forms.
Star Features
The Basic plan is free with 100 responses per month and 10 fields per form, Pro plan goes for $30, while the PRO+ with its advanced features starts at $59/month.
What they are best known for: Building forms that engage users with one question at a time.
DeviceMagic – Mobile-Forms Software and Data Collection App
Device Magic forms are positioned to serve industries and replace administrative forms. They integrate well with a number of apps – SMS, Google Drive, and Dropbox – and like Formplus, they can be used offline. Members of your team don't have to fill in repetitive data as you can create form and push them out to devices with already pre filled information.
Star Features
The standard plan costs $30/month/device while the Advanced plan costs $48/month/device. They also have enterprise plans available.
What they are best known for: Pre-filled data in mobile forms.
Read More: Pre Populate Forms, Customise Form Links, Track Submissions… New Things You Can Do in Formplus
Formbakery – Build professional forms easily and export ready-to-use code in a snap!
Formbakery is that builder that makes it easy and fast for you to build and host forms on your website. Simply click the "Build a form" button on the Formbakery landing page, then drag-and-drop the elements into your form. Once you are done with building the form, the form code (HTML, CSS, JavaScript, and PHP) is generated and sent as an email, so you can embed in your website.
Star Features
The personal plan comes at $9/form while the Professional plan costs $19/form for a commercial license. You can also purchase the 5-form pack for $49
What they are best known for: Simple, self-hosted forms that don't require monthly fees
Microsoft Forms – Easily create surveys, quizzes, and polls
Microsoft Forms are included with Office 365 work and school packages and so it comes with the security, privacy, and compliance you would expect from Microsoft. It is very enterprise-focused seeing that if your organisation already uses Office 365 Business Premium or one of the enterprise versions, implementing Forms will easy for you.
Star Features
Pricing
To use forms, you need to have an active Office 365 subscription and the prices for the plan depend on the number of users.
What they are best known for: Enterprise-focused form solutions.
Cognito Forms – Easily create powerful forms
Cognito forms provide an easy way to collect payments and raise funds with full featured online forms. You can create forms that have calculated fields, file uploads, conditional logic, payment fields, and even, build PDF and Word documents from your form entries.
Star Features
It's Free to collect 500 entries per month, with a 1% cut of sales for forms with payments; $10/month for the Pro plan, $24/month for the Team plan and $99/month for the Enterprise pla
What are they best known for: Free forms with payment fields
WPForms – Start Building Smarter WordPress Forms
This form builder positions itself as "The Most Beginner Friendly WordPress Contact Form Plugin in the Market" and this is seen in the user-friendly interface. The WordPress form builder comes with a number of templates, along with some drag-and-drop elements to help you customize the forms as you please.
Star Features
Pricing
The Basic plan costs $49/year, the Plus plan costs $99/year, Pro plan for $199/year and the Agency plan costs $349/year
What are they best known for: Being a simple WordPress form app.
Google Forms – Create and analyze surveys, for free
Want to create no-fuss forms on a budget? Then Google Forms might just do the trick! With Google Forms, you can create customer feedback forms, assignment surveys, pop quizzes and many more, all for free.
Star Features
It is a free form builder, but you can upgrade to G-suite to unlock some more advanced features. The Basic plan costs $5 while the Business plan comes at a $10 cost.
What they are best known for: Absolutely free forms.
Read More: 45 Useful Hacks to Help You Work Smarter in Google Docs, Sheets, Drive and Gmail
FormKeep – Form endpoints for Designers and Developers
For die-hard coders who prefer a custom-built form building solution, FormKeep will work perfectly. FormKeep serves as a form endpoint tool that lets you easily code your own form with its backend. This can then be used to manage data, send notifications, and connect to numerous integrations.
Star Features
The Freelancer plan costs $59/month, the Agency plan at $99/month and the Enterprise plan costs $199/month.
What they are best known for: Hand-coded forms and static website development
Leadformly – Lead Capture Forms That Convert
This is especially good for digital marketers and those who run online stores, with Leadformly you can separate leads into different categories. These leads can be sorted based on the most important criteria, making it easy to tailor how you market to the different customers/users that you have.
Star Features
The plans range from $49/month – $199/month, depending on the number of leads you require.
What they are best known for: Pre-built lead-gen forms
Ninja Forms – The Easy and Powerful Form Builder
Ninja Forms is a free WordPress form plugin with paid extensions that lets you add integrations with popular apps. Instead of a WordPress-style editor, Ninja Forms has a clean, drag-and-drop design to help customize form layout.
Star Features
Pricing
For up to 40+ add-ons, you can pay between $29 – $129/year depending on the feature you require. Other plans include; Personal at $99/year, Professional at $199/year and the Agency plan at $499/year.
What they are best known for: A modern WordPress Form Builder with numerous integrations
Zoho Forms – Online forms for every business
Now, Zoho makes a whole lot of apps for the customer and team collaboration – Emails, CRM, document editing, Accounting and bunch of others. All these apps integrate well with Zoho forms and since they specialize in mobile forms, the form builder is tailored to creating fat forms, on the go.
Star Features
Pricing
The Basic plan costs $10/month, Standard plan costs $25/month, Professional plan costs $50/month and the Premium Zoho plan at $100/month.
What they are best known for: Mobile-friendly forms that integrate seamlessly with other Zoho apps.
Paperform – Easily create forms as beautiful as you
With Paperform you can create beautiful forms that take after your current project, whether it's a magazine, blog or document. The form builder is also easy to use as you can to create forms like a document i.e by typing free-text.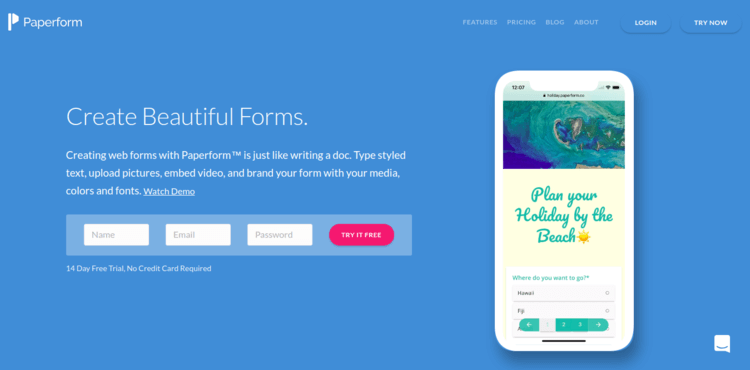 Star Features
There is the Starter pack at $15/month, a Pro plan at $39/month, and then the Agency plan at $99/month.
What they are best known for: Building landing page style forms.
Formsite – Building landing page style forms
The Formsite builder is quite versatile and flexible, just like Formstack it has a complex workflow and extensive reporting features. With Formsite, you can also flag field bottlenecks to help you give respondents a better form filling experience.
Star Features
There is a free plan that allows you to create up to 5 forms and receive 10 results on each form per month. Next to that is the Deluxe plan at $14.95 per month, while the Pro 2 and Pro 3 monthly plans cost $49.95 and $99.95 respectively.
What they are best known for: Forms with encrypted text fields and forms linked with workflow logic
Gravity Forms – the WordPress form management plugin you've been waiting for
Gravity forms hold themselves apart by focusing solely on WordPress even though other form builders can be embedded with WordPress websites. The form creation process itself ties into the WordPress admin site which is very intuitive for users.
Star Features
The Personal plan costs $39/year, Business plan costs $99/year while the Developer plan goes for $199/year.
What they are best known for: Online form builder with advanced WordPress integration
Take a look at Business Registration Processes in 8 of the Best Countries to do Business in 2018