As a solo-preneur, it may be easy for you to track all your supplies manually or off the top of your mind. As your business expands and you have to process items in larger quantities, you need a more efficient inventory management system that saves you the stress. 
An inventory form is a powerful tool that ensures you have the right stock of items, at the right quantities, in the right place, at the right time, and at the right price. Using an inventory form puts you several steps ahead of the competition by helping you to organise your business in the best way. 
What's an Inventory Form?
An inventory form is a data tool for recording all the items, supplies and commodities in an organisation at a specific time. It is an important part of efficient inventory management and it helps businesses and managers to monitor their entire stock from one place. 
Inventory forms contain different fields where respondents can fill in item information like the product description, uses, the quantity left and restock dates. Using an inventory form is an effective way to create a central database for supply management. 
11 Inventory Form Templates
1. Equipment Inventory Form 
Tired of running out of supplies without warning? Use this Formplus equipment inventory form to track stock in your firm. You can record each equipment in the form in terms of its type, product information, uses and quantity. 
Click here to access the equipment inventory form. 
2. Household Inventory Form
The Formplus household inventory form can help you track all household stock and purchases so you never run out of supplies without warning. You can list different household items together with their quantities, restock dates and other important information. 
Click here to access the household inventory form. 
3. Inventory Checklist Form 
This inventory checklist form does a lot more than the equipment inventory form we highlighted earlier. More than recording equipment supplies information, inventory managers can also use this form to track property storage and item purchases. You can add more form fields to the form to suit your company's needs.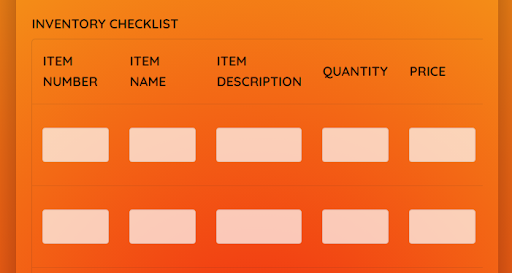 Click here to access the inventory checklist form. 
4. Inventory Form
The Formplus inventory form is designed for efficient and convenient record keeping. With this free inventory form, you can manage all assets, products and records for your organization from one place. For organizations with multiple inventory managers, this form also allows you to record the name of the person taking the inventory at different times. 
Click here to access the inventory form. 
5. Liquor Inventory Sheet 
How much liquor to have left and when is a good time to restock? With our liquor inventory sheet, you wouldn't have to rack your head to answer these questions. The Formplus inventory sheet allows liquor inventory managers and distributors to record important information like the name of the liquor, total sales volume and quantity left. 
Click here to access the liquor inventory sheet. 
6. Material Inventory Form
Use this form to record materials stock in your organisation. You can list each material in terms of its quantity, description and other important information. Our material inventory form is one of the best tools for tracking catalogues and listing at work. 
Click here to access the material inventory form.
7. Stock Inventory Form
This stock inventory form is a game-changer for stock management in organizations. With this form, you can seamlessly manage all the items in the company's storage from one place. You can tweak this template to include custom fields for your organisation's needs. 
Click here to access the stock inventory form. 
8. Office Supply Inventory Form
This form will help you manage your office inventory seamlessly. You can record and track office supplies so you never run out of what you need in your company. With this inventory form template, inventory managers can take a record of available items, the value of the items and any other information.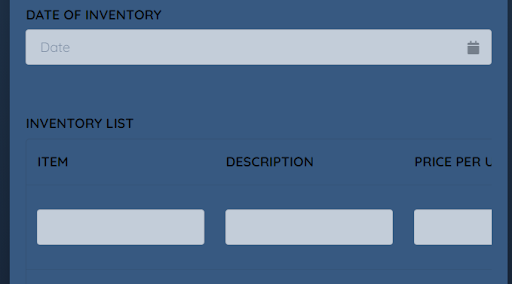 Click here to access the office supply inventory form. 
9. Stock Requisition Form Template
Our stock requisition form will help you manage restock requests with little or no hassles. Employees can directly request supplies for their departments or for personal use. You can customize this template to suit your company's requirements in the Formplus builder. 
Click here to access the stock requisition form template. 
10. Restaurant Inventory Sheet 
With this restaurant inventory sheet, you'll accurately track items and products as they move in and out of your restaurant. Here, you can record the names of available items as well as their values and quantities. You can add more fields to the sheet in our form builder. 
Click here to access the restaurant inventory sheet. 
11. Internal Requisition Form
This internal requisition form makes it easy for team members and supervisors to request item restock whenever they want. In this form, you can list the required item, product description, expected delivery date and any other important information. This easy-to-use template can be customized to suit your company needs and style.
Click here to access the internal requisition form. 
Why Use Formplus to Create an Inventory Form 
Multiple Form Fields
Drag-and-drop Builder
Mobile Forms
Offline Forms
Unlimited File Uploads
Google Sheets Integration
Import and Export Data 
Date-time Validation
PDF forms
There's more to an inventory form than listing fields for data collection. For example, the form should be easily accessible and it should support seamless collaboration between different stakeholders in your organization. 
Formplus is one of the best data tools for building inventory forms. With Formplus, you get access to different ready-to-go inventory form templates for your organization. You can create top-notch inventory sheets that check all of these boxes and more, seamlessly. 
There's a Formplus field for every type of data you want to collect in your inventory form. Presently, we have more than 30 versatile form fields in the Formplus builder including text fields, e-signature fields and file upload fields. This means you can collect data in different formats—just the way you like. 
You'd find the table field extremely useful for your inventory form. The table field is a grid-like structure containing text, number fields and any other type of form field you want. Inventory managers can add more rows to the already set structure for the table when they fill out your inventory sheet.  
With so many available form fields, you may be wondering, "how long will it take me to add these fields to my inventory form?" With the Formplus drag-and-drop form builder, adding new fields to your form is 100% seamless and you'd be done as soon as you get started.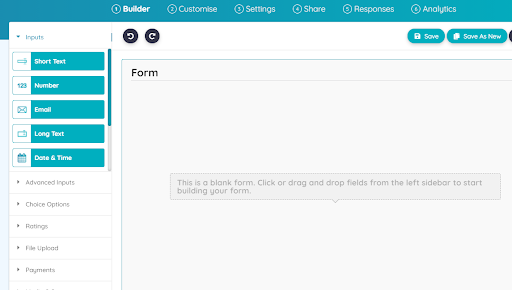 All you need to do is long-press on the field you want to add and then drag and drop it into your form. Alternatively, you can click on your preferred field to add to your inventory form immediately. 
The world is mobile so your inventory form should be too! All Formplus forms can be viewed and completed on smartphones and other internet-enabled devices. When on mobile, you enjoy the same excellent user experience as anyone viewing and filling the form on a computer—you do not have to pinch out or zoom in on your screen. 
The form builder is also mobile-responsive, allowing you to create your inventory sheet on the go in your smart device. 
Sometimes, the person filling the inventory form or making a restock request may not have access to the internet. Instead of stalling the data collection process, Formplus allows respondents to complete your inventory form in offline mode, that is, poor or no internet access. 
All the information collected in the offline form is automatically uploaded to storage (internal or external) when the internet connection improves. The offline feature allows inventory managers to update the records even in remote areas. 
Inventory managers can upload files of any size and type directly to your inventory form. You can receive relevant documents, images, audio, video and other file types as submissions in your inventory sheet. 
All the submitted files are stored in our secure servers or your preferred cloud storage. Presently, Formplus is integrated with Dropbox, Google Drive, and Microsoft OneDrive, and this allows you to send and receive file uploads as you want. 
Google Sheets Integration
You can export data directly from your inventory form to Google sheets for better information sharing and collaboration. The Formplus Google Sheets integration feature allows you to automatically update form responses in sheets without importing or exporting data. 
With Formplus, there's more than one way to share inventory data with your employees, customers or team members. If you don't want to opt for Google sheets integration, you can still export form responses as PDF or CSV files and share with the people who matter. 
Avoid date-time input errors in your form with field validation. Field validation prevents form respondents from submitting the wrong date-time format in your form, and this ultimately improves the quality of data gathered in your form. 
When anyone attempts to submit false data in your inventory form, such data entry will be flagged down and an automatic error message would be displayed in the form. Field validation also accelerates the process of editing and processing form responses. 
In Formplus new PDF builder, you can create custom inventory PDF sheets in a few seconds. You can use our PDF forms online or download for offline use with a click of a button. 
Uses of an Inventory Form
It helps businesses to regulate stock supplies by ensuring that there aren't too many or too little items at every point in time. 
An inventory form creates inventory accuracy for businesses. Inventory managers would know what's in stock and only order items that are on demand.
With an inventory form, you can track supplies and reduce the risk of overselling items. 
It helps you to track sales and purchase patterns and identify fast-moving items. 
With an inventory form, there's little or no need to sort items manually. This helps you to cut down costs and improve productivity. 
Inventory forms help to improve customer experience for your organisation. They eliminate long waiting periods so customers can receive requested items on time. 
An inventory form automates manual stock-taking and item-processing tasks. 
It allows you to monitor real-time information, no matter where you are. 
Having all your data in one place means you can leverage the form's analytics for data-driven decision-making. 
It helps you to optimise your inventory and merge all the data into one place. 
Conclusion 
In this article, we've looked at several ways inventory forms can be the game changer for businesses. From helping you to merge and manage data to improving customer experience, inventory forms are one of the most important hacks for business management and development. 
On Formplus, you can find different inventory form templates for multiple use cases including stock requisitions and supply requests. While these templates are ready-to-use, you can always tweak them to suit your unique needs in the Formplus builder.