Health questionnaires come in handy for different medical contexts. In one instance, they can speed up a patient's medical examination and in another instance, they can help healthcare providers to efficiently carry out administrative work like registering new patients and planning lab tests. 
In this article, we'll look at 17 of the best health questionnaires that are useful for both patients and medical practitioners. On Formplus, you can find multiple ready-to-use templates to help you gather and process data efficiently. You can also build your form from scratch in the form builder. 
What is a Health Questionnaire? 
A health questionnaire is a quantitative method of collecting information about a person's health status. It is typically used by doctors or other health practitioners to gather important data about someone's health and well-being. This data allows the healthcare provider to know how far the patient has come and to develop an accurate treatment plan based on this information. 
A health questionnaire contains different close-ended and open-ended questions pertaining to the context of the research. In some cases, health questionnaires are for administrative use such as booking clinical appointments and conducting patient satisfaction surveys. 
17 Best Health Questionnaires
1. Health Assessment Form
Before signing on a new employee or allowing students to participate in sporting activities, it's best to find out if they are physically fit for the role. Formplus online health assessment form is an easy way to assess an individual's physical fitness level beforehand. Doctors and other healthcare practitioners can use this form for diagnosis too. 
Click here to access the Health Assessment Form. 
2. Lab Requisition Form 
This form allows patients to book clinical lab appointments and tests conveniently. With Formplus lab requisition form, patients can self-schedule clinical tests while the lab attendants can automatically collect patient's information like their bio-data and medical records for the lab's database.  
Click here to access the Lab Requisition Form. 
3. Pain Assessment Form 
Use this form to measure a patient's pain threshold at any point in time. Just like the name suggests, pain assessment form will help medical practitioners predict how much pain a patient is dealing with, and to know the best ways to provide relief. You can edit the template for use in the form builder.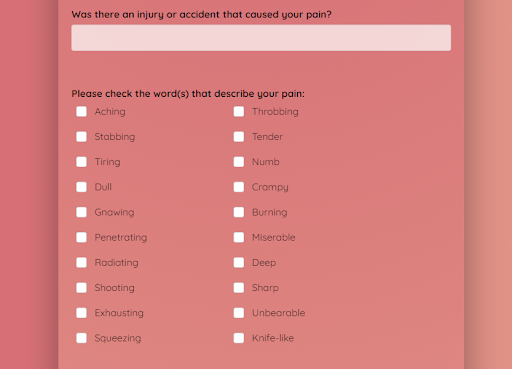 Click here to access the Pain Assessment Form. 
4. Patient Satisfaction Form 
Use this patient satisfaction form to collect patients feedback and patient data based on their care and treatment experience. The Formplus patient satisfaction form helps to measure your patient's perception of your health service and to identify any areas that need to be worked on. 
Click here to access the Patient Satisfaction Form. 
5. Physical Examination Form
As you carry out a physical examination of the patient, you need to record your observations and pen down recommendations; the physical examination form is built for this. In this form, you can collect a wide range of health information and patient's bio data that can be used immediately or in the future.
Click here to access the Physical Examination Form. 
6. Nursing Assessment Form
As part of a patient's medical diagnosis, the nurse can use this unique assessment form to evaluate the patient's all-round state and to also collect useful information like the patient's bio and any existing medical conditions. You can get started with this template for free here.  
Click here to access the Nursing Assessment Form. 
7. Hospital Admission Form 
When a new patient comes into your hospital, you need a quick and efficient way to record their biodata and other information you'll need. The  hospital admission form supports seamless information-gathering so you can collect data like the patient's next of kin information, health insurance and medical history right in the form. 
Click here to access the Hospital Admission Form. 
8. Sick Leave Notification Form
Use this sick leave notification form template to allow your employees formally notify you of their illness and unavailability to work. You can embed the form in your healthcare website to make it easily-accessible or share via social media using direct sharing buttons.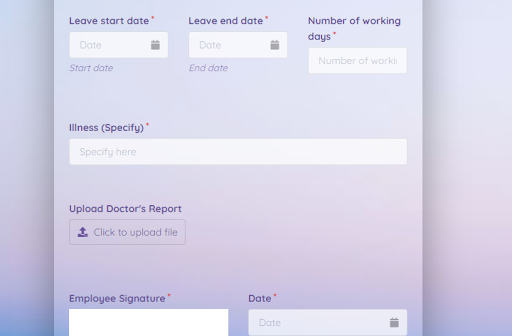 Click here to access the Sick Leave Notification Form.
9. Medical Consent Form
Before carrying out certain medical procedures, you need to obtain formal consent from the patient or his or her next of kin. Formplus medical consent form is an easy way to ask patients for written permission. You can tweak it in the form builder to suit your unique needs. 
Click here to access the Medical Consent Form. 
10. Patient Registration Form
Use this patient registration form to speed up the process of collecting information from new patients for your hospital's database. In this form, you can collect useful information including the patient's medical records, contact information, bio-data and other similar data. Try it now for free. 
Click here to access the Patient Registration Form.
11. Hospital Discharge Form 
Before discharging patients from your clinic, you need to update their data in your clinical records. Formplus online hospital discharge form allows you to do this conveniently and minimize data losses. This online discharge form helps hospitals reduce dependence on papers and makes clinic data readily available to professionals at the click of a button. 
Click here to access the Hospital Discharge Form. 
12. Medical History Form 
Formplus online medical history form allows patients to self-update their medical records online. It contains fields for filling in allergies, results of physical tests, immunization records, medication side effects and so on. You can use this medical history template for free. 
Click here to access the Medical History Form. 
13. Therapy Intake Template
Before kicking off therapy sessions with a new patient, use this therapy intake form to get more information about their medical history, lifestyle and other important details . This form would help you provide the right diagnosis for the patient and develop an accurate treatment plan for her. 
Click here to access the Therapy Intake Form. 
14. Medical Disclosure Form
In this medical disclosure form, patients can list the names of the people who they can have their medical information. This allows healthcare providers to protect patients' medical history by sharing information with only the people they are permitted to. You can embed this form on your website or share via email invitation.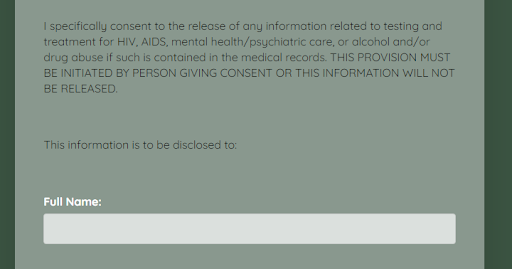 Click here to access the Medical Disclosure Form. 
15. Doctor Release Form 
Before a sick or injured employee resumes work, the physician can fill this doctor release form to certify them fit for work. In the Formplus doctor release form, the physician can include any limitations in terms of how much workload the employee should be allowed to handle. 
Click here to access the Doctor Release Form.
16. Health Appraisal Form 
Use this Formplus health appraisal form to verify a child's health status to know if they are fit to take part in certain activities. In this form, the doctor and other healthcare providers can make any recommendations on the best way to manage the student's health. 
Click here to access the Health Appraisal Form. 
17. Medical Claim Form 
The Formplus medical claim form makes it easy for patients to request a refund from their insurance providers for medical treatment. In this form, the patient can fill in relevant information including their contact information, personal reference number and the type of medical services provided. 
Click here to access the Medical Claim Form. 
Why Use Formplus to Create a Health Questionnaire?
Create mobile-friendly forms
Access more than 30 versatile form fields
Share forms easily
Offline Forms
Add the Questionnaire to Your Website
Send out emails invitations to respondents
Collaborate with Team Members
Export Data
Create PDF Forms
Receive File Submissions in your Form
Create Mobile-friendly Forms 
The Formplus builder is mobile-responsive, allowing you to create different types of health questionnaires from your smartphone. You can drag and drop different fields from the builder's inputs section into your form, on the go; without any line of code. 
All Formplus forms are automatically optimized for mobile and this means that form respondents can view and fill your health questionnaire from their smartphones or any other internet-enabled device. Formplus forms perfectly fit into any device screen they are viewed on. 
Access More than 30 Form Fields 
You can collect data in different formats using more than 30 form fields in the Formplus builder. You can add short and long-form text fields, number fields, digital signature fields and others to help you collect data the way you like in your health questionnaire. 
Formplus has multiple sharing options you can use to get responses from participants on time. First, you can share your questionnaire on Facebook, Twitter and Instagram via the social media direct sharing buttons. You can also share via QR codes that can be downloaded, printed or added to your website. 
Formplus supports offline data collection which allows respondents to complete your health questionnaire even when there's poor internet access or no internet connection. All the form responses will be automatically saved on Formplus servers or your preferred cloud storage once internet connection is restored.
Add the Questionnaire to Your Website
You can embed your health questionnaire on your website so that respondents can fill it on the go. If you have a WordPress site, you can add the questionnaire via the Formplus WordPress plugin. You can also display the questionnaire as an iFrame or web pop-up. 
Send out Email Invitations to Patients 
You can send out custom invitations via email to patients with a link to your health questionnaire. Email invitations allow you to track form submissions and to prevent duplicate submissions in your form. Once a patient fills and submits the form, you can prevent them from accessing the form again so there are no double submissions.
Collaborate with Team Members
You can add your team members and other stakeholders to your shared Formplus account so that you all can work on forms and responses together. As the administrator of the account, you can assign roles and permissions to different collaborators. 
You can also grant or limit access to certain files and folders. The teams and collaboration feature works with an audit trail that shows all the changes and suggestions that have been made to the form. 
Export Data + Google Sheets Integration
To make for efficient team collaboration and better data organization, Formplus allows you to export form data in a variety of formats. You can export form data in PDF or  Docx formats, and you can also update form data in your Google spreadsheet. 
Using the new PDF form builder, you can build PDF versions of your health questionnaire for online and offline use. After creating the PDF form, you can download it for offline use or administer it online via Formplus. 


Receive File Submissions in Your Form
Formplus allows you to directly receive file uploads in your health questionnaire through the file uploads fields available in the form builder. Formplus forms can be fitted with file upload fields that allow form respondents to submit relevant  files of any size in your form. 
You can save the received files in your preferred cloud storage including Google Drive, Dropbox, and OneDrive, as an alternative to Formplus servers. You can also add rename fields to help you rename files uploaded by form respondents. 
Conclusion 
Health questionnaires are an effective method to collect data from a large population or a target group. Asking the right questions in your survey allows you to gather valuable patient-powered data for use. 
Depending on the type of information you need, you can use any of the 17 templates listed in this article or create a new health survey from scratch in Formplus form builder. Formplus has multiple features including offline forms, embeddable questionnaires and sharing forms via email invitation, to help you to gather data more effectively.