Consent forms are important legal documents that are usually signed by a parent, guardian, family member, or people with the power of attorney on behalf of a minor or an adult with no ability to make a decision at the time. An adult may also issue a consent form on behalf of himself or herself.
An example is before a medical procedure is performed on an individual. In the event that the individual is at a critical stage and unable to grant consent, the next of kin will be the one to grant consent.
A child consent form is usually issued by parents or guardians on behalf of a minor when they are being entrusted to a third party. Parents and guardians need to ensure that their child is being handed over to trusted personnel before issuing a consent form.
What is a Child Consent Form?
A child consent form is a legal document issued by a child's parent or legal guardian granting temporary authority to a third party when a child is leaving their care for a period of time. There are different types of consent forms that may be issued depending on the circumstances around the issuance of the consent form.
Some of these forms include the medical consent form child travel consent form and a general consent form. They contain information like the minor's name, place of birth, age, the permission of the parent or guardian, etc.
Child consent forms are deemed very important because of the increasing rate of child abduction, trafficking, pornography, etc.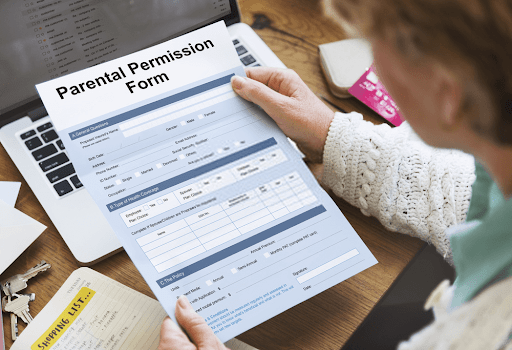 Who Can Give Consent On Behalf Of a Minor?
Unless revoked by the government due to negligence or recorded inability to take care of a child, parents are the natural and legal adults able to give consent on behalf of a minor. There are different situations in which parents may need to give consent, with some being; during school field trips, camping activities, daycare services, etc.
Consent is given for a short period of time. It may also be fully passed onto another person like in the case of adoption.
In case the parents are unavailable, a legal guardian or relative will be the one to give consent on behalf of the minor. This is usually the case when the parents are dead or probably not available to give consent at the moment. For example, if a minor is involved in an accident and consent is needed from the parent to perform urgent medical procedures. Guardian or relatives can give consent if the parents are far away.
The person with Power of Attorney
This allows a parent to give full control over the decisions made for their child for a specified period of time. It is mostly given to a caregiver or relative for a period of 6 months to 1 year due to a stipulated reason.
A person with power of attorney can give consent on behalf of the minor for the period stipulated in the contract. The contract may be renewed at expiry in other to keep the relationship valid.
Features Of a Child Consent Form
Basic information like the name, age, and sex of the child is contained in the child consent form. This information is used to identify the child in question. For a child travel consent form, place of birth and the passport number of the child is also contained in the form. The medical consent form will contain health information of the child and medical treatments.
Parent is the first thing that is featured in the child consent form. Parent(s) / guardian(s) have to make a declaration stating their name and their identity as the parent of the child. The parent might be an individual or 2 people. The identity of the child they are parenting is what follows after this declaration.
Identity of the person being granted responsibility
A child's consent form contains basic information about the person that is being granted responsibility of the child. This information is used to identify the child's new caregiver. It contains information like the name, phone number, and address of the person. This information will be used to contact the person regarding the child in question.
There are different types of consent and the child consent form should contain the type of consent granted to the new caregiver. Is it a travel consent, medical consent or general consent to make full parenting decisions on behalf of the child.
It is good to explicitly explain the type of consent that is being granted to the caregiver.
Name and signature of the parent
The name and signature of the parent are what confirms that the consent has been granted. Without this, the child consent form cannot be accepted as being valid.The validation is closing to the declaration that was initially made at the beginning of the document.
Name and signature of witness
A witness is required to observe the process of granting the child's consent to a third party. This witness will be the one to consult when discrepancies or disagreements occur with respect to the child's consent form.
It is advisable that the witness is someone that is known to both parties. That way, cases of partiality can be avoided.
The validity period of the consent is also an important part of a child's consent form. A consent form might be valid for as little as a few hours to a year.
In case both parties want to extend the period of consent, the contract needs to be renewed.
Create Online Consent Form with Formplus
Types of Child Consent
There are types of consent granted on behalf of a minor, namely; in child medical consent, travel consent and a general child consent form.
Child Medical Consent
Child medical consent is the type of consent that provides the parent or legal guardian temporary rights to make decisions regarding the healthcare of the child. This type of consent is usually given to family members, baby sitters, teachers, trusted friends, etc.
A child medical.consent is usually issued by a parent or guardian if the child is not always under their watch or care. It is therefore given to someone that spends more time with the childlike the nanny, teacher, or grandmother as the case may be.
For example, a child who is a sickle cell patient may have sudden attacks that may require immediate medical attention. By giving medical consent to the babysitter, he or she can easily authorize the medic procedure without waiting for the parent.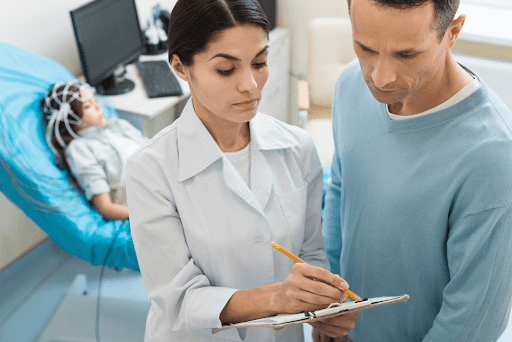 A child medical consent form is created through the following steps:
Find a Competent Guardian
Issuing a medical consent form for a child requires a fully competent individual. This may require the guardian to be available at all times in the chance they are needed to represent the best interests of the child.
Inform the Guardian of Child's Medical Issues (if any)
it is very important that they have the appropriate information about a child's medical situation.
Inform the Guardian of the Child's Medications
The guardian should be about any current prescription or medication.
The end date of the consent should be stipulated in the document.
Child Travel Consent
Child travel consent is the type of consent that is issued when a child will be traveling alone or with a guardian that is not a primary caregiver. It should contain information like the minor's basic profile, traveling information, relevant information about the traveling parent or guardian, etc.
The child travel consent form will be checked before the flight to ensure that the child is authorized to travel with the individual. Some airlines request for child travel consent letter, to be sent by the parent prior to the travel date.
Children between the ages of 5 and 18 can fly by themselves. However, if the minor is aged below 5, then the parent needs to register for the unaccompanied minor program.
This way, the airline can easily keep track of the number of minors unaccompanied by their parents, which will help in confirming whether the child travel consent form is genuine. Airlines have unaccompanied partner programs that request that parents fill out paper works.
For example, a child may need to travel to another country due to medical reasons and is being taken by only one of the parents. The other parent will also need to give consent stating that he or she is aware of the travel.
This also seen to be very important especially in the case of an impending divorce.
General Consent
A general child consent form is a legal document giving temporary rights to an individual to make decisions on behalf of the child or minor. General consent does not restrict the individual's decision-making rights to travel or medical decisions.
A person who is given general consent has the temporary right to make parental decisions regarding all aspects of a child's life. This type of consent is usually given to close family members.
A child may spend the school holidays in a close relative's house. During that period, it is advisable to write a general consent form for the family member to make decisions if necessary,
This consent form should include information like health conditions and allergy, which may assist.in taking proper care of the child. For example, if a child is asthmatic, it is the parent's responsibility to inform the guardian.
That way, the guardian will need to make sure that the child's inhaler and other medications are always within hands reach. A general consent form should contain things like basic information about the child, parents, guardians, etc.
Get Started with Online Consent Form
5 Free Child Consent Form Templates to Use Today
This custom form template will help you avoid legal issues and delays at the airport. It helps you get permission from a child's parent or guardian when there is a need to travel with their ward.
Formplus' child travel consent form will hell you gather the data required by law enforcement officials during your travel. This consent form is perfect for travel agencies, schools on an excursion, NGOs, etc.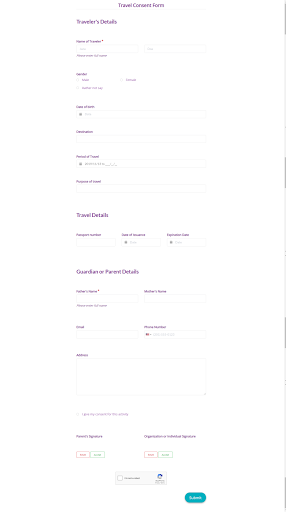 Do you own a school or travel agency that takes children on field trips, camping activities or any other activity that need adult consent? Then, you need an easily accessible parental consent form.
A link to this form can be shared on your website and social media platforms to make it easy for parents to give their consent on behalf of their children.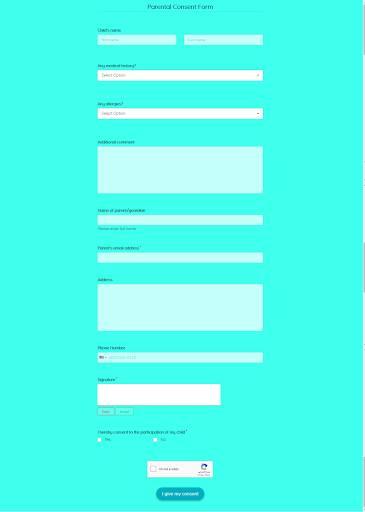 Are you a journalist, researcher or student gathering data for coursework by interviewing people? Then, you need to get consent from the interviewee with an interview consent form before using the data collected from the interview.
You can use the easy-to-use interview consent form template by Formplus. This template is designed to suit your needs.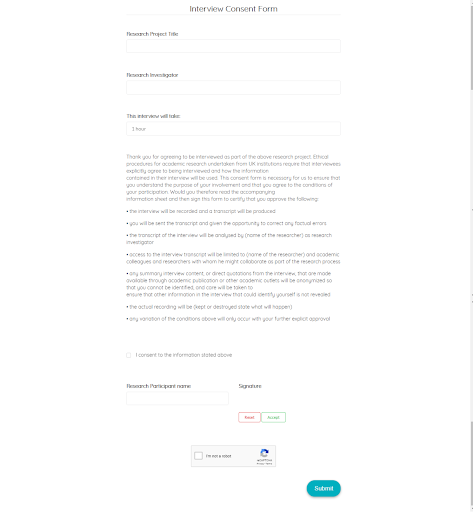 Don't fall victim to a lawsuit from models, individuals, and parents of children whose picture you are using for commercial purposes. Get a photography consent template that you can easily send to these people to grant you image rights.
This is a multipurpose consent form template that can be used to seek permission on different matters. The general consent form template can be used by businesses to ask their client's consent on the use of personal data, schools for seeking parent's consent and also useful in several other sectors.
Get an easy-to-use general consent form template from Formplus today. No coding experience needed.
Can't find your preferred consent form templates for minors? Sign Up to customize your child consent forms with our easy to use drag and drop form builder.
Why Use Formplus as your preferred Consent Form Builder?
Storage & Security: Formplus is a safe and secure platform to store consent forms. You are neither faced with a loss of data or third party access.
Export as CSV/PDF: Schools or organizations that need to take consent from multiple persons can easily access the data in each form by exporting it to PDF or CSV format.
Easy Accessibility for Guardians: Guardians don't need to be very tech-savvy to create and access the consent forms. There are also ready-made templates to choose from.
Digital Signature: No need to scan and upload signatures to the platform, Formplus form builder has a signature input that allows you digitally sign on the form.
Offline Forms: The forms can still be accessed even if there is no internet access. The guardian may travel with the minor to a remote area with limited internet access. With the Formplus offline feature, you can still view the consent form regardless.
File Upload: There is also room for attaching additional documents to the consent form. For example, an individual might need to attach a proof of power of attorney to prove he or she has the right to grant consent.
How To Get Child Consent from their Guardian
Paper Forms: this is the traditional way of getting child consent from the guardian. It is usually jointly filed by the parent or guardian, witness, the person being granted responsibly and on behalf of the child.
Online Forms: This form can be created using Formplus web-based form builder with just a mobile device and access to the internet. It can be created online and shared with all other parties involved.
This way, they all don't need to be physically available to sign the documents. It can be done virtually through the link.
Why Online Consent Forms are Better Than Paper Forms
Online consent forms are more easily accessible compared to paper forms. Each signatory of the form can easily access the form through a shareable link that can be shared among them without physical appearance.
There is also no restriction as to when this form can be accessed throughout the year.
Paper consent forms need all the signatories to be physically available to sign the forms. This usually poses a problem when each of the signatories is available at different times.
Online forms can be signed virtually by the signatories immediately the form's link is shared.
You no longer have to spend money on printing many papers that are not only uneconomical but also non-environmentally friendly.
Online consent forms are stored in a secure database that can be accessed anytime and anywhere. This is quite different for paper forms.
Schools, for example, need to file consent forms for evidence purposes, which takes so much physical space and may even get lost in the process.
Conclusion
Many guardians, family members and even parents (when traveling without the other partner) have been caught off-guard for not having a child travel consent form with them before. This is mostly caused by the ignorance of these parties regarding the law binding consent giving and approval.
They expect not to have any issues due to their proximity to the child in question. This is also an uncommon event among co-parents who are getting a divorce.
Child consent forms are getting more popular due to the increasing rate of child trafficking, child prostitution, slavery, etc. Consent forms are therefore used as a tool to curb these activities.