Quotations are inevitable documents for manufacturers, suppliers of goods, and businesses which is why they need a reusable quotation template format for their business. These quotation templates make it easy for businesses to edit and send quotations to potential clients immediately they request for it.
One of the things that also ease the quotation preparation process is having a fixed price list for your goods and services—including discounts and delivery fees. This can also help eliminate fraud by preventing workers from increasing the prices of goods and services.
When creating a quotation template format, you need to consider the kind of business it is, the goods sold and services offered and prospective clients. This template should also be well structured and easily editable.
What is a Quotation Template?
A quotation template is an editable document containing the prices of all the goods sold or services offered by a business—including a breakdown of these prices, discounts and implementation time. This document is usually edited and sent to a potential client according to his or her request for certain goods or services.
Sometimes simply referred to as a quote, suppliers should prepare quotations with their profit in mind. Clients may sometimes reject a quotation, asking for the price to be reduced.
Therefore, it is advisable to create enough profit gap, so that there will be room for price reductions. If you, however, have a fixed price, it is important to state that somewhere in your quotation or an attachment sent to the potential client to avoid price replacement.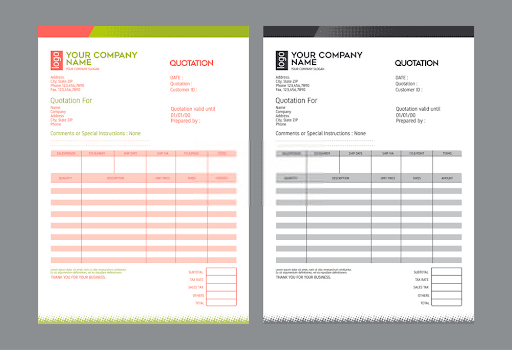 Types of Quotation Template
Different types of quotation template can be used for specific reasons as required by the industries. It types includes quotation templates for price, sales, purchase order, business travel and for general corporate events. However, the most common type of quote template is the price quotation template.
A price quotation template is an editable document created by businesses to provide potential customers with an estimated computation of the cost of goods or completing a particular project that they would like to have done. It contains a fixed price of goods and services which can't be changed once accepted by the customer.
However, this may not be the case all the time, depending on the kind of relationship between the business and the customer. This quotation template should contain your company name, client's information, validity period, description of goods or services, prices, and other relevant information.
A sales quotation is a document containing a summary of a buyer's order, usually sent to them whenever they order for particular products or services from a seller. This document gives an insight into the cost of having a potential buyer's order fulfilled.
A common example of a sales quotation can be taken from online stores. Whenever a potential buyer tries to checkout after selecting some goods into the cart, they are shown a quotation detailing their potential purchases with the price.
A purchase order (PO) is a commercial document and first official offer issued by a buyer to a seller indicating types, quantities, and agreed prices for products or services. It is an official document that allows the buyer to buy now and pay later.
A buyer may also send a blanket PO to the seller, requesting to purchase products or services on an ongoing basis, until a certain maximum is reached. A seller may, however, decide to either accept or reject a purchase order.
Business Travel Quotation
Business Travel Quotation is a document containing the travel, accommodation and transport costs of embarking on a business trip, usually sent by travel agencies to business moguls or companies who often take their employees abroad for business.
The recipients may also include companies who sponsor travel and visa applications of international employees.
It also contains medical insurance, terrorist insurance and all other added services offered by the travel agency. The client may choose to purchase all the added services offered by the travel agency or not.
Corporate Event Quotation Template
A corporate event quotation is used by event planners to provide information about the cost of planning the event of a corporate organization. The quotation will include a break down of the cost of decoration, food, hall, mc, and other things required for the event
The quotation sent by the event planner is usually a combination of quotations sent by the different people who are integral to the event. This includes the catering company, equipment rentals, MC, security agency, etc.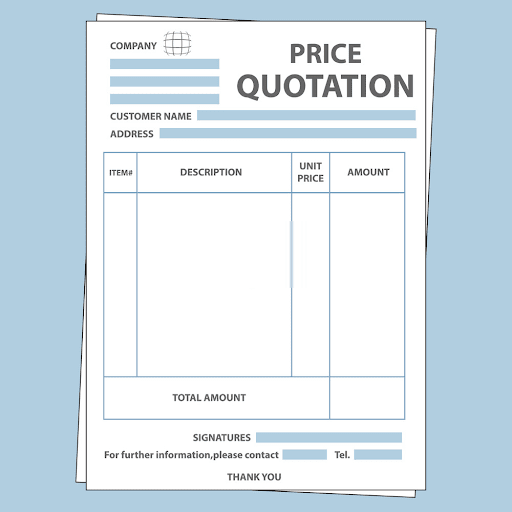 What are the Features of Price Quotation Form?
A quote date is the date in which the quote is sent. The quotation may have been prepared by the seller a few days before it is sent, but it should only carry the date it is sent to the buyer.
Unlike when sent electronically, it may not get to the buyer on this date if sent physically. Therefore, it is advisable to extend the validity period in this case.
This is the validity period of the quotation, i.e. the date till which the current quote would be valid. If the business will be executing a project for the company, the validity period should be the projected completion time for the project.
In the case of a product, the buyer may be given a week or more to complete the purchase. This is because the prices of goods may be subject to change.
Each quotation sent to customers must have a unique number, which is important for identification purposes. With a quote number, you can easily track each quotation.
A customer might place the same order at different times, which is why you need to have a unique quote number for each order to easily differentiate them.
Similar to the quote number, every customer must have a unique customer ID. Two different customers can have the same name or work from the same location. But with a unique customer ID, you can easily identify customers with similar data. This can also be useful for proper order classification, with the key being the customer's ID.
This is the address of the customer to which the quotation is being raised. When dealing with an organization, the customer address should be the official address of the organization.
In this case, it should be titled, Company Address. If the company has different branches, it should be addressed to the branch making the request, respective of the delivery location.
Quote/Project Description
Here, we describe each product or project we are embarking on to give the customer enough details about what he/she will get. For example, the description for a bag of cement will include the brand name and size.
Similarly, when listing food in a quotation, an event planner should give details about the meals on the menu—name, and quantifier of each meal. E.g. spring roll trays, pack of burger and fries, etc.
The quantity of each item in the description should also be added. Using the meal example highlighted above, the number of spring roll trays maybe 2, while we have 50/packs of burger and fries.
Special Notes/ Instructions
This is where instructions on the quote are entered. E.g. "This quote is only valid for purchases whose payment will be made immediately. The prices are subject to a 2% processing fee for an extended payment period."
This include any important points like payment terms, confirmation terms, etc.
In case the customer needs any further clarification, the contact person is the one they will reach out to me. Therefore, the contact person could be a customer care agent or the project lead.
How to Create an Online Quotation Form with Formplus
Step 1: Create a Quotation Form
Take advantage of the already available quotation templates on Formplus to create a unique quotation template for your business. Edit these templates and customize them with your unique brand font and colors.
Click on the Templates tab in the Formplus menu.
Type quotation in the search option to view available quotation templates.
Click on the Price Quotation Form Template to start creating a quotation form.
Step 2: Edit and Customise your Quotation Form
Edit your quotation template to add or remove form fields. You can also customize your quotation template by changing fonts and colors.
Edit the form fields in the price quotation form template with the form builder.
Click on the Customise tab in the form builder menu to beautify your form.
Open the Font tab to change form font.
Step 3: Fill the Quotation Form
Fill the quotation form with the customer details, item description, quantity, unit price, etc. whenever a customer sends in a Request For Quotation.
Share the quotation form with your team members so that they can easily access and edit the quotation form.
Fill the quotation form with the necessary details and submit.
Step 4: Download and Send Quotation Form to Prospective Clients
Access the updated quotation forms in the Responses menu.
Select the quotation form and click on the Download button to download as PDF.
Why Use Formplus as an Online Quotation Form
Formplus helps you eliminate any form of fraud that includes employees trying to exploit potential customers with the team and approval feature. This feature allows you to create a team on Formplus, add team members and also give them different levels of access.
That way, when an employee generates a quotation form to be sent to a potential customer, it will be sent to a superior member of the team for vetting and approval. The outcome of this process is what will determine whether it will be sent or not.
Fast-track your client acquisition process with a large repository of quotation template format for your business. You do not have to delay any part of the client acquisition by spending time on preparing quotations.
You can also edit these templates or easily create a quotation template format for your organization, save it and have access to it every time you want.
You can also customize your quotation forms to properly portray your brand, add attractive form colors, and also create amazing designs. The most amazing part is that you don't need the slightest programming knowledge to do all that.
Uses of Quotation Form
Quotation form can be used to estimate project costs, help in decision making, imporve buyer-seller relationship and most importantly, a quotation form can be used to acquire new customers.
Quotation form helps prospective clients with proper cost estimation before embarking on a project. That way, they can make proper plans and steps towards implementation.
Let's consider a company that has a yearly end of the year party which is to be handled by the HR department for example. With a question from event planners, the HR department will know what to request for, and how to properly allocate their yearly budget.
Customers can decide which vendor to choose from and which project to execute with a quotation form from different vendors. They compare these quotations for the prices, perks, quality and other important factors.
Customers may also decide not to implement particular aspects of a project due to the estimated costs from the quotation. For example, a company may cancel its plans to take the employees on a boat cruise during a business trip due to the estimated cost from a quotation form.
With a quotation form, there is an increased level of transparency regarding the cost of implementing a project. That way, corrupt employees are not able to cheat clients by increasing the price of a good or service.
This may also save the organization from losing customers for being too expensive when they aren't.
Buyer-Seller Relationship
Quotation forms are usually what initiates a buyer-seller relationship. It is a determinant of whether a buyer will send a purchase order or not.
If a buyer is satisfied with a quotation, a buyer-seller relationship will be built in the long run.
A good quotation sent by the vendor will help acquire new clients. Offering a lot of value for an affordable price on a quotation form will attract a potential client's interest, and a purchase order will follow.
Difference Between Quote Template & Purchase Order (PO) Template
Definition
A quote template is a document used by sellers to communicate the prices of the goods or services requested by a buyer. It is usually sent to a potential customer after an initial request for a quotation. A purchase order, on the other hand, is the actual order placed by the buyer to the seller he or she chooses.
This choice can be made through an RFQ, or simply when the customer already knows the seller to order from—probably through a previous relationship or referral.
A quote is the break down of prices of goods while a purchase order is the official confirmation of an order.
Advantages
The advantage of sending a purchase order is that the buyer can place an order for goods without having to make a down payment. The seller also benefits by getting the payment for the goods on delivery.
The quotation, on the other hand, makes it easy for buyers to assess the seller's prices without having to pay first. This is an advantage to buyers because they don't have to pay for the goods if it doesn't fit into their budget.
Example
Let us consider this example of a buyer who goes on Amazon and eBay intending to purchase some gadgets. The buyer may go on both sites, add the gadgets he or she wants to purchase to the cart and process for checkout.
At checkout, the buyer will receive a price quotation for the intended purchases. In this case, the act of proceeding to checkout may be likened to an RFQ.
The buyer may now compare the price break down (quotation) from Amazon and eBay, then complete the order for whichever is better. That is, send a purchase order which may be paid for immediately or on delivery.
Sender & Receiver
The Request For Quotation (RFQ), which usually contains a list of the product a potential buyer would like to purchase is made by the buyer. After which the seller will send a quotation to this effect.
A buyer may send a request for quotation to many sellers, to compare their prices and deliverable to choose the best option. What follows after a quote is the purchase order sent by the buyer, which signifies the acceptance of a quote.
A quote is sent by the seller while the PO is sent by the buyer. Alternatively, we may say that a quote is received by the buyer while the PO is received by the seller.
Time Sent
A quote is usually sent before an order is placed while the purchase order is sent at the time it is placed.
Conclusion
Quotation templates are inevitably important in business today. These template formats are used to develop new business relationships for mutual benefits in the future.
a formal approach, avoid grammatical errors, and stay away from too many colors or sophisticated design—it should be kept as simple as possible.
There are, however, lots of available templates for you to choose from on Formplus. You can edit these templates and to suit your business and clients' requests.