The saying, "accidents are bound to happen" is true for every individual and organization. In fact, it is normal to encounter incidents that have a far-reaching effect on productivity and when this happens, such an event should be accurately documented in an incident report.
An incident report, therefore, is the first step any individual or organization should take upon the occurrence of any unforeseen event that affects its output while putting other persons at risk. In this article, we will highlight the different features of an incident report and show you how to create an incident report form on Formplus. 
What is an Incident Report?
An incident report is a document that accurately provides the details of an incident; especially one that causes damages, injury, or death. It helps an organization to accurately profile the different events leading to such an incident and the aftermath(s) of this occurrence. 
It is also referred to as an accident report because it typically outlines information relating to an accident or injury. However, an incident report can also contain information about near misses or other unusual or hazardous happenings in different contexts. 
Features of an Incident Report  
An incident report is defined by the following features:
Detailed Description: It narrates all the events surrounding the incident in question in their exact manner of occurrence. An incident report may include the following information: 
The circumstances surrounding the incident.
Date, time, and location of the incident.
The details on witnesses and victims, if any.
Reactionary measures put in place.
The aftermath of the incident.
Corrective actions are taken to reduce the likelihood of another incident. 
The more specific the incident report is, the more useful it will be in informing corrective decisions. 
Facts: In an incident report, only the facts are stated. In this document, the reporter is not expected to communicate his or her feelings or opinions about the incident as this can distort the accuracy of the report and distract the organization from the details of the event. 
Objectivity: An incident report must be written in an objective manner that is devoid of any emotions; regardless of the nature of the incident. The reporter must take extra care to avoid sentiments that can get in the way of an objective presentation of the details of the incident. 
Sequence: An incident report presents events chronologically, that is, in their sequence of occurrence. The details must be organized in a logical manner that is easy to read, navigate and understand, and you are free to use subheadings and bullet points where applicable. 
Witness Statements: When necessary, include first-hand information provided by witnesses about the incident. This can be in the form of direct statements made by the witnesses and they should be placed within quotation marks while you also provide information that explains the witnesses' positions.
Authorization: An incident report must be formally authorized by the reporter and other supervisor officers in the organization. This validates the information provided and it is important for the supervisory officer to proofread the information provided before appending his or her signature on the document. 
Types of Incident Reports
1. Workplace Incident Report 
A workplace incident report is a form that is used to profile physical occurrences that impact an employee's productivity in the workplace. It includes workplace injuries, near misses, and accidents that have a negative impact on the employee (s) and the organization, in general. 
Usually, labor laws specify the kind of information that should be spelled out in a workplace incident report. This type of incident report may also highlight an employee's concerns with an organization's safety practices, security breaches, and workplace conduct. 
Examples of workplace incident reports include:
A report about sexual harassment or assault in the workplace.
A report about a fire incident that occurred within the office premises. 
2. Accident Report 
An accident report is a type of incident report that contains information about an accident or emergency that may be fatal, ghastly, or minor. An accident report is not restricted to the workplace as it can also be filed by law enforcement agents and safety officers. 
It is also referred to as an accident investigation report because it highlights all the probable causative factors that are responsible for the accident. It also helps the concerned parties to determine the extent of the damage and to support or refute insurance claims. 
Examples of accident reports include:
A report on a fatal plane crash.
A report of an explosion on an organization's premises.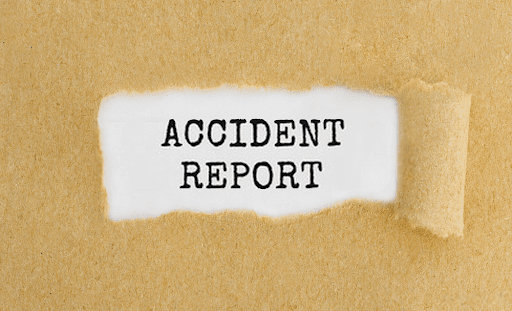 3. Security/Police Incident Report. 
A police incident report is a type of incident report that is used to keep track of the thefts/losses and any other types of security events that take place within specific premises. This report is important because it helps an organization keep track of security breaches and safety measures.
A security or police incident report is usually filed by the security personnel in charge of the premises where the security breach took place. It can also be filed in cases of computer system breaches, unauthorized access to an organization's database, and compromised user accounts. 
Examples of safety and security incident report include:
A report of property theft in an organization.
A report on a burglary attempt in a neighborhood. 
Here are 7 Incident Report Form Template
1. Incident Report Form
Use this incident report form template to swiftly collect information about accidents and injuries as they occur. The Formplus incident report form will help your organization to easily track and record any unfortunate incidents and this information can prove useful in forestalling such an occurrence in the future.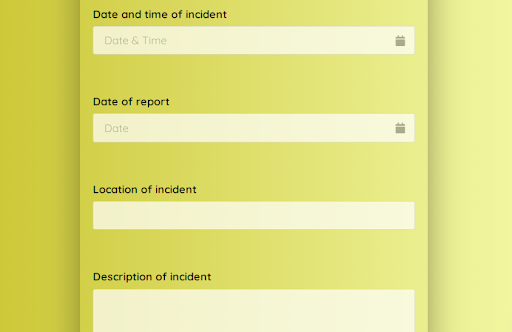 This form allows you to collect useful information about the victim, the location of the incident, and the nature of the incident. You can edit it in the form builder by adding more form fields to enable you to collect more information such as the signature of the reporter and the time of the report. 
2. Sexual Harassment Complaint Form
Allow your employees and clients to easily report any cases of sexual harassment for immediate investigation and redress using this sexual harassment complaint form. This form template enables victims of sexual harassment to inform the appropriate authorities about sexual abuse and sexual assault in the workplace.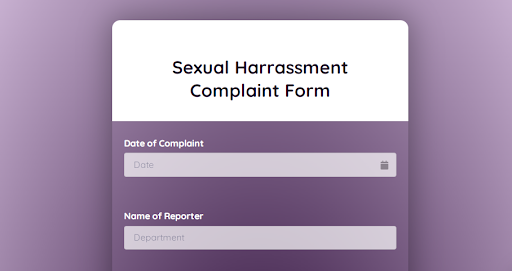 With multiple form sharing options, Formplus allows you to easily share this sexual harassment form with your employees and the general public. You can embed the form on your organization's website and you can also share it with your official social media pages through the direct sharing buttons.
3. Workplace Harassment Form
The Formplus workplace harassment form allows your employees to file a formal complaint about workplace harassment. This workplace harassment form template will help you to effectively track and address any cases of bullying, sexual harassment or assault in your organization.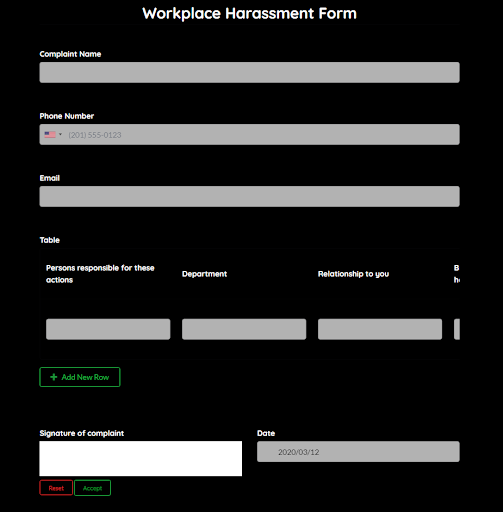 With this form, you can collect a range of important information with regard to the nature of the harassment and the employee details of the complainant and the accused. You can use this form template or edit it to suit your organization's needs in the form builder. 
4. Online Petition Form
Do you want to advocate for a change or register your displeasure about a particular policy or action? Use this online petition form template to easily create a petition for the government, an individual or an organization. 
In the Formplus online petition form, you can directly collect digital signatures from petition signatories using the e-signature field. Formplus also allows your form respondents to fill and submit your online petition when they have limited or no internet access.
5. Proxy Form
With this proxy form template, you can formally empower a third party to make decisions on your behalf for a specific period of time. This form serves as a legal tender and it helps you to avoid the inconsistencies that are associated with a verbal authorization.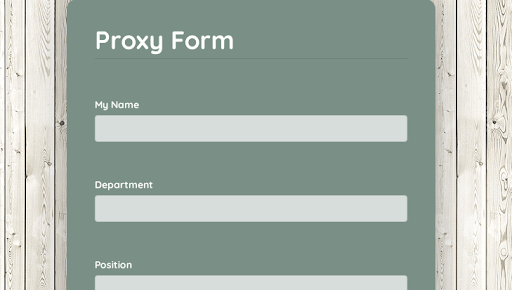 The Formplus proxy form template contains signature fields that collect the digital signatures of all parties involved in this agreement. You can also edit the form in the builder to include more form fields when you sign up on Formplus
6. Bug Report Form
This bug report form will help you to stay on top of every situation by collecting real-time reports about different issues that may arise with your online services.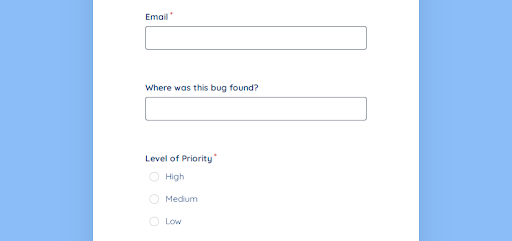 This form allows your customers to swiftly register their dissatisfaction with your organization's online services so that you can resolve them in time. 
7. Daily Report Form
Track your worker's daily productivity using this daily report form template. The Formplus daily report form allows you to assess your worker's performance at the end of the day, and you can edit it to suit your organization's needs in the form builder.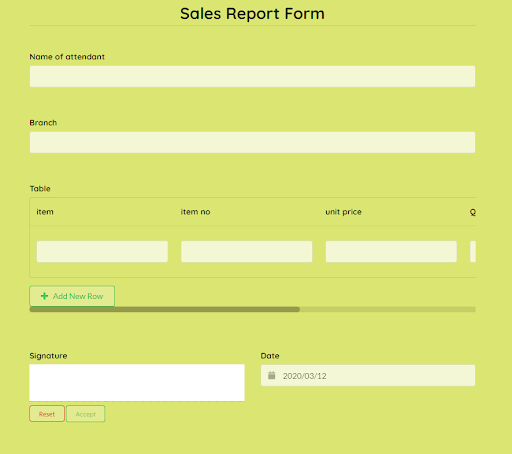 Can't find your preferred incident report form? learn how to create one below.
How to Create an Incident Report Form on Formplus
1. Sign in to Formplus
In the Formplus builder, you can easily create your organization's incident report form by dragging and dropping preferred fields into your form. To access the Formplus builder, you will need to create an account on Formplus. 
Once you do this, sign in to your account and click on "Create Form " to begin. 
2. Edit Form Title
Click on the field provided to input your form title, for example, "Incident Report Form".
3. Edit Form
Click on the edit button to edit the form.
Add Fields: Drag and drop preferred form fields into your form in the Formplus builder inputs column. There are several field input options for survey forms in the Formplus builder. 
Edit fields: You can modify your form field to be hidden or read-only based on your organization's needs. 
Click on "Save"
Preview form. 
4. Form Customization
With the form customization options, you can easily change the outlook of your form and make it more unique and personalized. Formplus allows you to change your form theme, add background images and even change the font according to your needs. 
5. Multiple Sharing Options
Formplus offers multiple form sharing options which enables you to easily share your incident report form with employees. You can send out your survey form as email invitations to your workers too and you can also share your form's QR code or embed it on your organization's website for easy access.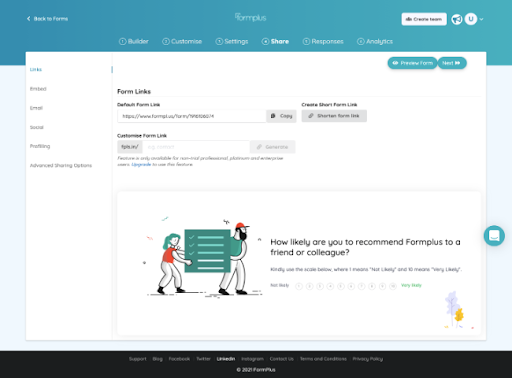 How to Write an Incident Report Letter
An incident report letter is a formal document that contains all the information with regard to the particular occurrence that is being reported. A good incident report letter effectively outlines the different events surrounding the incident and suggests measures that can be taken to avoid a recurrence in the future.
Here is a step-by-step guide on how to write an incident report letter:
Follow the Protocol
Find out if your organization already has a procedure for writing an incident report letter. In many cases, organizations have a template for this type of letter and it is best to follow the provided outline to avoid any inconsistencies. 
Write your Letter as Soon as Possible
Typically, an incident report letter should be sent in, at most, 48 hours after the incident. Writing your letter immediately after the incident would help you to provide vivid and accurate descriptions of the events surrounding the incident. 
Outline the Facts
Usually, an incident report letter follows the 5Ws and 1H format, that is, what, when, where, who, why and how. Typically, it should explicitly state the following: 
The time and date of the incident
The location of the incident
Your name and other bio-data details.
The name(s) of any other individual(s) involved in the incident.
Provide a general overview of the occurrence.
Provide a detailed description of the incident: Write about the incident in the sequence of occurrence, from the first-person point of view. 
Suggest proactive measures that can be taken to avoid a recurrence of the incident. 
Incident Report Letter Sample
10th of February, 2020
The General Manager,
XYZ Construction Company,
Milan. 
Dear Miss Edith,
A Report on the Fire Incident that Happened on the 9th of February, 2020.
I am writing, in my capacity as the departmental team lead, to officially inform you about the fire incident that happened in the company's works department on the 9th of February, 2020 at about 2 pm. This incident led to the loss of files containing employee bio-data. However, no life was lost. 
At about 2 pm that Sunday, one of the employees, Mrs. Joy Evans, noticed that some of the circuits in the records room were burning. She alerted me of the situation and I swiftly sent a message to the organization's fire service department. Before the fire service department could arrive, the fire had spread to almost every part of the room. When the firefighters arrived by 2:15 pm, they battled the fire fiercely but before they could put it out, some of the files containing the bio-data of employees were already lost. 
I have created an online employee bio-data form and I have instructed every employee to complete it before the close of work today. I also think that all electrical components in the organization should be duly maintained to avoid a repeat of this unfortunate incident. 
Best regards,
Tracy Edwards,
Works Department Lead. 

Uses of Incident Report 
An incident report allows you to accurately document the details of any occurrence in your organization. This information may be useful in the future when dealing with liability issues stemming from the incident. 
It evaluates the incident and provides recommendations on precautionary and reactionary measures to be taken. 
An incident report serves as an effective feedback mechanism and it raises the overall awareness of your employees and clients. 
It improves the safety culture of your organization. 
A near-miss incident report provides invaluable information that enables companies to proactively resolve hazards. 
Incident reports can also be used as safety documents that highlight potential risks and uncontrolled hazards found in the workplace.
Conclusion 
When drafting an incident report, it is important for you to accurately reflect the different events in the order in which their order of occurrences. You should also take extra care to document facts and not opinions or hearsays because these will affect the validity and usefulness of the report in the end. 
Finally, it is easier to document an incident report using an online form. Online forms are more convenient and you can easily embed them on your organization's website or share them with your social media pages so that all concerned parties can access them easily.