Ever heard the saying, "Customer is King"? Well, this is true as every business depends on its customers in order to grow its brand, achieve development, and make a profit. Whether you are a small-scale or large-scale business, achieving customer loyalty must be top of your priority.
Customer loyalty results from brand intentionality in terms of top-notch service delivery, good customer retention practices, and value creation. It is important for every organization to understand the importance of customer loyalty and continuously track this using the different methods available.
What is Customer Loyalty?
Customer loyalty refers to a customer's commitment to continually patronize a brand due to positive customer experience, a high degree of customer satisfaction, or the value received from the brand. It is an important aspect of a business that speaks to customer satisfaction.
It connotes an allegiance to a brand to the extent that the customer subscribes to an organization's product or service, solely and is not willing to switch to a competing brand. Customer loyalty is a reward for excellent service delivery and brand loyalty.
Customer loyalty provides a lot of benefits to your organization. The organization enjoys free mouth-to-mouth advertising, customers patronize the organization regularly, customers spend more money leading to more revenue and profit and the customers enjoy an overall positive business experience.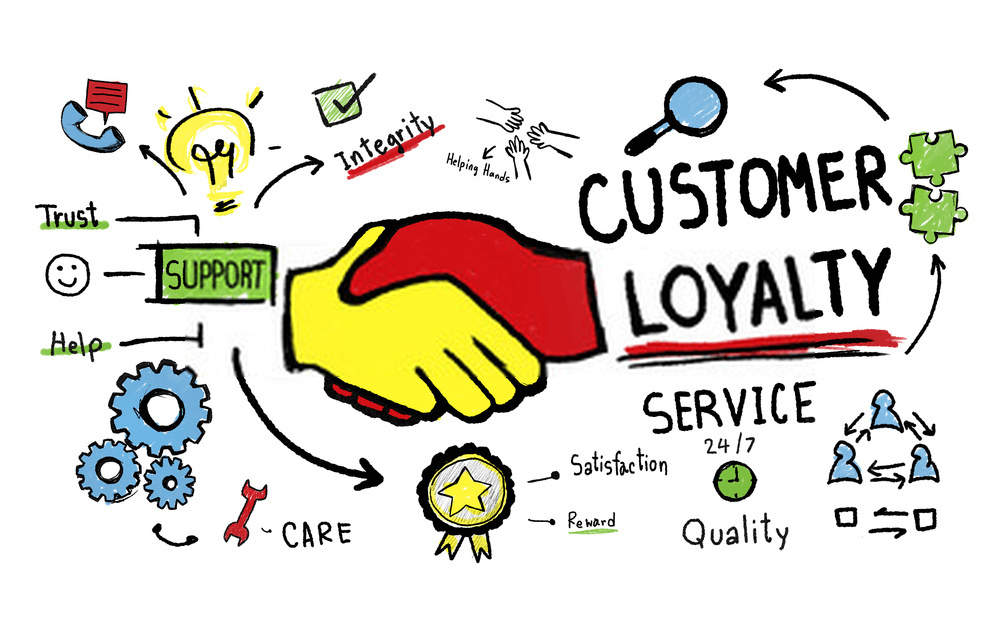 How to Measure Customer Loyalty
Share of Wallet
Share of wallet is an important method of tracking customer loyalty in your organization that measures the level of your customer's expenditure in particular sales or service business categories. Understanding how it works would enable your organization to develop better customer loyalty and retention strategies.
Technically, if a customer continues to patronize a particular sales or service business category, it connotes some degree of customer loyalty. This is different from getting more customers to patronize a particular business category since an Individual's capacity to incur expenditure in a particular category is fixed.
How to Calculate Share of Wallet
Share of Wallet = customer spend/ Customer category spend
Customer Lifetime Value
Customer lifetime value is a method of scaling how long a customer would patronize your business in terms of goods and services before lapsing. It helps you to track a customer's performance over a period of time.
In addition, customer lifetime value allows an organization to determine how much it should invest in sustaining the business relationship with a viable customer(s). This information is extremely useful when an organization is coming up with customer retention strategies and its business case.
How to Calculate Customer Lifetime Value
Customer Lifetime Value = (Average transaction value multiplied by the average number of times a customer transacts before lapsing) - your cost per acquisition (CPA).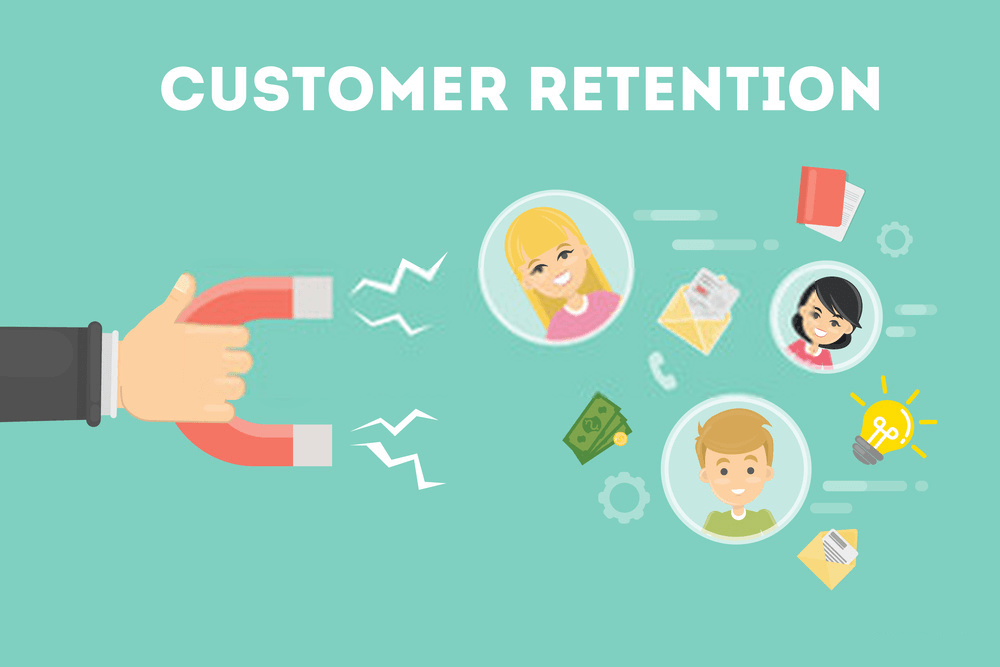 Recency
Recency is a method of tracking how recently a customer patronized your organization in terms of goods and/or services. If your organization sells everyday goods or provides everyday services, such as online retail or e-commerce organizations, Recency can be an extremely useful indicator of loyalty.
As an organization, you should track how often your customers return to transact business with you. Even if spend per customer visit continuously increases, if recency is on the decline, the business or organization may have a customer loyalty problem.
Visit Frequency
Visit frequency refers to the number of times a customer makes use of your business in terms of goods and services. Tracking visit frequency can help you to understand the trends in customer behavior, and it can serve as an alternative for Share of Wallet method.
Weight of Purchase
This is also referred to as the spend per transaction method and it shows how much of investment a customer is making in your business every time he or she patronizes you. The weight of purchase helps you track any changes in the customer's financial behavior.
Factors such as an increase in pricing can affect a customer's spend per transaction. If there's a decline in the weight of purchase, it could suggest that a customer is splitting his or her purchasing power with a competing business.
Active Customer Value
Active customer value refers to the number of active and consistent customers an organization has. Having a clear idea of the number of active customers in terms of business transactions and content engagement would help an organization to track customer loyalty.
Customer Loyalty Index
This is an important tool that is used to track loyalty over a period of time. It takes into cognizance; the customer's repurchasing and upselling rates plus values of the Net Promoter Score or NPS.
25 Customer Loyalty Survey Questions
How likely are you to recommend our services?
Very likely
Likely
Neutral
Somewhat likely
Not likely
Face-to-face marketing is one of the strong indicators of customer loyalty. If your customers are willing to recommend your services to friends and family, then they believe in what you have to offer.
2. For how long have you been patronizing our organization?
0-5 years
5-10 years
10-15 years
15-20 years
20 years and above
This question helps you to determine your firm's customer retention capacity.
3. How likely are you to switch to a competing organization?
Very likely
Likely
Neutral
Somewhat likely
Not likely
This is another strong indicator of customer loyalty. If your customers are willing to switch to a competing brand, then it shows that you still have to do a lot of work in terms of earning their loyalty.
4. How likely are you to keep patronizing us?
Very likely
Likely
Neutral
Somewhat likely
Not likely
This also helps your organization monitor its customer retention rate.
5. How likely are you to convince others to patronize us?
Very likely
Likely
Neutral
Somewhat likely
Not likely
This question is one of the greatest indicators of customer loyalty. Loyal customers are more likely to recommend an organization to their friends and family.
6. How likely are you to expand the use of our product or service?
Very likely
Likely
Neutral
Somewhat likely
Not likely
Loyal customers would be willing to improve on their patronage to your organization.

7. How convenient is our product or service?
This question would help you get feedback on your product or service. Fine-tuning your product to speak to your customer's needs would help you achieve customer loyalty.
8. How well do our customer support team answer your questions?
Very well
Quite well
Neutral
Worse
Worst
9. How likely are you to patronize us in the future?
Very likely
Likely
Neutral
Somewhat likely
Not likely
10. Would you be willing to try out our other services?
11. What do you like most about our services?
This is a feedback question that allows customers to highlight what they enjoy most about an organization's services.
12. How would you rate our service delivery?
13. How would you rate our customer support team?
14. Would you like a customer reward system?
15. How much do you trust this brand?
Customers who trust your brand are more likely to be loyal to it.
16. How reliable is this brand?
Brand reliability is an important prerequisite for customer loyalty as customers would only stay loyal to brands they consider reliable.
17. Did our product meet your expectations?
Customers are most likely to repeat patronage if the product or service that they purchased satisfied the required need.
18. Any other comments, suggestions, or observations?
It is important to provide an opportunity for customers to provide suggestions on your organization's service delivery.
19. How can we make our service delivery better?
To earn customer loyalty, your organization must be a customer-oriented organization. This can be achieved by requesting feedback on your service delivery.
20. How would you describe our products or service?
21. On a scale of 1-5, how well do our products or services meet your needs?
22. On a scale of 1-10, how satisfied are you with our organization?
23. How would you rank the quality of our product?
24. How would you rate the value for money of our service?
25. How helpful have we been in providing responses to your observations, inquiries, and complaints?
Best Survey Templates to Measure Customer Loyalty
One of the easiest methods of tracking customer loyalty is by carrying out a survey; whether online or offline. A customer loyalty survey typically contains questions that revolve around customer feedback, brand satisfaction and reliability, which are important for any organization.
Here are 7 different survey templates from Formplus which you can use to track customer loyalty for your brand.
This template allows the organization to effectively profile and treat customer complaints in real-time. It contains different fields that request both the bio-data of the customer and the details of the complaint at hand and the customer's signature which authenticates the complaint.
With this form, you can swiftly respond to all complaints as there's no need to have extended waiting periods that can affect your customer's loyalty.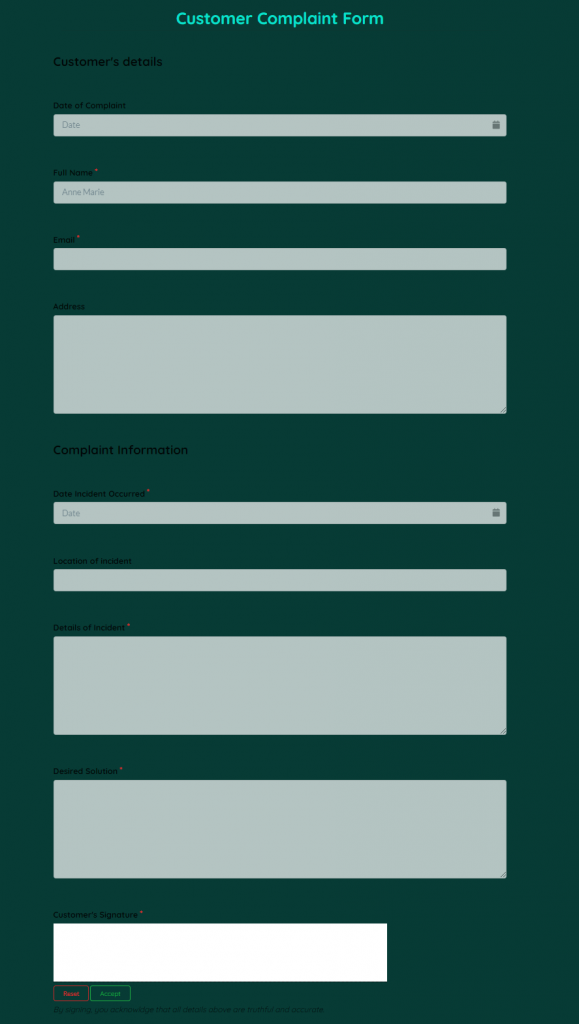 This online survey form allows you to measure your organization's service delivery and overall customer disposition. It contains specific questions that would require the customer to communicate his or her true experiences with your organization in terms of customer treatment and service delivery.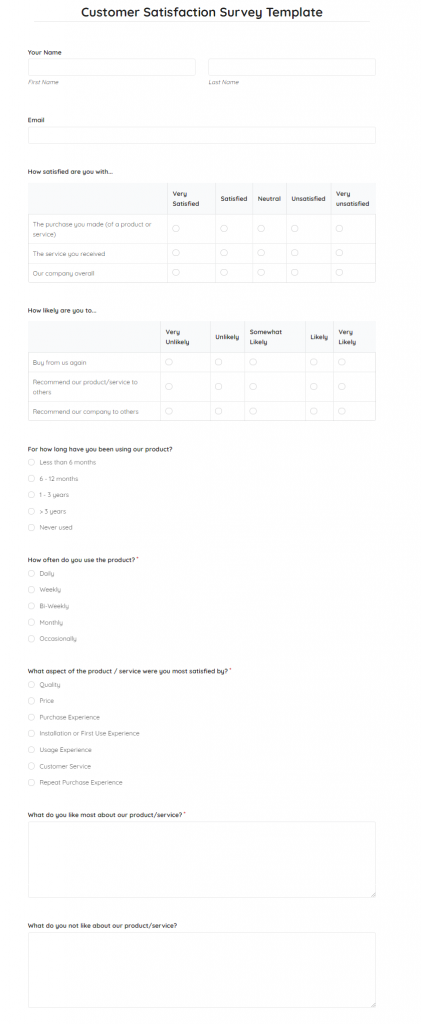 The Formplus hotel feedback template requires the customer to state how satisfied he or she was with different services rendered by the hotel. These include the pricing, food, neatness and comfort, and general staff attitude.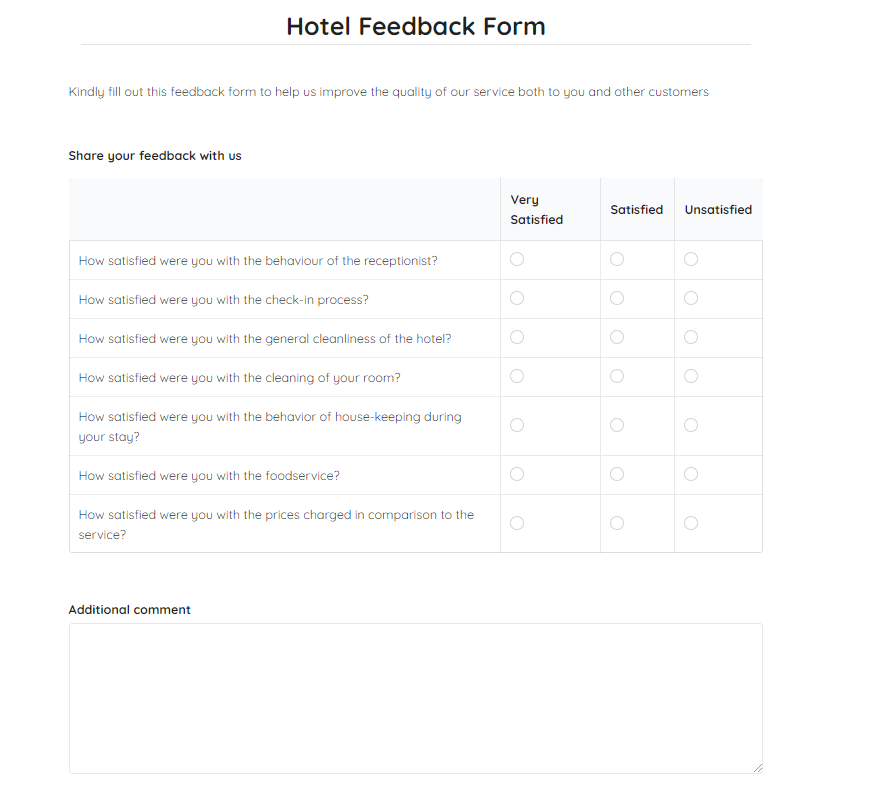 The product pricing survey form allows you to get an idea of your customers' expected price range for your product. It also gives you an idea of the pricing of your competitors.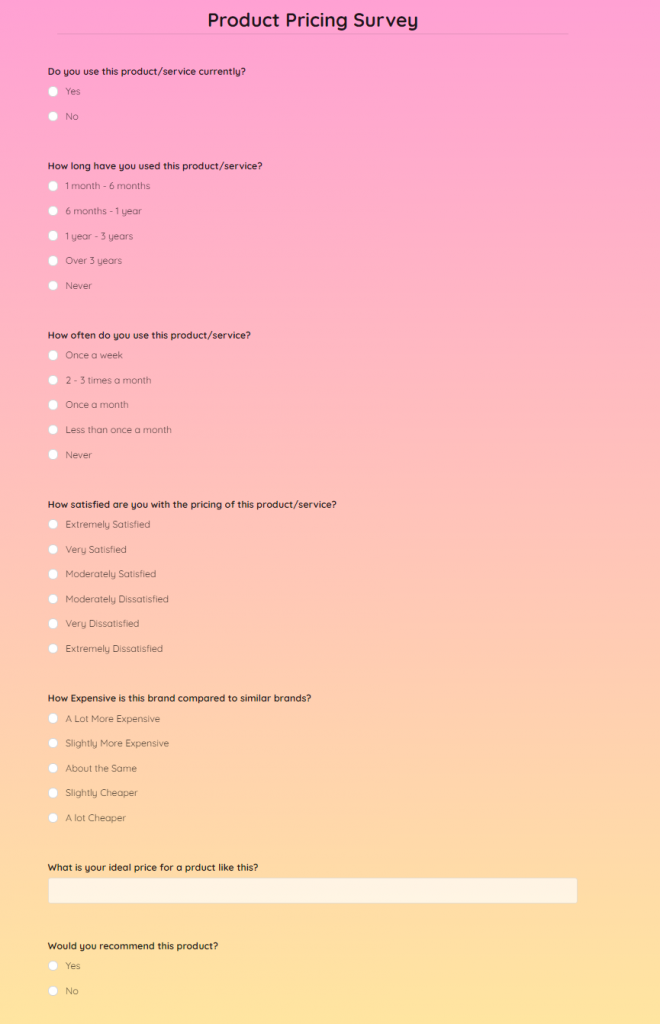 Restaurant satisfaction survey form helps you to get feedback from your customers with regard to your quality of service. It contains specific questions requiring the customer to rate specific areas of service.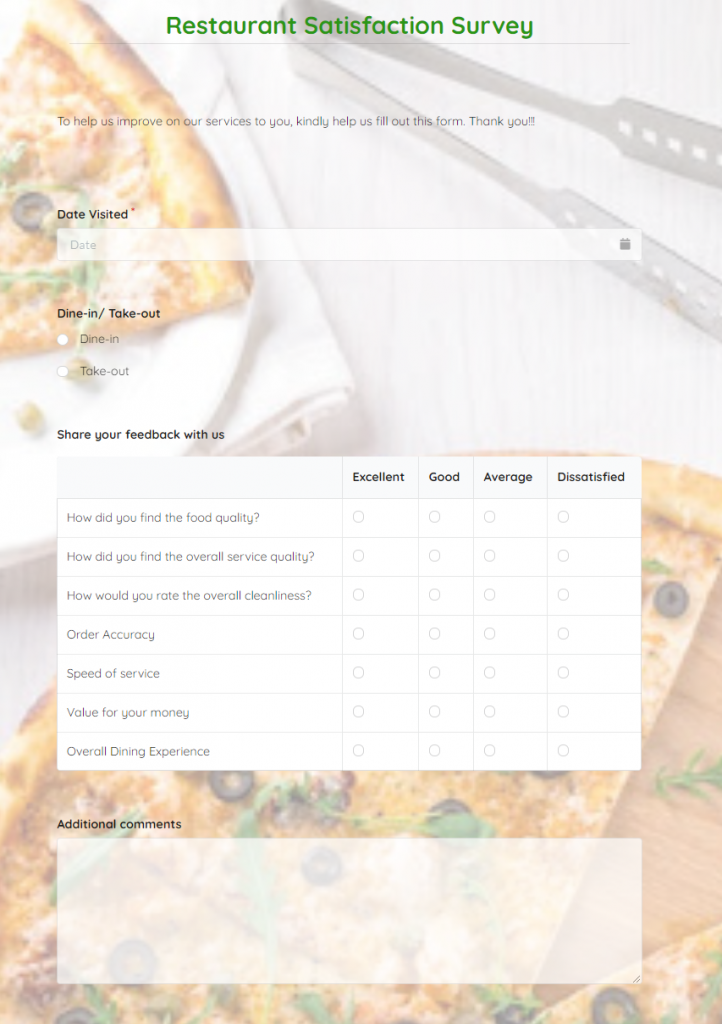 A refund request form helps you to quickly receive and process any requests for a refund made by your customer. This form template requests specific information including the order date and order ID of the customer.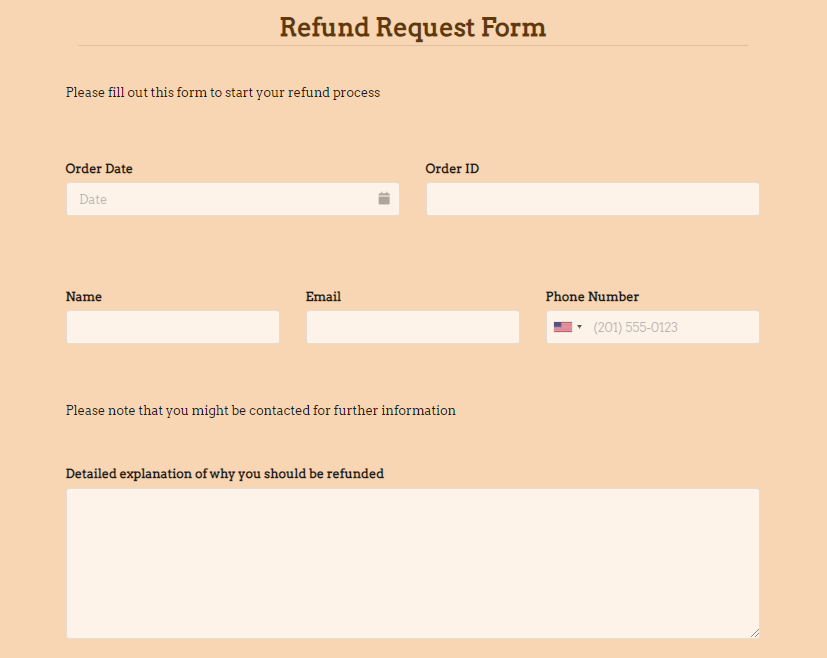 The website evaluation survey helps you to determine the degree of customer functionality of your organization's webpage. Customers provide feedback on the site's user interface, appearance, and appeal.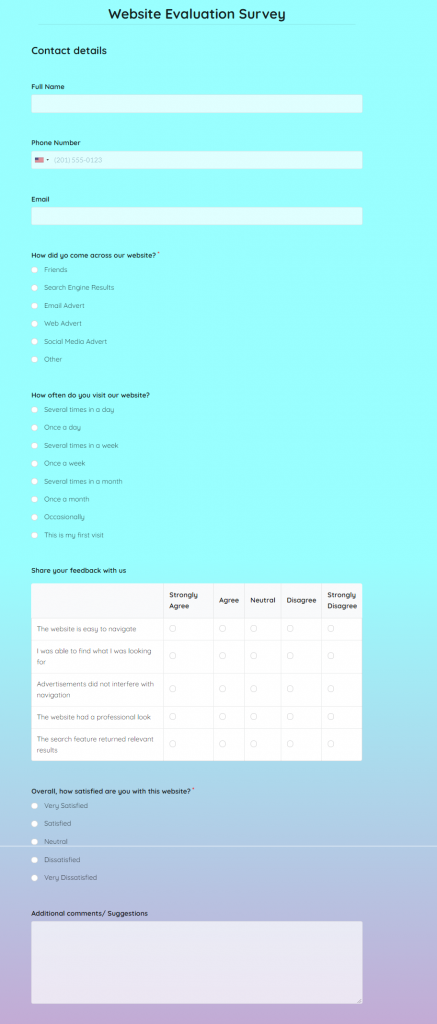 How to Conduct Customer Loyalty Survey on Formplus
Formplus is a data-gathering platform that allows you to carry out customer loyalty surveys using online survey forms. You can make use of available customer loyalty survey form templates or you can create your unique customer loyalty survey form using the Formplus builder.
Here's a step-by-step guide on how to conduct customer loyalty survey on Formplus.
Sign in to Access Formplus Builder
To access the Formplus builder, you will need to create an account on Formplus.
Once you do this, sign in to your account and click on "Create Form " to begin.
Edit Form Title
Click on the field provided to input your form title, that is, Customer Loyalty Survey Form.
Edit Form
Click on the edit button to edit your customer loyalty survey form.
Add Fields: Specify form field inputs from the Formplus builder inputs column. There are several field input options for customer survey forms on the Formplus builder.
Edit fields to include different customer loyalty survey questions.
Click on "Save"
Preview form.
Customize Form
Formplus builder allows you to add unique features to your customer loyalty survey form. You can personalize your form in the builder's customize section.
Here, you can add relevant background images, embed your organization's logo, and other features. You can also change the display theme of your form.
Save and Share: Save your customer loyalty survey form and share the link with respondents. You can share your customer loyalty survey form via email, on social media or embed it in your organization's website feedback section.
How to Increase Customer Loyalty
Prioritize Good Customer Service
Good Customer service often reveals the extent to which an organization values and respects its customer base. According to the 2015 Aspect Consumer Experience survey, 67% of customers are of the opinion that an organization's customer service culture is a reflection of how much value they place on their customers.
It is pertinent for every organization to develop a good customer support culture. Usually, customers keep scores of every interaction they have with an organization and this goes a long way in determining how loyal they are to a brand.
Ensure that your team is friendly, approachable, well-mannered, and prompt; especially with responding to online inquiries as research shows that customers expect almost-immediate feedback when they interact with a brand online. With great customer support, your business is sure to earn the absolute loyalty of its customers.
Connect with your Customers
Ensure that your relationship with your customers is not merely transactional. Customer loyalty is earned when your customers feel like an important part of your brand; not just as individuals helping you to make a profit and stay in business.
To achieve this, ensure that you regularly reach out to your customers and become a part of their lives. Create a community by sending encouraging emails, newsletters; involve them in your organization's decision-making process, organize a meet-and-greet with their favorite celebrities, or host a customer appreciation event.
Provide Incentives and Discounts
A good way to earn customer loyalty is to reward your customers for patronizing your brand. Often times, you may have to give your customers a head start by offering free products or services for a limited period of time.
Prioritize Excellent Service Delivery
One of the surest ways to earn your customer's loyalty is to ensure that you provide top-notch service delivery. When your customers are convinced that your brand provides the best service or product, they would be completely devoted to you.
Examples of Customer Loyalty
Starbucks Rewards is a customer loyalty program that was targeted at making it easier for customers to place and manage orders on Starbucks. The first-of-its-kind mobile application made it possible for customers to make orders from the comfort of their mobile devices and earn loyalty points (stars).
Moosejaw rewards program allows customers to enjoy 10% cashback on fully-priced items and 40% cashback on special-priced items which is a great way to stimulate continuous patronage from customers. It also offers free shipping on outdoor clothes like jackets and free 2-day shipping on orders over $49.
Advantages of Customer Loyalty
Free Brand Advertising/Advocacy
Brand advocacy occurs when your customers willingly advertise your brand without any prompts from your organization or team. Customer loyalty earns your brand fee advertisements on different platforms as loyal customers are die-hard fans who would continuously go out of their way to promote your brand without any form of payment.
Price insensitivity occurs when customers are so loyal to a brand that pricing because inconsequential in influencing patronage. This means that even if the price is increased, customers would still opt for your brand because they trust your service delivery.
Referrals are new customers who are acquired through direct marketing from an existing customer. Recommendations from existing customers are one of the most powerful marketing tools for any brand because they often translate to direct sales or patronage; without any extra nudge from the organization.
Naturally, customer loyalty leads to an increase in revenue as the organization enjoys more patronage, increased sales, free marketing, and referrals.
Customer loyalty ensures that existing customers feel esteemed, and encourages new clients to keep patronizing your business. It further expands customer appreciation and increases the chances that current clients will share their satisfaction with others around them.
The more a customer feels that your business acknowledges them, the more he or she will get the message out. Word-of-mouth advertising is one of the cheapest and most effective methods of growing a business.
Conclusion
Customer loyalty is an important area that every organization should pay attention to as it offers so many benefits. It is a proven means of growing an organization's customer base, earning more revenue and profit, and entrenching your brand in its target market.
Every organization should track its level of customer loyalty and this can be done through the use of a customer loyalty survey form. A customer loyalty survey form contains questions that cut across the different important aspects of your business.
You can create your personalized customer loyalty survey form on Formplus using the Formplus form builder. Formplus also allows you to access different customer loyalty survey templates that can be used to gather useful information from your client-base.