What is Nutritional Assessment? 
The British Dietetic Association (BDA) defines nutritional assessment as the systematic process of collecting and interpreting information in order to make decisions about the nature and cause of nutrition-related health issues that affect an individual. It can be done by a healthcare professional or self-assessment using online tools.
This assessment involves measuring body weight, height, blood pressure, heart rate, waist circumference, muscle mass, bone density, and other factors that may affect how much food you need to consume. Based on the data gathered, one can make an informed decision on what a person needs to eat in order to achieve and maintain health.
The goal of nutrition assessment is to determine if your diet meets your nutrient requirements, which are based on your age, gender, activity level, current medical conditions, medications, and lifestyle choices. If your diet falls below these requirements, you can make any required changes to improve your eating habits. 
Try this out: Dietary Assessment Questionnaire Template
Importance of Nutritional Assessment
You are what you eat. Committing to nutritional assessment helps you know what you should and should not be eating if you want to live a healthy life. Let's look at some other reasons why you should prioritize nutritional assessment. 
Nutritional assessment helps people understand their own dietary intake and how it compares with the recommended daily allowances for nutrients. 
Regular nutritional assessment allows you to identify any potential risks associated with poor nutrition.
It helps people make informed decisions about changes to their diets.
A nutritional assessment provides information about whether or not there are specific foods that you shouldn't eat. 
It helps you learn how to plan meals and snacks ahead so you don't have to rely on fast food or convenience options.
Regular nutritional assessment is the only way to ensure you're getting enough nutrients from your meals and in the right quantities. 
How Often Should Nutritional Assessment Happen? 
A nutrition assessment should be performed at least once every year, depending on the individual's health and lifestyle. For example, if you're trying to lose weight, you may want to do an assessment more frequently than someone who's maintaining their normal weight.
Objectives of Nutritional Assessment
The objectives of a nutritional assessment depend on the context of the program and what you want to achieve.
In the case of a one-on-one program with an individual, the common goal should be improving the health habits and overall lifestyle of the patient. Nutritional assessment should also identify and address any cases of possible malnutrition. Other common objectives are: 
Nutritional assessment evaluates a person's overall health and nutritional status.
It identifies possible nutrient deficiencies in an individual
Nutritional assessment allows the experts to evaluate the effectiveness of prescribed treatments.
It's an effective way to monitor progress toward goals set during treatment.
It helps you to prevent malnutrition.
It provides an opportunity for the experts to educate their patients about proper nutrition.
Nutritional assessment promotes healthy lifestyles.
It encourages compliance with recommendations for treatment.
Use for Free: Macros Calories Diet Plan Template
Types of Nutritional Assessment
1. Anthropometric Nutritional Assessment 
Anthropometric measurements are noninvasive quantitative measurements of the body that provide valuable assessments of the nutritional status of children and adults. Typically, it involves the measurement of the size, weight, and proportions of the body.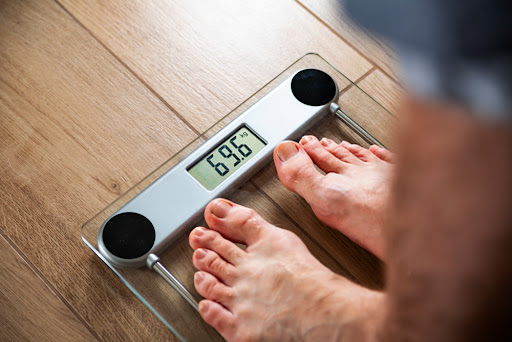 Anthropometric measurements are commonly used in the pediatric population to evaluate the general health status, nutritional adequacy, and the growth and developmental pattern of the child. An important part of this type of nutritional assessment is weighing the individual and calculating their body-mass index to know if they fall within the optimal range. 
Common anthropometric measurements include:
Body Mass Index
Waist Circumference
Height
Weight
Skinfold thickness
Bone Mineral Density
Blood Pressure
Heart Rate
Body Fat Percentage
Other measures of adiposity
Muscle mass
Lean Body Mass
Fat-Free Mass
Total Body Water
Visceral fat
Fasting Blood Glucose
Lipid profile
Use for Free: Weight Loss Tracking Form Template
Advantages of Anthropometric Assessment 
It uses simple, safe, and non-invasive procedures.
Anthropometric assessment techniques can be applied to a large sample size
It is objective with high sensitivity and specificity. 
It can be done by healthcare providers without specialized training.
Disadvantages of Anthropometric Assessment
An anthropometric assessment covers limited nutritional diagnosis.
Anthropometric measurements cannot identify protein and micronutrient deficiencies or detect small disturbances in nutritional status. 
2. Biochemical Assessment
Biochemical assessment involves checking the level of nutrients in a person's blood, urine, or stool, usually through a lab test. These lab tests can help a trained medical practitioner discover any medical problems affecting your nutritional status or appetite. For example, a lab scientist might take your blood sample to measure the level of glucose in your body.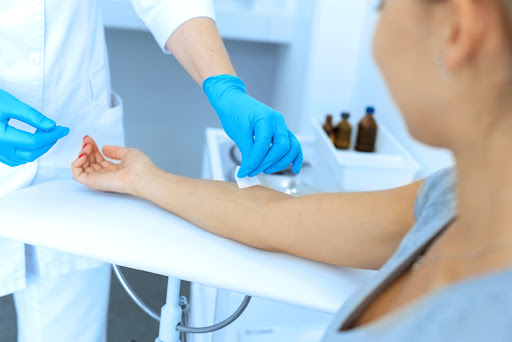 During a full biochemical assessment, the physician will screen the following biochemical parameters: albumin, prealbumin, CRP, transferrin, hemoglobin, urea and creatine, lymphocytes, and point deficiencies. 
Advantages of Biochemical Assessment
They pick up the earliest indication of malnutrition or any nutritional deficiencies in the body. 
Biochemical assessments also confirm the clinical diagnosis of nutritional status and/ or risk for a disease.
Disadvantages of Biochemical Assessment
It is time-consuming.
The health practitioner needs to run multiple biological tests for a proper diagnosis. 
Use For Free: Caloric Calculator For Fat Loss Form Template
3. Clinical Nutritional Assessment
Clinical assessment is the simplest and most practical method of ascertaining the nutritional well-being of a patient. In this case, the physician examines specific areas of the patient's body to discover any signs of deficiencies. A clinical nutritional assessment also involves asking the patient whether they have any symptoms that might suggest nutrient deficiency from the patient. 
Advantages of Clinical Assessment 
It helps the health practitioner dictate changes in the body's metabolism.
Disadvantages of Clinical Assessment
It is expensive.
It only provides limited data on food composition. 
4. Dietary Assessment 
Dietary assessment is the process of collecting information about what a person eats and drinks over a period of time. In other words, it is a record of the foods one eats in an attempt to calculate their potential nutrient intake.
During a dietary assessment, the health practitioner analyzes the energy, nutrients, and other dietary constituents using food composition tables. 
The goal of dietary assessment is to identify appropriate and actionable areas of change in the patient's diet and lifestyle and to improve the overall wellbeing of the patient. For a detailed analysis, the health practitioner can deploy one or more of these methods: 
Diet Record
24-hour recall
Food Frequency Questionnaire 
Advantages of Dietary Assessment
It provides contextual information about a person's nutritional intake. 
Results from the dietary assessment are largely accurate due to more detailed descriptions of foods and portion sizes. 
Disadvantages of Dietary Assessment
It relies on accurate recall of dietary intake over a long period of time. 
It is prone to misreporting, especially when the health practitioner adopts food frequency questionnaires for data gathering. 
Nutritional Assessment Tools 
Let's look at some tools that health practitioners use to determine an individual's nutritional needs.
Food Frequency Questionnaire
A food frequency questionnaire is a tool that helps you record how often you eat certain foods on a regular basis. It also asks questions about your eating habits. This information can then be compared to national guidelines or standards.
A food frequency questionnaire will help you keep track of what you eat regularly. You can fill it out at home or take it to your doctor's office. The answers provided will help your doctor make the right decisions about your nutritional health. 
When filling out a food questionnaire, write down everything you ate during the past 24 hours. Include all beverages, including water, milk, juice, soda, tea, coffee, alcohol, and any other drinks. Also, note if you skipped meals. If you're not sure whether something was eaten, just put an "X" next to the item.
A calorie calculator allows you to fill in the number of calories you consume in a day. Then, based on your weight, age, gender, height, and activity level, it determines the number of calories you need each day for a healthy life. 
A calorie calculator is only as good as the measurements you input. For instance, some people might forget to include snacks, such as cookies, crackers, chips, etc., when they count calories. And they might underestimate the calories they burn while exercising. These inaccurate measurements affect the quality of information you get from the calculator in the end. 
To use a calorie calculator, follow these steps:
1. Enter your current weight.
2. Choose from five different activities levels. The higher the level, the greater the intensity of exercise.
3. Select the number of days you'd like to calculate your daily calorie needs.
4. Click Calculate.
5. Review the results and adjust them as needed.
6. Print out your results.
A food pyramid shows you how many servings of grains, vegetables, fruits, dairy products, meat, and oils you should eat every day. Each section represents a specific type of food. For example, the top part of the pyramid shows you how much whole grain bread, pasta, rice, cereal, oatmeal, and potatoes you should eat. The bottom part shows you how much fruit, vegetable, fish, meats, and eggs you should eat. 
Formplus is a data collection tool that allows you to create surveys and questionnaires for nutritional assessment. It has several features that help you collect data from respondents seamlessly and conveniently. 
Let's look at a few reasons why you should use Formplus for nutritional assessment. 
1. Create Mobile-Friendly Forms
Formplus allows you to create mobile-responsive nutritional assessment forms that can be filled out on any device including smartphones, laptops, and notepads. Formplus forms offer an optimized user experience and fit into any devices they are viewed on.
2. Easy-to-use Drag and Drop Form Builder 
With Formplus, it is really easy for you to create your online interview form template in minutes in the drag-and-drop form builder; without any technical knowledge. All you need to do is click on your preferred form fields or drag and drop them into the form builder to add them to your nutritional assessment form. 
3. Analytics and Reports
The form analytics feature makes it easier for you to process form responses collected through your nutritional assessment form. You can view insights on form responses in the analytics dashboard including the total number of submissions, average form response time, and the devices used to fill out your form.
4. Multiple Form Fields Options 
Formplus has over 30 dynamic form fields that allow you to collect different information from patients; ranging from health information to file uploads. This means that you can now gather all the information you need to make an objective nutritional assessment in little or no time. 
Conclusion 
Nutritional assessment is important in maintaining fitness and general wellbeing. This is why it should be prioritized using all the tools and learnings that the 21st century offers