As a restaurant, food costing is how you price your dishes in a manner that's not too pricey or cheap to the point where you'd be running at a loss. If you price your products too low, you risk not making a significant bottom line, and if you price them too high, your customers may feel exploited and refuse to order them.
To calculate food costs, first, determine the food cost percentage. The food cost percentage shows how much money you spend on food supplies and ingredients in relation to your sales.
Also, the main factor for menu engineering is food cost percentage. Menu engineering is the process of pricing items on your menu so that you maximize your profit while remaining affordable to your customers.
In this article, we'll discuss how to choose a food costing software that'll help you maximize your profit
For Restaurant Owners: Restuarant Inventory Sheet Form
What is Food Costing?
Food costs are calculated as a percentage. It is the ratio of how much you spend on ingredients to how much you make when you sell food items with the ingredients on the menu. It's a sales ratio that determines whether a restaurant makes a profit or a loss.
Here's the formula to calculate the food cost percentage:
(Initial Inventory + Purchase-Final Inventory)/Food Sales = Food Cost
Your food cost percentage varies depending on the type of restaurant you own. For example, if you own a fast-food restaurant, your ingredients are easier to obtain in bulk, so your food cost may be slightly lower than that of a five-star seafood restaurant while both restaurants still make a significant profit.
Try For Free: Food Feedback Form Template
For your restaurant to make a significant profit, your food cost percentage should be between 28-35%. With inflation on the rise, it is preferable if your food costing is done weekly or biweekly so that your restaurant operates at current costs.
Aside from determining whether you're making a profit or losing money, food costing allows you to create realistic budgets. Your budget will tell you how much inventory you're willing to buy, and your food costs will tell you if your budget is realistic.
Why Do We Need Food Costing Software?
Trying to do your food costing can be tough, especially if you have a large menu. However, with the help of food costing software, all you need to do is enter your sales and expenses, and the software will calculate your food cost percentage automatically.
Food cost calculation requires current inventory and sales data. So, having food costing software helps you keep your inventory record up to date and generate accurate business reports.
Use For Free: Food Inventory Form Template
These business reports allow you to compare what caused your restaurant to lose or make money over time. Once you have an up-to-date business report, you can develop strategies and budgets to improve your restaurant's performance.
Another significant advantage of using food costing software is that it allows you to prioritize menu items. For example, if an item's food cost percentage is significantly higher than 35% and it is not a popular order, remove it.
However, if a dish is around 28 percent or lower, you can incorporate it into more dishes. You should also be careful not to be hoodwinked by food costing; even if an item appears to be very profitable due to its food cost percentage, you should only add it into more dishes if customers like it.
Better Servings With This: Taste Test Questionnaire Template
Regardless of how low the food cost for a menu item is, incorporating it into more dishes could backfire spectacularly if it is not frequently ordered by customers.
What to Look Out for When Choosing Food Costing Software
Simplicity
Wading through the waters of food costing software can be tricky. First, there are so many food costing software that's so difficult to navigate.
You're getting a software to do your food cost calculation because you don't want to deal with the headache of doing it yourself. But, if the software is too difficult to use, you will most likely revert to spreadsheets or even traditional paper and pen.
Collect More Bookings With This: Restaurant Order Form Template
Easy Auto-Conversions
Not all food items have the same metrics. Some are measured by size (weight or volume) and some by number. Your food costing software should be able to auto-convert these items into the standard unit for calculating your food cost percentage.
With paper and pen calculations, you'd have to go through a lot of error-prone calculations, converting from one unit to another, before finally inserting your values into the food cost percentage formula.
Flexibility
Your food cost software must be smart and flexible. Flexibility in food costing refers to how adaptable the software is to changes. Of course, changes in this context refer to input, inventory, purchases, and sales.
So, if you make changes in your input today, it should automatically reflect in your food cost. Menu engineering is only effective when it's done regularly.
If you use rigid food costing software, you may have to postpone menu engineering until you have more time. But menu engineering does not work that way; the more frequently you do it, the more likely you are to run at current rates and maximize profit.
For Food Business Owners: Table Reservation Form Template
How Formplus Can Help Food Cost Management
Customizable and Flexible Templates
For an effective and organized food costing, you need a template you can build on. It makes no sense to go around in circles setting up your software every time you want to use it.
With pre-designed Formplus templates, all you have to do is to edit the calculations based on your food cost formula and it will accurately calculate your food cost percentage.
Calculator and Form Logic
The entire point of food costing is to do menu engineering in a way that benefits you while not breaking your customers' bank. With Formplus, you can easily calculate your menu prices from the values derived from your food cost percentage on the same form without cluttering values or feeling overwhelmed.
Everything You Need in one Platform
Your food cost calculators aren't the only thing to consider when engineering a menu; you also need to know what your customers think about your menu items. 
A customer opinion survey is a reliable way to determine whether a dish is worth keeping on your menu. You can use Formplus to create customer satisfaction surveys to learn which dishes your customers like, why they like them, and why they don't like the other dishes as much.
Of course, if a dish is costing you a lot of money, you may have to remove it or raise the price if your customers are willing to pay for it.
Manage Customer Sentiment With This: Restaurant Satisfaction Survey Template
Formplus also allows you to generate business reports and track your inventory from the supplier.
With over 2000 integrations, Formplus integrates well with POS systems, allowing you to keep track of sales in your restaurant and import data from it to calculate food costs and engineer menu profitability all in one place without paying exorbitant fees.
Customer Support
Food costing and menu engineering can be tricky, especially if you're new to the world of food costing software. But everything is easier with Formplus, the forms are user-intuitive and so customizable that you can manipulate them however you want.
But if you have any problems calculating your food cost or engineering menu, the support team is available to assist you.
The support team will guide you through the process of developing a food costing system that is appropriate for your restaurant. Once you've configured it, all you have to do is update the value of your input for your current food cost.
List Of Best Food Costing Software To Buy In 2022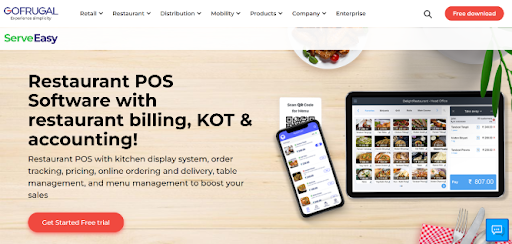 Gofrugal is a restaurant POS system that is suitable for all types of restaurants; multichain, small dine-in, or delivery only. It enables you to manage orders more quickly, track inventory, and generate business reports. 
You can also use Gofrugal to manage restaurant taxes, track food waste, and keep track of your purchases.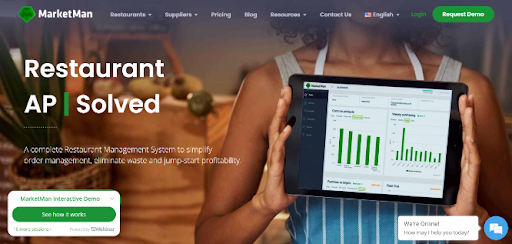 Marketman is inventory management software for restaurants. It helps you handle purchases from your ingredient suppliers and automatically syncs them with your inventory.
Marketman also has a food costing feature that allows you to optimize your menu to increase your bottom line. This feature also accounts for food waste; It also teaches you how to reduce waste and optimize your menu for increased profits.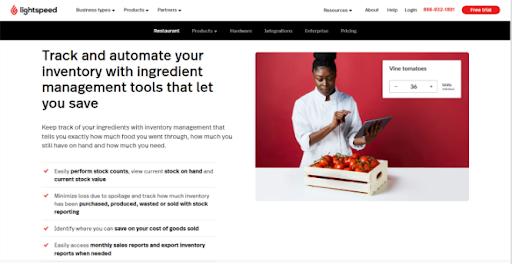 Lightspeed is a POS system that helps you manage restaurant orders, inventory, payments, and food delivery. It enables you to accept various types of payments, including contactless payments, and to record sales onsite and offsite.
You can also use lightspeed to generate cumulative sales reports to evaluate your business performance over a period. It also integrates seamlessly with delivery platforms such as Ubereats and Doordash to deliver food to your customers at lightning speed.
Apicbase is restaurant management software that allows you to profitably engineer your menu with accurate food costs. Its inventory management feature notifies you when you are running low on ingredients, or have excess ingredients in store.
Another advantage of using Apicbase is that you can use it to manage tasks in your restaurant. It allows you to assess your employees' contributions, generate reports, and keep them from overworking.  
Apicbase also allows you to keep track of your procurement and generate purchase receipts.
CrunchTime is a simple restaurant management platform that helps you unify inventory management, team collaboration, and productivity. It also has resources that can help you map out your restaurant's operations for new employees, and make employee onboarding super easy.
CrunchTime also provides sales reports and data insight to help you find ways you can maximize profits in your restaurant.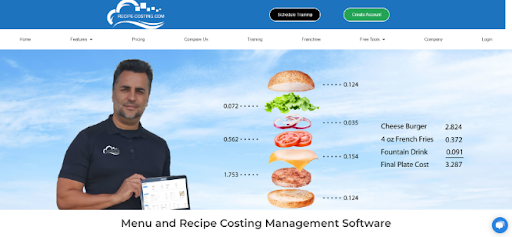 As the name implies, it's a recipe costing software that helps you calculate the food cost of your recipe down to the smallest ingredient. It also uses your recipe costing to build your menu so that you can make more money without scaring customers away with exorbitant menu prices.
The method Recipe-Costing.com uses for calculating food costs takes into account more ingredients than most food costing software, making menu engineering more profitable.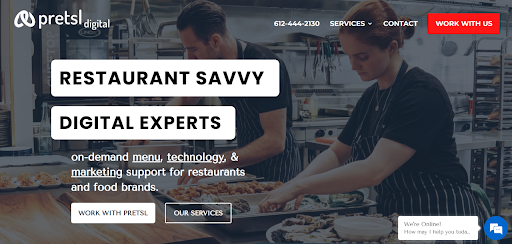 Pretsl digital helps you in managing your menu and creating a source of truth documents to determine the profitability of your restaurant. This platform also integrates with POS platforms, allowing you to generate business and sales reports for your restaurant.
Another plus of using pretsl digital is that it provides technical support for your restaurant software. So, if you have any problems with your restaurant software, you can contact them for assistance.
Pretsl digital also helps you get your restaurant to the top of search results, and improve your local SEO on platforms such as Doordash.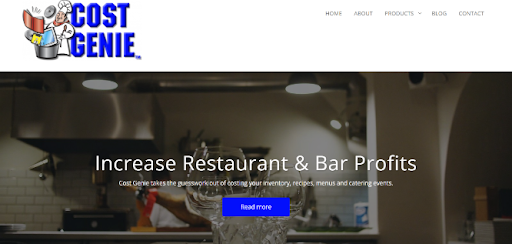 Cost genie is an easy-to-use food costing and menu engineering software. It's also very cost-effective, with a one-time fee of $595 for lifetime access.
Aside from determining whether your restaurant is profitable, it also provides you with business strategies based on your sales analytics. In addition to this business strategy, Cost genie's Restaurant News keeps you up-to-date on the latest trends in the restaurant industry.
Menu Sano is a nutrition analysis software that allows you to create new recipes, improve existing ones, and manage them. While the main features of Menu Sano focus on the nutritional value of your recipe and the safety of your recipes, it also allows you to calculate the cost of your recipe.
It also helps you tailor your menu to your customers' preferences based on their nutritional needs.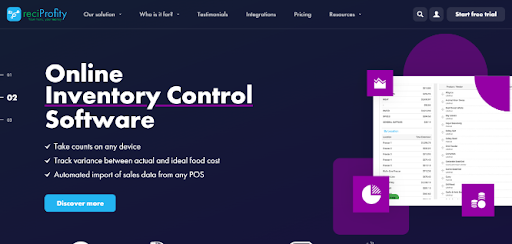 reciProfity is an inventory control and food costing software. It helps you improve your restaurant profitability by reducing food wastage, and reducing procurement stress.
Reciprofity takes the hard work out of inventory control, so restaurant managers can be more productive.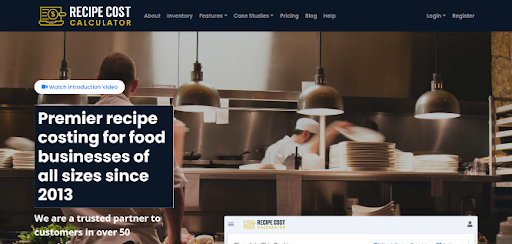 The recipe cost calculator allows you to accurately cost your food regardless of the size or type of restaurant you run. One of the best features of the recipe cost calculator is its data representation.
It does not use graphs to tell you how much your recipe costs; instead, it uses a colorful pie chart that makes it simple to figure out your food costs at a glance.
The recipe cost calculator also provides information on inventory price changes. This alerts you when your ingredient costs are rising and allows you to change suppliers if a lower-cost alternative is available.
You can also export your food cost as PDFs for cost analysis or business reports.
Conclusion
Food costing software takes out the grunt work of finding out how much each menu item cost your restaurant. It helps you engineer your menu profitably from the results you get.
Also, food costing only matters if you can use it to improve your bottom line. So, you need a tool that's user-intuitive and uses your sales analytics to improve your business performance.