You can't deny the power of good customer support software; it allows you to provide incredible support to customers and communicate with them seamlessly. The factors that determine the best customer service software for your business aren't necessarily the software's dynamic features, but rather how well the platform can help you achieve your goals.
So, in this article, we'll look at what factors make certain customer service software, a good fit for your company. We'll also discuss the best practices to implement in your customer service software to reduce customer churn.
What is Customer Service Software?
Customer service software are tools or platforms your organization uses to ensure customer satisfaction. These tools help you improve the value of your customer experience.
There are various types of customer service software, each with its use case. Some are very specific, such as live chat software or phone support software, while others handle almost everything, including sales.
Try For Free: Customer Service Form Templates
Why Use a Customer Service Software?
These platforms ensure your customers have a pleasant at every point in their customer lifecycle. You can integrate your social media, text messages, and phone calls with these tools to create a unified and centralized communication channel. As a result, your customer service staff will not have to go in circles when interacting with customers or potential customers.
Aside from helping you resolve customer issues, it also helps to improve sales by providing information to customers and potential customers when they need it.
Explore: Customer Suggestion Form Template
Benefits of Using a Customer Service System
Employing customer service software for your organization undeniably improves the quality of service your customer experiences. There are many pros to having customer service software and here are some of them:
1. Centralized Communication
Imagine a scenario: you are attempting to resolve an issue and, after making progress with a customer support representative, another agent informs you that they are not aware of your issues.
Irrespective of how the agent courteously asks you to relay your issues so they can resolve them, it's only natural to find this infuriating as a customer.
Having customer support software prevents this from happening; it centralizes all communications between customers and agents.
Use This: Customer Retention Survey Template
2. More Productive Customer Support Staff
Having a platform that allows you to create templates to answer customer questions reduces the amount of grunt work you have to do as a customer support representative. 
For example, if your customer files a complaint and you have a template that allows you to categorize and filter issues so you can pinpoint the problem, you've already gotten a head start.
Also, not having to go back and forth with customers reduces the turnaround time of customer tickets.
Explore: Best Feedback Tools for Collecting Customer Reviews and Ratings
3. Faster and Easier Customer Support with Self-Service
Most customer service software includes self-service options that give customers access to a knowledge library, help docs, and FAQs that help them solve the majority of their issues themselves.
This allows customers to resolve their issues and learn everything they need to know about your product without having to go back and forth with support staff.
4. Helps Improve Product Flaws with Data Insights
Customer requests and complaints help you identify major flaws in your product and how to fix them. The history and tone of support staff and customer communication reveal how customers perceive your product.
For example, customers are more likely to be friendly and calm when laying out their requests if they believe your product is great. But, if they do not trust you or your product, they are more likely to be impatient.
Read: Collecting Voice of Customer Data: 9 Techniques that Work
The Different Types of Customer Service Software
From large corporations to small businesses, exceptional customer service is essential; it is the only way to keep customers coming back, even if your product has a better alternative.
Different customer service software assists customer support agents in achieving various goals. Here are some examples of customer service software and what they can do.
A help desk software allows you to organize customer requests into tickets and respond to these tickets with staff. It aids in automating customer responses via various channels and escalating technical issues to the appropriate team.
Of course, helpdesk software includes a dashboard that displays ticket progress, assigned agents, and ticket routing.
Most businesses have a company email address where customers can send complaints, requests, or inquiries. Behind the scenes, more than one support staff member is assigned to that email.
When you send that message, the shared inbox software assigns it to an agent, who prioritizes it. You also don't have to repeat your request every time you speak with an agent because every agent has access to ticket history.
When you go to a website, you'll sometimes see a chatbox in the corner that says welcome and offers you tips on how to navigate the website. Sometimes it answers your questions right away. That's what's called a live chat.
Even if the chatbot is unable to answer customer questions, it will route the request to a support representative who will promptly respond.
Most customers dread having to go back and forth with a customer service representative, so if you have a clear and helpful knowledge base, they can resolve their issues on their own.
Having a knowledge base or help docs on hand assists customers in resolving issues and answering their questions. Typically, the knowledge base contains important and frequently asked questions from customers.
With service desk software, customer support staff can effectively manage communications with customers in one place using a ticketing system. 
This improves your customer experience by creating a workflow for customer tickets. It reduces the manual work that customer support teams have to carry out in sorting out tickets and routing them to the appropriate team when there's a technical issue.
You can't overrate the value of phone support, especially when customers are upset. Voice communication is one of the most effective ways to resolve customer issues and make a good impression on your customers.
Customers are also more likely to relate to and make requests when they know they are speaking with a real person. Other modes of communication, such as emails and live chat, are equally important and effective, but some customers may struggle to articulate their requests via text. Also, phone support usually takes less time to resolve customer issues than using emails and chats. 
Social Monitoring Software
Simply put, social monitoring software shows when people mention your brand and on which social media platforms they are talking about it. It helps you determine the lens through which people view your brand and how to increase their satisfaction.
These insights provide more genuine product reviews than most app store reviews.
What to Look Out for When Choosing a Customer Service Software
It's great to have full-fledged customer service software, but does it work effectively for your customer support team? Here are things you should look out for when choosing a customer service software:
1. Easy to Navigate and Setup
Before selecting a customer service software, make sure it is the best for your team to work with; it should be simple and flexible for both customers and agents. Most customer service representatives handle a wide range of tasks, from requests to complaints and inquiries.
Having a customer service tool that is difficult to use and set up is a headache they should not have to deal with. It simply increases their cognitive load and it'll require them to run around before answering a simple request. This may result in delays when it comes to resolving tickets. This could lead to customer dissatisfaction and a high churn rate.
2. Affordable and Compatible with Company's Growth
Of course, whatever customer service tool you choose must be able to scale with your company and be reasonably priced. As the organization's customer base grows, so does the sophistication of your customer service tools.
For example, a small business that relies on email and phone support may need to invest in live chat and hire more agents. So, when choosing a customer service software, make sure it aligns with your growth trajectory and does so at a reasonable price.
3. Security
Nothing beats having customer support software that safeguards your customers' data. Imagine a software tool that is irresponsible with sensitive user identifiable information such as addresses, etc.
When your customers discover that their information has been compromised, they will be outraged, and they will be justified.
How Formplus Can Help Customer Service Professionals
Reviews and other types of assessments
Asking your customers is one of the simplest ways to learn what they want from you. You can use Formplus to collect customer feedback on your products and services. Find out what your customers like about your product and how you can improve your product with customizable forms.
With over 2000 integrations, Formplus provides everything you need to sync your data collection from customers to provide premium and fast communication with customer support and resolve their issues.
Every form created with us has a unique submission ID that allows you to personalize your communication with customers when replying to them or referencing them. 
Generate quality leads effortlessly when you integrate your customer service software tools with Formplus. You use the integrated software to reach out to prospective customers and pitch your product or service based on their responses submitted via your Formplus form.
Safe and Secure Data Collection
At Formplus, we prioritize user safety. Personally identifiable responses and sensitive information such as credit card details, passwords, etc responses submitted on our platform have end-to-end encryption.
15 Best Customer Service Software in 2022
Price: $49 -249 monthly
As its slogan indicates, it "helps customers help themselves." Help docs is customer service software that helps you in creating an organized knowledge base for your products and services.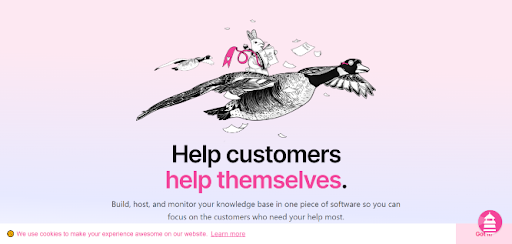 Your customers can find almost all of the answers to their questions in your knowledge library with Help docs.
Price: $59-$699 monthly
Tribe approaches customer service software in a unique way. It's built as a 'customers helping customers' software. It enables you to create a knowledge base with an active online customer community. 
So, instead of contacting a customer service representative, when a customer has a problem, they can consult a library of customers who have been in their shoes and how they resolved it.
Pricing: $0-800 Monthly
It is omnichannel customer service software that allows you to communicate with your customers in real-time via live chat, chatbots, social media, etc. Userlike allows your customers to reach you from their comfort zone, allowing you to build a mutually respectful relationship with them.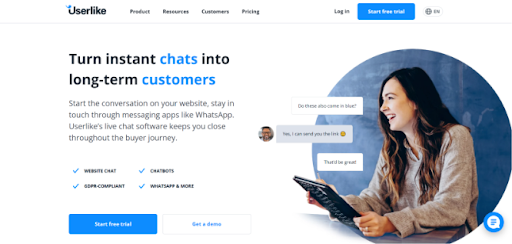 It's also a great platform to communicate with prospective customers, generate leads and boost sales for your business.
Pricing: from $29 per month
Olark features give you the tools you need to effectively communicate with your customers 24/7. It also allows you to improve your product or service based on customer feedback and reviews.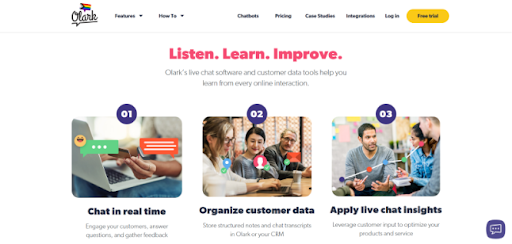 Pricing: from $30 monthly
Aircall is a versatile and user-friendly phone support software that allows you to effectively communicate with your customers. Customers' calls are routed to agents based on their workload and availability.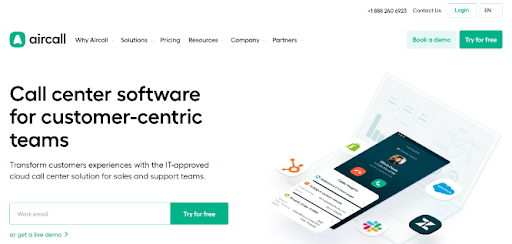 You can also use it to schedule sales calls.  It also integrates easily with other customer service tools.
Price: $19-$215 monthly
Zendesk isn't known as a customer service champion for nothing. It's one of the best in the game of customer service support and allows you to easily leverage it for sales.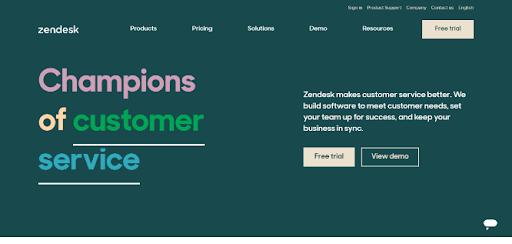 It has plans for all business sizes, from small to large, and it works in over 15 languages. It provides all of the support you need for your business, including phone support, live chat, and a help desk.
It's also integrated with Formplus, so you'll have all the tools you need to improve your customer experience and collect useful customer feedback to boost customer satisfaction in one location.
Price: $0-$99 monthly
Freshdesk is also an all-in-one customer service software that allows you to effectively communicate with and resolve customer requests. It automates customer ticket workflows and collects data insights on customer tickets to help you channel your resources effectively.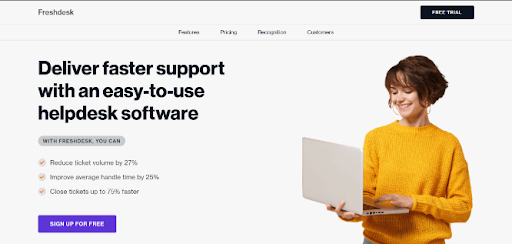 It also has a knowledge base feature that helps customers find their answers themselves and even your support team. Agents can easily search for answers in the knowledge base and if it's not there, they can escalate to the right team and the appropriate team will take it up from there.
Price: 5¢ – $7.5 monthly
Text-em-all is customer service software that allows you to keep your customers up to date on the status of your products or services. You can also use it to send customer verification messages.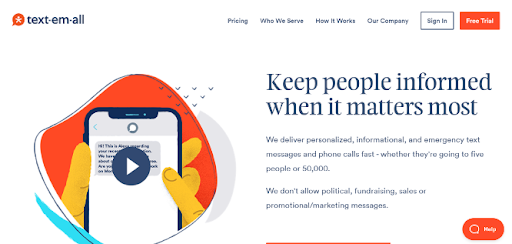 It also enables you to create automated calls to customers to inform them of business updates. Text-em-all has a strict no catfishing or promotional calls policy in place to keep customers from receiving unsolicited information or scams.
Pricing: from $0
If customers have to keep opening and closing apps to communicate with customer support, there's a high chance they'll get frustrated and simply sign off on your product. They may also go ahead and give you a negative review, which could affect how potential customers perceive your brand.

Helpshift is customer support software designed specifically for mobile applications. It allows customers to raise tickets and resolve issues directly from their apps.
Price: $45-$1200 monthly
Hubspot service hub is a customer service tool that allows you to easily improve customer service for both customers and agents.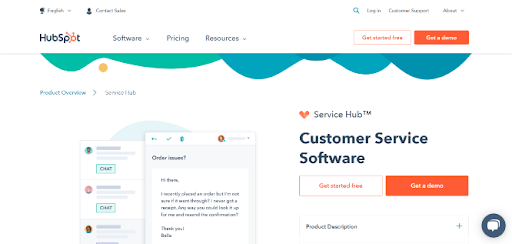 You can inform customers about new features, place a call to assist with customer issues, and even receive calls from customers with this software.
Hubspot service hub also includes live chat and omnichannel messaging to help you reach out to customers where they are most comfortable.
Salesforce is a reputable customer service software that is compatible with nearly all brands. It provides personalized workspaces for support agents and automates their workflow.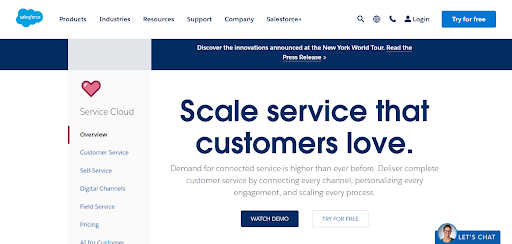 It also has incident and case management features to assist you in routing support tickets through the appropriate channels and managing incidents so that your product can use these insights to improve your products.
Price: $0-49/agent/month
Liveagent is a help desk software that allows you to provide 24-hour customer service. It automatically routes customer tickets to agents and offers phone support.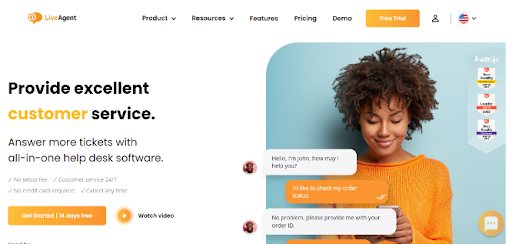 Servicenow improves the customer experience by syncing workflows with CRMs, allowing customers and agents to communicate more easily. It also helps you develop a typo-tolerant self-service library for customers.

Another upside to using ServiceNow is that it provides detailed insights into customer tickets and a roadmap to help you avoid recurring issues, ultimately improving the customer experience.
Customers can use Apple business chat to make inquiries, chat with you, book a demo, or even make a direct purchase from you.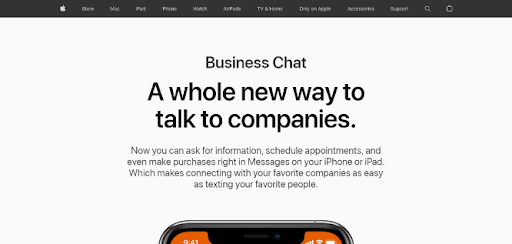 Price: $15-69 monthly
Hiver allows you to automate emails to respond to customer requests or update them about your business.  It also offers useful analytics to help you tailor your emails to your customers' tastes.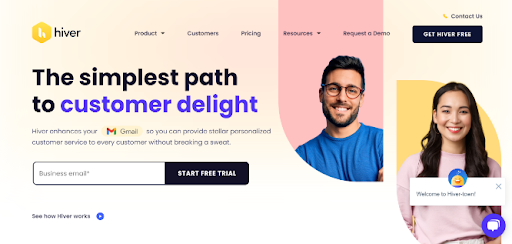 What Are Some Best Practices for Customer Support Software?
Customers should be able to resolve their issues using your customer service software's knowledge base. It saves both customers and agents time when dealing with support tickets.
Every customer service software should improve customer-agent communication and make it as natural as possible. It should reduce friction within the support team when responding to requests.
A centralized communications system and a customer ticket dashboard are two of the best ways to accomplish this.
Data Insights and Product Reviews
Resolving tickets and answering inquiries shouldn't be the end of customer support software. These tools should also help you enhance your product by evaluating customer tickets, identifying patterns in what they want, and applying this information to improve your product.
After responding to a customer, your customer service software should be able to collect feedback on how the customer felt throughout the process and what could have been done better to make it easier for them. A customer satisfaction survey is an excellent way to accomplish this.
Conclusion
Customer service software helps both customers and agents in reducing communication friction. It automates the hard and manual work customer support staff have to go through to resolve customer issues. 
Customer service software with data insights improves your product and bottom line by utilizing data gathered from customer tickets.