The year is gradually coming to an end, which means it's time to start planning for the end of the year marketing campaigns. The Christmas season easily offers the best deals all through the year, but it's usually difficult to get customers' attention due to the number of holiday promotions they are bombarded with.
However, in order to stand out, you need to create interactive experiences for your customers. Therefore, we have created a few easy-to-use templates to help you achieve this and boost your holiday sale. 
1. Christmas Giveaway Entry Template
Running a Christmas giveaway is a great way to increase customer engagement, expand your community, and get customers to market your products.
You can run a Christmas giveaway on your social media pages and attach the giveaway to a contest. For more reach and visibility, the contest requirement may include people following your account, reposting your post, etc.
Improve your sales promotion strategy this holiday with our Christmas Giveaway Entry form template. This form allows you to organize a Christmas giveaway in minutes, run a promotion, and collect participant's details with ease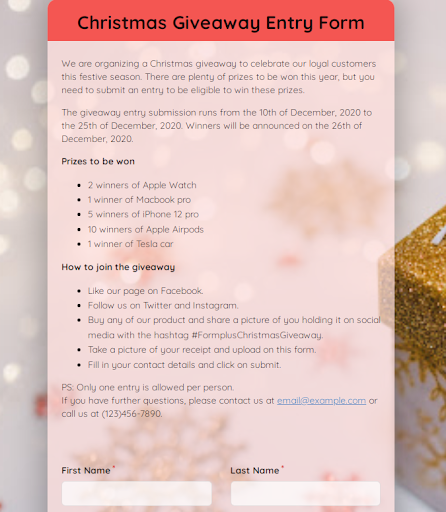 2. Product Discount Template
Most people looking to shop during the holiday season hunt for cheap deals, which is why you need to offer attractive discounts. Running a discount marketing campaign will help you attract new customers and retain old customers. 
You can do this by either updating your pricing or through a special coupon code. Follow the following steps to add a coupon code to your form
3. Secret Santa Form Template
Organizing a secret santa gift exchange is great for both internal and external engagement. Secret Santa is about anonymously making a random person smile. You can organize a secret santa among your customers/community members. 
Great for exchanging gifts among co-workers and school children, each interested individual can fill out their details and also the kind of gifts they would love to receive from their secret Santa with this template.
With Formplus' email invites, you can also ensure that people fill the Secret Santa form only once.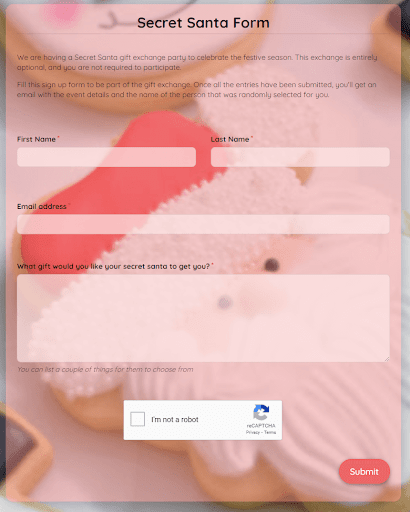 4. Online Order Forms
Planning can get quite overwhelming and most families would rather just outsource the heavy lifting to capable businesses. To prevent the holiday rush from getting to you, collect your orders online with a pre-order form.
Our Christmas menu pre-order form allows you to streamline your order booking process. Customers can book ahead and even make payments for their orders directly on your form.
With the email autoresponder feature, you can send confirmation emails and receipts to your clients.