We're closing out the year with a fresh look for the Formplus Dashboard! Thanks to our amazing design team, the Dashboard is wearing a brand new look in our most recent update.
Do you have a WordPress website and need to embed your Formplus forms into a web page? We also have something for you in this update.
Want to know more? Keep reading for all the details
WordPress Form Plugin
Our online form plugin for WordPress can automatically embed any Formplus form into a page or post using a shortcode.
This plugin works with all Free Trial and Paid Plans.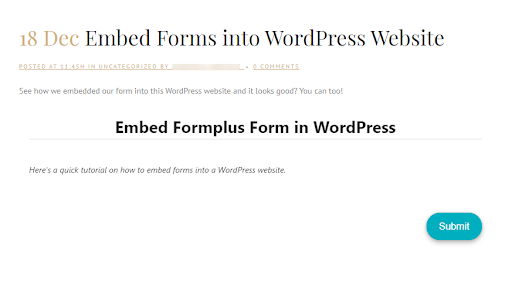 Undo And Redo Now In The Builder
For a better experience while creating forms, we have added an Undo and Redo feature to the Formplus builder. Also, if for any reason you lose your internet connection or your device shuts down unexpectedly, we have added a way to retain your form edits in the Builder. You can undo and redo Builder actions by using your keyboard shortcuts: CTRL/CMD+Z to Undo and CTRL/CMD+Y to Redo an action. You can also use the Undo and Redo buttons at the top left hand side of the Builder. To learn more, read this Support article.
New Dashboard
You may have noticed that we have been making changes to improve the usability of our online form builder and the website as a whole. We have expanded this to include an overhaul of the Formplus dashboard. Now you can find all your account information at a glance.
View information such as account/submission analytics, team invitation and so much more. To view your new dashboard, sign in to Formplus now.
Improvements to Formplus
Reorganized Share Page: The share page within the builder has been split into more tabs/panels. All form links can be found under "Links" while all form embed options can be seen in "Embed". Head over to the share page to see all the changes.
Custom Text: We have added more default texts and error messages that can be changed across your forms or account. To learn more, read this support article.
While you wait for our Review of 2019, sign in to Formplus now to check out all these updates and let us know what you think.