When going into an agreement with a second party (the principal), it is important to have a third party (the guarantor) vouch for them and agree to take responsibility if they eventually break the terms of the agreement. Hence, the need to have the guarantor sign a guarantor form to certify the agreement.
Guarantor forms are usually necessary in different situations, especially in cases whereby an individual is about to be granted a loan, offered a job, rent an apartment, etc. The form may be of a different type, depending on where it is being used.
This article will reveal more information about guarantor forms, the different types we have, templates, and samples that will help you create one yourself.
What is a Guarantor Form?
A guarantor form is a document that certifies a guarantor's decision to assume liability if a particular individual does not fulfill the terms of an agreement. It is to be completed by the guarantor who has agreed to take responsibility if an individual breaks the terms of an agreement.
When you sign a guarantor's form for someone who takes a loan, for instance, it means that you are liable to pay the person's debt if they are unable to do so themselves. In the case of an employee, you may be asked to settle some debt if the employee was found guilty of stealing from the company.
Guarantor forms are very useful in managing the eventuality of a principal not being able to fulfill contract obligations.
What Are The Features of a Guarantor Form?
The full name of the guarantor should be entered in the form. This will include First name, last name, and middle name (if any).
The guarantor may also need to indicate their title to assist with proper identification — Mr, Mrs, Miss, Dr., etc. This is a way of inquiring about the sex of the guarantor without outright asking.
This will also ease identification, especially in cases where we have two or more people having the same names.
Guarantor's Contact Details
A guarantor's form should include a space to fill in the home address, work address, phone number, and email address. The contact details are what will be used to contact the guarantor in the future if the principal fails to meet agreement terms.
This is a very important feature of the guarantor's form. Having access to this information will make it easy to track down the guarantor in case they refuse to take responsibility.
The name of the principal should be present in the guarantor's form. Without this information, we won't be able to identify who the guarantor is touching for.
This should be clearly stated so that we will know who to hold responsible when an individual breaches his agreement terms.
Relationship with the Principal
Another important thing is the guarantor's relationship with the principal. The guarantor could be a parent, sibling, spouse, etc.
When filling this information in, it is usually specific. For example, instead of just filling in Sibling, the guarantor specifies whether it is a Sister or Brother.
Similarly, it is more appropriate to signify father, mother, husband, wife, etc.
Guarantor's Job Information
Information about whether the guarantor is employed, self-employed, or unemployed is also very important. If employed, more information will be asked about the occupation, the same as self-employment.
This is particularly very necessary when the guarantor is standing in for a debtor. It will help access the fitness of the guarantor when it comes to financial stability.
Is the person financially capable enough to pay up the principal's debt? An unemployed person cannot act as a guarantor for a debtor.
Guarantor's signature & Date
This is usually the last thing on the guarantor's form. The guarantor's signature certifies that all the information submitted is true, and also affirms that the individual is willing to stand in as a guarantor.
The date should also be added to clearly indicate the time of the agreement.
Apart from the features listed above, the guarantor's form may contain some information about the principal's debt and the consequences of the principal failing to honor the contract agreement. Copies of the guarantor's identity will also be attached to the guarantor's form in order to verify the guarantor's identity.
Get Started with Formplus Guarantor Agreement Form Template
Types of Guarantor Form
Property/Rental Guarantor Form
A rental guarantor form is a guarantor form that is issued when renting out a property. It is usually issued by a property owner or real estate companies when renting or leasing out a property.
The owner gives the guarantor form to the tenant, which hands it to the guarantor. This form also contains details about the guarantor's responsibility.
For example, it could be that the guarantor is expected to cover the rent if the principal is unable to pay their rent on time or settle for damages on behalf of the principal.
Guarantors sometimes act as references in this case by vouching for the good manners of the tenant.
Employment Guarantor Form
This is usually issued by employers to their new employees. It is very useful in making sure that the employee's debt is covered in cases whereby he or she is being convicted of a crime, like embezzling company funds.
In some cases, it could be an issue of damaging company property or securing a loan from the company. The loan is very applicable to companies that run the employee loan system where they allow the employees to secure a loan that will be slowly deducted from their salary monthly.
Companies mostly request two guarantors to vouch for their employees. This also helps in keeping employees in check.
This is issued by a financial institution to the representative of the debtor. The loan guarantor form is the most common type of guarantor form.
It helps financial institutions recover their money back if the debtor defaults the contract agreement. Once a debtor fails to pay up on time, the guarantor is contacted to pay on behalf of the debtor.
In some cases, representatives of the financial institution will have to physically be at the guarantor's house to request a refund. If the case gets critical, the guarantor may have to face legal consequences for someone else's action.
Formplus Online Guarantor Form
The formplus online guarantor form makes it easy for guarantors to vouch for their wards, families, or any other individual. This form can be used by financial institutions, recruiting firms, and real estate businesses to help ensure that they don't lose money due to the ability of the principal to fulfill their contract terms.
Everything has been put in place by Formplus, including an easy-to-use template that helps you to start building your own guarantor's form. There are various customization options that will help you tailor this form according to the needs of your business and also help with brand identity.
Featuring over 30 form fields for collecting guarantor's details, they can also easily tender their signature online, with Formplus.
Create an Online Guarantor Form with Formplus
How to Create an Online Guarantor Form with Formplus
Create an online guarantor form with Formplus in these few easy steps:
Step 1- Create an Online Guarantor Form
Create an online guarantor form with Formplus through any of the following options:
Use an Existing Template
Get a head start by using a template designed by a team of experts. To do this, go to Templates and enter guarantor form on the search panel as shown in the figure below. Or you can simply click on this link to get started
Start From Scratch
To create a new survey from scratch on Formplus, go to your Dashboard, then click on the Create new form button.
Alternatively, go to Forms in the top menu, then click on the Create Form button.
Step 2 - Select Form Fields
The next step is to add input fields to your guarantor form. You can do this by going to the left sidebar in the form builder, then choose from any of the available 30+ form fields.
If you are using an existing template, you can also remove and add form fields in the form builder.
Step 3 - Customize Your Guarantor Form
After adding input fields to your guarantor form, click on the Save button in the top-right corner of the form builder and you will be automatically directed to the Customise page. On this page, beautify and brand your form.
You can add a logo, color, font, background image, etc to depict your business and make a statement about your brand using the built-in Formplus features. There is also a custom CSS feature that allows for further customization.
Step 4 - Preview & Share
After branding your guarantor form, you can preview and start sharing with guarantors. With Formplus, you have various sharing options to choose from. This includes sharing via email, customized links, embedding on the website, etc.
Why Use Formplus' Online Form Builder to Collect Guarantors Information?
Formplus' online form builder is easily accessible across devices and is also very mobile responsive. You do not need to log in to your account via a desktop computer to create a guarantor form.
Also, guarantors can easily access the form across different internet-enabled devices. Formplus forms are mobile-friendly, making it easy for guarantors to fill out on any kind of device.
The data collected via Formplus forms are kept in secure cloud storage that cannot be accessed by a third party. Formplus understands the importance of keeping people's data safe, so all the forms are GDPR compliant and provided with an SSL certificate.
Once the data is into Formplus storage, you can also request to have them stored on a third party secure platform. The available third-party storage platforms on Formplus are Dropbox, Microsoft OneDrive, and Google Drive.
The completed guarantor form can be downloaded as a PDF into your local storage and can also be printed as a hard copy. To ensure that each party is fully aware of the content of the guarantor's form, you can also share a PDF of the completed guarantor form to both the principal and the guarantor.
Guarantors can easily append their signature on the form with Formplus' digital signature feature. Guarantors do not have to upload their situation or download the form, sign, and scan before they can certify the form.
This has been made easy by Formplus, which allows you to digitally sign the form. The most amazing part of this is the fact that it can be done on any device.
The digital signature also helps save time that would have been spent on trivial things like downloading, scanning and uploading of forms.
Verify the guarantor's identity by asking them to upload supporting documents with the guarantor form. This could be a copy of their driver's license, identity card, and voter's card, etc.
This will help ensure that all the necessary documents required to identify the guarantor are easily accessible to the business. With Formplus, identity verification is achieved without going through the hassle of making photocopies of documents and stapling them with the guarantor form.
Get rid of unnecessary papers!
Banks and other financial institutions can optimize their loan process in order to receive feedback/responses from their potential customers. The long process of getting a guarantor to fill out a form, make photocopies, or scan documents usually discourage people from going further.
Most people would rather go with a business that is more digitized. Formplus helps you digitize all your processes, get the stress of your customers and help increase the response rate.
With more individuals applying for loans and working with your brand, there will be an increase in the amount of revenue generated by your business.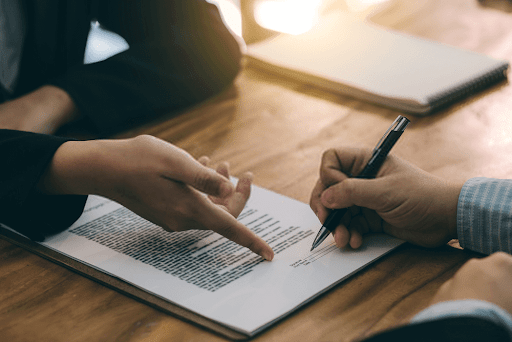 Guarantor Letter Sample
A guarantor letter is needed in the event that an individual or business decides to take financial responsibility for another individual. Unlike the guarantor form that is created by the business owners, the guarantor letter is usually written by the guarantor.
Below is a practical sample of a guarantor letter written for a visa application.
[your name]
[your address]
[date]
[embassy name]
[embassy address]


Dear Sir/Madam,
I, [your full name], bearer of passport number [the number of your passport], issued by [who issued it] on [when it was issued], take full financial responsibility for the travel to [name of the country in question] of [full name of the person who is applying for a visa], bearer of passport number [passport no. of the person], issued by [who issued it] on [when it was issued].
The intended period of stay is from [date of arrival] to [date of departure]. [full name of the person who is applying for a visa] will be studying for a [type of degree] in [course of study] from [university of study]. I guarantee that I will cover all of the following expenses :
Travel
Accommodation
Tuition fees
Other expenses incurred during the duration of the stay.
I declare that the aforementioned information is true and that I understand the implications of this letter.
Yours faithfully,
[your signature]
[your name]
For organizations writing a guarantor letter on behalf of their employees, here is a sample you should follow:
[company letter head]
[name of the embassy]
[embassy's address]
[date]
Dear Sir/Madam,
We ask you to kindly issue a [visa type] for [name of employee], bearer of passport number: [number of employee's passport], issued by [who issued it] on [when it was issued]. [employee's name] works for [name of your company] in [company's location] since [date of employment] on the position [employee's position].
They will require a visa from [date of arrival] to [date of departure]. During their stay in [country of destination], [employee's name] will be attending the [name of the foreign company] conference, whom you can reach on [contact information of the company].
[Your company] in [your country] guarantees to cover the following expenses:
Travel
Accommodation
Expenses in the country for the duration of the stay.
[company seal]
[your signature]
[your name]
[your position]
Conclusion
Guarantor forms are very important in business, as it helps in money recovery and eases legal proceedings. Financial Institutions are one of the businesses that need a guarantor's form the most due to the fact that they give out loans on a regular basis.
Imagine a case whereby a guarantor's agreement to take responsibility was only stated by mouth, there will be nothing to tender in court as proof that the guarantor agreed to take responsibility. Mostly used by real estate entrepreneurs, financial institutions, and recruiters; the importance of a guarantor's form cannot be overemphasized.
There are different types of guarantor's form that can be used depending on the situation whereby it is needed. However, all these different types have common features.