Since Adobe created the PDF format in the early 1990s, a lot of PDF builders have come up to simplify the process of making PDF documents, with the Formplus PDF Builder being one of them. Over the years, the PDF format grew more popular due to the ability of its content to retain the same format no matter what device or program you open it with.
As its adoption grew over time, people found more relevant use cases for it beyond creating a stable visual of word documents. However, one of the challenges people face is finding a good PDF creation tool, which is why we created the Formplus PDF Builder.
Beyond the traditional functions, the Formplus PDF Builder offers a wide range of capabilities that most PDF builders don't. From the office to the classroom to your day-to-day tasks, you can use it to create practically everything.
Although it has several use cases, in this article, we'll only be looking at the top 7 things you can do with the Formplus PDF Builder.
E-books & Online Courses
Are you a thought-leader or professional in your field? You can generate extra income with your expertise by creating ebooks and online courses using the Formplus PDF builder.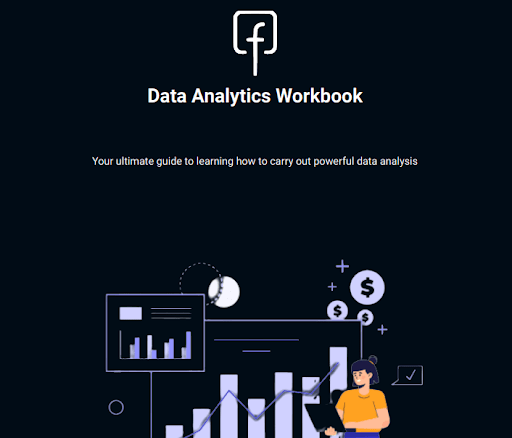 People make up to $500 - $5000 passive income by selling ebooks online and you can also benefit from this with your skills. The Formplus PDF Builder makes it easy for you to create ebooks that you can download and sell across different platforms.
Foster a community of learners around your business and expand your reach at no extra cost.
Create Ebooks & Online Courses for free
Legal Contracts
As a business owner, you will have to create legal contracts or agreements at one point in time. Whether it's with clients, staff, or service providers, it's inevitable.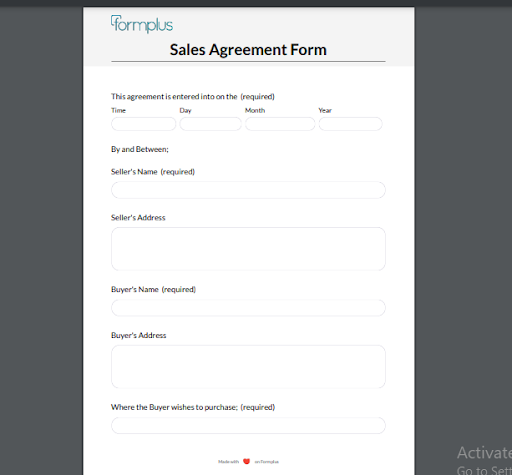 You can save time and money spent on legal practitioners by creating legally binding contracts for free with the Formplus PDF builder. State the terms of the contract, add a signature field, brand your contract with your logo and custom designs, then download for offline use.
Create Legal Agreements for free
Receipts & Invoices
When you sell goods online or physically, you need to generate invoices and receipts for every purchase. Designing a custom invoice or receipt may be quite demanding, which is why some people pay others to do it for them.
With the Formplus PDF Builder's intuitive drag-and-drop interface, you can generate printable receipts and invoices on the go and share them with your clients. You can also create custom templates for your business with your logo and unique brand colors.
Create Receipts & Invoices for free
Forms
The Formplus PDF Builder can help you create the forms you need whenever you need to get information from people offline. Whether it's a registration form, contact form, or any other kind of form, it'll help you create what you need.
The dynamic form fields make it easy for you to create intuitive forms for your respondents. You also have the flexibility to design your forms with our customization options.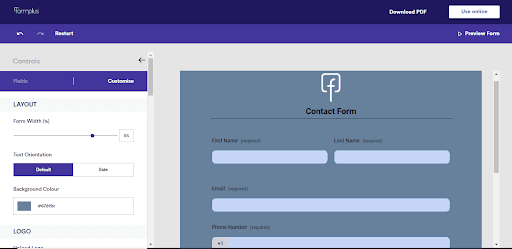 Surveys & Questionnaires
Even with the increasing adoption of online surveys/questionnaires, there are still some people who don't have access to the internet or have difficulty using a computer. When carrying out a survey on people in this demographic, you need to print out paper questionnaires.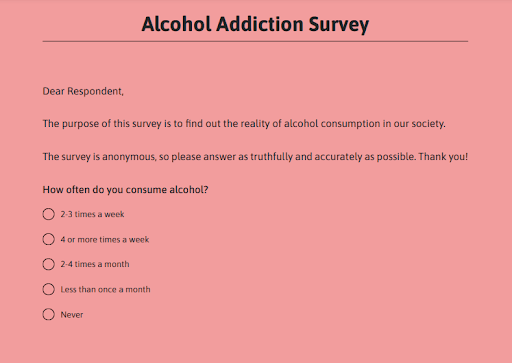 With the Formplus PDF Builder, you can create surveys & questionnaires, download them as a PDF, then print them out for respondents to fill.
Create Surveys & Questionnaires for free
Exams & Quizzes
As a teacher, you'll constantly need to test students' knowledge through exams and quizzes. You can use the Formplus PDF Builder to create exam papers, download them as a PDF, and print it out.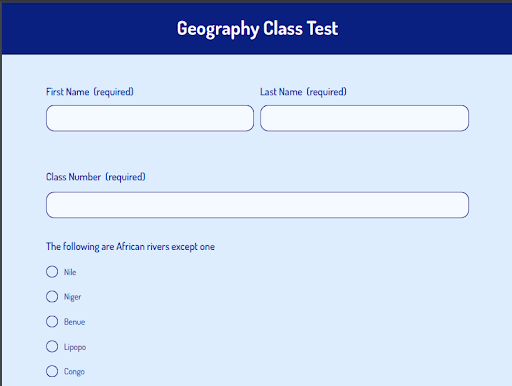 The dynamic form fields and intuitive builder allow you to create choice options, add images, and interactive boxes for students to fill.
Special Greeting Cards
Create thoughtful and cost-effective gifts for your loved ones with the Formplus PDF Builder. You can add a lovely note to your card, a memorable picture, beautiful colors, etc.
If you're looking for a way to earn passive income, you can also design special greeting cards with the Formplus PDF Builder and sell them on Etsy or other platforms.
Create Special Greeting Cards for free