Chrome extensions are one the best ways to optimize your browser's performance. You can use them to get different things done easier and swiftly. One of the greatest upsides to using Chrome Extensions is that you do not need to install the apps themselves and so installing too many apps slows down your device, which can be very frustrating.
Most chrome extensions allow you to do everything the app can do without taking up too much space on your device. In this article, we'll highlight the best chrome extensions for dating to help you easily navigate the world of online dating.
Try For Free: Free Dating Application Form Template
What Makes Dating Difficult?
Dating is one of the most complicated things to navigate. There are lots of reasons why dating can feel like pulling teeth, but the following are the most common:
Most people struggle with dating because they want to date someone to whom they can fully commit to, which is not common these days. So if you're looking to date someone exclusively, you'll need to exercise patience.
While not being exclusive isn't necessarily a bad thing, it isn't worth the stress for most people. For example, you dated three other people simultaneously before deciding on one. How would the other two feel or rather, how you feel if it were you? 
This noncommittal attitude is why many people take a casual approach to dating or not even date at all.
We're Connected but Isolated
The internet provides global access to almost everything and everyone. However, studies show that the more connected we are to the internet, the more isolated we are from our immediate surroundings.
For example, people will crowdfund to help strangers online but ignore the homeless on their streets. Not because they are cruel people, but because they are simply not paying attention.
Try For Free: Free Matchmaking Application Form Template
Another example: it's easier to say hello to strangers in their DMs than to someone sitting right next to you.
The more in tune we are with the digital world, the more dissociated we are with our surroundings, which is why most people find it easier to date online. Because you spend the majority of your time online and connect with people you meet online, it's only natural that you'll meet your match there.
With documentaries about people going missing after going on dates all the time, most of us tread the dating world with caution.
Hence, going out with complete strangers is out of the question for the majority of people. That means you're limited to dating people you know, which is not many people.
Being catfished is another factor that makes people wary of dating total strangers. This is more common with online dating because you don't meet your match in person until you decide to meet.
Try For Free: Girlfriend Application Form Template
People's online personas may differ from their offline personas. Some people, for example, are upbeat online but find it difficult to express themselves in person.
While some people deliberately pose as someone else. This can leave you feeling very disappointed and irritated when you finally meet to find out you've been catfished.
In addition,  you could also encounter scammers while dating online, ranging from the Tinder swindler type to people who blackmail others with explicit content. While others simply become creepy and send unsolicited explicit content.
Of course, you can report such people and have them banned from the site, but this may ruin your overall online dating experience.
Use This: Boyfriend Application Form Template 
You'd think that being connected to more people would make choosing easier, but it's often the opposite. With social media, a plethora of dating apps, and matchmaking platforms to choose from, it's easy to become overwhelmed.
Simply put, you're having a difficult time choosing because they are so many excellent options.
Sometimes people struggle with dating because they have unrealistic expectations. You're probably not going to marry your first date from a dating app, so keep a level head. 
Not expecting too much makes navigating online dating much easier. Also, at some point, people are going to make mistakes. So you need to let go of the notion that there are perfect people because there aren't.
You also need to let go of the social media pressure. Social media creates the illusion of people having a perfect dating experience or a horrible dating experience.
For example, being overly enthusiastic about dating because you see so many people enjoying themselves. While there's nothing wrong with having the time of your life when you're dating, not every moment will fit into cute reels.
Also, social media can expose you to some very disturbing relationships and dating experiences that can make you wary of dating. Yes, some dates can go horribly wrong, but some won't; keep an open mind.
What you need to do is balance your expectations and prioritize your safety, not paint a bleak or overly enthusiastic picture of dating in your mind.
How Chrome Extensions Can Help You Find Your Match
There's a dating app for everyone, whether you're testing the waters or looking to start a long-term relationship. There are so many user-friendly and safe dating apps with chrome extensions.
Most dating apps help you find suitable matches by filtering profiles by your hobbies, location, etc. Most dating apps are built for specific demographic.
For example, some dating apps are designed specifically for people over the age of 40, while some are for people in a certain profession. These help you narrow down your dating pool and meet people without overwhelming you with too many options.
Share this: Free Marriage Biodata Form
Chrome extensions allow you to navigate multiple dating platforms without having to install an excessive number of dating apps on your device. They also help you automate your match process by helping you auto-like profiles, auto swipe, or even auto view profiles.
So, you can work while meeting your match without having to frantically switch between tabs or endlessly minimize apps and risk your device lagging.
What Singles Should Look for in Chrome Extensions for Dating
Using Chrome extensions for dating gives you a smoother experience on your browser. You can connect with people, and have conversations on your browser without installing dating apps themselves. Here are some things to look out for;
What safety measures does the online dating app you're using have in place to protect you from catfishing, scams, and other threats?
You should also find out if you can block and report people who are uncouth or creepy
Your dating extension should give you a warning when you sign up on their platforms. They warn you not to give out identifiable personal information such as your address, social security number, or office address.
They also issue a strong warning against disclosing financial information such as credit card details or offering financial assistance to people you meet on their platform.
Other Things to Consider Before Installing a Dating Chrome Extension
Dating apps have upsides and downsides, so here are some things to consider when venturing into the world of online dating:
1. Not Everyone on Dating Apps Wants to Date
Some people use dating apps just for fun; they are not looking for dates or a relationship or friendship. They are only there to sate their curiosity, so they treat dating apps as entertainment.
Most people in this category are likely to cancel dates after matching with you, and then never contact you again. This should not deter you; not everyone is like this, but if you meet people who are, it happens.
Explore Using This: Valentines Day Dinner Registration Form Template
2. Online Dating Can Affect Your Self Esteem
Yes, you don't need validation from anyone but imagine being on a dating app for months and never meeting a match. Your self-esteem can take a huge blow.
People who would dismiss you as attractive if you were to meet physically would on dating apps if they feel your profile isn't impressive. Avoid putting too much value on how matches you have or don't have on dating platforms.
3. People Are Not Always Honest
Many people might not outrightly lie on dating apps but they'll exaggerate facts to seem more attractive. For instance, people lie about their size, profession, finances, and more.
Most people don't want to lie about their appearance or what they do; they do it because they are afraid of not finding a match if they put themselves completely out there. These types of untruths are way more common than catfishing.
So, when meeting people on online dating platforms, keep your expectations in check and have an open mind.
Best Chrome Extensions for Dating
SiteChat is not a dating platform; rather, it is a software that allows you to interact with people who are visiting the same website as you.
You can chat with the SiteChat chrome extension when you're on a webpage and another visitor is using SiteChat.
The main advantage of using this chrome extension is that you are more likely to meet people in your profession or with similar world views to you. You're both looking for the same thing, this indicates some common ground.
However, the total number of users on SiteChat is less than 200, making it a very small dating pool.
Formplus is an excellent tool for meeting your match without the stress of swiping or viewing hundreds of profiles to make a match. You can use Formplus's customizable dating templates to collect responses from potential matches.

Create or personalize Formplus dating application templates to help you find potential matches.
You can collect your potential partner's contact details, age, lifestyle preferences, and more. With the information on this questionnaire, you can quickly determine who you're compatible with and who you're not.
Instead of scrolling through hundreds of profiles to see who you're compatible with, use the Formplus quiz maker to create a mini personality test. You can also filter your results so that you only see responses that meet your criteria.
Perfect.is is the Google search for dating sites. Instead of looking for the best online dating platforms, perfect.is helps you narrow your search.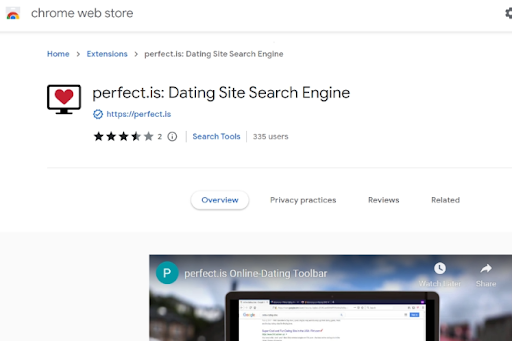 Perfect.is recommends dating sites based on relevance rather than popularity. This is based on positive reviews and the number of people who use it in your region.
Think of Dating App WingWoman as a dating assistant. It has an AI that helps you like profiles and make matches based on your preferences. If you have a hard time articulating what you want, it has lots of message templates you can use to talk to your match.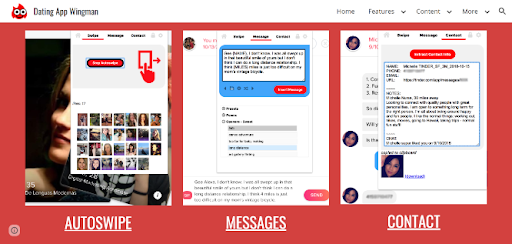 This extension is divided into two categories: Dating App Wingman and Dating App Wingwoman. The Wingwoman is free, even with all of its premium features, whereas the men's version has a free version and a $5 premium version.
If you don't want to do long-distance dates, you can use this chrome extension to filter profiles by location. You could set the maximum distance your match can be far from you to use this feature or your region. 
This extension is compatible with OkCupid and Plenty of fish.
With over ten thousand users, this is one of the most popular Chrome dating extensions. Swiperino makes it easier and faster to find matches on Bumble and Tinder by auto liking and swiping on profiles.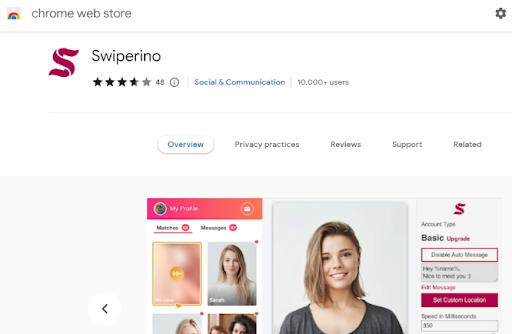 Its auto-swipe and auto-like features are AI smart to avoid your profile being flagged as a bot. Swiperino also allows you to customize your location, allowing you to find matches in areas other than the one you're currently in.
You can also customize your swiping schedule and respond to matches automatically with the auto messaging feature.
Automate your Tinder likes and swipes with the auto liker chrome extension. It helps you like Tinder profiles and notifies you when you have a match. You can customize the swipe speed so Tinder doesn't flag you as a bot.
This dating assistant allows you to see who likes your Tinder profile for free; otherwise, you'd have to pay for Tinder Gold to find out. It also has great features that make Tinder easier to use, such as auto-swiping right to match with people whose profiles match yours.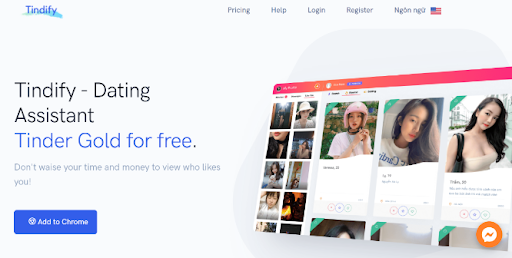 If you swipe left on someone you meant to swipe right on, you can undo it with Tindify's infinity rewind feature. You can also use this Chrome extension to see if someone you know is on Tinder.
Tindify's passport also allows you to match with anyone from any part of the world.
Effortlessly meet suitable matches on dating apps with Cupido. It helps modify your profile including pictures and bio, so you meet quality dates.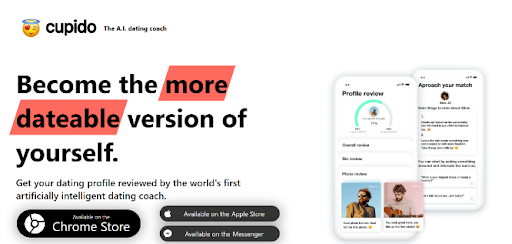 Cupido also suggests conversation starters based on your match's profile and detected intention so you can have smooth conversations.
The OkCupid algorithm works in such a way that the more profiles you visit, the more visible your profile will be. As a result, if you don't visit many profiles, your chances of finding a match are slim.
This chrome extension increases your visibility by viewing a large number of OkCupid profiles, so yours appears when people search for matches on OkCupid.
Conclusion
Online dating has pros and cons, but if you're willing to explore it, chrome extensions can make it significantly easier and faster. Using the right chrome extension for dating not only automates profile likes and swipes; it also improves the quality of your matches.