People often talk about the future of work using these words "workflows", "automation" "BPMs" and "AI" in different ways. How exactly do these terms and their application move the needle when it comes to workplace efficiency?
In a survey of 800 IT managers published in Workflow Quarterly, 64% estimated that work processes in their organization are predominantly automated. (Forbes).
Most people have limited the future of work and technology to the robots taking over people's jobs and livelihoods, but that really isn't the case for Automation.
As a business owner, it is up to you to understand the future of Automation and Digital Workflows and how they can be used to make smarter decisions for your workplace and business.
While we've shown repeatedly how online forms can boost your productivity in business, we have realised using Workflows with your online forms makes it even more amazing!
Let's take a look at the meaning of workflows, and how they can help make being hard at work a breezy process 
What is a Workflow?
A workflow is a system that connects two or more people for approvals, follow-ups, and other multi-step systems. In a sequential workflow, each step is dependent on the occurrence of the previous step; in a parallel workflow, two or more steps can occur concurrently.
There are typically two types of Workflows:
Manual Workflows: In most cases, a manual workflow involves passing of information (data) between two or more people. Often, it involves filling out a form, or sending an email. If the form or email should be approved by more than one person, the sender must take note of all the relevant parties and push the data to them directly. Once they are done with their approvals and recommendations, they must also pass it on the next step via email or paper forms.
Now, imagine having to do this for up to 1000 people in 2-5 steps.
Automated Workflows: On the other hand, an automated workflow takes care of all the back and forth involved in a manual workflow. When the form is filled out and submitted, the next person to review gets a notification telling them they have new requests to approve and they can view everything at a glance on a dashboard.
Sign up to Formplus to create seamless Workflow forms for your industry.
Advantages of Automated Workflows
Save Time: This is one of the most touted benefits of workflow automation – the fact that it helps to cut out the time spent on repetitive tasks. 
An example is seen in the process of receiving new loan applications. For most businesses, they have an online form on their website that notifies them when a potential client submits a request. Then they continue the conversation via email.
If you were using an automated workflow for this process, once a prospective client fills out the Loan Application Form, rather than sending emails back and forth, the new request is routed to the appropriate team i.e Sales. Once they check it out, they can pass the new request to the appropriate team, Finance maybe. Once they are done reviewing the request, a notification is sent to the applicant with the rate.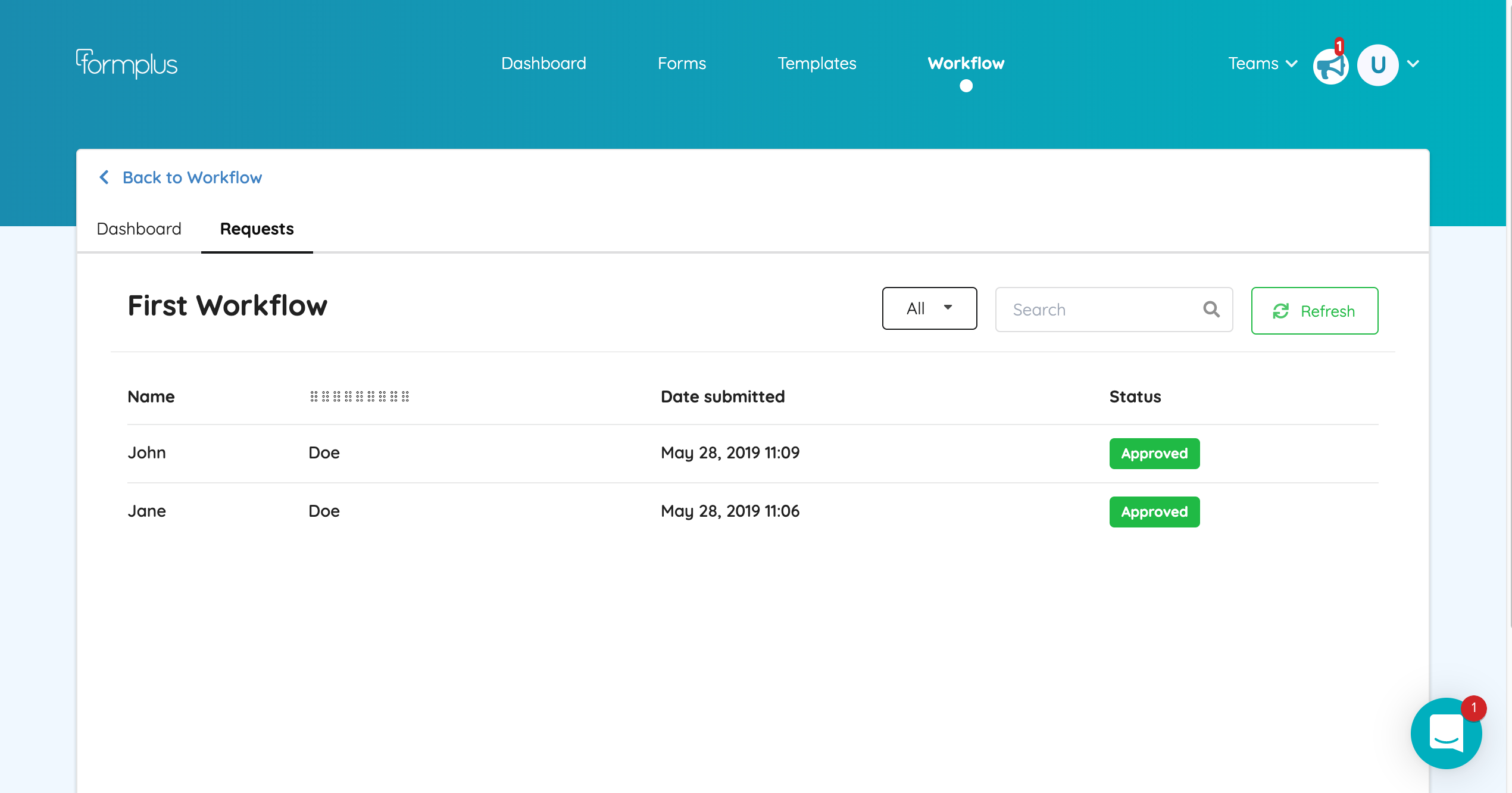 Reduced Error Margin: A "simple" error can have various consequences – from the loss of a client to the disruption of an important project. Automated workflows help you make less errors and prevent risks by reducing human input in your work processes.
Increase Accountability: Employee micromanagement becomes a thing of the past when you implement an automated workflow system. By clearly mapping out the workflow, each member of the team knows what tasks must be completed, the person/people responsible for completing them, and the deadline for completion.
Repeatable/Scalable: Workflows can be repeated across several departments with ease. Once you create a simple workflow, more steps/people can be added as the need arises. After a while, using automated workflows becomes easier as you can take out repetitive tasks to focus on other things. 
How to Create an Automated Workflow with Online Forms
Kindly follow the steps below to integrate workflow into your form:
Planning and Mapping out every Task
Before you set your workflow or even create forms for the workflow, you need to assign tasks for each stage. What goes to this person, when does it do that? What is required before an approval is made? Etc. Those are the questions you need to answer from the get-go before you create a workflow.
Create Workflow forms
This means, creating every online form in the process. For example, if you are building a workflow for Employee Reimbursements, you would need to create the forms to be used in the Workflow.
In Formplus, you can create a Workflow form from any of our form templates.
Invite Team Members/Task Owners
A workflow is dependent on the individuals/teams that need to approve or deny requests, so you must invite them to your account before you set up a Workflow. 
Various roles can be assigned to team members depending on the level of permission you would like them to have. For example, an Admin can create & modify workflows, view submissions, approve or deny requests, add people, etc. You can also invite an entire team to review a Workflow step, but this is dependent on their role within the team.
Set up Workflow
Your workflow may have different stages, you will need to name each stage and add important members to your Workflow. In Formplus, there are 2 ways to approve or deny a request, one is by using another form to approve, the other is by using a comment.
After a request is reviewed, the next stage of the Workflow is triggered and this continues until the end-goal is achieved.
image
Edit Notification Emails
In Formplus, this is the third and final stage of the Workflow before it is set live. This is where you edit the Reviewer(s), Applicant and Team member update notification emails.
Set Your Workflow Live
And your workflow is ready to use! You can invite people to fill the Workflow forms via email or embed it on your website if you're using Workflows to manage client requests, proposals and enquiries.
Top 6 Features Every Workflow Tool Should Have
There are thousands of Workflow tools, all with different functionalities and strong points. Depending on your industry/niche, you may even find a workflow tool that's tailored to your own specific use case.
Regardless of the industry, here are 6 of the most important features that your workflow software must have:
User-Friendly, No-code Workflow Designer
It is counterproductive when it's only someone with technical skills that can use your Workflow system and set up a functional Workflow.
A good Workflow tool lets you set up systems easily while all the logic and hard work is done in the background so you're not confused. It is especially a No-code tool so that anyone can move things around easily.
Easy-to-Use Form Builder
You can't have a Workflow tool without an online form building tool, it is so important. Your Workflow software form builder must also have drag-and-drop functionality, numerous fields (text, number, table, form calculations, digital signatures, etc).
The form builder should also be intuitive and easy for anyone to work with.
It's 2019, if your business tools and processes do not have some form of cloud-based support, you are most likely contravening some privacy laws. Compliance is one of the major reasons a lot of organizations have switched to cloud-based tools.
A good workflow tool must be cloud-based so that every member of the team can have access to it when and where they need to. It also helps that maintenance and updates are done from their end, so you don't have to bother about that. 
Transparent Pricing
As your team expands, your Workflow needs would also grow. You need a Workflow system that tells you all the costs upfront, not after you have begun using the tool and created a few steps. 
When choosing a Workflow software, be sure there are no hidden charges. Even if you have to send an email or fill out a form to talk to them, ensure they have an established base plan so you have an idea of what the costs might run to in the end. You don't want to use a Workflow tool that modifies their charges based on the reputation of your company.
Role-Based Permissions
Often times, workflows are created with sensitive information that may not be available to all members of the team. You must ensure that your Workflow tool allows you give different levels of permissions as you want, while being able to track who did what and when they did it i.e an Audit Trail.
Real-Time Email Notifications
An automated workflow system should not need manual prompts beyond the initial set up. Once a process is completed, an effective workflow system should send email notifications to the relevant team members to approve, deny or leave a comment so it can move on to the next stage.
Conclusion
Automate your processes with Formplus Workflows!
Formplus is an intuitive, simple to use, online form builder and workflow software. Businesses and organizations can run all of their simple and complex processes in a single platform, saving them money and boosting their efficiency.
Don't lose any more time, try Formplus today!