At Formplus, our major aim is to take out the complexity behind everyday business processes and help you get more work done. To this end, we're always adding features to solve your toughest data collection challenges and we are excited to announce that we have new features!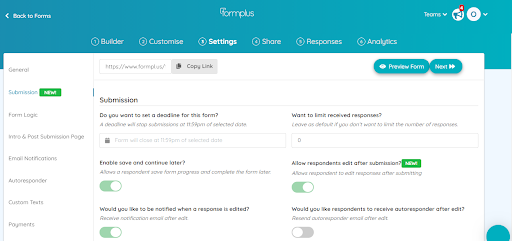 We hope you're just as excited as we are when you see what's new in Formplus:
Edit Responses After Submission
Users can now edit responses after they have been submitted. This is especially useful in cases where new information may come in after a submission has been made. Here's how it works:
Form owners can allow a respondent to edit their response after submission.
Form owners and team members (with permissions) can edit submissions from the Responses page.
With Workflows, you can now edit form submissions and resend approvals to team members from the Workflow page.
As a form owner, you will be able to view the activity logs of any edit made across your account from the Activity page.
These options for editing responses are now available in Formplus! Simply sign up/sign in to Formplus and use it in your online forms today.
Unique Submission ID
With our new update, every submission will now be tagged with a unique ID that can be used in a lot of exciting ways. For example, including it in your form autoresponder email or using it as a reservation number. To learn more about this, read this support article.
Coming Soon
We are working on a revamp of the Form analytics page to ensure that it's even more robust than it is currently. Look out for this in our next announcement.
All these amazing features are now available on Formplus! Get Started for free today by signing up for a free 21-day trial here.