A rental application form is a document given to a prospective tenant by landlords or property owners. They use this form to screen prospective tenants and decide if they are eligible to rent the property.
Landlords or property owners use this form to assess information like, an individual's employment status, background, credit, and prior leasing history (through references) to make the decision of allowing him or her to lease their property. This is usually done to ensure that the landlord will not face difficulty getting paid when the rent is due.
For example, a property owner may decide not to rent out a $200,000 car to an undergraduate who is most likely unemployed. If this is going to be done, the property owner may have to contact his or her parents her.
In some cases, property owners go to the extent of doing a personal investigation of the person's criminal history or gang involvement to avoid issues like gang fights that may lead to vandalism of the property. This may even be worse than an unpaid bill.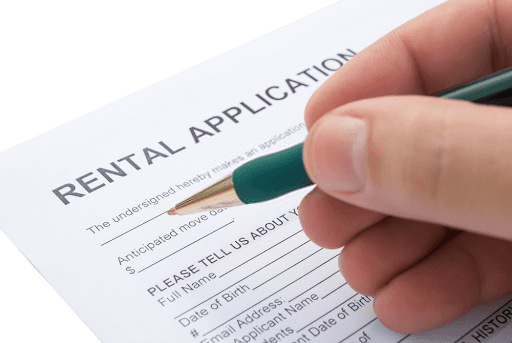 Features of a Rental Application Form
Property and rent information
A rental application form will contain basic information about the property that is up for rent. This may include information like the address in the case of house rent, the description (e.g. 2 bedroom flat), period lease, etc. With this, the property owner will have enough information about the property that is being applied for. This is very relevant, especially in cases where the landlord has many properties or it's a leasing firm that manages different properties.
Basic personal information
The prospective tenant will have to fill in basic personal information like name, current address, phone number, email address, identification number, criminal history, etc. The property owner uses this information for identifying the prospective tenant and also to make a decision regarding whether to accept the application or not.
This may also include a question asking for the reason why the prospective tenant is moving from his or her former place of residence. In some cases, may request for the former landlord's contact so as to investigate the prospective tenant.
Tenant's lifestyle habits
Property owners have individual preferences about the kind of tenants they want residing in their property. For example, a landlord may detest tenants who keep late nights, hold house parties and smoke or drink.
By asking relevant questions about tenant's lifestyle habits, the landlord may decide whether he or she can be allowed to rent the property. Lifestyle habits are a very high determining factor in choosing whether to accept or reject a rental allocation form.
Credit and criminal record
Most property owners will not rent out their property to a notorious creditor or someone with a previous criminal record. People with a previous criminal record are likely to commit other crimes, putting other tenants and the landlord at risk of being a recipient.
Someone with a high credit record may not be able to meet up with rent payment, which is why property owners deny their rental application.
Employment record includes the applicant's work history and current employment status. This may include the employer's name, employer's address, length of employment, position, monthly income, additional income, etc.
An individual who has been unemployed for a while will likely be unable to pay rent in the coming months, leaving the landlord at a loss. Also, an individual may be employed, but earning below the standard of the apartment he or she is trying to rent.
Having access to the rental record of a prospective tenant will help access the moving rate, previous rent price, and other important information about a previous rental record. This includes information about current and previous rent if any.
The emergency contact may also serve as the referee or guarantor in the case of any issue. This will help ensure that there is someone else the property owner can contact if anything happens.
The landlord may reach out to the emergency contact in case of an emergency like health issues or if the tenant fails to keep up with his or her end of the agreement.
7 Rental Application Form Templates For Land or Property Owners
If you own a car rental company, then you need to have a leasing contract between you and your customers. This will help you avoid legal issues that may arise from customer breach of contract.
Already use paper contracts? Upgrade to an online car leasing contract to avoid the fear of damaging or losing important forms. Make data collection easy and store data in a safe and secure online storage platform.
Get started with the car rental agreement template from Formplus or sign up to create your customized agreement forms in 90 seconds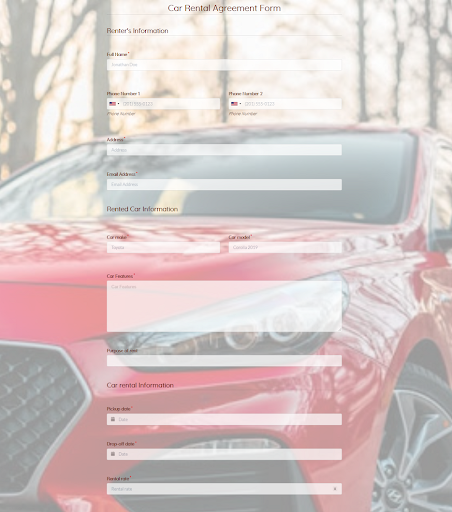 Use This Car Rental Agreement Template
General Rental Application Form Template
As a land or property owner, you need a general rental application form that makes it for potential tenants to apply for rent. That way, you can collect relevant data needed for you to decide whether to accept or reject an applicant's application.
With a general rental application form, you can collect tenant data, payments and set binding rules with ease. Have a property or equipment for rent? Use this online rental application form template from Formplus to allow clients to submit rent request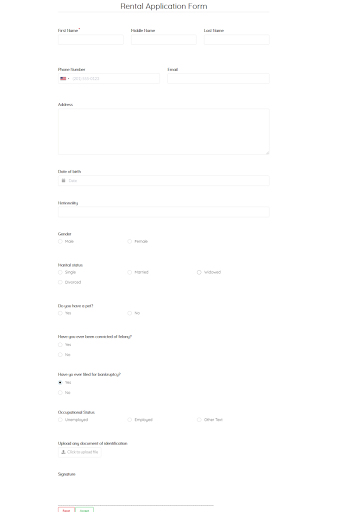 Use This Rental Application Form
You don't have to be a landlord to issue an agreement form. If you have a rented apartment, and you need a roommate to share the rent cost or want to lease out a unit of your apartment, then you also need an agreement form.
A roommate agreement form helps you easily state rules like how the bills will be shared, who will be doing the house chores, cooking, grocery shopping, etc. You may also need to define the part of your apartment that is being leased out in the case of a lease.
Sign up to share the link to this room rental agreement form with your prospective roommates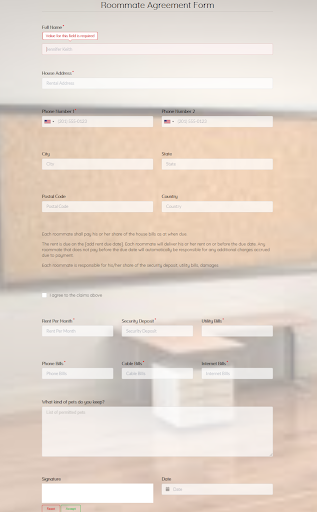 Use This Roommate Agreement Form
Equipment Rental Agreement Form
Do you own an equipment leasing firm or have equipment for rent? Then, you need an equipment rental agreement form. This form will be used to sign a binding agreement on the terms and conditions of rent.
Use an online equipment rental agreement form with file storage, payment processors, and signature fields that allows you to easily sign the contract. Here is an online lease agreement template from Formplus.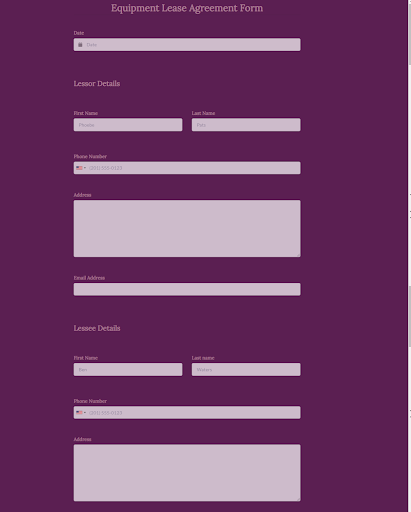 Use This Equipment Rental Agreement Form
Office Rental Agreement Form
Property owners can now lease out office spaces to companies with proper binding agreements with an office lease agreement form. This form is used by property owners to define terms and conditions, available services or perks and collect tenant data.
Landlords should use online office lease agreement forms to avoid data loss. Use this online office lease agreement template from Formplus to sign contracts between you and proposed tenants for your vacant office space.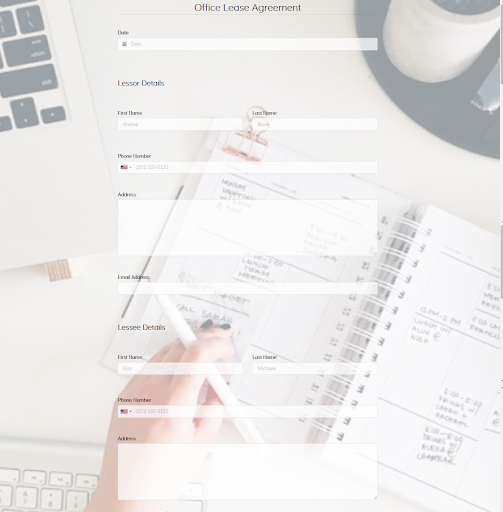 Use This Office Lease Agreement Form
This form is issued by tenants who want to sublease their apartment to prospective subtenants. A subletting application form may be similar to the general rental application form.
However, it will not contain a declaration of ownership of property. Make sure you are not breaching the leasing agreement between you and the property owner by subleasing the apartment before doing so.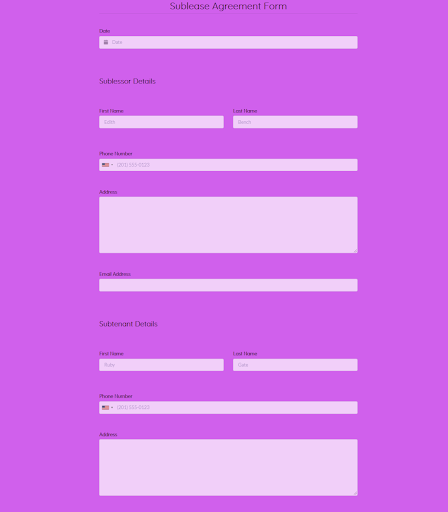 Land Lease Application Form
A landowner may decide to lease his or her apartment to a business or company for a number of years. This may range from 5-10 years or less as the case may be.
The number of years is usually stated in the land lease application form issued to the prospective tenant by the landowner. As a property owner, you may lease out your land if you can't afford to build it yet.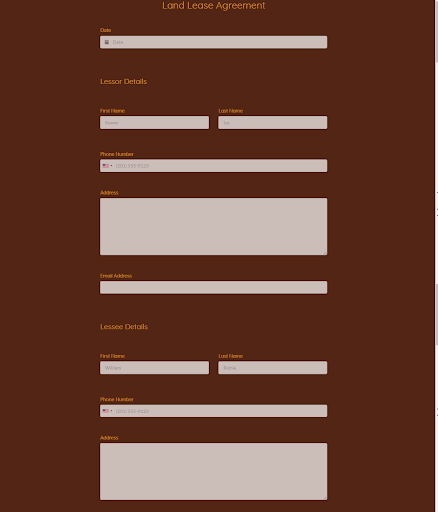 Use This Land Lease Application Form
Can't find your preferred rental application templates? Sign Up on Formplus to create your customized online rental application form with our easy to use drag and drop form builder
Rental Application or Lease Agreement?
There are different stages a house hunter has to go through before getting a job. These stages have it's importance and skipping any of them may lead to issues in the future.
One of these stages is the rental application and lease agreement stages. It is therefore important for both property owners and prospective tenants to understand what they both entail.
Rental Application
A rental application is a process of seeking interest in or applying to rent an apartment. After a house hunter has decided on a few rentals that meet his or her needs and met with the landlord or property caretaker to see the apartment, the next thing is the rental application.
The rental application is usually done with a form. This form is usually given to the prospective tenant by the landlord or property owner so as to make a decision on whether to accept the tenant's application or not.
A rental application form contains questions on basic information about the applicant and leases agreement terms and conditions.
Applicants may need to pay for the application to enable the landlord to do some paperwork and carry out the necessary investigations that will be used to decide his or her eligibility to rent the property.
Lease Agreement
A lease agreement sometimes called the rental agreement is a legal document that needs to be completed prior to when the landlord will rent out the property to an applicant. Unlike the rental application form that only contains the lease agreement terms and conditions to inform the tenant, the tenant is usually required to sign the lease agreement form.
Although very similar, the rental agreement and lease agreement are not 100% the same. A lease agreement covers the renting of property for long periods of time, usually for a year or more. Rental agreement, on the other hand, covers the renting of a property for a short period of time. Also called a month-to-month lease, it is renewed on a month-to-month basis.
Rental Application Stages for Landlord
Collect Rental Applications From Potential Rentee
The first official stage of a rental application is the filling of the rental application form by the prospective tenant. As a landlord, the best way to collect rental applications from applicants is through an online rental application form.
Formplus online application form, allows collect the required data from applicants, store them and easily analyze them without dealing with damaged or lost papers. There are many easy to use templates to choose from.
After collecting the required data, the next step is to do a background check on the applicant. This background check is to investigate whether the information submitted by the applicant is true or false. The landlord may hire people to perform the investigation or do it himself. Some of the common investigations made are for employment records, past rental and credit records.
Contact Referee/Guarantors
Referees or guarantors are a very important part of the rental process. They are the ones that vouch for the applicants.
Therefore, the landlord needs to contact them to get proper information about the applicant and if they are a good choice of tenant.
Meet With Them/ Call Them for Further Questions
After investigating the information provided, the landlord will have to call the applicant for further questioning and interview. This will help the landlord better assess the applicant.
Most times, a decision is made by this stage. The in-person interview or questions will help in making the final decision.
This is the last stage of the rental application process. The landlord makes a decision regarding the application and informs the applicant.
This may be done either in person or on the phone.
Why Use Formplus as your Preferred Rental Application Forms?
Formplus forms have more than enough form fields for you to collect the required information from prospective tenants.
Easily gain access to the information collected from applicants by exporting it to PDF or CSV format. All the applications received can be viewed in a structured excel table for easy accessibility.
With Formplus, landlords don't have to deal with the loss of files or applicant data. They are also well secured to prevent third party access.
Rental service companies can easily customize forms to show background image, logo and other forms of brand identity.
You don't have to always be online to have access to your data. Property owners can view day in offline mode. There is also an SMS option that allows applicants without internet access to fill rental application forms.
Intro & Post Submission Message
Applicants are kept up to date with the status of their application through a submission notification or message. This way, applicants are rest assured that the application went through and their mind assured, especially when made payment through the forms.
You can also receive payment for the application form payment through Formplus. This web-based form builder has Paypal, Stripe and Flutterwave payment integration that allows the landlord to receive payments from all over the world.
Why Use Online Rental Application Forms over Printable Paper Forms?
It is easily accessible to both the landlord and tenant as it allows for easy sharing and can be accessed on any internet-enabled device. A landlord does not have to deal with carrying around countless papers or files.
With online rental forms, landlords can forward the application link to applicants immediately they show interest. Issues like unavailability if forms can be avoided.
Information Storage & Security
Papers are at risk of getting damaged or lost in the files they are kept, losing the data collected from applicants. The data collected using online application forms is stored in a safe database with no limitation on space or size.
Also, the data is usually secure with no risk of someone stealing or tampering with the form or agreement.
Appeal to Potential Rentee who's not physically available
Potential tenants may be unavailable at times but need to rent an apartment, making it difficult to fill the paper forms. For example, a potential rentee may be living abroad and need to move to a new city but wants to get an apartment upfront.
Having an online form the person can fill from where he or she is will make the application process easy.
Landlords will save costs spent on buying and printing on papers all the time. These forms may need to be kept for future purposes, therefore requiring a store. This is not required for online forms.
With e-signature fields, applicants can easily save their signature and no longer have to sign again every time they require a signature. This helps to acquire a uniform signature round the document.
Conclusion
A rental application form is the first document that needs to be filled during a rental application process. Usually issued by the property owner to the applicant, it is a very important stage of a rental application.
A basic rental application form should be given to any prospective tenant so the landlord can screen them properly before they accept them as a tenant. Although the landlord is the decision-maker, it is important to comply with landlord-tenant laws when making this decision.
There is a need for landlords to use the Formplus online rental application template to make this process an easy one.