A lease is basically an agreement between you and a tenant that covers the terms that you allow for your property to be rented out. If you do decide to write one by yourself, make sure you include a clause that states if any condition is not legal, the rest of the lease is still in effect.
"You always hear the phrase, money doesn't buy you happiness. But I always in the back of my mind figured a lot of money will buy you a little bit of happiness. But it's not really true. I got a new car because the old one's lease expired", said Google's co-founder, Sergey Brin
As a new homeowner, seeking to put out a property, you have to come up with lease terms that will encourage tenancy. A lease agreement in itself is a legal document outlining the rights and responsibilities of the landlord and the tenant.
What is a Lease Agreement?
A Lease Agreement is a contract outlining the terms under which one party agrees to rent property owned by another party. It includes the rights and responsibilities of both the landlord/property owner and tenant.
By law, the lessee, also known as the tenant is guaranteed the use of an asset, and the lessor, the property owner or landlord is guaranteed regular payments for a specified period in exchange. The agreement is legally binding and ensures both renters' and landlord rights.
Features of a Lease Agreement 
Names of all Tenants/Occupants
Every single individual that qualifies as an adult is expected to sign the lease or rental agreement and should be named as Tenants. In doing so, the landlord gets some additional insurance for his rental since all the adults are official tenants.
Description of the Rental
The complete address of the property should be spelled out, down to the unit number(where applicable). Also, if the lease rental includes assigned parking, it should also be written down. Places the tenant isn't allowed to access should be included to avoid confusion.
Be specific about the term of the tenancy. You are expected to note the start date, the tenancy length, and (if drawing up a lease) the expiration date. This is because Leases, unlike Rental agreements, create tenancies that terminate after a specific term.
Details surrounding the security deposit
To ensure there are no disputes between landlords and tenants, you must be very clear about your deposits and fees. Your form is to provide state-by-state rules for important lease terms such as the maximum security deposit you may collect, the notice required to end a month-to-month tenancy.
Contained in the lease agreement is the date when the rent is due and how it must be paid.  Also, the exact amount the rent would cost is carefully written in black and white. You are to spell out if you charge a late rent fee, the amount of the fee, and the grace period (if any).
The form explains the tenant's duty to use the property with reasonable care. It also states how repairs and maintenance will be carried out. The role of the landlord and the tenant. 
Entry to the Rental Property. 
A lease or rental agreement should clarify your right to access the rental. This is to avoid tenant claims of illegal entry or violation of privacy rights. For instance, you might stipulate a 24-hour notice before entering to make repairs 
The duties of the tenant are also listed carefully in the agreement. If you have a personal rule or regulation so important that you'd want to remove a tenant who violated it, be sure to include it.
The lease agreement should contain the contact information of both the landlord and the tenants. You could consider requiring tenants to contact you in writing about certain matters. 
Keeping up with federal, state, and local laws might require you to disclose certain information in your lease or rental agreement. The lease or rental agreement shouldn't violate any rent control laws, anti-discrimination laws, or health and safety codes.
Here are 7 Online Lease Agreement Template to use
With this lease agreement form template, you can create a legally binding document until rent expiration. This lease agreement form is perfect for property owners, investors, and general business.
The equipment lease agreement template can be used to sign a binding agreement on rent terms that'll cover fees, terms, and conditions for equipment loss or damage. 
With this car rental agreement form template, you can sign an online basic car leasing contract between your car rental service company and prospective customers.
Whether you are renting out lands for agricultural or other commercial purposes, this online land lease agreement template is ideal to design a binding agreement between property owners and the lessee.
The office lease agreement template is used to sign a legal contract between property owners and the proposed tenant for a specific office apartment. Office lease agreement contract can be modified to include service provisions like cleaning, electricity provisions etc.
To sublease an apartment you leased from its owners, you could use this sublease agreement templates to sign a binding agreement between you and sub-lessee who is renting an apartment or an already leased space.
This online lease renewal agreement template is used to extend the term of tenant lease as it gets closer to expiration. With this renewal agreement template, Both parties can change the agreement terms before signing a new contract.
Types of Lease Agreement 
Operating Lease Agreement
An operating lease agreement is a contract where the owner leases out an asset to a user, for a particular period, without any transfer of ownership rights. An operating lease is generally treated like renting. It is basically a contract that allows for the use of an asset but does not convey ownership rights of the asset. 
Capital/Sales or Financial Lease Agreement 
A finance lease is a type of lease in which the financing company is typically the legal owner of the asset for the duration of the lease. As long as the asset is being leased out, ownership has been transferred. Also, for a finance lease, there is a transfer of all the risks and rewards of ownership of the asset to the lessee.
Sale and Leaseback Agreement
This refers to a financial transaction where a person sells an asset and leases it back for the long term. In doing so, the person continues to be able to use the asset but no longer owns it. It is common when the asset in question is fixed in nature, for example, real estate. 
Combination Lease Agreement
A combination lease offers features of both financing or capital lease and Operating Lease. It combines aspects of both capital and operating leases. It is a customizable form of leasing. A prime example of a combination lease is a capital lease that carries a clause for cancellation.
Synthetic Lease Agreement 
A synthetic lease is an arrangement between a company and a special purpose entity that it created. The idea is for the company to borrow money and purchase equipment from that special purpose entity. As such, the company has control over the assets without being required to show the assets on its balance sheet.
Other Types of Agreement Forms 
This is a model release photography form template that is perfect for photographers, image rights agencies, consulting firms, and celebrities. With it, models or individuals will grant you image rights.
This online guarantor agreement form template will allow guarantors to vouch and affix their signature for their wards or lessee. This guarantor form is important in the real estate, business, legal, and recruiting industries
With this online non-disclosure agreement form template, business partners or employees can sign an NDA agreement to prohibit sharing of your company's confidential information to third parties.
The music release form template allows the public to request permission to use your song for business advertisement or personal use. This music release form template allows record labels to give copyright permissions, request data, and infringement of intellectual property.
If you are going to work with models, studios, media companies, or fashion brands, you can use this form template as a legal document (or use access) between you, the photographer, or the person who owns the image right property.
To get a roommate to share the cost of your rent or to lease out a unit of your multi-bedroom apartment, you need this form. This roommate agreement form template is useful to sign a legally binding lease contract while stating explicit rent rules and regulations. 
How to Create an Online Lease Agreement Form with Formplus Builder
1. Register or sign up on Formplus
Start creating your Lease agreement by signing up with either your Google, Facebook, or Email account.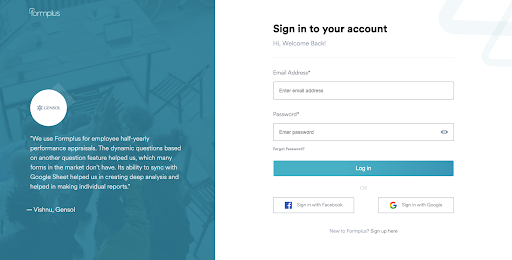 2. Input your Lease agreement title and use the form builder choice options to start creating your form. 
Add a choice field like single select, multiple select, checkbox, radio, or image choice.
3. Customize your  lease agreement form with Formplus Customisation features
Change the form theme
Add your company logo and image to the forms
Change the form width and layout
Edit submission button if you want
Change text font color and sizes  
Do you have already made custom CSS to beautify your Lease agreement? If yes, just copy and paste it to the CSS option. 
4. Edit your Lease agreement form settings for your specific needs
Formplus builder gives you the liberty to choose your storage options (Formplus Storage, Dropbox, OneDrive, and Google Drive). 
You can also limit the number of responses, enable Captcha to prevent spamming, and collect information about your respondent location. Initiate an autoresponder message to all your respondents. 
5. Share links of your Lease agreement form with customers.
There's an option to copy and share the link as "Popup" or "Embed code" The data collection tool automatically creates a QR Code for Survey Questionnaire where you can download and share as appropriate.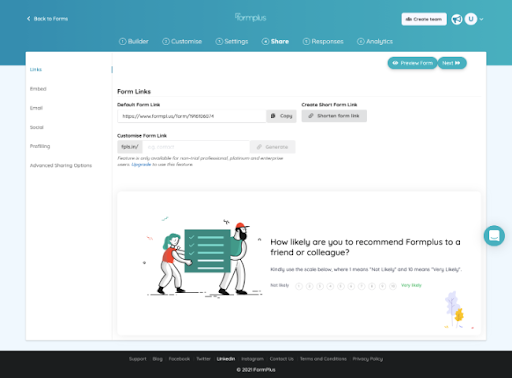 6. View Responses to the Lease agreement form
Toggle with the presentation of your summary from the options. Whether as a single, table or cards. In addition, you can make graphs from received responses, and translate these into charts and key metrics. 
7. Let Formplus Analytics interpret your data from your Lease agreement form 
You can also monitor your form performance and identify your traffic source and location with Formplus Analytics. With online form builder analytics, you can determine:
The number of times the Lease agreement form was filled
The number of customers reached
Abandonment Rate: The rate at which customers exit the form without submitting it. 
Conversion Rate: The percentage of customers who completed the online form
Average time spent per visit
Location of customers/respondents.
The type of device used by the customer to complete the Lease agreement form
Form Analytics for custom dates and custom ranges.
Details of all submissions received over time are now displayed in beautiful charts.
Know the exact browsers being used by customers/respondents' to fill out a form.
Terms to Watch Before Signing a Lease Agreement 
Right to renew the lease: If the tenant has the right to file for a renewal of the lease at the end of the lease agreement, those terms should be listed in the lease agreement. In an ideal situation, a new lease agreement will be signed each time the tenant renews.
Parking restrictions/rules: If the property has designated parking or offers to park in a particular spot, those terms should be listed in the lease agreement.
Possessions: If for whatever reason certain possessions are restricted on the property, those terms should be listed – along with the consequences should those items cause damage to the property.
Property rules: If the property is a multi-unit, the landlord may specify rules that govern behavior on the property such as repairing vehicles on the premises.
Right to sublet the space: If the tenant has the right to sublet the building to another person, the lease agreement should spell out those terms.
FAQ
Is lease cheaper than rent?
The overall cost of a lease can be more expensive when compared to renting. This is because along with the lease, there are other costs attached to owning a home. Some include property taxes, pest control, insurance, maintenance, and so on.
If you're renting, you'd usually call your landlord to sort out home maintenance like leaking roofs. 
What's the difference between a lease and a rental agreement?
Both a lease and rental agreement are contracts between a landlord and tenant that allow a tenant to stay in a property for a period of time. 
The difference between them is usually the duration. While a rental agreement is for a short period and renewed on a monthly basis, a lease is a fixed period usually between 12 months or more.
Is lease better than rent?
It entirely depends on what you need. If you'd want a stable arrangement without rent increases for a long time, then leasing might be a better option.
However, if you need flexibility or you're prone to move around often, then renting could be better for you.
Conclusion 
The initiative of a lease is to make life simpler for all parties involved. Negotiating a lease, for example, a shop or office should not be a daunting task. By using this new contract both landlord and tenant will know that they are agreeing to, and provide fair terms that provide clarity for both sides. Having good communication upfront helps to avoid issues later on in the relationship.
Also, In simplifying the leasing process for landlords and small business tenants, they would both contribute more to economic productivity. It is also helpful if both parties take their time to go over the lease and all of the aspects of it.