Parental consent is something that needs to be requested before adults can carry out any activity with a child. Since minors cannot make binding decisions for themselves, you would need to obtain formal authorization from parents or guardians before their wards can take part in some activities. 
Getting parental consent is a big deal and in order to get it, you must communicate with parents or guardians and assure them of the safety and well-being of their child(ren). So what exactly should you include in a parental consent form? In this article, we will tell you all you need to know about formal authorization from parents. 
What is Parental Consent?
Parental consent is simply a parent or guardian's explicit permission for a child to engage in one activity or the other. As we've already said in the introduction of this article, parental consent is necessary because minors cannot take decisions that are legally binding in some cases.
For example, let's say you want to take your students on a field trip. While they may be excited about the trip, you just can't take the children's word for it. This means that you must make sure their parents formally agree to their children's participation in this activity. 
Now, let's consider legality. Many countries have parental consent laws that outline specific situations where parents' consents are necessary. The United States (US), for instance, requires parental consent before a child undergoes a medical procedure. 
Typically, either parent can formally consent to a child's participation in an activity so both parents need to agree before providing consent. This is because things can get a bit messy if one person consents to a child's participation in an activity and the other parent refutes it. 
We'll also mention here that parental consent doesn't only cover minors or children. Persons who have certain disabilities that can affect competent decision-making like autism and Down syndrome may also need parental consent before partaking in several activities.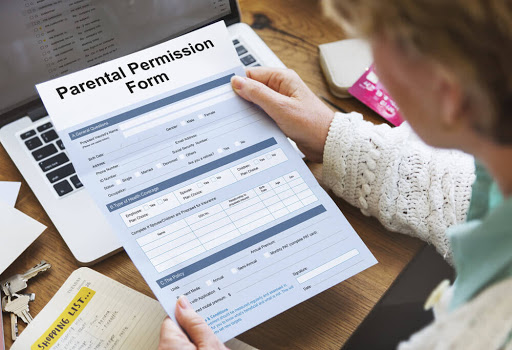 Importance of Parental Consent 
So why exactly is parental consent something you should pay attention to? First, parents are adults with a fully developed sense of responsibility. This means that, to a large extent, they can be trusted to make the best decisions for their wards. 
On the flip side, if they do not make the best decisions, they can be held responsible for their decisions or indecisions. We know children do a lot of things and many times, you can't hold them responsible for their actions because, well, they are children. 
Apart from creating a sense of accountability, here are some other reasons you should understand parental consent and get familiar with the parental consent laws in your country: 
It helps you avoid legal breaches and rights infringement.
It protects all the parties involved in the agreement.
It grants legitimacy to the activity in question.
Types of Parental Consent 
Medical or Informed Consent for a Minor
Before carrying out any kind of medical operation on a minor (someone younger than 18), you must obtain written authorization from the parent or guardian. This is obtainable in numerous parental consent laws across the globe including the US. 
A common question that follows this provision is; "When a minor is undergoing a series of treatments, would parental consent be required at every instance?" In this case, you can use a consent form that permits the medical personnel to carry out successive treatments even without the consent of the parent(s).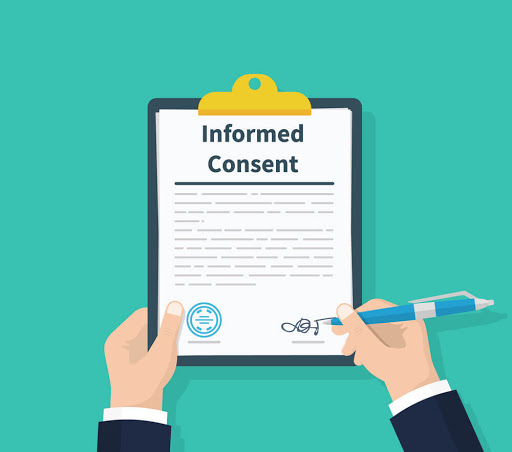 However, if the terms of treatment change, you'd need to keep the parents in the loop and obtain another parental consent before going ahead with it. Also, sometimes, a third party can give consent on behalf of the parents; especially in emergency medical situations. 
Parental consent for minors in medical situations broadly caters to the following:
A parent's right to give consent, or be informed, before their minor child undergoes medical procedures including abortion.
A parent's right to give consent before their minor child undergoes body modification such as piercing or tattooing. Under the Tattooing of Minors Act of 1969, it is an offense to tattoo anyone below 18 years.
Minors who are above 16 years can get piercings without parental consent. Piercing practitioners should not pierce a young person they believe to be under the age of sixteen without the consent of an adult with Parental Responsibility.
Parental Consent to Travel
Before a child goes on a trip with you, you must obtain a child's travel consent. A child travel consent is simply a letter or filled form from the parent or guardian that permits a minor to travel alone or in the company of another adult. 
You can also refer to this document as a travel consent letter or parental consent form. Regardless of the semantics, it serves one purpose – to authorize your embarking on a journey with a minor when you are not his or her legal guardian. 
Child travel consent is also required when a divorced or separated parent is traveling with his or her child. In other words, separated couples need a travel consent letter when both parents share legal custody of the children but only one parent is going on a trip with the child.
If you're planning a trip with a minor, then you should start working on your parental consent form. Here are a few pieces of information you need to request in the form: 
The child's bio-data.
Medical information of the child including allergies and special needs.
The signature of the child's legal guardian.
Bio-data of the legal guardian.
Information about the trip (date of departure, duration of the trip, and date of return).
You can easily create a simple parental consent form using Formplus. 
General Parental Content 
General parental consent covers parental permission in situations like marriage, information usage, research, photography, and interview consent. We will briefly examine each of these as they apply to the U.S parental consent laws. 
Parental consent is generally required for a marriage involving minors although minors may get married without the permission of their parents in exceptional situations. In many U.S. states, minors who are 16-17 years old need formal consent from either parent before they can get married. 
Information Usage and Research
In a systematic investigation, parents are expected to provide consent for children who are below 18 years. Also, companies must obtain consent from parents if they want to use information or data provided from interactions with a minor. 
However, the needle moves predominantly when you're dealing with a minor who is legally married. A legally married minor has similar consent rights as an adult and so, he or she can consent to research and grant permissions for information usage. 
Parents must provide express written consent or use a minor photo release form to obtain permission from a parent or guardian before using a child's photograph for public or private purposes. This form must also indicate whether the photo is "free to use" or attracts royalties.  
How to Get Parental Consent
There are two ways to get parental consent namely;
1. Letter/Email
You can ask parents to send an email or letter that permits their children to be part of a specific activity. Letters are one of the oldest and most common means of documenting parental consent for all and sundry. 
The major setbacks that come with these methods are that they are cumbersome and time-consuming. Imagine having to sift through more than 100 emails and letters to ensure everyone provided the details you want. That doesn't sound like fun at all. 
Building on what we've already established, using emails and letters for parental consent defeats efficiency. Many parents may not have the time to draft the letter from scratch or even send an email; they may omit vital information from the letter and you'd end up reaching out to them all over again.
Emails and letters work, ideally, when you have a small sample size – let's say 20-30 parents who need to provide formal consent for their children. Still, this does not eliminate the time lag and inefficiency that can result from adopting this method; especially when sorting out and organizing data 
Read – Consent Letter: Writing Guide, Types + [12 Consent Samples]
The good thing is these are not the only methods of gathering parental consent that we know. You can also try out forms; whether online or paper forms. 
Parental Consent Letter Example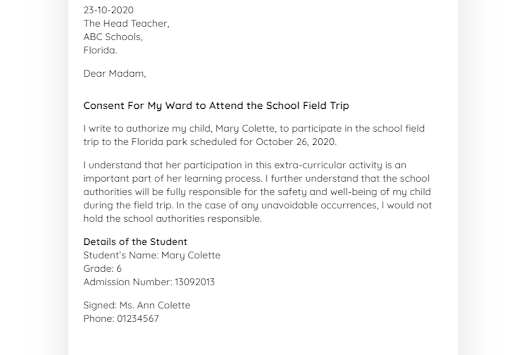 2. Forms
Using a parental consent form allows you to swiftly collect and process written authorizations from parents or guardians; especially on a large scale. Unlike emails and letters, forms are generally time-efficient, easier to fill, and help you to collect specific information from respondents. 
You can collect parental consent using an online form or paper form. Paper forms are more susceptible to damage and loss – If there is a fire incident in your office, for instance, you can lose all the data stored in paper forms. 
Also, with a lot of conversation happening around saving trees and the planet, you'd want to do your bit and slow down on the use of paper; especially when you have alternatives. Using paper parental consent forms affects your overall efficiency. 
Let's talk about the alternative to paper forms – online forms. An online parental consent form is by far the most effective method of collecting written consent from parents and guardians in multiple contexts. There are several online tools that you can use to create parental consent forms easily. 
Formplus is a secure, user-friendly tool that allows for seamless data collection and processing. With its drag-and-drop form builder, unlimited storage, and Google Sheets integration, you can easily create a parental consent form and use the multiple form-sharing options to collect information.
Parental Consent Form Templates
Use this parental consent form to collect formal authorization for parents for their children under 18 years before they engage in different activities. This form is ideal for schools, churches, hospitals, and other contexts that require an adult's permission for a child.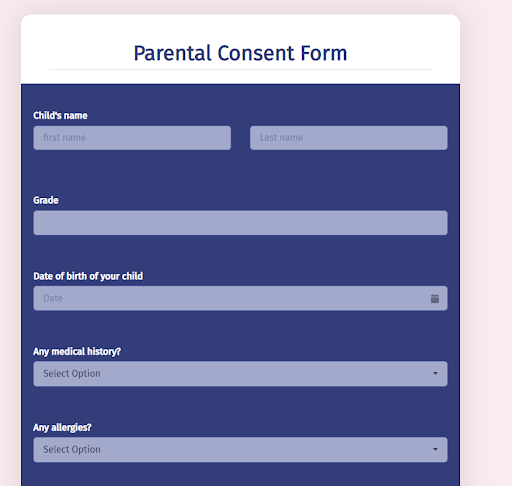 Before going ahead to tattoo a minor, use this Formplus tattoo consent form to obtain written permission from his or her legal guardian. You can easily tweak this form template in the form builder once you sign up for a Formplus account. 
3. Proxy Form
Avoid legal complications and stay on the right side of the law with this easy-to-use Formplus proxy form template. Parents and guardians can fill this form to authorize another adult to act as a legal guardian for their children when they are away.
Are you traveling with a child who is not your ward? Avoid delays and prevent any form of legal restrictions using this travel consent form.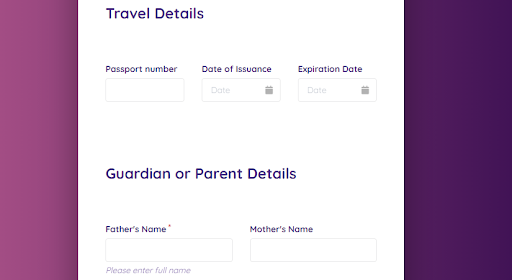 You can make use of any of the form-sharing options to send this form to the child's guardian and obtain formal consent before your trip. 
Let parents authorize you to use their child's image for promotions, publicity, and similar contexts by filling out this photography consent form. This form template has a digital signature field that allows you to collect e-signatures from form respondents. You can add other form fields in the drag-and-drop form builder. 
How to Create a Parental Consent Form with Formplus 
Creating a parental consent form with Formplus is easy and wouldn't take too much time. Formplus already has different form fields that you just need to drag and drop into your form in the builder. 
Follow these steps to create a parental consent form and start collecting data with Formplus.
1. The first thing you need to do is sign up for a Formplus account; that is if you do not already have one. Signing up for a Formplus account is free and you should be done with it in a few minutes.
2. To start building your parental consent form, sign in to your Formplus account. On the left corner of your dashboard, you'd find the "create new form" button. Clicking this button takes you to the form builder.
3. The Formplus builder has different form fields including rating fields, data-time fields, and e-signature fields, amongst others. You simply have to click on any of the field options to add them to your form. You can also drag and drop the fields into your form.
4. On the right corner of the form builder, just above the title bar, you'd see the save icon. Click on this icon to save your parental consent form and access the other sections in the builder.
5. In the builder's customization section, many features and options can be used to make your form more appealing. For instance, you can add your school's logo to your parental consent form using the "add background images" option. You can also modify the form layout with your custom CSS.
6. Now, you can share your form. Formplus provides different options that you can use to send your parental consent form to parents and guardians. You can send out the parental consent form as an email invitation or copy and share the form link.
7. You can see how well your form is faring in the form analytics dashboard. Think of this as a monitor that keeps you up to date with form responses and the overall data collection process.
Conclusion 
A clear understanding of parental consent is important to help you avoid negative legal implications. From all we've discussed in this article, you should be able to identify situations that require parental consent and act accordingly. 
Also, it's important to note that parental consent laws typically differ from one region to the other. While there are aspects of these laws that overlap, be sure to find out what is obtainable in the parental consent laws in your country.