As a business owner, you may experience total or partial lockdown in your city or business location at a point in time. This may be due to a viral pandemic like the Spanish flu and COVID-19 or a security threat across the city.
If a lockdown like this occurs, people will have to depend solely on home deliveries to get groceries and other items needed for survival. For existing online businesses, this will lead to an increase in demand for home delivery while offline businesses will have to incorporate home deliveries in their service due to the high demand.
According to Statista, the grocery delivery app download in the United States as of March 2020 grew by over 500% due to the COVID-19 pandemic. This shows the extent to which the demand for home delivery will increase during a lockdown.
Given the unarguable high home delivery rate that will stem from a lockdown, you need to know how to manage delivery orders during this period. Here are a few tips to help you better manage your delivery.
Get a Movement Pass
In order to properly enforce the lockdown, the government will most likely deploy security officials to the streets. Therefore, only essential workers will be allowed to go out to ensure that necessities are attended to.
These essential workers will be given a movement pass so that they can be allowed to move freely. As a business owner, you need to get a movement pass for yourself and your employees in order to avoid being prosecuted or embarrassed by law enforcement agencies.
With a movement pass, your employees can easily get to work and also ship customer deliveries to their various houses. Employees should also be made to move along with their identity cards, wear the company branded tee shirts and use branded vehicles to deliver items.
This will prove very useful in case you are not able to get a movement pass for every one of your employees. If they are accosted by a security enforcement official, it will help bail them out.
Use a Reliable Logistics Company
If you own a small or medium business with little to no capacity to handle deliveries, it will be quite difficult to run deliveries during a lockdown. Therefore, you need a reliable logistics company to help handle your deliveries either completely or as a supplement to your delivery capacity.
It is very likely that the logistics companies will also have high demands during this period. Hence, you need to make sure they are very reliable and will complete customer orders on time.
Better still, you should consider working with less popular logistic companies who won't have much demand and will be able to attend to your customer demands on time.
Due to the high demand and probable logistic delays, you should consider informing customers upfront of the indefinite delivery date. You should also avoid giving delivery date guarantees to customers so that they don't get disappointed.

Take Precautionary Measures
Take the right precautionary measures to ensure your safety, that of your staff, goods, and customers. In the case of a disease pandemic, you should equip your staff with all safety gear to keep them safe from contracting the disease and spreading it.
The packages to be delivered to the customer should also be properly sanitized to prevent spreading the disease through it. Safety precautions like this will help prevent the spread and keep everyone safe.
If the lockdown is due to a security threat, you should take precautionary measures to avoid putting the life of your employees at risk. For example, if terrorist attacks are said to be carried out at night, then you should avoid making deliveries at night.
Increase customer trust by informing them of how you are taking precautions to ensure their safety. This will encourage them to patronize your brand.
Protect Your Employees
Your employees should be treated with special care and should be well protected for risking their lives during the lockdown. You should equip them with everything they need to stay protected so that they don't harm their families and your customers unknowingly.
If possible, you can also consider giving your employees a raise or bonus for risking their lives for your business. Health insurance is also very important for all employees and their families during this period.
This will help boost their morale and also encourage them to keep working regardless of the current situation.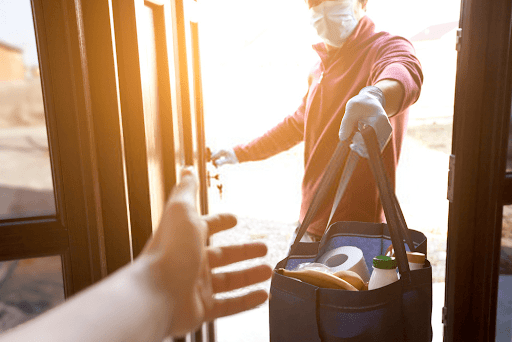 Automate Customer Order
With the increasing order rate, it may be difficult to effectively attend to customer needs with your current manpower. Although you can easily employ more hands, this will cost you a lot of money.
Therefore, you need to automate the order process to make it easier to meet the increasing customer demands. How then, do you automate the order process for your business?
This can be easily done using the Formplus delivery order form template. The delivery order form template was created by experts to help you collect the necessary details required to fulfill customers' orders.
With this order template, you can collect important information like name, phone number, email address, delivery address, etc.
Some of the features offered by the Formplus Delivery Order form template include
Formplus offers a payment integration feature that can be added to the online order form. You can receive payments online through Stripe, Paypal, and Paystack.
This feature is especially great for when there is a viral pandemic like the COVID-19 that can be spread through notes. This will help protect your employees from contracting the virus.
Easily manage customer requests by adding your employees as users to your Formplus accounts. You can further assign roles to each employee so that every part of a customer's request will be managed simultaneously.
Data Management/Cloud Storage
Properly manage customer data and keep it secure from third-party access with secure Formplus forms. You can also keep a proper record of your orders and inventory with Formplus.
Managing the high demand during a lockdown might be quite difficult as a business owner. However, if you follow the right steps, you can seamlessly handle customer requests without letting the situation affect your business.
Manage Delivery Lockdown with Formplus