Handling complex documents like agreements and legal contracts can be quite tedious especially when you're drafting them from scratch. Luckily, the Formplus PDF Builder is designed to help you create legally binding documents without the need for a legal practitioner. So you can sit back, cut costs and create your legal agreements for free.
In this article, we'll be looking at how you can draft legal agreements and contracts with the Formplus PDF builder.
What is a Legal Agreement?
A legal agreement is any written document that highlights the contribution, interests or responsibilities of each specific individual referred to as parties. Immediately a signature is appended to this document either physically or electronically, it becomes a legally binding agreement.
Essential Features of a Legal Agreement
For a legal agreement to be valid, there are some essential features required on your document. These features include but are not limited to the following;
Name of the parties involved
Signature fields for each of these parties
Agreement terms and conditions
Effective date of agreement
Creating a Legal Agreement with Formplus
Ready to create your first legally binding agreement? Here's how to
Log on to the Formplus PDF Builder 
The first step is to visit www.pdf.formpl.us.


It's free, no signup required and no trial period.
Create an Agreement
Using the drag and drop editor, move fields from the control panel to start creating your agreement.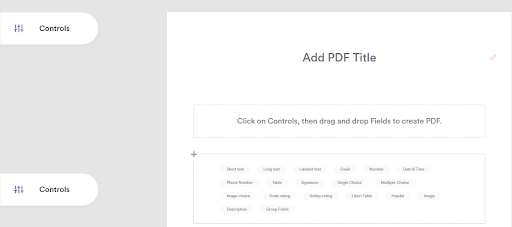 Explore short texts, long texts, description, signature fields amongst other available options.
Customize Your Agreement
On the control panel, click on the customize button. Customize your agreement by adding a logo, changing width, font, colors etc to fit into your brand.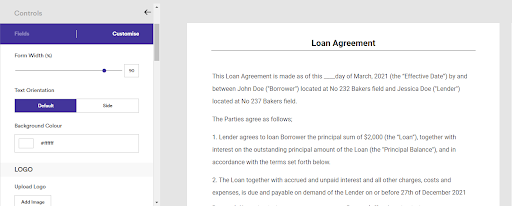 Use the preview button to see your form progress.
Download as a PDF or Share Online
You can download your agreement as a PDF file to your local device without any restrictions or signup necessary.
The share online button redirects you to the Formplus builder where you can share your agreement with parties by embedding on your website, sharing via email or as a link. 
Save cost and time by drafting your own legally binding agreements today with Formplus.