Social impact projects are common to non-profit and clubs, and executing them often requires fundraising. While fundraising can be challenging, it is a lot easier when you are working with the right idea that reflects the goals and objectives of your campaign.
In this article, we will share 33 fundraising ideas you can try out as a club or non-profit, regardless of your size, scale, or goals. We will also show you how to use Formplus forms for executing seamless fundraising campaigns.
Bake Sale
A bake sale is a fun fundraising idea that you can easily execute to raise money for a project. You can collaborate with local pastry shops and restaurants in your community to bake cakes and snacks and sell these to individuals on specific days.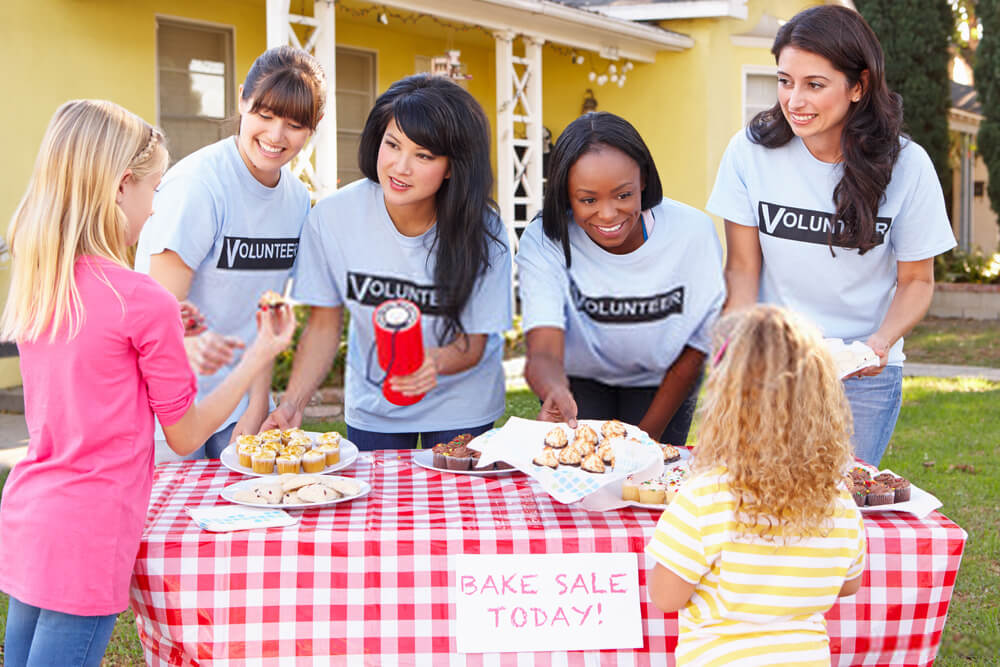 The good thing about a bake sale is that you can execute it multiple times, especially when you have volunteers helping out. During the sales, you can set up a donation box to raise extra funds and also sell soda, lemonade, or coffee as well.
Charity Auctions
Get members of your club to donate valuable items and put these items up for sale at charity auctions. Apart from auctioning these items, you can also raise money by selling tickets to the event and setting up donation boxes at the event.
Text-to-Give
This is a simple fundraising idea that you can execute in no time, especially with the help of a mobile giving service provider. Donors simply have to text a specific word such as "donate" to a particular mobile number, and they will receive an automated message containing a link to a payment form where they can make their donations.
Pizza Sales
During the weekend, you can organize pizza sales involving everyone. A great way to do this is to partner with a pizzeria in your community to give out huge discounts, or you can get members of your non-profit organization and club to prepare home-made pizza for sales.
Online Donations
Technological innovations have made it even easier for one to raise money for a cause. For instance, you can easily set up an online donation form with Formplus and embed this on your website to seamlessly collect contributions for your fundraising project.

T-shirt Sales
Apart from helping you raise money for your club's social impact project, t-shirt sales are a great way to create a huge buzz for your fundraising campaign. Of course, you'd need to create the right hashtag for your campaign and print this on the t-shirts.
On your website, you can embed a Formplus order form where interested persons can easily place orders and process payments for your t-shirts. Don't forget to encourage participants to take pictures with the t-shirts and share on social media with your fundraising campaign hashtag.
Golf for Giving
Putting a golf tournament together is an exciting way to raise funds and keep fit at the same time. Since golf works with sunshine, you'd want to make sure you choose a day with great weather for your charity tournament. (we recommend summertime!)
You can set up an event registration form on Formplus for the tournament and attendees can also purchase tickets via this form. During the tournament, don't forget to solicit additional donations from attendees and you can also raise money from the sales of foods and drinks.
Trivia Tournament
This fundraising event allows participants to test their knowledge on different subject matters while donating to your project. Whether the tournament is happening online or physically, you can raise funds by asking interested persons to pay a participation fee via Formplus payment forms.
Yard Sales
Ask club members and individuals in your local community to donate different used items for your yard sales. You can create a section for the items on your website and link this to a Formplus payment form where interested persons can complete transactions for checked out items.

Talent Show
Nothing says fundraising like a well-organized talent show. Include a twist in the show by ensuring that your club members sign up to perform; you'd be surprised how talented they are.
You can sell tickets for the talent show online and also create an event registration form for the show where interested participants can sign up to perform. During the show, you can raise money from selling food items, lottery tickets, and drinks.
Happy Hour
Take time off to celebrate outstanding members of your non-profit or club by hosting a happy hour through a partnership with his or her favorite bar. You can ask interested persons to buy tickets for the event and you can also solicit donations from attendees during the event.
Charity Carnival
Who says carnivals cannot be used for fundraising? Organizing a charity carnival can be challenging yet; it is one of the most exciting ways to get everyone involved in your fundraising campaign. Be sure to choose an interesting theme for your event too.
You can set up multiple donation boxes at the carnival venue and you can also raise funds from the sale of food items, costumes, and other carnival merchandise. Don't forget to seek partnerships and sponsorships from different organizations to make your event bigger.
Fashion Show
Collaborate with designers in your community to organize a charity fashion show. Interested fashion houses can pay a fee to be part of the show and you can get them to donate a percentage of the proceeds from their sales to your fundraising campaign.
Virtual Road Racing
Take your fundraising campaign beyond its shores by organizing a virtual road race. You can still get participants to pay registration fees by setting up a payment form on Formplus, and you can take things a step further by mailing racing kits to the participants.
Viral Video Challenges
The first thing you need to pull this fundraising idea off is the right hashtag. Next, create an interesting challenge in line with your fundraising cause and get members of your non-profit to participate in it, and share their videos on social media via the hashtag.
Encourage participants to tag their friends on their videos, and encourage others to be a part of it. After completing the challenge, participants can make a donation via your online donation form.
Bowl-a-thon
This is a common sports fundraising idea that is easy to set up and appeals to individuals and organizations at all levels. Funds can be raised via individual donations, entrance fees, and the sales of food, drinks and lottery tickets.
Basketball Tournament
Here's yet another sports fundraising idea you can easily execute. Local basketball teams in your community can register to play at your tournament and they can help you with peer-to-peer fundraising by sharing your online donation form with their friends and family.
Work-a-thon
Raise funds for your campaign by helping members of your community to finish up tasks like lawn mowing, gardening, babysitting, and housekeeping. During the work-a-thon, you can set up donation boxes where individuals can make contributions to your fundraising project.
Charity Art Exhibition
Putting an art show together is a good place for your organization to start from when soliciting donations for a project. You can bring artists in your immediate community together and get them to create specific art pieces for your charity art exhibition, in line with the theme of your fundraising campaign.
Walk-a-thon
You can choose a day for your walk-a-thon and at the event venue, you can sell items like food, t-shirts, and bottled water to raise funds. Alternatively, you can spread the event over a period of time and allow participants and supporters to make donations to mark walking milestones.
Caroling for a Cause
If your fundraising campaign falls within the Christmas season, you can raise funds by organizing a carol involving the children and teenagers in your host community. Different caroling groups can head to houses, restaurants, and offices where they'll perform for a small fee.
Night at the Museum
This is an all-night special fundraising event that will definitely leave participants feeling excited. You'd need to partner with a museum in your community to give participants an exclusive night tour of the facility accompanied by food, music, raffle draws, and games.
Picnic
This fundraising event provides an excellent opportunity for team bonding and fundraising. During the event, you can sell raffle draw tickets as a means of raising funds plus everyone can come with food, drinks, and board games to make the picnic more exciting.
Club Dance
A club dance can become a weekly fundraising activity and just like a picnic, it provides a great opportunity for team bonding. During the dance, you can raise money by selling food items to your employees and you can also sell tickets to members of the public who wish to attend the dance.
Karaoke Night
Organizing a karaoke night in your locality will get everyone involved in your campaign and help you raise more money. Interested persons can register to attend the event and purchase event tickets in the Formplus event registration form.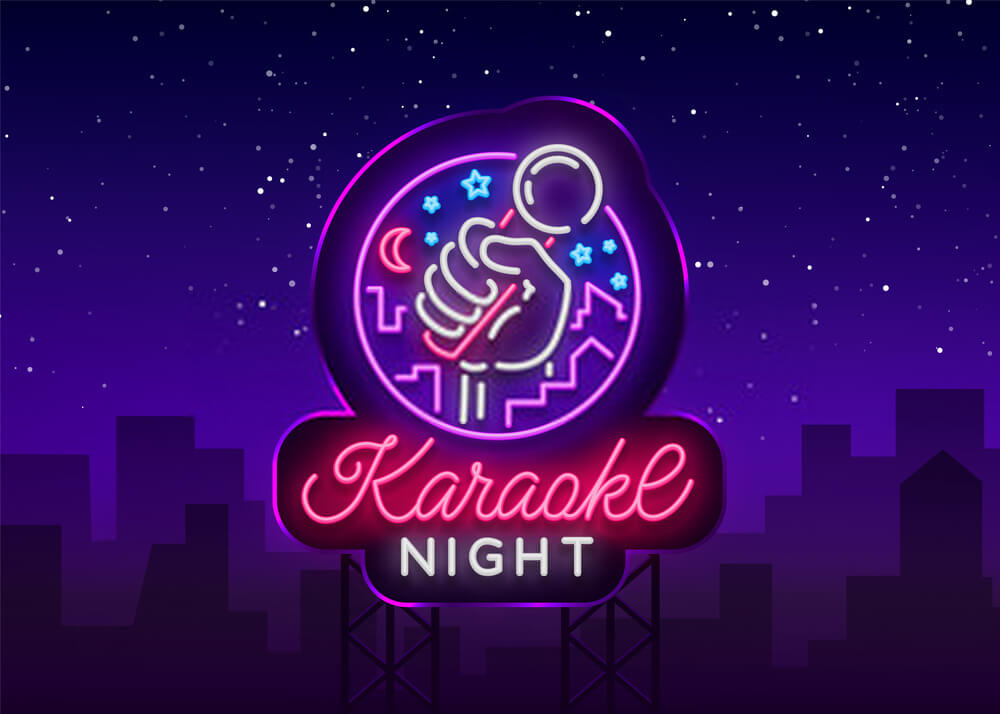 Local Restaurant Fundraiser
Collaborate with a local restaurant for your fundraising campaign. Here's how it works: You'd invite friends and family to eat at the restaurant on a specific day and a percentage of the proceeds from the day's sales will be donated to your fundraising campaign.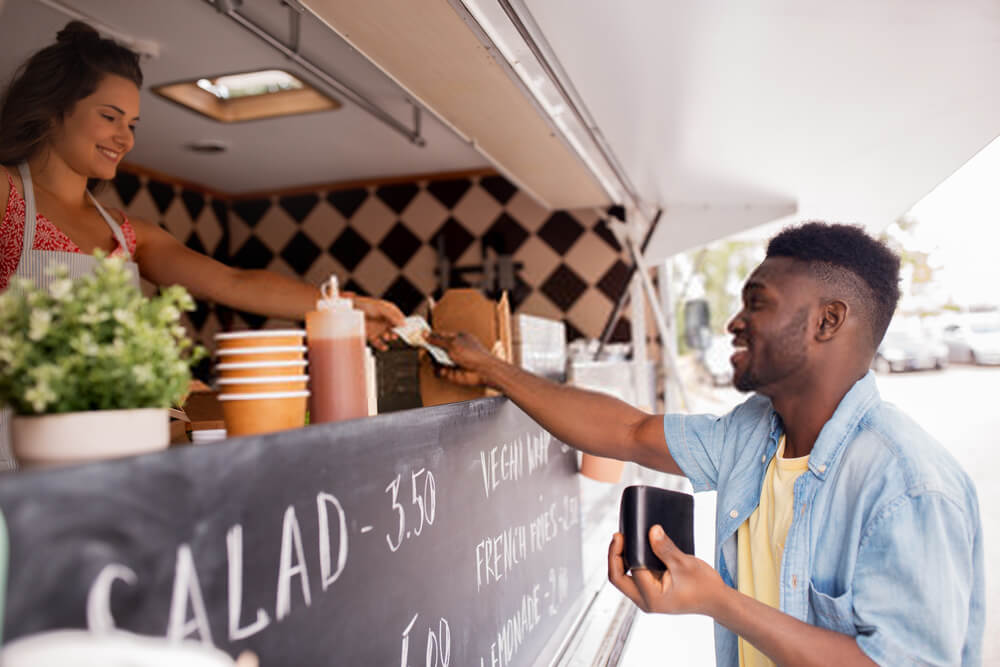 Merchandise Fundraiser
Create different custom items in line with your social impact project and sell them to the public to raise funds. You can create a section on your website for the items and embed a Formplus order form to facilitate purchases and payments seamlessly.
Peer-to-Peer Fundraising
This fundraising idea would help get everyone on board for your project while expanding your online community exponentially. Individuals can create separate online donation forms and share these form links with their friends and family to gather contributions for your social impact project.
Crowdfunding
Crowdfunding is one of the unique fundraising ideas that clubs and non-profit organizations can try out. Members of your club can have personal fundraising targets and solicit donations from friends, family, and the general public on behalf of your organization.
Book Sales
Setting up a used book sales is easy and doesn't require too much capital. You can easily get members of your community, club, and non-profit organization to donate used books for the event. Interested persons can complete purchases for the books via Formplus order and payment forms.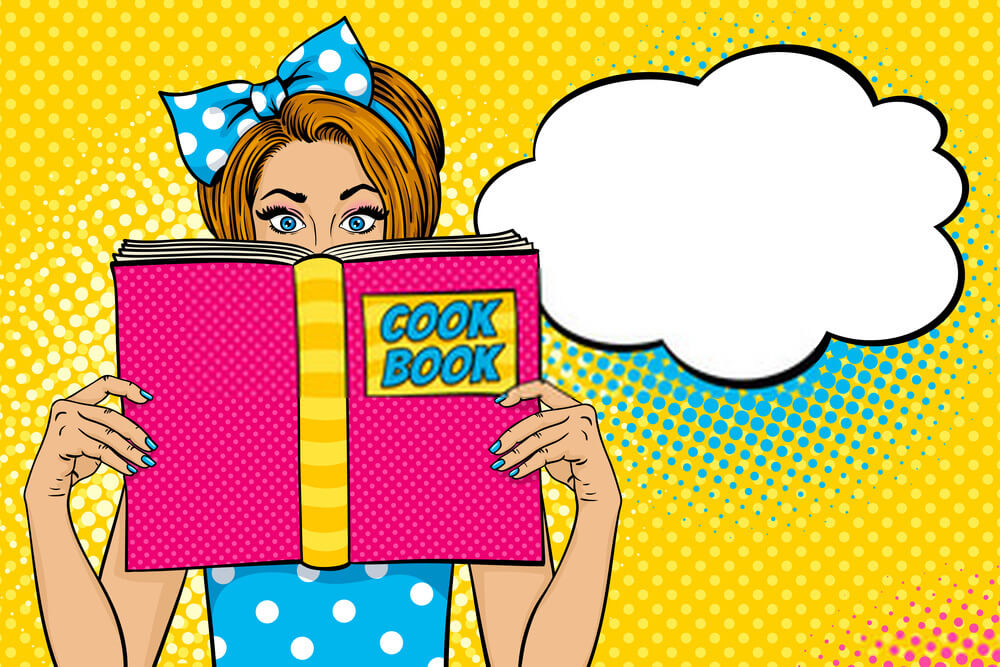 Garage Sale
For this event, individuals can donate different used household items that they no longer need. You can gather all of these items at your club premises and sell them to interested persons at giveaway prices. A garage sale is the perfect last-minute fundraising idea because it's easy to set up.
Craft Fair
Organising a charity craft can help you raise money for your fundraising campaign in little or no time. This event presents an opportunity for participants to explore their creativity while having fun. Items from the craft fair can be sold during the event and online via Formplus order forms.
Grants
Foundations, corporations, and governments often give grants to non-profit organizations for their social impact projects. While most grant processes are time-consuming and competitive, landing one of them can be the game-changer for your organization and help you impact your community on a larger scale.
Tips for a Successful Club Fundraiser
Clearly define the goal of your fundraising campaign in terms of how much you want to raise and the stipulated time frame.
Use a trusted data collection platform like Formplus to seamlessly coordinate your fundraising efforts.
Establish an effective channel of communication with donors. Ensure that you always keep donors informed on the next steps in your fundraising campaign.
Leverage social media channels to drive publicity for your campaign. Essentially, let people know about it and be sure to let them in on how they can be a part of your fundraising project.
Use Formplus payment forms to easily receive, track, and process donations.
Weave an exciting narrative around your fundraising campaign. People will not hesitate to give to a cause they have a sentimental attachment to.
Build an exciting network that can help you achieve the aim of your campaign.
Don't forget to say "Thank You"!
How to Create a Fundraiser Form with Formplus
In the Formplus builder, you can easily create a fundraiser form by dragging and dropping preferred fields into your form. To access the Formplus builder, you will need to create an account on Formplus. 
Once you do this, sign in to your account and click on "Create Form " to begin.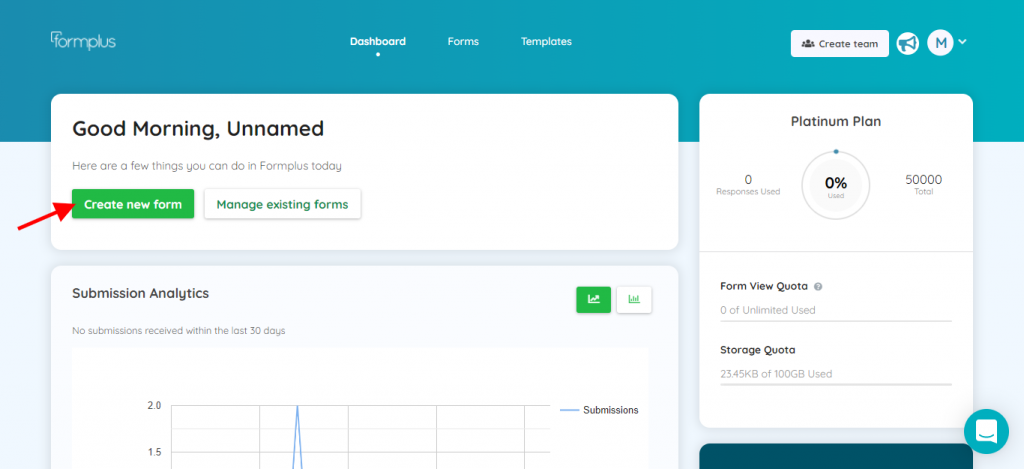 In the form builder, add preferred form fields to your form by dragging and dropping them from the left menu. Also, input the name of your form in the title block. You can edit form fields by clicking on the pencil icon in the right corner of each field.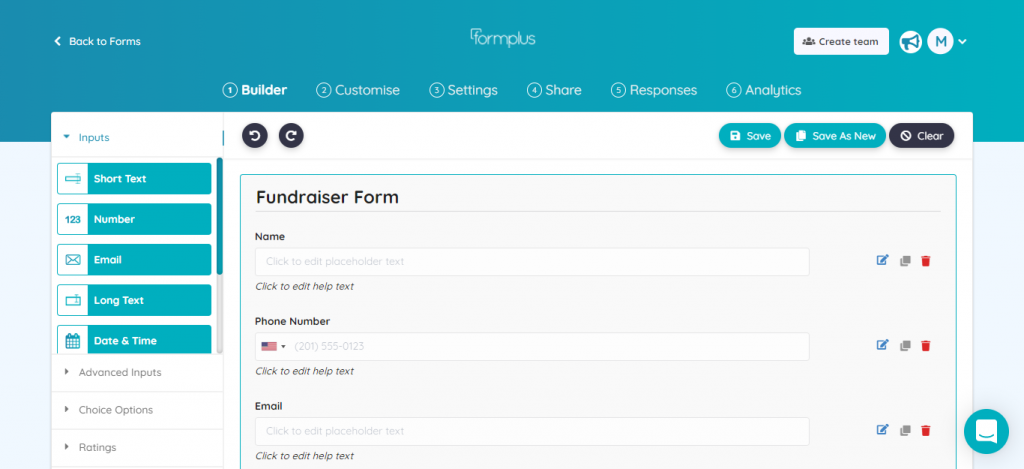 Save your form to immediately access the customization section of the builder. Here, you can change the outlook of your form by inserting your club's logo and also adding preferred background images.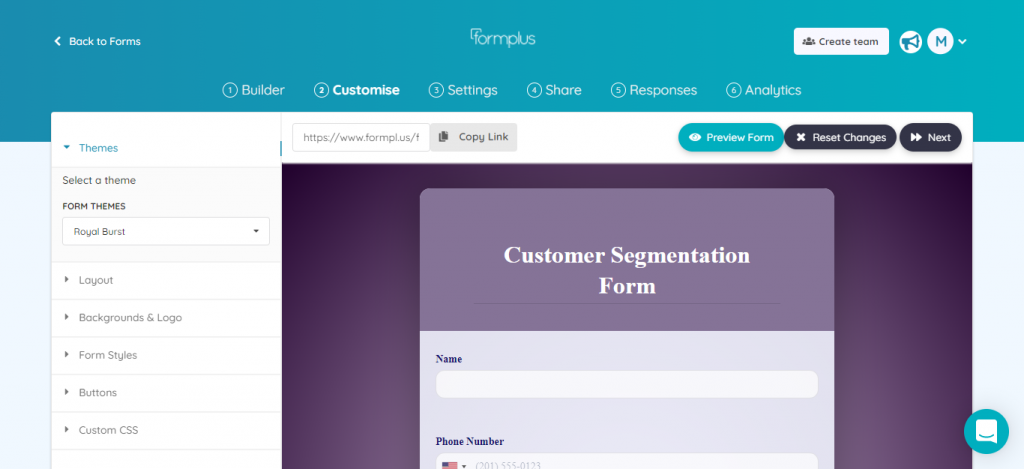 Use the multiple sharing options to share your fundraiser form with prospective donors. You can also share the form with your online community using the social media direct sharing buttons.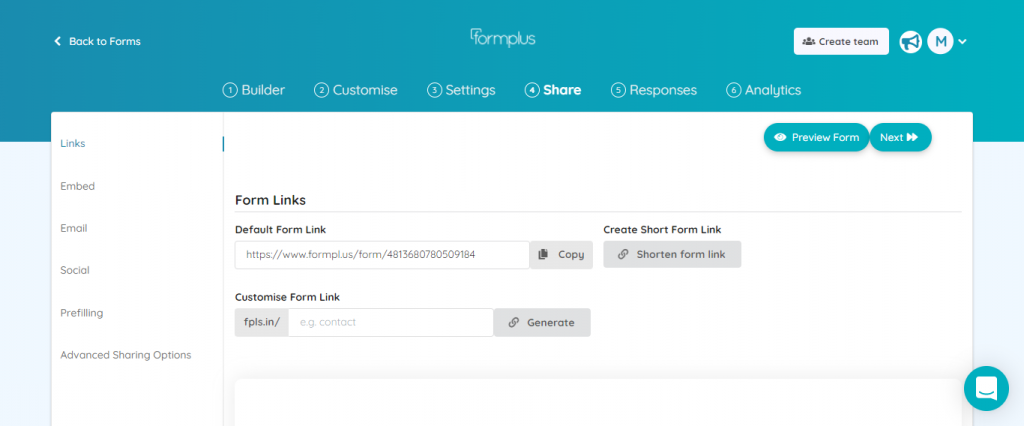 Conclusion
Fundraising provides an exciting opportunity for you to get everyone involved in your social impact project. While it can be very demanding, executing the right fundraising idea can yield immense benefits for your non-profit organization and community.
In this article, we've shared 33 fundraising ideas that you can explore as a non-profit organization or club. In executing one or more of these ideas, remember to use the right tools and create an exciting network that can help you achieve your fundraising goals.