A well-crafted straw poll helps to understand what the public thinks about a particular issue or in fact, an individual. It is termed as an unofficial vote that can be used to help people make effective decisions.
It can be used to get the right information to drive decisions. A straw poll can also be used to collect opinions in a very timely manner as they are short.
In this article, you will learn how to create an online straw poll and the basic features of a straw poll.
What is a Straw Poll?
A straw poll is an informal public opinion "survey" used primarily to determine the viability of an idea or decision. The phrase "straw poll" has its origins in the idea of "straws in the wind," which were used to determine the direction of the wind.
Strawpoll is often conducted to see if there is enough support for an idea before dedicating more time and expenses to it.
In political instances, straw polls are often scheduled for events and shared with interested voters. 
Straw polls sometimes look like formal public opinion polls, but they are usually conducted with minimal concern for the validity of the results.
Features of a Straw Poll
1. No Personal Data
Straw polls do not usually require the personal data of the respondent and most times, it requires just a click to vote. No emails, no phone numbers, no addresses, just choose your preferred option and it is done.
2. Multi-choice Questions
They usually consist of multiple options that respondents can choose from. This way, respondents can vote easily, choosing any of the options. This feature is always used to help the respondent examine the available options among the best, and to determine which one will be picked.
3. Randomity
It is not enough to want to use 5,000 samples for a poll; the people must be selected randomly among the population. When a sample is selected randomly, everyone in that population has an equal chance of being selected. This is why it is an important feature of a straw poll. It also helps prevent skewed results by having balanced demography.
If a sample of people is selected randomly and then asked questions, it is more likely that the opinions expressed are representative of those of an entire population.
4. Unbiased Polls
Online polls sometimes churn out biased results. However, a good straw poll will always have a balanced result.
This balanced result represents the general population by giving equal opportunities to all sides. For instance, in receiving public opinion on a product, your population has to consist of both educated and uneducated users.
5. Relevant Straightforward Questions
A straw poll consists of questions relevant to a specific issue at hand. This is because respondents tend to get distracted and relevant questions help them stay in line. In a straw poll, respondents are briefed on the idea of the poll so the questions always directly affect the output of the poll.
Uses of a Straw Poll
Straw polls are mostly used in political climates or during electioneering periods, by politicians to understand how far the public understands or supports their cause. They are also used by media organizations to determine which candidate might be winning an election.
A straw poll by the progressive political action committee Democracy for America was created in 2018 to the run-up of the US 2020 elections.
It was topped by Sen. Bernie Sanders but Sen. Elizabeth Warren, another popular candidate, saw her numbers drop, taking her to fourth place on the list which included Vice President Joe Biden and Rep. Beto O'Rourke.
DFA Executive Director, Charles Chamberlain said Sanders got more support by running "one heck of a fantastic presidential campaign" in 2016.
He added that the poll suggests that Warren and Harris "have some work to do" to build support among progressives.
But he said the poll at this early stage for DFA members is also a "cross between name recognition, people they're excited about and people they actually think are running."
With the advent of the poll feature on social media sites, straw polls are increasingly more popular.
One of the earliest known expressions of public opinion was rebellion. From that, governments around the world no longer waited for the citizens to state their problems, they went around asking people what they really wanted.
These days, a straw poll is a good way of understanding public opinion about an idea – and sometimes it is more cost-effective, faster than a face-to-face campaign. For example, a school could use a straw poll to understand the relationship between students and instructors and how the students are improving academically.
Straw polls can be used by a marketing team to understudy customers and potential customers to determine how far they understand a product or service, or a brand's acceptability.
With this poll, a brand can find ways to improve, as it might show why they will choose one brand over another. This can also act as a feedback survey.
Media platforms, such as television, newspapers, and magazines are indispensable in determining political agenda and in framing national issues.
Traditional and digital media are like conduits for public opinion and with democracy, more governments want to listen to their citizens to determine if the public accepts a particular policy or not.
Often called polling, researchers ask a few hundred or a few thousand people their opinions about issues under consideration. Some researchers think of survey research as the only way to learn about public opinion, and they devote all, or almost all, of their analysis of public opinion to results of survey research.
How to Create an Online Straw Poll with Formplus Builder
Formplus gives you more options that can be used to create a straw poll in easy steps. Continue reading, let us take you through!
1. Sign up / login to Formplus to start creating your preferred online poll
2. Edit the form header section to your poll title and click on the "Checkboxes" option to start creating your opinion poll. Use the Checkbox settings to edit your poll questions and provide options as appropriate
3. Use the field option to make sure the respondent answers the required questions. You can also shuffle options randomly, and add the "other" if you think the respondent might have another opinion. The validation rules ensure respondents don't choose more than one option or as required by your rules.
4. The customise page lets you beautify your forms by adding color themes, background images, logo, edit form width and layout, change the fonts among others.
5. Formplus builder gives you the liberty to choose your storage options (Formplus Storage, Dropbox, OneDrive, and Google Drive). You can also create deadlines for the poll, limit the number of responses, enable Captcha to prevent spamming, and collect information about your respondent location.
6. Set an "Auto Responder" message that will show to your respondent every time they vote. You can also check out other features such as; email notification, form logic, intro & post submission page among others.
7. Copy your form link to and share it for more responses. With Formplus, you can also customise form links, use the form embed link as a popup on your website/Facebook page or as in iframe in your website. You can also download the poll QR code to use on your banners, fliers, etc.
8. For private polls, you can use the email invitation option to send poll links to your organization/customers email database directly from Formplus Builder.
9. The Formplus Builder has a customized "Response & Analytics" page that allows poll creators to monitor real-time responses.
Still don't know how to use Formplus' Builder for online polls? Check out our ready-made online stroll template or edit an already built form template.
Why Choose Formplus as a Straw poll Maker Tool
The geolocation feature on Formplus gives you the option to determine where individual responses are coming from. It uses Google Maps to pinpoint the longitude and latitude of respondents, to the nearest accuracy, along with the responses.
This feature helps to conserve horizontal space as it allows you to put multiple options in one field.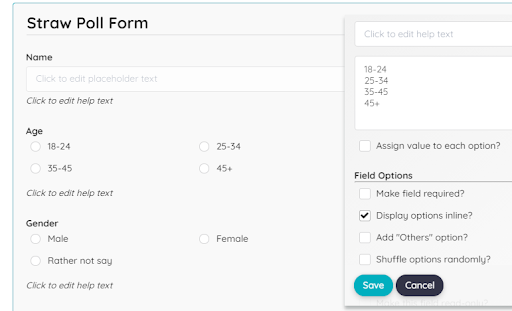 Formplus form builder allows you to use images as options instead of text. This gives respondents more insight into what they are actually choosing – especially if it is a straw poll for political candidates.
With Formplus, you can customize the straw poll to suit your creative idea. With options to change themes, font color, font, font type, layout, width, and more, you can create an aesthetically appealing straw poll.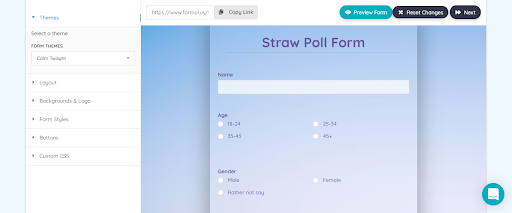 The builder also gives you as many features as possible to choose from and you do not need to be a graphic designer to create a beautiful form.
Get a deep dive into submitted data with Form Analytics. Analytics helps you view the number of respondents, unique visits, total visits, abandonment rate, and average time spent before submission. With this, you do not need to manually calculate the received data and/or responses as well as the conversion rate for your poll.
Embed Poll as Website Popup or Facebook Page
Copy the link to your form and embed it as an iframe which will automatically load as your website loads, or as a popup that opens once the respondent clicks on the link.
Embed the link on your Facebook page to give instant access to your followers.
Formplus' Alternative Straw Poll Maker
StrawPoll.Me is probably one of the simplest polling services in the world. It does require a user account. The service is completely free and they don't in any way hinder the usability of the website.
It only requires a few steps with a simple and functional interface.
StrawPoll.Me has a CAPTCHA verification for participants, as well as the ability to save a draft of a poll as a link.
Cons: StrawPoll.Me sometimes display punctuation incorrectly, making the text look incomprehensible.
This service also provides an easy-to-use platform, where you get live updates of responses as they are submitted.
There are options to restrict the number of times a respondent votes, make the form private which opens to respondents who have the passcodes. You can also allow respondents to send in comments.
This service is also completely free and does not require signing in to create a poll.
Cons: StrawPoll.com collects part of your personal data for company uses. Statistical analysis is also done on your surfing behavior when you use the site.
Social media polls are the easiest and accessible kind of polls because they are readily available to users of the platform. You might not need to share the link anywhere else. But you can run an ad so more people (who are not your followers) can see the link and vote.
Facebook gives you the option to add an image or a gif to your questions. There is also an option to set the date when the poll should end – more like a poll duration.
Cons: This service gives access to bots, as there is no CAPTCHA to verify if it's a human responder or not. This means that the sample might not exactly represent a general population.
This is a four-option poll like a Facebook poll. Rather than having to use Twitter Card, the polls are embedded directly into a tweet. You can run a poll on Twitter for as long as a week, and once done, the results are displayed for everyone to see unless the tweet is deleted.
Twitter polls are like any other tweet. They can be commented on, retweeted, liked, and shared. It simply contains the functionality of a poll.
All voters remain anonymous. Neither other users nor the creator of the polls can see who voted or which answer they chose.
Cons: They cannot be used for serious research or as a sole guide for any marketing strategy. For instance, you can't see who voted so you can't gain any demographic insight. Besides, it is mostly your own audience, except a campaign is run for the poll.
Twitter polls are also easy to manipulate with bots, multi-account holders, etc.
This service is easy, just like the others, and does not require any technicalities to use. No need to sign up to use the platform and it is totally free.
Poll.ly gives you the option to add as many options as possible to the question. Poll.ly allows every participant to contribute their own ideas and suggestions.
Cons: The suggestion feature is great but is prone to abuse as too many respondents might suggest options that do not tally with the question.
There is no end poll feature, which means that you only get to see participants on the poll and nothing more.
Conclusion
Straw polls might not be as effective as they are thought to be but they carry a lot of weight in political climates and sometimes show a candidate's acceptability among voters.
This poll system also helps to streamline a company's strategy for upward growth – including businesses, academic environments, non-governmental organizations.
Have you created a straw poll using the Formplus form builder? Create one now, see the results and see the positive effect.
Still don't know how to use Formplus' Builder for online polls? Checkout the ready-made online straw poll form template or contact Formplus support.
Want to create online straw poll? Sign-up on Formplus online builder to get started or use our Straw Poll Template to conduct poll for elections, opinion and product researches.