In some situations, the researcher may not be directly involved in the data gathering process and instead, would rely on already existing data in order to arrive at research outcomes. This approach to systematic investigation is known as secondary research. 
There are many reasons a researcher may want to make use of already existing data instead of collecting data samples, first-hand. In this article, we will share some of these reasons with you and show you how to conduct secondary research with Formplus. 
What is Secondary  Research?
Secondary research is a common approach to a systematic investigation in which the researcher depends solely on existing data in the course of the research process. This research design involves organizing, collating and analyzing these data samples for valid research conclusions. 
Secondary research is also known as desk research since it involves synthesizing existing data that can be sourced from the internet, peer-reviewed journals, textbooks, government archives, and libraries. What the secondary researcher does is to study already established patterns in previous researches and apply this information to the specific research context. 
Interestingly, secondary research often relies on data provided by primary research and this is why some researches combine both methods of investigation. In this sense, the researcher begins by evaluating and identifying gaps in existing knowledge before adopting primary research to gather new information that will serve his or her research. 
What are Secondary Research Methods?
As already highlighted, secondary research involves data assimilation from different sources, that is, using available research materials instead of creating a new pool of data using primary research methods. Common secondary research methods include data collection through the internet, libraries, archives, schools and organizational reports. 
Online data is data that is gathered via the internet. In recent times, this method has become popular because the internet provides a large pool of both free and paid research resources that can be easily accessed with the click of a button. 
While this method simplifies the data gathering process, the researcher must take care to depend solely on authentic sites when collecting information. In some way, the internet is a virtual aggregation for all other sources of secondary research data. 
Data from Government and Non-government Archives
You can also gather useful research materials from government and non-government archives and these archives usually contain verifiable information that provides useful insights on varying research contexts. In many cases, you would need to pay a sum to gain access to these data. 
The challenge, however, is that such data is not always readily available due to a number of factors. For instance, some of these materials are described as classified information as such, it would be difficult for researchers to have access to them. 
Research materials can also be accessed through public and private libraries. Think of a library as an information storehouse that contains an aggregation of important information that can serve as valid data in different research contexts. 
Typically, researchers donate several copies of dissertations to public and private libraries; especially in cases of academic research. Also, business directories, newsletters, annual reports and other similar documents that can serve as research data, are gathered and stored in libraries, in both soft and hard copies. 
Data from Institutions of Learning
Educational facilities like schools, faculties, and colleges are also a great source of secondary data; especially in academic research. This is because a lot of research is carried out in educational institutions more than in other sectors. 
It is relatively easier to obtain research data from educational institutions because these institutions are committed to solving problems and expanding the body of knowledge. You can easily request research materials from educational facilities for the purpose of a literature review. 
Secondary research methods can also be categorized into qualitative and quantitative data collection methods. Quantitative data gathering methods include online questionnaires and surveys, reports about trends plus statistics about different areas of a business or industry.  
Qualitative research methods include relying on previous interviews and data gathered through focus groups which helps an organization to understand the needs of its customers and plan to fulfill these needs. It also helps businesses to measure the level of employee satisfaction with organizational policies.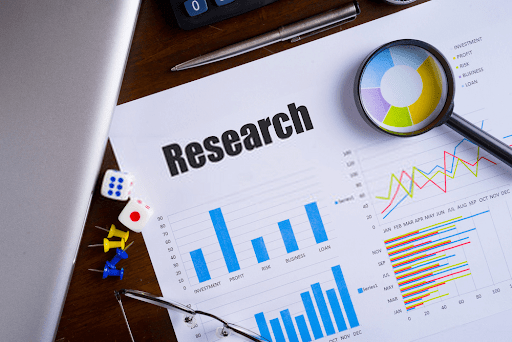 When Do We Conduct Secondary Research?
Typically, secondary research is the first step in any systematic investigation. This is because it helps the researcher to understand what research efforts have been made so far and to utilize this knowledge in mapping out a novel direction for his or her investigation. 
For instance, you may want to carry out research into the nature of a respiratory condition with the aim of developing a vaccine. The best place to start is to gather existing research material about the condition which would help to point your research in the right direction. 
When sifting through these pieces of information, you would gain insights into methods and findings from previous researches which would help you define your own research process. Secondary research also helps you to identify knowledge gaps that can serve as the name of your own research. 
Questions to ask before conducting Secondary Research
Since secondary research relies on already existing data, the researcher must take extra care to ensure that he or she utilizes authentic data samples for the research. Falsified data can have a negative impact on the research outcomes; hence, it is important to always carry out resource evaluation by asking a number of questions as highlighted below:
What is the purpose of the research? Again, it is important for every researcher to clearly define the purpose of the research before proceeding with it. Usually, the research purpose determines the approach that would be adopted. 
What is my research methodology? After identifying the purpose of the research, the next thing to do is outline the research methodology. This is the point where the researcher chooses to gather data using secondary research methods. 
What are my expected research outcomes? 
Who collected the data to be analyzed? Before going on to use secondary data for your research, it is necessary to ascertain the authenticity of the information. This usually affects the data reliability and determines if the researcher can trust the materials. For instance, data gathered from personal blogs and websites may not be as credible as information obtained from an organization's website. 
When was the data collected? Data recency is another factor that must be considered since the recency of data can affect research outcomes. For instance, if you are carrying out research into the number of women who smoke in London, it would not be appropriate for you to make use of information that was gathered 5 years ago unless you plan to do some sort of data comparison. 
Is the data consistent with other data available from other sources? Always compare and contrast your data with other available research materials as this would help you to identify inconsistencies if any.
What type of data was collected? Take care to determine if the secondary data aligns with your research goals and objectives. 
How was the data collected? 
Advantages of Secondary Research
Easily Accessible With secondary research, data can easily be accessed in no time; especially with the use of the internet. Apart from the internet, there are different data sources available in secondary research like public libraries and archives which are relatively easy to access too. 
Secondary research is cost-effective and it is not time-consuming. The researcher can cut down on costs because he or she is not directly involved in the data collection process which is also time-consuming. 
Secondary research helps researchers to identify knowledge gaps which can serve as the basis of further systematic investigation. 
It is useful for mapping out the scope of research thereby setting the stage for field investigations. When carrying out secondary research, the researchers may find that the exact information they were looking for is already available, thus eliminating the need and expense incurred in carrying out primary research in these areas. 
Disadvantages of Secondary Research 
Questionable Data: With secondary research, it is hard to determine the authenticity of the data because the researcher is not directly involved in the research process. Invalid data can affect research outcomes negatively hence, it is important for the researcher to take extra care by evaluating the data before making use of it. 
Generalization: Secondary data is unspecific in nature and may not directly cater to the needs of the researcher. There may not be correlations between the existing data and the research process. 
Common Data: Research materials in secondary research are not exclusive to an individual or group. This means that everyone has access to the data and there is little or no "information advantage" gained by those who obtain the research.
It has the risk of outdated research materials. Outdated information may offer little value especially for organizations competing in fast-changing markets.
How to Conduct Online Surveys with Formplus 
Follow these 5 steps to create and administer online surveys for secondary research: 
In the Formplus builder, you can easily create an online survey for secondary research by dragging and dropping preferred fields into your form. To access the Formplus builder, you will need to create an account on Formplus. 
Once you do this, sign in to your account and click on "Create Form " to begin. 
Click on the field provided to input your form title, for example, "Secondary Research Survey".
Click on the edit button to edit the form.
Add Fields: Drag and drop preferred form fields into your form in the Formplus builder inputs column. There are several field input options for questionnaires in the Formplus builder. 
Edit fields
Click on "Save"
Preview form. 
Customize your Form
With the form customization options in the form builder, you can easily change the outlook of your form and make it more unique and personalized. Formplus allows you to change your form theme, add background images and even change the font according to your needs. 
Formplus offers multiple form sharing options which enables you to easily share your questionnaire with respondents. You can use the direct social media sharing buttons to share your form link to your organization's social media pages. 
You can send out your survey form as email invitations to your research subjects too. If you wish, you can share your form's QR code or embed it on your organization's website for easy access. 
Why Use Formplus as a Secondary Research Tool?
Simple Form Builder Solution
The Formplus form builder is easy to use and does not require you to have any knowledge in computer programming, unlike other form builders. For instance, you can easily add form fields to your form by dragging and dropping them from the inputs section in the builder. 
In the form builder, you can also modify your fields to be hidden or read-only and you can create smart forms with save and resume options, form lookup, and conditional logic. Formplus also allows you to customize your form by adding preferred background images and your organization's logo. 
With over 25 versatile form fields available in the form builder, you can easily collect data the way you like. You can receive payments directly in your form by adding payment fields and you can also add file upload fields to allow you receive files in your form too. 
With Formplus, you can collect data from respondents even without internet connectivity. Formplus automatically detects when there is no or poor internet access and allows forms to be filled out and submitted in offline mode. 
Offline form responses are automatically synced with the servers when the internet connection is restored. This feature is extremely useful for field research that may involve sourcing for data in remote and rural areas plus it allows you to scale up on your audience reach. 
 You can add important collaborators and team members to your shared account so that you all can work on forms and responses together. With the multiple users options, you can assign different roles to team members and you can also grant and limit access to forms and folders. 
This feature works with an audit trail that enables you to track changes and suggestions made to your form as the administrator of the shared account. You can set up permissions to limit access to the account while organizing and monitoring your form(s) effectively. 
Formplus allows you to easily add your form with respondents with the click of a button. For instance, you can directly embed your form in your organization's web pages by adding Its unique shortcode to your site's HTML. 
You can also share your form to your social media pages using the social media direct sharing buttons available in the form builder. You can choose to embed the form as an iframe or web pop-up that is easy to fill. 
With Formplus, you can share your form with numerous form respondents in no time. You can invite respondents to fill out your form via email invitation which allows you to also track responses and prevent multiple submissions in your form. 
In addition, you can also share your form link as a QR code so that respondents only need to scan the code to access your form. Our forms have a unique QR code that you can add to your website or print in banners, business cards and the like. 
Conclusion
While secondary research can be cost-effective and time-efficient, it requires the researcher to take extra care in ensuring that the data is authentic and valid. As highlighted earlier, data in secondary research can be sourced through the internet, archives, and libraries, amongst other methods. 
Secondary research is usually the starting point of systematic investigation because it provides the researcher with a background of existing research efforts while identifying knowledge gaps to be filled. This type of research is typically used in science and education. 
It is, however, important to note that secondary research relies on the outcomes of collective primary research data in carrying out its systematic investigation. Hence, the success of your research will depend, to a greater extent, on the quality of data provided by primary research in relation to the research context.