Paternity Leave is a growing workplace trend. Unlike maternity leave that has become a norm in many countries, paternity leave is still trying to make its way to several national legislations.
According to the International Labour Organisation 2013 report, at least 79 countries, excluding the United States, have federal legislation granting paid paternity leave. In Russia, new fathers are entitled to only 5 days of unpaid paternity leave.
Ireland does not recognise remuneration as a paternity leave benefit for qualified employees.
Asian countries have very beneficial paternity leave policies. Japanese and South Korean employment regulations permit new fathers to enjoy almost 1 year of compensated paternity leave.
It is important for employees to understand the regulations and criteria surrounding this workplace benefit in their countries.
What is Paternity Leave?
Paternity leave refers to a legally stipulated period of time when a new father is fully authorised to stay off work following the birth of his baby. It is a period during which a qualified employee can take a leave of absence from work for a specific time after his child is born.
During this period, he enjoys a number of privileges as stipulated by national labor laws and company regulations. \\\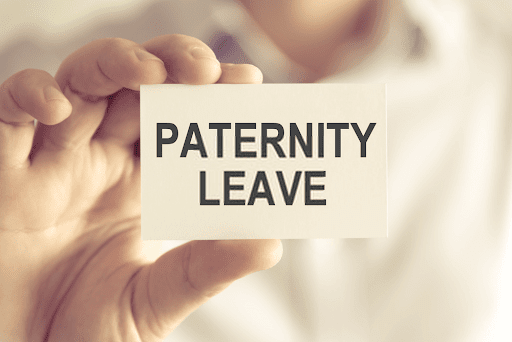 Eligibility for Paternity Leave
Qualification criteria for paternity leave are heterogeneous. As such, it is important to know which ones apply to your country and workplace.
Typical overlapping criteria in labor laws that cover this subject include Employment status, duration of employment, evidence of spouse and adoption or surrogacy. This is how these criteria are typically applied.
The UK labour legislation posits that male staff must have employee status in order to enjoy paternity leave entitlements. Different employment statuses exist in the UK.
These statuses are defined by varying criteria. A male staff with "employee status" is one who has an employment contract. The employment contract qualifies him for statutory paternity leave and remuneration.
Qualified male staffers are persons who have worked continuously for 26 weeks before the qualifying week. This is usually 15 weeks to the expected date of delivery.
The male staffer is further required to present any evidence of a relationship with said spouse. This could be a marriage certificate or any other legitimate document that proves he has a relationship with the expecting mother.
There is a slight modification to the parameters of paternity leave for adoption. To qualify for paternity leave, the staffer must have been actively employed for up to 5 ½ months before the matching week. The matching week is when the offspring is assigned to its new parent or guardian.
In this case, the employee must present evidence of legal adoption. This can be a letter from the adoption agency or matching certificate.
In cases of surrogacy, the male worker must provide proof of a legal relationship. That is, he or she must be in a couple. In addition, he and his partner must be equally responsible for the infant.
Nevertheless, the stipulated work duration for eligibility under surrogacy remains the same as the aforementioned.
Paternity Leave Duration
As earlier asserted, paternity leave is a growing workplace trend that is gaining gradual acceptance in employment legislations. For example, it wasn't until almost 45 years ago that the first application for paternity leave was submitted in the United States.
In the US, new fathers have access to up to 12 weeks of unpaid leave. As provided by the US Family and Medical Leave Act of 1993, new fathers who satisfy paternity benefits can enjoy up to 12 weeks of protected leave of absence from work.
This leave period is unpaid. In the United States, there is no federal legislation stipulating paid leave for new fathers; although California and Rhode Island have established state labour legislation for paid paternity leave.
Furthermore, the US FMLA Act only caters for new fathers with full private sector employment. Part-time workers and employees of SMEs are not covered by the act.
A 2018 report by the Society of Human Resources Management shows that nearly 40 per cent of new fathers in the US are not covered by the FMLA paternity leave clause.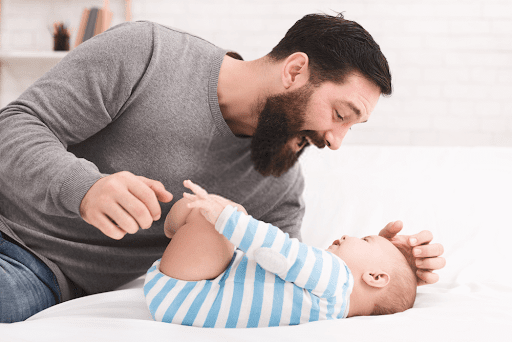 In the UK, qualified males enjoy up to 14 days of paid paternity leave as stipulated by the UK labour laws. During this time, they are typically paid 90 per cent of their weekly wages.
Some employers such as the London School of Economics offer 2-weeks full pay paternity leave to qualified staff.
Under the UK labour paternity laws, qualified employees are permitted to attend up to 2 antenatal arrangements with their partners. In cases of adoption, they also get permits for 2 adoption appointments after the matching duration.
In Sweden, male employees enjoy one of the best paternity leave entitlements in the world. New fathers are entitled to 16 months of paid leave which is shared with their partners.
During the leave duration, they can get up to 80 per cent of their gross weekly wage.
According to a ResearchGate report, nearly 90 percent of Swedish men take paternity leave. About 340,000 dads took a total of 12 million days of paid paternity leave.
A 2018 Business Insider report reveals that new fathers in Sweden typically qualify for 3 to 9 months of paternity leave. In recent times, Swedish legislation is evolving to provide up to 5 months of compulsory and paid paternity leave for eligible fathers.
Paternity Leave Application Methods
There are two ways to apply for paternity leave at your workplace; writing an official letter or filling your company's paternity leave application form.
Official Letter to the HR or Employer
A paternity leave letter is an official document informing the employer of one's intention to proceed on paternity leave; provided that such employee is eligible based on the labour requirements.
It typically contains information such as the date of the expected arrival of the child. It also indicates the date of commencement of the leave and the date of resumption.
You need to attach documents such as evidence of spouse. The paternity letter also indicates the expected leave duration.
This document must be endorsed by your employer before you proceed on your leave. This will help you access all paternity benefits in time.
Paternity Leave Letter Sample
XYZ Home Street,
New York.
December 1, 2018
The Human Resources Manager,
ABC Corporation,
124 Business Road,
New York
Dear Madam,
Notification of Paternity Leave
I write to inform you that my spouse is pregnant and I would like to take paternity leave by January 13, 2019.
My spouse's expected date of delivery is January 13, 2019. Up to this time, I will continue to work for the organisation. My paternity leave spans 2 weeks and I should resume my current position by January 27, 2019.
While on paternity leave, you may contact me via email if you require any office-related information. I have put together a work profile to enable a smooth run for the colleague acting in my capacity during this period. Upon my return, I hope we can reach an agreement for reduced work hours to enable me to pay attention to my spouse and new baby.
Please find attached my evidence of spouse, scan plus other necessary documents. I will reach out to you if there are any developments.
Kindly confirm receipt of this letter.
Best regards,
Charles Jones.
Paternity Leave Application Form
Employers can also collect paternity leave applications using forms. These forms usually have fields requesting specific information from the applicant such as the date of leave commencement and date of return.
Paternity leave application forms can be made available in printed copies. Also, the form can be uploaded to the organisation's web page for easy access.
In this age of technology, it is more effective for organisations to collect employee data using online forms. Online forms are more efficient and less time-consuming. They enable employers to collect and process large volumes of data in minimal time.
Formplus is a great data gathering platform that provides different online form templates for data collection. Using the Formplus builder, employers can create custom online forms for data collection.
Employers can use the Formplus online paternity leave application form template to collect information from eligible male employees seeking paternity leave. Formplus has a secure database so employers do not need to worry about losing employee information.
Paternity & Maternity Leave Form Template
Formplus has templates for online maternity and paternity leave application forms. The Formplus paternity application form template contains compulsory fields where applicants fill in important information such as their bio-data and job role. In addition, it has a signature field where the applicant inputs his signature digitally.
The form also provides a field for uploading important documents such as the employee's letter of request. You can view it here:
Just like the paternity leave application form, the Formplus paternity leaves application form template contains several fields where employees fill in important information as stipulated by the labour laws of their countries and company regulations.
You can view it here:
Paternity or Maternity Leave?
Paternity Leave is a period of time during which a male employee enjoys leave of work plus other benefits as a result of having a new child. On the other hand, maternity leave is a specific duration granted to eligible new mothers following the birth of their babies.
There are several benefits that accrue to employees within these periods.
Gender Concerns in Paternity and Maternity Leave
To create a gender-inclusive workplace, it is necessary for labour regulations in different countries to provide paternity leave for new fathers.
It is important for men to be allowed to play active roles in the birth and upbringing of their children. This is only possible when the workplace allows them more time. Organisations must afford men the opportunity to be caregivers.
Without gender-inclusive policies, the bulk of caregiving responsibilities will ultimately fall on the women. Many experts advocate for family-inclusive policies in general labour regulations for different countries.
Many countries like Sweden have introduced family leave policies. These policies permit new parents to take joint leave. These policies further permit new these persons to jointly access parental benefits.
Potentially, having male employees as caregivers can reduce the occurrence of gender discrimination in the labour force.
Paternity leave can solve gender-based issues like the pay gap. In addition, it helps to reduce wage loss for women in the private sector.
Clearly, paternal leave promotes gender equity in the public and private sectors. Achieving maternity leave standards with this workplace benefit could be an innovative strategy for deconstructing lopsided gender norms in different societies.
Maternity Leave is popular in several countries. In the United States, the Family and Medical Leave Act of 1993 stipulates that all eligible female employees are entitled to 12 weeks of unpaid maternity leave.
Eligible female employees must have worked consistently for the said organisation for at least 1 year. Read our post on maternity leave to get more information about maternity leaves eligibility criteria in the United States.
In the UK, female employees can enjoy up to 52 weeks of maternity leave period with remuneration. They also have access to other maternity benefits like dental care and pay during antenatal appointments.
The UK provides statutory maternity pay for qualified female employees. In Estonia, women enjoy up to 20 weeks of paid maternity leave.
Paternity Pay + Other Benefit
There are several benefits that accrue to employees on paternity leave. The most popular of these is paternity pay. Employees can enjoy full pay or half pay during leave periods based on the labor laws in their countries.
Full Pay Paternity Pay
Very few countries grant full pay paternity leave.
In the US, new fathers are not entitled to any pay during paternity leave according to federal labour laws, unless otherwise provided at the company's discretion. However, they enjoy full health insurance coverage for the duration of the leave.
In the UK, eligible male employees are entitled to statutory paternity pay of up to 90 percent of their weekly gross income. To qualify for this, an employee has to earn about 116 pounds weekly as gross income.
Half Pay Paternity Leave
In Switzerland, new fathers enjoy up to two weeks of paid paternity leave. During this period, an employee is entitled to 80 per cent of his daily pay. This is called an allowance.
New fathers can take the leave at any time within 6 months of the birth of their child.
Unpaid Paternity Leave
In Russia, a new father is entitled to just 5 days of unpaid paternity leave. This is stipulated in Article 128 of the Russian labour code.
Russia provides paid parental leave which can be used by the child's primary caregiver. It allows the individual to get up to 40 per cent of his or her salary as leave pay for up to 18 months.
In Ireland, qualified males are entitled to 2 weeks paternity leave which can be taken at a stretch. All male employees are entitled to this regardless of their employment status.
Employees may proceed on paternity leave at any time within 26 weeks from the birth of the child. Irish labour regulations indicate a 4-week notice period for persons applying for paternity leave.
The 2016 Paternity Leave and Benefit Act is the Irish national legislation for paternity leave benefits. Under this act, employees can request postponement of paternity leave if there is an unexpected change in the projected date of the child's arrival.
Irish national labour laws do not require employers to provide paid paternity leave. Remuneration within the paternity leave period solely depends on the discretion of the employer.
Essentially, an employer can choose to grant unpaid paternity leave to eligible employees.
Conclusion
Paternity leave is an important workplace entitlement for male employees who satisfy the stipulated requirements. It is important to note that these requirements differ based on specific national employment regulations and specific requirements of your company.
As an employee, you should strive to understand the paternity leave laws that apply in your country and your workplace. This way, you can make informed decisions.
You can speak to the human resources department in your organisation to fully understand how company regulations affect your paternity leave benefits. You can also visit the ministry of labour in your country or state for more information.