Evaluation forms are often termed necessary during a product release, a service rendered, a training program, and getting feedback is the next stage towards measuring the effectiveness of a particular endeavor. With the information received via evaluation forms, your organization can aim towards necessary improvement.
Companies should provide opportunities for growth by furthering employees' personal/professional development, collecting product perception, and so on. Online form builders provide the best platform by allowing you to create and share feedback forms in just a few clicks.
This article will give you all the information you need on how to use online forms to collect valuable information for upward growth at any point.
What is an Evaluation Form?
An evaluation form is a medium of data collection used to assess performance for industry-specific use cases. Evaluation forms are a means of reflection and assist in identifying possible future change(s). These forms help organizations evaluate performance that is key to making critical decisions.

Company HR and management staff, training, and development managers use evaluation forms to measure a subject's value and significance.
In summary, an evaluation form is often used by HR, Administration, Product, and Development Management teams use to measure an employee's workplace performance and also receive feedback from customers.
Top 17 Online Evaluation Form Template & Samples
Just as students are assessed with tests and examinations, school management teams should also use a Teacher Evaluation Form to assess the learning formats and processes of teachers. You must create an interactive Teacher Evaluation Form for students, as they could find the task less exciting.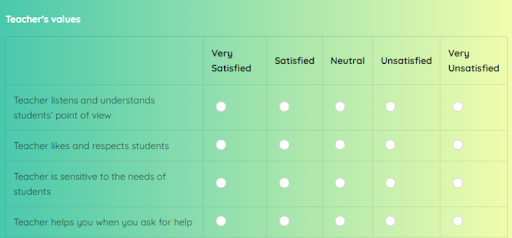 With the Formplus form builder, you can turn the Teacher Evaluation Form into a real-life conversation by using ratings, smileys, and checkboxes. You can also give them an opportunity to save their progress to resume later.
You'll get all the feedback you need in a matter of minutes! Use this template
Ever wondered if employees learned anything from a training program? Use this Training Evaluation Form Template to simplify the entire feedback process.
If you want to assess personal and professional employee development that might have taken place via a series of training, the Training Evaluation Form by Formplus will help you do that.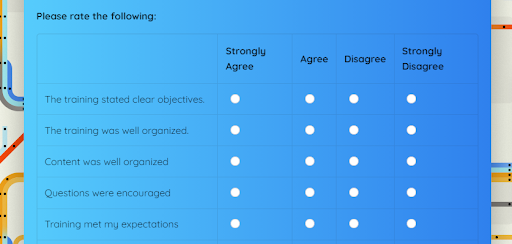 This online form is perfect for collecting student, teacher, course, and training evaluation data easily and, it is useful for any organization. Get started with this template here.
Every organization has that time of the year when they assess employee performance. The biggest problem with performance reviews, according to both managers and employees, is that they take too much time.
Using Formplus gives managers the option to make it less tiring for the employees. An employee evaluation form should include questions for self-reflection, so you get an idea of how they see themselves. It should also give employees an opportunity to give constructive feedback and open-ended questions.
With a variety of features, including 'Save and Resume', 'Multi-Page', 'Offline Form' and so on, you can be sure to get all the information you need.
The semester has ended and you want to understand student's perspectives on their learning experience on the course? Use the course evaluation form template to allow students to rate the course appropriately.
Using this course evaluation form, you can collect student feedback for your English, Math course, or any other college course.
This form takes out the idea of having undocumented class conversations about semester courses and gives students relative freedom to layout honest opinions.
A straw poll helps you get useful information on the public's perspective about a given issue or a person. It is usually regarded as an unofficial vote, during election periods, which helps politicians, media firms, PR managers make more effective decisions.
The straw poll might help a politician understand why voters are leaning towards another candidate and how they can push harder with their narrative. The key is to put people first and get honest data for better decisions.
Read More: How to Create a Strawpoll that Works 100 Percent
Create an online poll by dragging and dropping questions and then customizing so that it blends interestingly into your brand. With this, you increase the level of engagement and turn the poll into an experience.
As a school administrator, responses from the Student Satisfaction Survey could help you focus more efforts to improve a student's overall experience at your institution. This template has all the questions you need to help you understand what students feel about learning environments and facilities.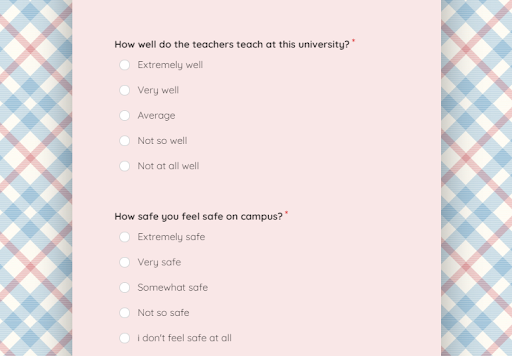 With the Students Satisfaction Survey, you could ask how effective the teaching is, how helpful the instructor is, their thoughts on what could be better, and lots more.
Your event has come and gone and it probably took a lot of your time and money, but you know it is not perfect yet. Allow outsiders – guests, invitees – to help you make improvements with their perspectives.
Experiences vary, which is exactly why you should use the Post Event Evaluation Form Template to collect feedback from as many participants as possible.
This form template has ratings to allow participants to rate the date, venue, speakers, performances, vendors, and other aspects of the event.
You can use a short text field so guests can type in what they like and dislike about the event, why they wouldn't want to attend your event in the future, and how likely are they to recommend your events to others. Use this template for free.
Your product is out there, your brand just started, growing or the brand is fast gaining popularity and you want to connect the bridges between customer expectations and the experiences they actually had. Use this online customer feedback form to reach out to them.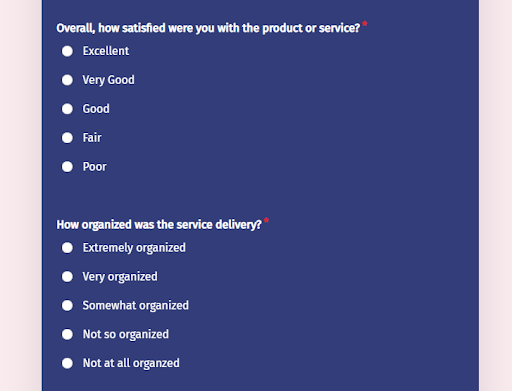 Thanks to online feedback forms, you can get valuable information, use it to create a better working environment, and make improvements on products and services.
Formplus online feedback form template captures all the relevant information to help you get proper feedback.
When you refer to demographics, you are referring to characteristics such as race, ethnicity, gender, age, education, occupation, profession, income level, marital status. A demographic survey (usually in the form of a questionnaire) can, therefore, be used to harness demographic opportunities.
With the form, you ask anything relevant to your study or research. For instance, you can find a correlation between Millennials and their love for gadgets, or you could find that married people tend to like beaches more.
Demographic surveys aim to better understand the minds of respondents. You could get information about respondents that allows you to understand where each person fits into the population.
You probably have a hard time tracking how many hours employees spend at work but, the online Timesheet Form removes that stress.
The Timesheet form template helps you capture employees' names, hourly rates, start and end dates, so you can keep track of how many hours they work on a daily, weekly, monthly, or per-project basis.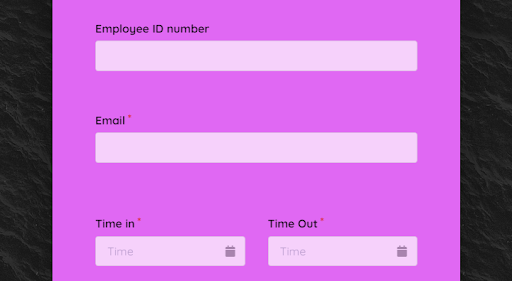 This timesheet form helps you pay employees accurately and it is responsive on all devices, also location-enabled. It means that you can also track where they are filling the form from. Use this free template
To relieve, employ, compensate employees easily, use the annual employee review form. This form gives employers the chance to score employees and then make decisions that will speed up your company's growth.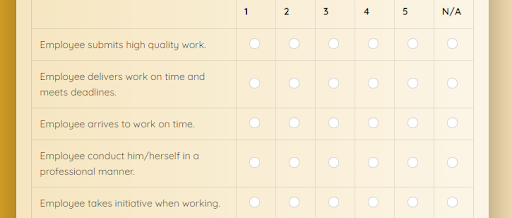 The Employee Review Form Template is not just for ensuring the growth of your company, it also provides clear communication around tasks, training needs and encourages positive relationships from the lower to the upper echelon of your company.
Feedback is always a reliable source of evaluation, whether it comes from customers, clients, employees, or for your events. You might not know all the people that use your product or pay for your services, but the complaint form will help you understand what they think.
It could be some dirt in your recently released drink, your front desk officer who threw words at a hotel guest, the lack of taste in your chocolate, or any other complaint.
When you receive complaints, you get contact information which you can use to reach out and possibly resolve the issue(s) over emails or phone. Use this free template
To have a better understanding of issues surrounding departures, the Employee Exit Survey Template gives employees the freedom to gauge their opinions and reasons for leaving.
Summarily, the form allows you to understand former employee's perceptions about your company, their career opportunities, and where they are leaving to.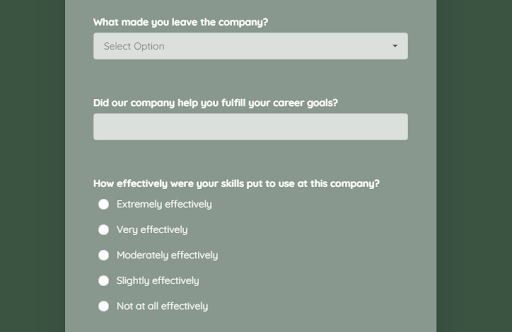 Like every other form template, it is easily customizable and is responsive on all devices. Get started with this free template
With the incident report form, issues/situations get to the ears of higher authorities even when they are physically absent.
You can also create a version of the incident form and share it with team members or simply add them as collaborators on the form.
Do you have an outdoor project and want to track how employees spend their time and behave? The Daily Report Form Template does it perfectly for you.
This online form will help you check if an employee had been on the field, allow employees to provide the scope of the task, and help you receive customer feedback on services rendered.
You can drag and drop file upload fields so employees can upload photos of the progress of work done and a digital signature field to make affirmations.
An online quiz form template can be deployed to help facilitate growth patterns. For instance, a marketing team can use a quiz as a social media strategy to drive engagement and increase brand awareness.
Also, since quizzes are not usually graded, teachers can use them to boost memory retention, encourage interaction and make learning fun.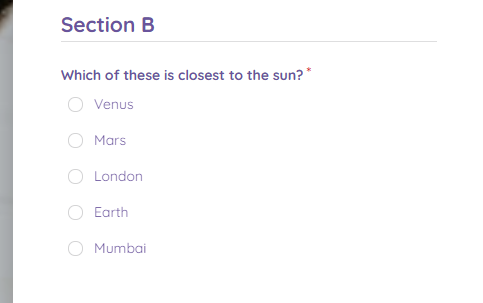 You can use ratings, checkboxes, customized forms, question fields to ensure you get all the information you need.
The world has become consumer-centric and customer satisfaction is more than simply doing enough. To be truly customer-led, you need valuable insights.
With a Customer Product Survey Form Template, you can ask questions that let you find out what your customers are feeling, doing and thinking. This way, you can identify positive and negative issues and solve pending issues.
It is a communication cycle that breeds loyalty and helps you generate word-of-mouth referrals to grow your business.
Five Features of an Evaluation Form
Online Evaluation Form features may have varying degrees of importance depending on the kind of evaluation. Yet, there are some indispensable features in any evaluation form. See below:
Conditional logic: is the ability to address different questions according to the activity of the respondent. For example, if one question says 'is there a time top management harassed you'? and the user checks 'yes', then the follow-up question would be 'give us details of the incident'. If the user checks no, then the follow-up question will not be displayed.
Ratings: take away the stress of typing in sentences. So, if the question requires the respondent to rate the quality of a particular service rendered, ratings will help you understand how the user sees your company or service. It could range from very bad, to bad, to good and so on.
Receive responses in different formats: Some common types of answers include multiple choice answers, checkboxes, single choice answers, radio and image choice.
File upload field: will allow you receive image evidence of incidents, documents from employees willing to exit the company, digital assets for daily reports and so on. Some online form platforms like Formplus offers unlimited file storage for files received via online forms.
Signature field: helps you collect digital signatures of respondents by just dragging and dropping a signature field on the evaluation form.
Why Use Formplus to Create Online Evaluation Forms
Formplus allows you to collect data easily using an intuitive and user-friendly form builder; which can be used to create online forms that are responsive on all mobile devices. With Formplus, you can create any kind of customizable evaluation form, where you can view visual analytics of received data and share on your pages/website.
It is not just about customization; it is a narrative of having the freedom to drag form fields and drop them into your evaluation. For instance, you could add a rating field, signature field, checkbox, radio field, file upload field, and more, depending on how you want to receive the data.
How about the ability to view a summary or analyze received data? Well, Formplus can give you that and, you can view these in table or charts, or even send to Google Spreadsheets.
No, we don't want you worrying about security because we have made sure the evaluation forms are 256-Bit SSL enabled. You can also add reCAPTCHA for an extra layer of security.
You might probably ask where your responses will be stored. Formplus provides unlimited data storage which allows you to store files of any type. However, you could opt for Google Drive, OneDrive or Dropbox, when you don't want to use Formplus.
Why is an Evaluation Form important for business?
Feedback should always be constant in a business, as it helps developmental growth in more ways than imagined. Look at it this way, what if your target audience does not like the new product release and you have no idea why they feel that way?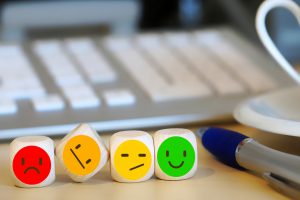 You will keep trying to find out why demand is running very low when you can just ask your customers what they think. An evaluation form is the key.
In simple terms, an evaluation form will help you get information that will aid improvement.
Conclusion
Targeted and strategic evaluation is a requisite tool for assessing how well your business, task, project, employee, student, teacher, the event has performed, relative to its goals. It is an important way to reflect on achievements and shortcomings and is useful for reexamining the goals.
With an Evaluation Form Template, realigning goals with tasks is a seamless process.