In product development, ideas are unpredictable. Everyone is thinking of the best ways to improve the new or existing product. While this is great, it also means you might get an "idea overload". So what do you do? 
You need to test these ideas with your target audience to know what's worth pursuing and those you should leave for later. This is what concept testing is about. It's a smart way to validate ideas before you invest time and resources. 
In this article, we'll look at the different types of concept testing, along with some real-life examples you can learn from. 
What is Concept Testing? 
Concept testing happens during the preliminary stage of product development. It combines quantitative and qualitative research methods for evaluating new product ideas before they hit the market. 
Why should organizations bother about concept testing? Simply put, pushing ideas to your audience before implementation helps you avoid pitfalls and save resources. You'd know if they are sold in on a new concept and when there's no reason to change what exists. 
A concept can be anything, literally—think of error messages on 404 pages, rebranded logos, new product packages, and even ad messages. These ideas can sway the market, so you should take time to test them before going ahead. 
Types of Concept Testing 
There are four standard methods of concept testing, based on the number of ideas on play: 
1. Monadic Testing
2. Sequential Monadic Testing
3. Proto Monadic Testing
4. Comparison testing
Monadic Testing
Monadic testing entails breaking your target audience into subsets. Each group tests a single product feature and provides feedback on why an idea is more valid than the others. Here, answer questions like, "Does this concept provide value for money?" and "How would you rate the overall feature satisfaction?" 
Although there's a benchmark, the audience doesn't have to compare this feature against existing ideas in the market. Instead, they conduct an in-depth analysis of the concept's specific feature. 
Pros of Monadic Testing
Monadic testing surveys are short and flexible. 
It provides a comprehensive overview of the look, feel and, value of the product. 
It allows you to target specific groups one at a time. 
Cons of Monadic Testing
Monadic testing requires a large survey sample size. 
It is an expensive concept testing method.
Sequential Monadic Testing 
In sequential monadic testing, the researcher breaks the target audience into groups. Each group evaluates the concepts in a random, rotating sequence. For example, Group A examines a feature and passes it to Group B, while Group B passes another idea to Group D. 
The idea here is to give everyone in the target audience the chance to examine all the concepts and provide feedback. After the examination, each group responds to the same set of questions in a survey or questionnaire. 
Pros of Sequential Monadic Testing 
Sequential monadic testing is cost-effective and easy to administer. 
It requires a small survey sample size. 
Cons of Sequential Monadic Testing
It is commonly affected by survey response bias. 
Lengthy surveys and questionnaires can discourage respondents.  
Proto Monadic Testing
Proto monadic testing merges sequential tests with comparison tests. The idea here is for respondents to examine ideas, compare the unique features and choose the best fit after evaluation. 
Pros of Proto Monadic Testing
Researchers can gather first-hand feedback on the market's preferences. 
It allows the researcher to validate results from post-testing surveys. 
Cons of Proto Monadic Testing
Time-consuming
Survey response bias 
Comparison Testing 
Also called comparative testing, this method is used to weigh multiple concepts to know how they measure against each other. 
Typically, respondents rate these concepts against a fixed set of criteria. In other cases, they only have to select the better feature or answer related ranking questions. 
Pros of Comparison Testing 
Comparative testing helps you to identify the most relevant concepts. 
It gives you clear and understandable results. 
Con of Comparison Testing
It doesn't provide enough insights and contexts for the audience's choices.
How to Conduct Concept Testing Surveys 
1. Choose a suitable concept testing method
Since there are four primary methods for concept testing, you need to determine the right one for your product. For instance, if you're trying out multiple features, opt for the comparison method or proto monadic testing. 
Here, you should also consider how much time you have for the process. For instance, if you need to launch the product within a short time, consider the concept selection method. But if there's more time, other methods can come in handy. 
So, weigh the pros and cons of each method and choose what works best. 
2. Determine the suitable survey method
Now that you have decided on the concept testing method, the next step is choosing the proper survey method.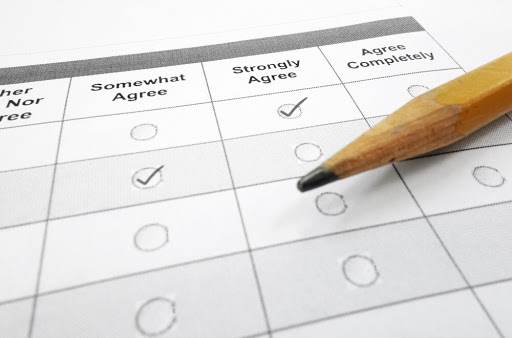 What should be top of mind here? You should go for a survey method that matches your objectives. These objectives would guide your overall decision-making, including your survey design, survey questions, and question format. 
A few things to have in mind when designing your survey include: 
Use survey blocks to organize your form fields and questions. 
Prioritize Likert scale questions that allow respondents to rate how they feel about a specific feature using a 3-point, 5-point, or 7-point scale. 
Ask demographic survey questions to provide background information about your survey participants. 
Use images to create appealing visual presentations for different survey questions. 
3. Administer your survey and analyze responses
The presentation of your survey questions can make or mar your overall concept testing process. First, ensure that your survey questions are easy to understand and straightforward. Stick with good survey questions like rating and ranking scales and avoid vague or leading questions. 
It would help if you asked the demographic questions first before going into the core of your concept testing process. Your audience would most likely be familiar with these types of questions and can respond to them quickly. 
Next, ease into baseline research questions like: 
What do you know about this product or brand? 
How often have you used this product or a similar product? 
After this point, you can introduce the specific concept and its distinct features. Ask your respondents to compare the idea against what is already in the market, then round off with questions that emphasize their preferences, such as, "how would you rate this concept's value for money?" 
4. Discover the most viable concept 
Organizing and analyzing your data is the most critical part of the process. Here, it would be best if you split the data sets into overall results and individual results. A tool like Formplus can handle preliminary data analysis, allowing you to categorize your data faster.  
Importance of Conducting Concept Testing 
1. Concept testing is a cost-effective product development solution: By gathering feedback before launching a new product or implementing an idea, organizations can reduce waste and enjoy more value for money. You can pump in resources into a viable idea to ensure that it is what your target market needs. 
2. It helps you improve your product or concept: Before concept testing, you probably thought it was a great idea to use a serif text on your logo. Now that the results are in, you see that your audience isn't interested in a serif logo, and you can make a u-turn on time. This scenario shows how concept testing can help you optimize your product or service. 
More than this, concept testing also provides feedback on why an idea isn't viable. Maybe the serif logo doesn't fit the market's conception of your brand, or it is too similar to your competitor's logo. With concept testing, you'd know why the market doesn't favor an idea. 
3. It serves as a quality check for an organization's ideas and concepts at different points: Every insight you receive from your audience provides a fresh perspective on your product offerings and concepts. 
4. Concept testing surveys bridge the gap between customers and the organization: It allows customers to become a part of the organization's decision-making process, which increases the brand's equity value. 
5. In product development, concept testing helps you to streamline key product features for a better customer experience.
Concept Testing Examples
Concept testing looks good on paper but does it work in real life? Yes! Some of the biggest brands you know leverage concept testing to build great products that people like you love. Let's look at a few examples. 
1. In 2018, up-and-coming fashion brand, Shinola, was ready to introduce a new collection of wristwatches to the market. Seeing that this was a considerable investment, they conducted a concept testing survey on which watches to feature in their spring 2018 collection. 
2. Tesla used concept testing as part of the launch strategy for its Model 3 in 2017. To prepare the target market for the new product, the Tesla product team got a handful of them to try out new features and benefits. This move was largely successful, allowing the company to raise an additional $400 million for investors. 
3. After a significant shift in its car racing model, NASCAR decided to collect feedback from its viewers as part of concept testing. They gathered more than 200 responses from viewers cutting across viewing experience, high points, and dislikes. These data sets helped the company to improve its car racing model. 
Top Templates for Concept Testing 
Ad Testing Survey 
Do you want to know which of your adverts has the best conversion prospects? Set up an ad testing survey with Formplus, and let your target audience help you make the right ad choice.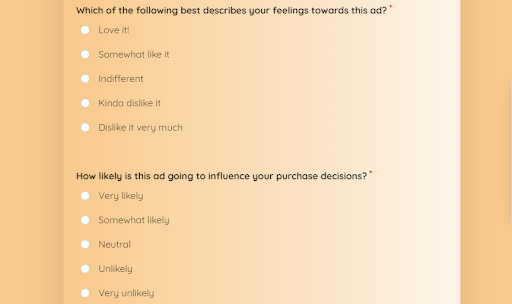 You can collect responses from your social media community using the Formplus direct sharing buttons right in the form builder. 
Check out the Formplus ad testing survey. 
Concept Testing Survey
Use the Formplus concept testing survey to test fresh ideas before hitting the market. This survey works for other concept testing methods, such as comparison testing and proto monadic testing. You collect feedback from respondents for data-driven decision-making. 
Check out the Formplus concept testing survey. 
Logo Testing Survey
Trying out a new logo for your business? Use the Formplus logo testing survey to collect feedback from your market before your logo goes live.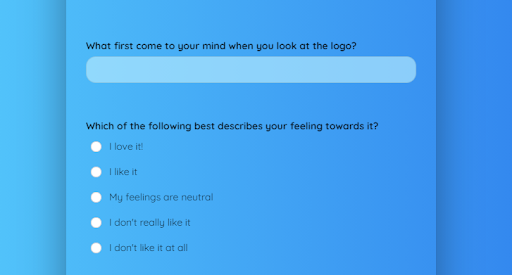 Save time and resources by implementing only the best logo option while gathering insights for improvement. 
Try out the Formplus Logo Testing Survey. 
Name Testing Survey
What is in a name? Choosing the right brand name for your product can steal the heart of your target audience fast. Our name testing survey helps you gather opinions from potential customers and choose the right name for your brand. 
Check out the Formplus name testing survey. 
Product Packaging Testing Survey
Use the Formplus product packaging testing survey to find the proper packaging for your product.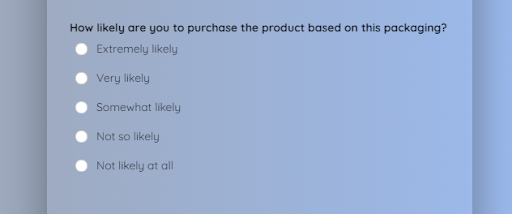 You can add over 30 different form fields to help you collect a range of information from your target audience. Formplus has multiple form-sharing options to help you get your survey in front of the target audience on time. 
Try the Formplus product packaging testing survey for free. 
Product Testing Survey 
You've finished working on a new product, now what? Find out if it's ready to go live with the Formplus product testing survey. You can use this template as it is or tweak it to meet your unique needs in the Formplus builder. 
Try out the Formplus product testing survey for free. 
Conclusion 
Concept testing is a critical aspect of your product ideation stage. As you develop your ideas, it makes sense to get them in front of your target audience and collect insights for data-driven decision-making. 
What happens if you miss out on concept testing during ideation? In the early design phase, you have the opportunity to test-run ideas and make iterations based on the feedback you get from the audience. As long as you're yet to launch the product, it's never too late to test concepts and ideas for the best fit.