Considering the number of file sharing sites and cloud storage providers on the internet, it could be difficult to decide what kind of cloud storage is right for you. This list represents our top picks for file sharing and cloud storage, to help you decide.
The evolution of digital technology has successfully diverted users away from traditional local storage systems (manual paper filing) to hard drives and now, remote server-based storage systems.
Using any of the under-listed, you would no longer have to send email files to yourself, plug and unplug USB drives, be prone to file loss due to virus attacks or suffer data loss from damages on your hard drive.
By keeping your documents and media files in a cloud, you can easily access and share your files from and to anywhere in the world. These sites provide smooth access to all your important data from your smartphone in a cab or from your laptop in the sitting room. - word docs, PDFs, spreadsheets, photos, videos, any other digital assets from wherever you are. With cloud syncing you can get easy access to your data.
At the end of this article, you should be able to decide which cloud storage and file sharing platforms is the best for you.
What is File Sharing?
File Sharing is the system of distributing or making available digitally stored material (documents, documents, music, photos, videos etc.) to other users on the Internet, hard drives, USB devices, disc etc.
Alternatively referred to as file exchange, file sharing is also referred to as accessing or sharing of files by one or more users. File sharing can be done across computer networks as an easy and quick way to transmit data. An example of this is seen when a user shares a research document; this user may also allow other users to access, edit and make suggestions on the document.
File sharing web services are increasingly becoming more popular. This is because they allow you to upload your files using a web browser or app, where allowed users can download copies of the files.
File sharing allows for more available space for users to access programs, easy way to back up files, reduce several programs on any network, and so on.
Accept and Store unlimited files on your cloud storage account with File Upload Form


What is Cloud Storage?
Cloud storage is a model of storing data on remote third parties' virtual servers which can be accessed through the internet. If your local hard drives are running low on disk space, you can use the cloud as extra storage.
It allows you to save and share your files online instead of on a local hard drive or a removable storage device. If you want to access your work files at home, and easily share holiday photos and videos to others,you can upload the files online to a cloud storage service. Using a cloud storage service also ensures that important files are secure behind a password and encryption.
Different cloud storage services let you upload files to your online account through different methods. Some support in-browser uploads only, but most have desktop applications that make uploading files easier by a simple drag-and-drop into a dedicated folder.
Summarily, cloud storage is helpful not only for extra storage but also for security and the ability to easily share files with others or access them yourself from anywhere.




Sign Up on Formplus to Accept Files & Documents with Online Forms


Here are the best File Sharing and Cloud Storage Sites in 2019

Google Drive is one of the most versatile cloud storage services. Google Drive expands your ability to store and backup files beyond the limits of your local storage.
Upon signup, Google Drive offers 15 GB of free cloud storage and this is shared between Google Drive, Google Photos, Gmail and other Google Apps on your device. Once this space is maxed out, you can pay a monthly fee to get more space or clear out old files.
With Google Drive, you can store any kind of file: photos, videos, PDFs, Microsoft Office files, music and so much more. You can also save email attachments sent to you through Gmail directly to Google Drive.
On the other side of Google Drive's advantage is the privacy setting; it can only be opened by third parties who have access to the file link. Google grants itself, through its terms and conditions, the right to scan your stored files for marketing purposes. Unlike other cloud storage platforms, Google Drive doesn't have the file encryption feature where users can lock their documents with specific passwords.
Pricing: You can buy more space on Google Drive by paying $1.99 per month or save 16% when you pay $19.99 per year for up to 100 GB. Get 1 TB for 9.99 per month or $99.99 per year.
With 15 GB of free cloud storage, excellent collaboration features and the ability to access your files from your desktop, smartphone and just about any browser, Google Drive is a convenient and capable way to work with files.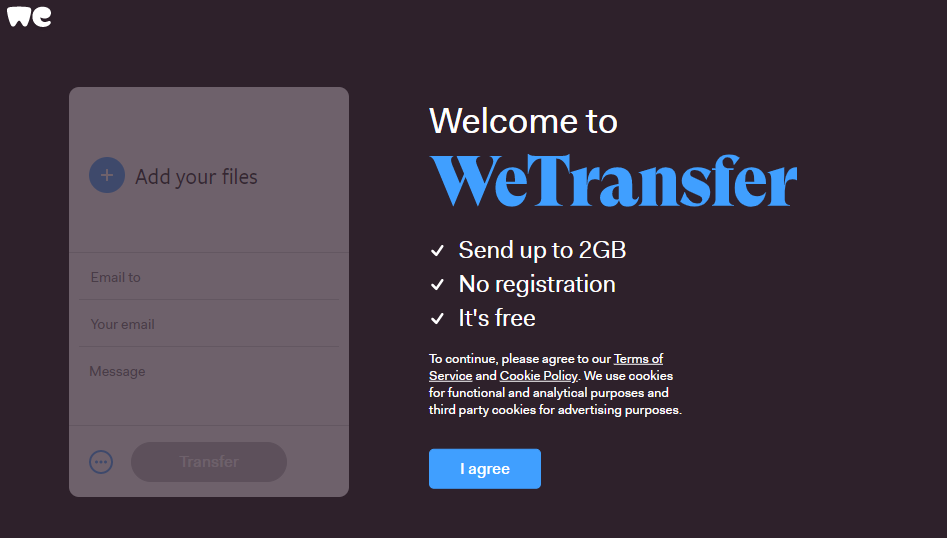 Named in 2018 as one of the world's most innovative design companies, by Fast Company, WeTransfer is regarded as one of the simplest ways to send big files.
WeTransfer's core service is free, with more features available for premium accounts. Free users can send files up to 2GB. WeTransfer allows you send high-res photos, videos, and other large files without logging in.
The process of uploading the files and sharing links is completely encrypted but, the recipient receives an un-encrypted email with a link to the file. Third parties could easily intercept the email and gain access to the files.
WeTransfer stores the files in an un-encrypted format, plus it uses servers based in the USA. This means that under the USA Patriot Act, every US company has to release its customers' files to the government when needed.
The paid-for version, WeTransfer 'Plus', allows users to send up to 20GB at a time. It also offers features like password protection, channel customization, and 100GB storage.
Pricing: WeTransfer's paid subscription plan, WeTransfer Plus, is $12 per month. The annual subscription costs $120, which gives users a 17% discount. If you are looking for an innovative and easy-to-use cloud storage and file sharing service, WeTransfer is just right for you.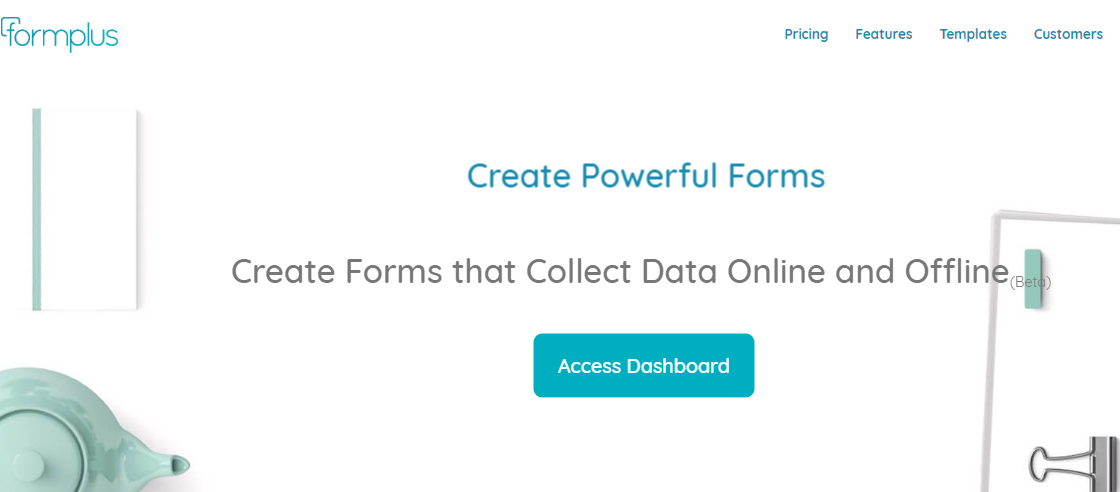 Formplus is a powerful tool to connect with people and organizations around the world. You can receive files of any type and size through online forms, making collaboration and file sharing really easier like never before.
This tool differs in that apart from being a file collection tool, you can also use the online forms to collect other types of data - such as online payments, signatures, emails, etc. Formplus' cloud storage is used to store files uploaded via the File Upload field on an online form. There are no limits to the size and type of file uploads, except the original file upload creator limits file size in the form builder's validator.
There is also a robust file management system on Formplus, where you can rename files/folders, categorize files accordingly and so on. These files can be shared or received with other information using beautifully-created form templates that come with relevant form fields.
Pricing: After the free trial, you get to pay $25 per month for the Starter plan, $45 per month for the Professional plan and $85 per month for the Platinum plan. Education and Non-Profit organizations receive another 20% discount across all Formplus yearly and monthly plans.
Use Formplus if you want to share, access, store important unlimited files and use online forms designed to suit your ideas and needs.

Dropbox has grown to be one of the most trusted and popular cloud storage systems that offers more, including file synchronization, personal cloud. The storage service is convenient, easy to use and one can learn how to use it quickly. The major disadvantage of this service is that the administrators or developers who maintain the service may delete information from free, inactive accounts.
User files on Dropbox are encrypted using 256-bit Advanced Encryption Standard (AES) which guarantee document privacy. In recent times, there have been concerns about the security of Dropbox; cases have arisen where servers were hacked and vital information stolen.
Pricing: Dropbox Basic users are given 2GB of free storage space. This can be expanded through referrals, and if your refer people use the service, the user is awarded an additional 500MB of storage space per referral. Dropbox Basic users can earn up to 16GB through the referral program.
The Dropbox Plus subscription is $9.99 per month. It gives users 1TB of storage space, and additional features. Overall, Dropbox is an amazing method to store and share files online.

Sendspace is a file hosting site, mostly used by small to medium size businesses to send, receive, track and share large files.
The site enables you to drag and drop files into an upload bar and email the download link to one or many recipients. This eliminates the slow upload feature associated with attaching large documents to emails. Sendspace can be scaled for mobile devices and its android application is available to download.
The service is simple, fast and comfortable. The user understands if the shared files have been received and downloaded. It always sends email alert for this. One can send multiple files at a time.
If a provider uses a free link instead of a pro link, the download speed is limited. It works well on the windows-based platform but is not as reliable on MAC systems.
Pricing: The free plan on Sendspace has limited features that allow a single file size of 300MB. The Pro Base Plan allows file sharing of up to 5GB and is $8.99 per month. The Pro Plus plan is $19.99 per month and allows up to 10GB at once.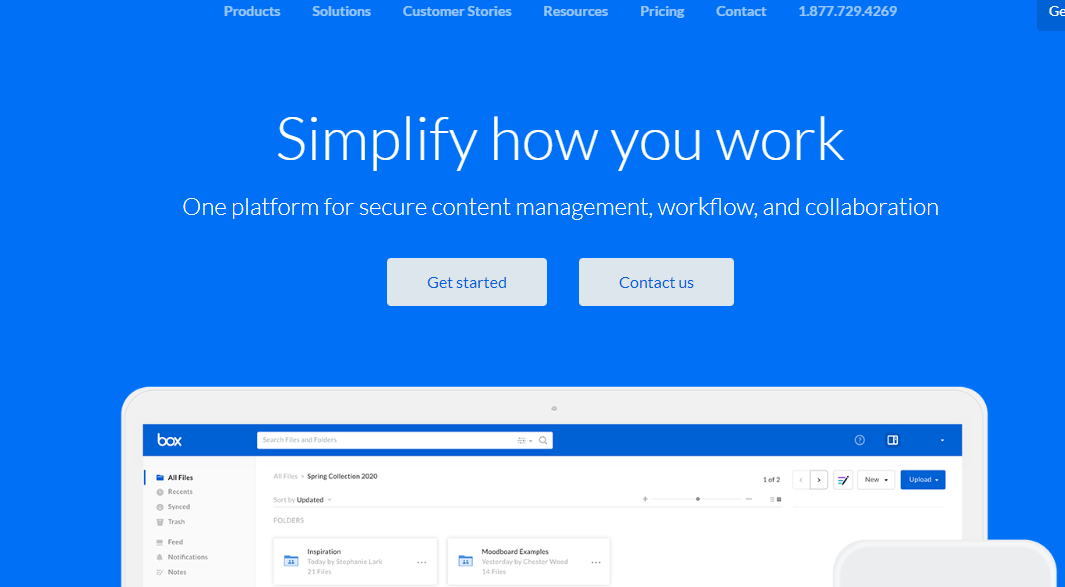 Microsoft's OneDrive is one of the leading cloud storage service platforms in the market. An obvious choice for both businesses and users who use Microsoft Office packages.
OneDrive Basic offers 5GB of free storage space with web-based access. The mobile app provides offline access and allows you to edit and annotate on the go.
The service allows users to store, share and sync all kinds of files and personal data in the cloud. Users can also upload Microsoft Office documents directly to OneDrive. The files are organized by type, so it's easy to find what you need.
Some users have cited concerns over privacy because Microsoft has reserved the right to scan files saved in OneDrive to look for what it calls 'objectionable content'. There is also a suggestion that some files can get altered when they are synced or uploaded to OneDrive.
Pricing: The OneDrive free plan offers you 5GB free on the free plan. The paid plans offer 50GB ($1.99 per month), Office 365 Personal 1TB ($69.99 per year), and Office 365 Home 5TB ($99.99 per year) storage options and are available either separately or with Office 365 subscriptions.
OneDrive is usually not a smooth experience for Mac users, but it's probably the best cloud storage for Windows users.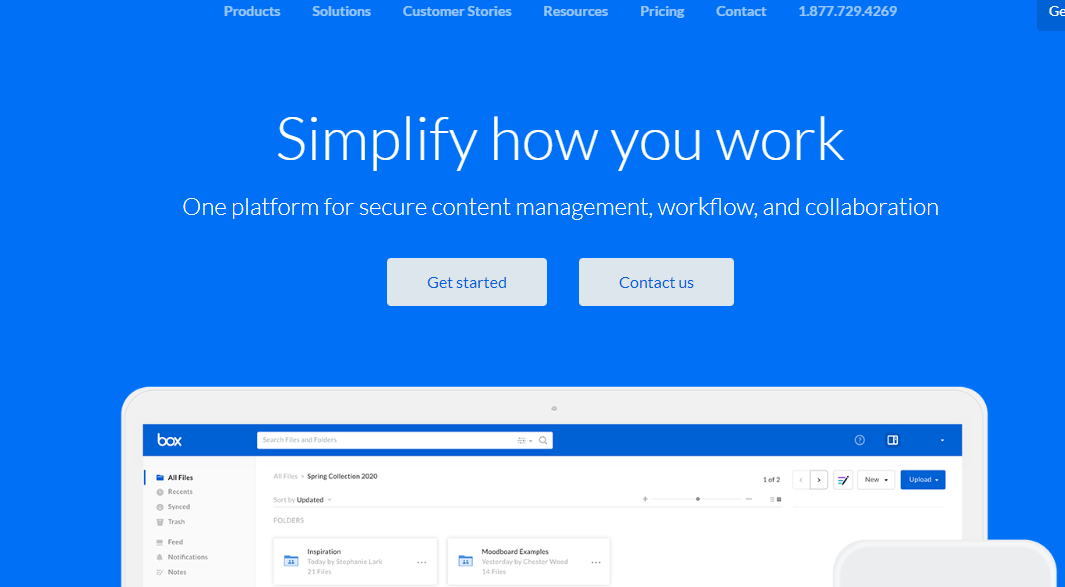 Box is a cloud computing business which provides file sharing, collaborating, and other tools for working with files that are uploaded to its servers.
The mobile app is user friendly on iOS so it is easy to access and share your files. Box reads and opens any file on mobile and if it does not, it allows you to open the file in a more suitable application through iOS prompt.
The free plan on Box for individuals allows up to 10Gb storage and 250MB file upload. Larger files such as audio or video files seem to load slower on Box. The sync feature is slow and users usually have to save items on their desktops before copying them to Box.
Pricing: The personal pro plan of Box is $10 per month and allows 100GB with 5GB upload. Another plan—Business—is perfect for team collaboration and is $15 per month. This gives you unlimited storage and a 5GB upload option.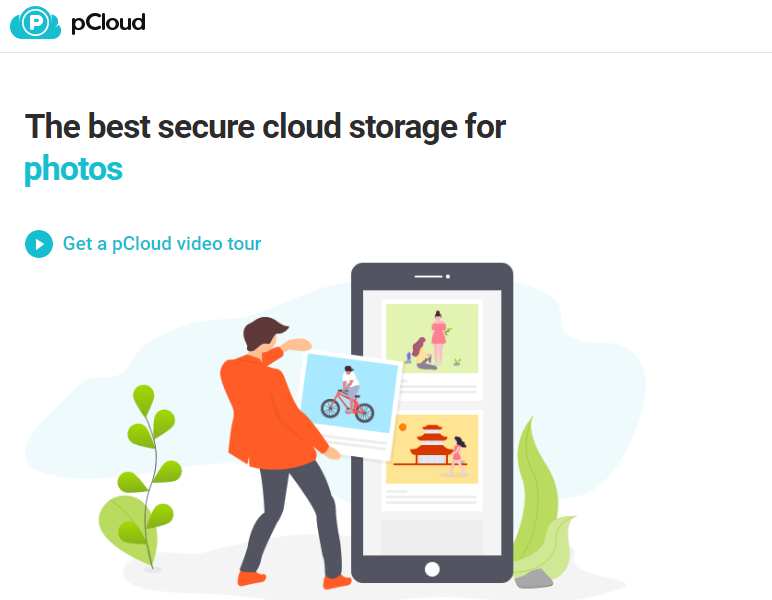 pCloud Drive is a desktop application that creates a secure virtual drive on your computer, which you can use to easily store, access and work with your files in the cloud.
It offers more storage at a cheaper price, while its feature set is also more detailed, flexible and diverse than most. pCloud also makes it easier to share files with other users. File synchronization is another big feature on the pCloud site - it is super fast and reliable, and performs well.
The desktop client delivered by pCloud is impressive - with Windows, macOS and Linux versions available. The inclusion of Linux is a good idea, considering most other cloud storage sites work well only with Windows and macOS.
pCloud allows users work with flexibility and speed as if the files were on your computer but taking no physical space. However, pCloud has no document editor and no two-factor authentication.
Pricing: You can get up to 10GB free cloud storage on a free plan. No hard disk space is used when you use pCloud. pCloud's subscription is $3.99 and $7.99 per month for the premium and plus plans, respectively. The lifetime subscription is $175 for premium and $350 for plus.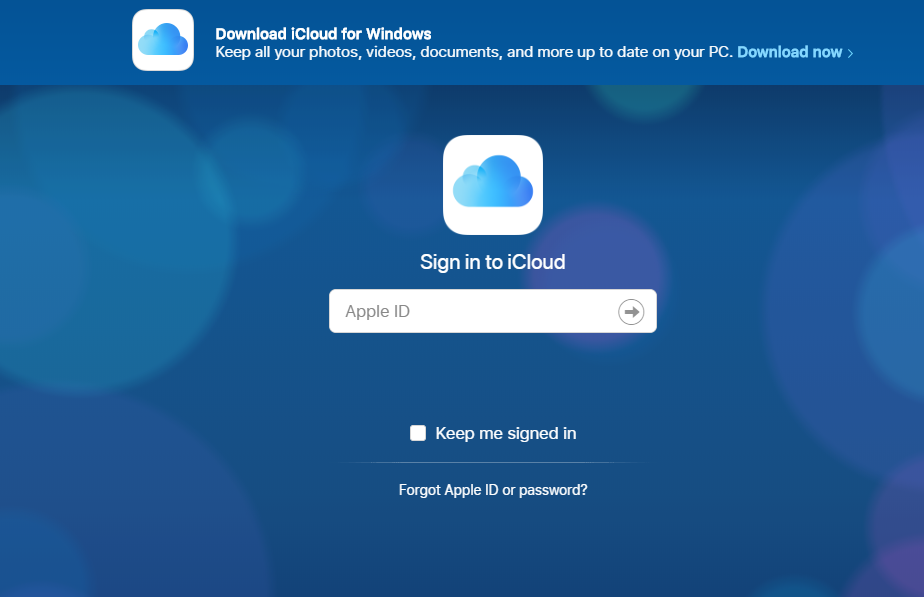 iCloud is a cloud storage and cloud computing service from Apple Inc. The service had an estimated 850 million in 2018, up from 782 million users in 2016.
With backup on iCloud, you never have to be afraid of losing important documents. The cloud-based system allows users to store heterogeneous music, photos, applications, documents, backups, notes and so on. The service provides a platform for Apple's email servers and calendars.
On iCloud, you have to provide your name, credit card information, likes, dislikes, passwords, friends, family trips etc. - information we might otherwise not be comfortable sharing.
All in all, iCloud's few shortcomings do not hinder its performance. It is a great Cloud-based storage system which gives you the virtual freedom to do anything you want and knowing the email address and password, you'll be able to implement parental controls with iCloud monitoring.
Pricing: Owners of either iOS device using iOS 5.x or later, or a Mac using OS X Lion 10.7 or later have 5GB of free storage. Users can purchase additional storage for a total of 50GB ($0.99 per month), 200GB ($2.99 per month) or 2TB ($9.99 per month).
MEGA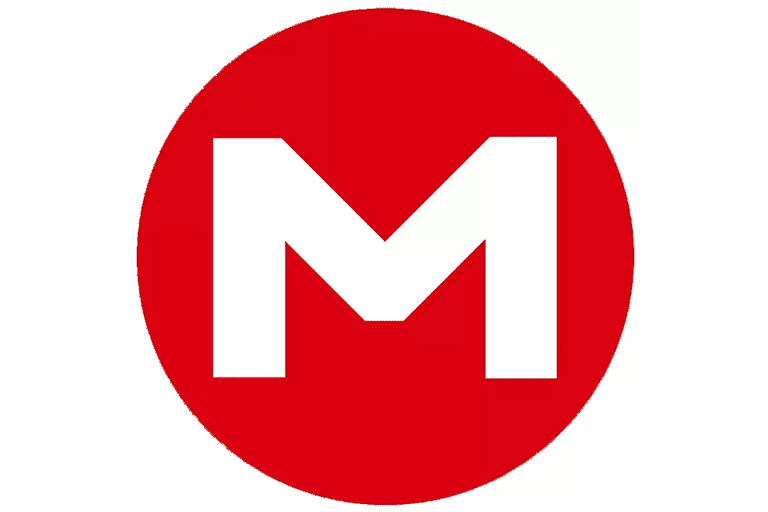 Mega cloud storage and file hosting service is offered primarily through web-based apps. Mobile apps are also available for download on Windows, Android and iOS platforms.
Although Mega can not be compared to many top cloud storage services, it has some interesting features, including zero-knowledge encryption. The protection extends to your file shares, because you can use private encryption to protect them and make sure only people you allow can read them.
Mega is not too good in on team collaboration because it lacks integrations and editing features. The site works with major browsers, but there can be some inconveniences to using browsers other than Google Chrome or Mozilla Firefox. There is no option for file sharing among a group of users.
Pricing: Free users receive 15GB of base storage, an additional 35GB trial at signup; expires after one month. Additional storage allowances can be activated through various "achievements", but also expire. The maximum permanent storage is 50GB.
The paid plans for Mega are Pro Lite (1TB transfer, 200GB storage, $5.69/month); Pro II (2TB transfer, 1000GB storage, $11.38/month); Pro III (8TB transfer, 4000GB storage, $22.78/month); and Pro IV (16TB transfer, 8000GB Storage, $29.78/month)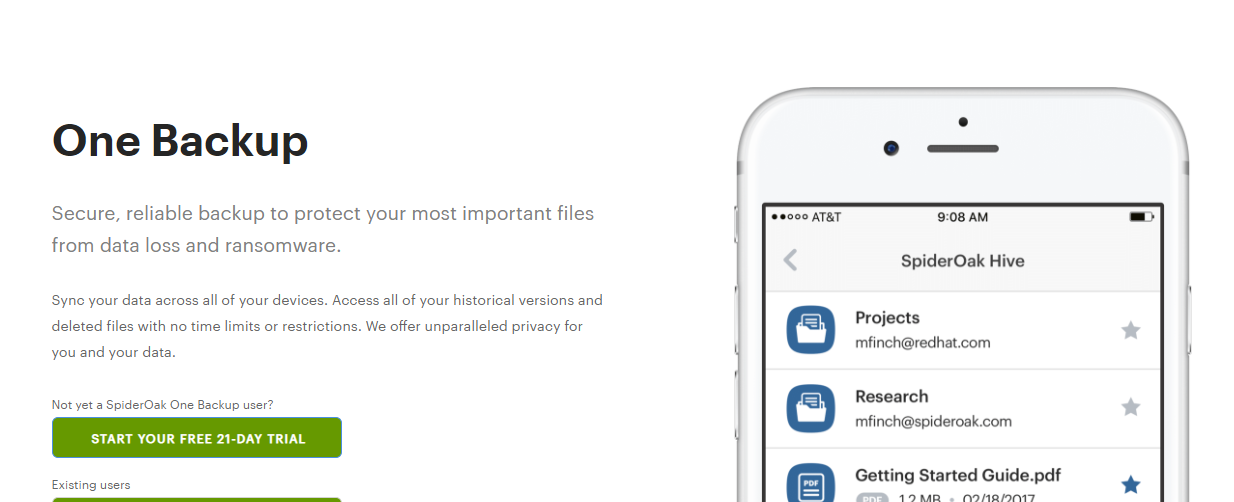 SpiderOak is a collaboration tool, online backup and file hosting service that allows users to access, synchronize and share data using a cloud-based server. The service is accessible through Desktop apps for Windows, Mac and Linux computers, as well as Android, N900 Maemo and iOS mobile platforms.
The software uses secret code categorization so you can share and communicate safely. By removing server infrastructure and its support staff from your threat model, the service allows you to drive greater organizational success.
With SpiderOak, all data accessible in one duplicated location. You can preserve all historical versions and deleted files and share folders in web ShareRooms with RSS notifications.
In all of this, SpiderOak is not a simple service to use. Its advanced features can be a little difficult to navigate. Sometimes, people don't have that much time to learn the advanced features and settings.
SpiderOak is quite popular for its military-grade high-end security. With a zero-knowledge policy and strong encryption, users can be assured that their data is safe.
Pricing: Users are given a 21-day free trial with all the features. There is also a 150GB Plan at $4.90 per month; 400GB Plan at $8.25 per month; 2TB Plan at $10.75 per month and a 5TB Plan at $23.25 per month.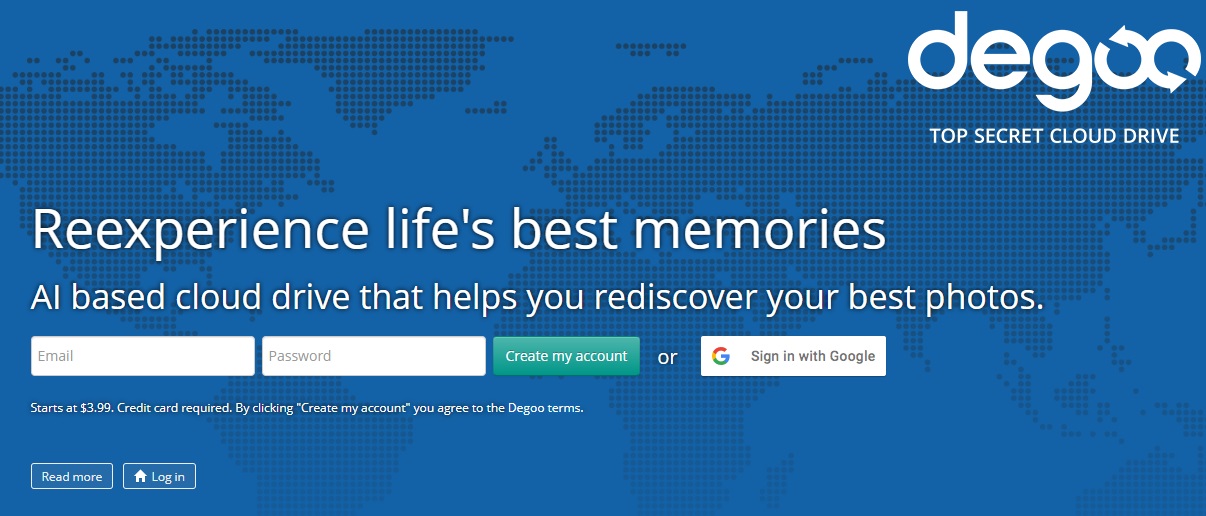 Degoo is more like a fun place to share, access and store your memories. You get 100GB for free with all the features except zero-encryption and photo storage optimizer.
You also get 500GB extra cloud space by inviting your friends and 5GB per referral. There's also an option to "loan" Degoo unused processor resources, for an additional 10GB of free space.
Degoo bills itself as a cloud backup. It means Degoo isn't geared towards work productivity. There are no integrated apps or file syncing, and file sharing options are limited.
Users need more than 100GB to protect their hard-drive's content, so chances are you'll end up paying Degoo.
It's one of the few multi-platform cloud backup tools with mobile backup available - a cheap way to backup mobile multimedia content.
Pricing: You can sign up monthly for $9.99 or get a 20% discount by paying for a year. Or, you can sign up for five years in advance for a 60% discount. There's a 90% discount by signing up for a mere 100 years!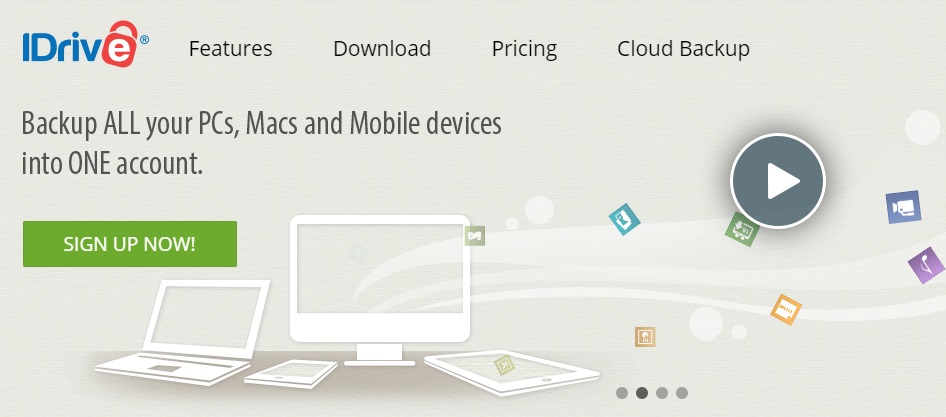 IDrive is an online backup service available to Windows, Mac, Linux, iOS and Android users. IDrive offers gradual and compressed backups so users only upload modified portions of a backup file, and files may also be updated in real time with a continuous backup option.
The service has a 5GB free plan and thgives you access to refer and get account credits. This service offers a cross-platform backup service that allows you sync data across all devices. It is not limited to operating systems or types of devices.
IDrive offers continuous data protection. It is regarded as one of the most updated and progressive cloud service providers.
One of the key drawbacks of the storage service is the extra charge whenever you exceed your storage limit. The service also offers poor upload and download speeds, and it can be challenging to understand its user interface.
Regardless of the drawbacks, IDrive offers satisfactory performance for regular security and backup needs.
Pricing: The service also comes in various storage packages. With one annual payment, you can choose the 2TB package for $69.5 all the way to 5TB for $99.5. There is also a business option that gives you 250 GB all the way to 12.5TB.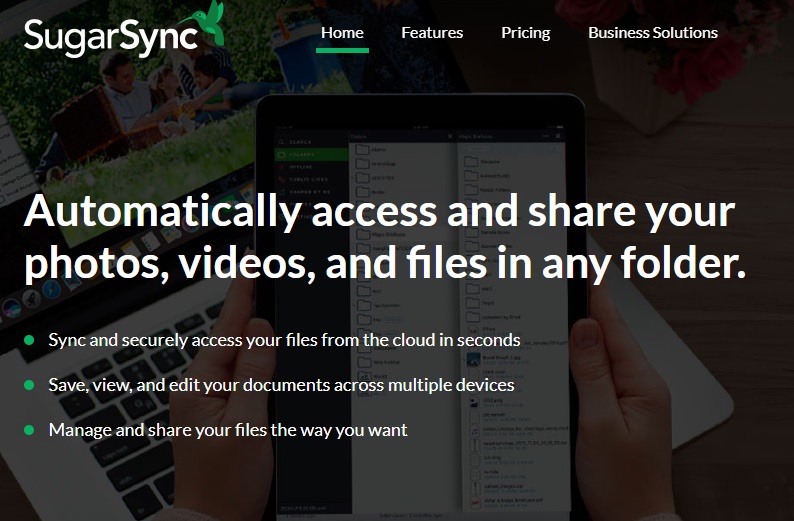 SugarSync is a cloud service that enables active synchronization of files across computers and other devices. The service also allows backup, access, syncing and sharing from a variety of operating systems. For Linux, only a discontinued unofficial third-party client is available.
Users get access to all the features SugarSync has to offer with a free trial. Business users will have the ability to add multiple users and allocate bandwidth to a single account.
SugarSync is good for seamless syncing, backup of critical data and easy collaboration. It is an easy way to share documents in a place where everyone on a team can access and make edits.
Organization can be somewhat cumbersome with so many users and the desktop app hides tons of resources and seems like it's constantly using 30 or more % processor.
SugarSync is flexible and allows you to quickly and easily share documents as a team.
Pricing: If you intend to continue using the service after the 30-day trial, you have the option of paying for the Personal plan (100GB at $7.49 per month) or the Business plan (250GB at $9.99 per month).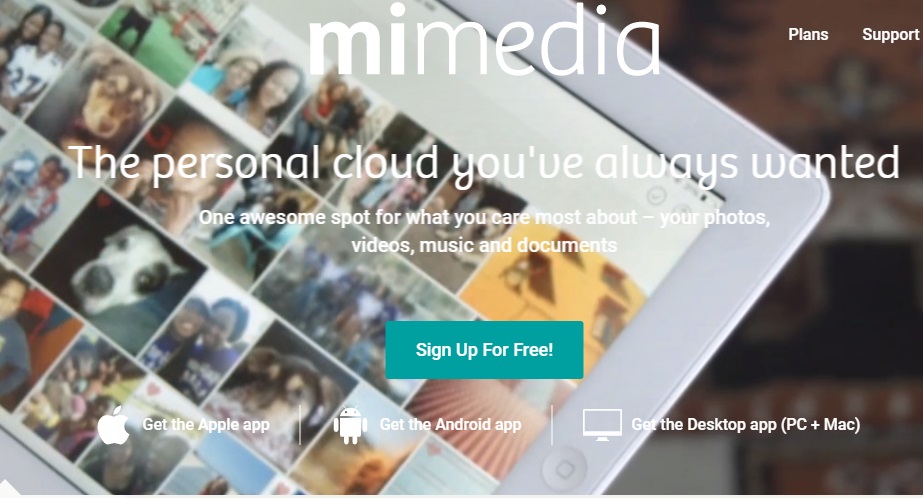 MiMedia is a cloud service used to control, manage, curate and personalize content the way you want it. It is described as a "beautiful, visual experience...a place to hang out and have fun.''
You can sign up for free and get 10GB of storage space and enjoy instant access to 2,500 photos, 125 videos, 2,000 songs, 10,000 documents.
MiMedia has an easy-to-use interface configuration, streaming of media, real time backup and always runs in the background. File sharing and larger storage plans are available on this service. It also allows multiple computers on one account. However, MiMedia has no file versioning and no Mac or Linux client. Uploads also seem slower than other services.
MiMedia positions itself as not just a backup service. It is a step in the right direction to move your digital life to the cloud so you can access your music, photos and videos wherever you are with whatever device you have.
Pricing: The paid plans are Basic (500 GB at $7.99 per month); Plus (1TB at $9.99 per month) and Premium (2TB at $15.99 per month).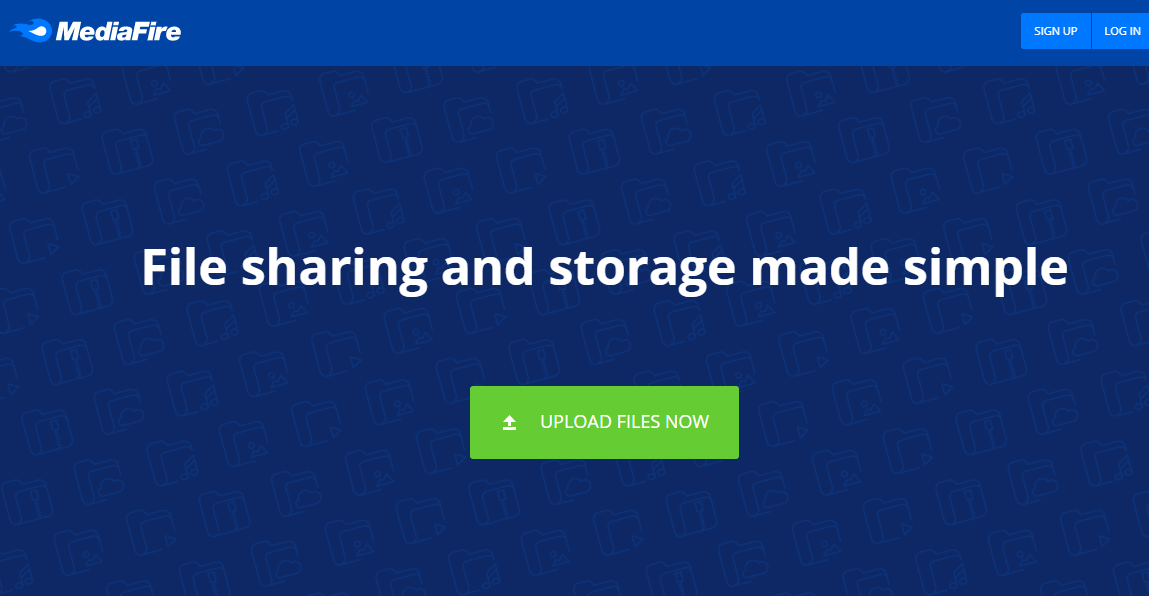 MediaFire is a file hosting, file synchronization, and cloud storage service founded by Derek Labian and Tom Langridge. The company provides client software for Microsoft Windows, macOS, Linux, Android, iOS, and web browsers.
With up to 50GB of free space, you can use MediaFire to back up all your important files.
The service allows you to upload thousands of files at once through any web browser or with the handy apps for Android, BlackBerry, Windows, iPhone, or iPad. MediaFire makes it easy to share through email, on your website, social media, messenger, or anywhere with a link.
There are limitations when you opt for the free version. A lot of interesting options are available just for business and pro versions.
MediaFire is good for uploading, downloading, viewing, and organizing your files with ease and simplicity. Whether it's your music collection, home videos, your resume, or your important work docs, have them in your pocket whenever you need them.
Pricing: The Pro plan gives you 1TB at $3.75 per month billed annually ($5 month-to-month). While the Business plan gives you up to 100TB at $40 per month billed quarterly ($50 month-to-month).
Zoho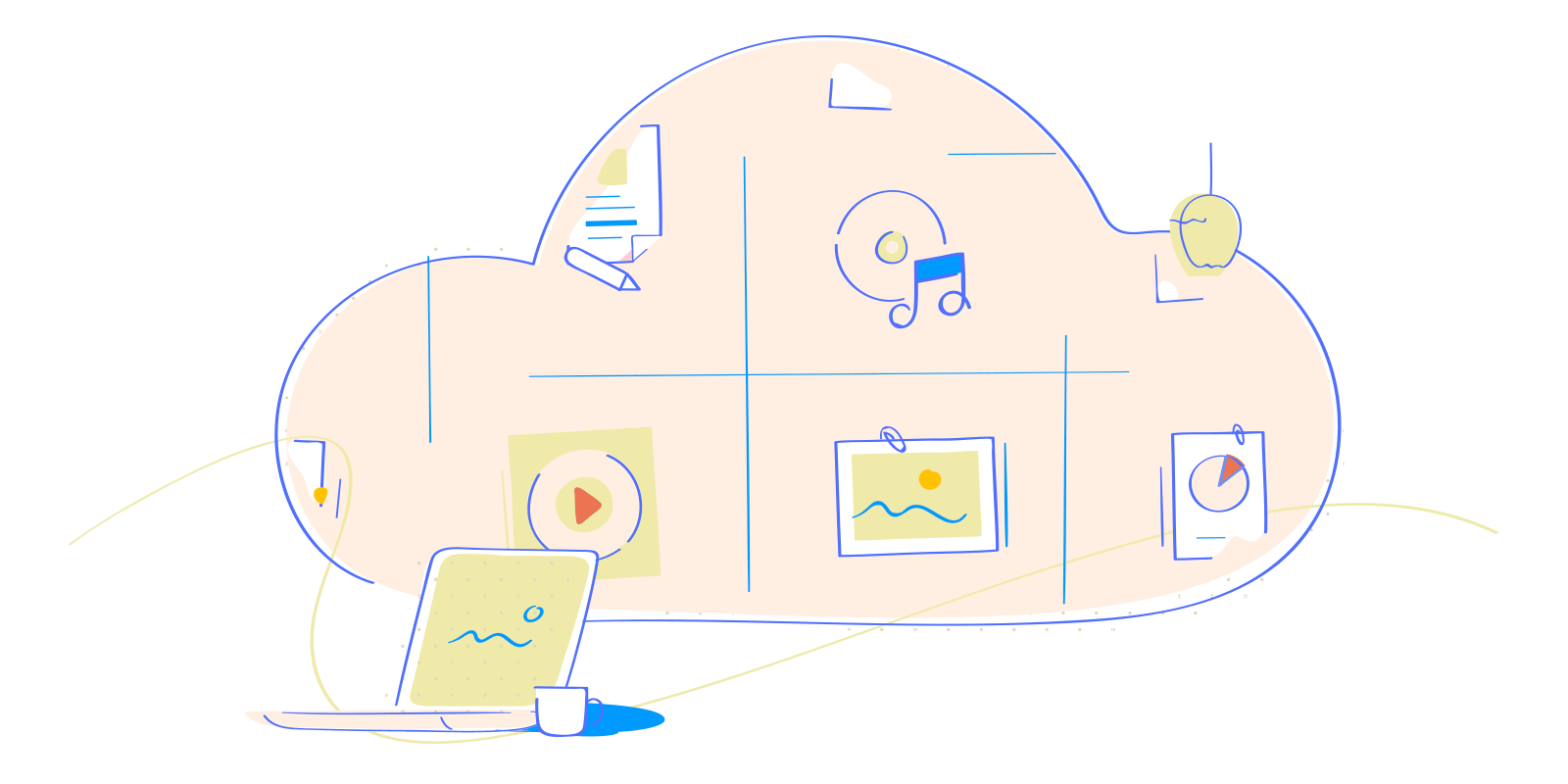 Zoho is a powerful cloud business software for home, startups and small businesses. The Zoho free plan offers you 5GB receipt storage and other features including email support. But the paid plans offer more than this.
The platform works really well for both small businesses, as well as large enterprises. It can automate daily work activities, monitor sales, and engage customers in various platforms.
Zoho mobile apps let you take the product to the field where you can get updates quickly and in real time. The Mobile Edition gives you access to sales records and customer data on Android and iPad/iPhone devices to help you stay connected in the field. Zoho also integrates easily with Google Apps such as Docs, Email, Tasks, Calendar, and Contacts.
Despite the features, sometimes bugs occur and the response time for customer support is also slow.
Pricing: You can pay for a Premium Plan at $2.50 per user, per month, billed annually ($3 billed monthly) or you talk with the representatives of the service to give you a quote for the Enterprise plan.
Zoho offers beautiful software to solve business problems. This service brings you valuable software for your business.
Advantages of Cloud Storage over Hard Drive Storage
Accessibility of data: With a cloud based solution you don't need to be dependent on a hardware device of any sort. If you wish to access your files, all you need is an internet connection. Cloud storage can be used as a back‐up plan by businesses to provide a second copy of important files, which can be accessed from anywhere.
Stronger encryption: Most Cloud systems use strong encryption and security technologies across different layers within the system. Categorize levels of access to team members or collaborators based on roles and expertise.
Access to a hard drive is quite easy and anyone can modify data without permission. Cloud storage servers have stronger encryption and firewalls which protects your data from unauthorised users.
Cost: Service providers have started offering cloud services on a pay-per-usage basis, so one would only need to pay for something that's used, unlike the traditional fixed billing cycles where a consumer would have to pay a fixed amount for a usage period irrespective of the usage. One can also expect other benefits with the service, so in a way consumers get multiple advantages at a mere price.
File sharing/syncing: Files can be shared with other people in other places and on other devices. All you need is an internet connection.
Cloud storage automatically syncs changes made to one or more files across all affiliated devices.
Theft & Data Loss: With cloud storage, you are assured that your data won't be lost or stolen, especially since security is one of the major talking points of cloud storage services.
Viruses, physical damage or formatting errors can render data unreadable by both humans and software on hard drives. Cloud storage systems do not follow this path.
Cloud Storage and File Sharing Review
Which is the best Free Cloud Storage site?
Degoo offers 100GB online storage free, protected with military-grade encryption and multiple copies of every file. Degoo is your secure bank vault. Degoo's top secret feature encrypts your files with a passphrase known only by you, not stored in Degoo, encoded into chunks and spread out to data centers in different countries.
Which is the best Price Cloud Storage site?
MediaFire lets you easily upload all your files - like your photos, videos, music, and documents as much as 1TB for $3.75. This plan can be upgraded to $40 per month billed quarterly for 100TB.
Which is the best multi-purpose File Storage Service?
Formplus does not only allow you create forms and manage data, you can also use Formplus to receive files through the File Upload Form to share and store files in any size or kind.


Get Started For Free on Formplus
Which is the best Priced File Sharing Service?
With Box, you have the option of uploading up to 5GB data at once. It is a paid plan ($10) which come with 100GB storage. Box is a simple file sharing tool that allows you to easily manage data.
What is the best Cloud Storage for IOS device & Mac computers?
Because it integrates so seamlessly with all of Apple's products and services, iCloud really is the best cloud storage solution for someone who is all-in with Apple.
What is the best Cloud Storage Mobile App for Android devices?
Most of the cloud storage services mentioned are mobile-enabled, but Dropbox works perfectly well on Android and iOS devices. It gives you access even if you are not connected to the internet.
What is the best cloud storage plan for Large data?
MediaFire is good for uploading, downloading, viewing, and organizing your files and it gives you 100TB where all the other services cap their storage abilities.
Conclusion
To make the most out of your laptop, tablet and phone in today's digital world, you need a cloud storage service. Storing files in the cloud may have started as a way for consumers to back up their data in case of disaster, but today's best services offer so much more – and file sharing is one of them.
The above-listed cloud storage options not only provide the best user experience and incredible unique features but helps users to enjoy the services after signup.
A good cloud storage solution should back up your important documents, photos, and videos, but it also helps keep all your devices in sync. It's a great way to make sure your desktop, laptop, phone, and tablet all have instant access to all your digital content. It should also allow you to access and edit documents from a web browser and easily share files and folders with others.
Have you used any of the listed top cloud storage and file sharing platforms? What was your experience?
Sign Up to Get Unlimited Storage for Accepting Files & Documents with Online Forms