Google chrome extensions are necessary kits in the toolbox of academic researchers. This is because they help make the research processes as seamless as possible. Researchers can use chrome extensions for citation assistance, the bookmarking of references, getting related paper recommendations, and finding free versions of expensive journals.
Here in this article are 21 Chrome Extensions Academic Researchers Must Have in 2021. But before we list them out, let's first learn a little about what extensions are
What Are Google Chrome Extensions?
Google Chrome extensions are simple programs you can add to your Chrome browser to customize your browsing experience and speed up productivity. They allow you to access the features of an application without exiting your browser to run the application manually. For example, academic researchers can proofread and edit thesis and research papers with the Grammarly Chrome extension without opening the actual web application. 

These extensions have various functionalities, including ad-blocking, screen recording, note-taking, and password management. The whole idea is to give users (including researchers and academics) better control over tasks and help them get more out of the websites they visit. Little wonder it's almost the norm for developers to create Chrome versions of their applications to improve access and user experience. 
Why Academic Researchers Need Chrome Extensions 
"Since I already have access to web applications and research papers, why do I need to install Chrome extensions?" This question is top of mind for many researchers. To answer it, let's look at several ways a Chrome extension makes research easier for people in academia.
Installing a Chrome extension is an intelligent way to protect your online privacy and browse information securely. 
It provides free or subsidized access to comprehensive primary and secondary data sources. 
Chrome extensions automate several research tasks such as referencing, proofreading, and fact-checking, saving time for other activities. 
What Researchers Should Look Out for in Chrome Extensions 
Before adding an extension to your browser, you should research the features, security, and pricing. 
1. Features 
First, you should take some time to get acquainted with the features of the Chrome extension. Many times, Extensions in the same category might offer similar or overlapping qualities. So, to make the best choice, take the time to do your research and understand how these features work. 
2. Safety 
Safety is one of the most important things to consider when choosing a Chrome extension. The last thing you need is to install an extension that breaches your system's security, steals your passwords, and compromises your data with malware. A rule of thumb here is only to install extensions from trusted sources. 
NB: In the chrome web store, you can check the number of installs, number of ratings, reviews, the quality of reviews, and the general sentiments from the commenters
3. Pricing 
Be sure to choose an extension that sits well within your research budget. In many cases, you'd find a free extension that offers similar features as a paid one. In the end, you should focus on installing a safe extension that provides the best value for money. 
How to Add, Install and Activate Extensions in Chrome 
By design, Chrome extensions only work in the desktop version of the Chrome browser. You cannot install extensions on other browsers or the mobile version of Chrome. Also, you can't add extensions while viewing a web page as a guest or in Incognito mode. 
Here's a step-by-step guide on how to install and activate them.
Step 1: Go to the Chrome Web Store. You can also search for the extension right in the Google Query Box.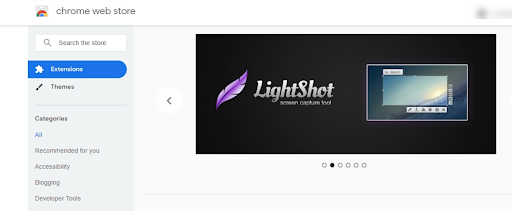 Step 2: Select the extension you want to install.
Step 3: Click on the "Add to Chrome" option.

Step 4: Approve any permissions requests. You can add the icon of the extension to the Chrome toolbar.  
21 Chrome Extensions Academic Researchers Must Have in 2022
1. Science Research Assistant
Pricing: Free
Tired of spending too much time analyzing information sources for your systematic investigation? Look no further than Science Research Assistant! This Chrome extension allows you to find and extract relevant data from secondary sources seamlessly and as quickly as possible. 
Science Research Assistant quickly scans any site you visit and collects data based on recurring keywords and phrases. This way, you can save the time you spent reading lengthy primary data sources and extracting information manually. Even better, you can modify the extension's algorithm to suit your needs.
Features
Keyword research
Trends Tracker
Customizable algorithm 
What You Can Do With It 
Scan through scientific journals and other information efficiently. 
Unlock scientific discovery using inductive or deductive research.
Extract relevant data from existing data sources. 
2. Lazy Scholar
Pricing: Free
Like Science Research Assistant, Lazy Scholar automatically allows you to find and save scholarly information for your academic paper. Whether it's citation styles, quotes, and texts, Lazy Scholar keeps everything in one place so you can find them easily. 
More than saving highly relevant information for the research process, Lazy Scholar also recommends related papers that add an extra spark to the research work and the quality of your knowledge. 
Key Features 
Automated free full-text search 
Topics recommendations
Citation Metrics 
What You Can Do With It
Find free PDF copies of articles and research sources.
Share links to academic papers easily.
Extract information from research papers, including statistics, references, and abbreviations. 
3. Mendeley Web Importer
Pricing: Free
Mendeley web importer allows academic researchers to save PDF copies of references to their libraries. While viewing a web page, you can use this tool to import open-access references from the source document right to your library. It's a great alternative to downloading these resources manually. 
Top Features
Citation and paper management
Real-time document synchronization.
Access to more than 250 million datasets over 2,000 data repositories. 
What You Can Do With
Grow your reference lists in real-time. 
Enjoy open access to source papers.
Simplify research workflow 
4. Scholarcy
Scholarcy is a simple AI tool that summarizes high-volume research papers in seconds. This Chrome extension reads data sources and breaks down their information into simple, bite-sized pieces that are easy to process. This means you don't have to spend hours reading through tedious papers and manually extracting information from data sources. 
Top Features
AI-powered Article Summarizer
Summary flashcards 
Scholarcy monthly subscription library. 
What You Can Do With It 
Extract facts, figures, and Importer data from research sources seamlessly. 
Save time on your academic research efforts. 
Automatically generate summary flashcards for data sources. 
Create a concise library of relevant research sources. 
5. Formplus
Pricing: Free
Formplus is an online and offline data collection tool that allows researchers to collect quantitative and qualitative responses from their target population. With Formplus, you can create and administer various surveys, polls, and quizzes as part of your research. 
Even better, Formplus has multiple features that set it apart from other types of form builders. For instance, you can send out mobile-friendly forms, enjoy embeddable surveys and benefit from our multiple form-sharing features, including email invitations and social media direct sharing buttons. 
Top Features
Mobile-friendly surveys, questionnaires, and polls
Multiple form fields.
Digital signatures (E-signatures)
Google sheets integration
Teams and collaboration 
What You Can Do With It 
Conduct surveys and administer questionnaires for your systematic investigation. 
Create forms with calculation fields.
Collect digital signatures from peer reviewers and others. 
6. Apture Highlights
Apture Highlights is a simple tool that allows you to conduct instant Google searches for terms within a web page. All you need to do is highlight the word or phrase, and Apture Highlights will pull relevant search results right through the window. This helps you to save time while conducting an exhaustive systematic investigation. 
Top Features
Instantaneous search
In-page search engine results pop up. 
What You Can Do With It
Speed up your systematic investigation. 
Verify data sources before adding them to your academic paper. 7
7. Cite This For Me: Web Citer
Pricing: Free
Cite This For Me is a free referencing application that helps academic researchers credit their thesis or dissertation data sources. With this tool, you can swiftly create Harvard, APA, and MLA-style citations for your bibliography and avoid the deadly sin of plagiarism. 
Top Features 
Citation-generation
Plagiarism checker
Proofreader and Spell check 
What You Can Do With It
Create different citation styles for your academic paper based on the standard recommendations.
Avoid plagiarism
Proofreader documents before final submission. 
8. Unpaywall
Pricing: Free
As the name suggests, Unpaywall is an open-access resource for more than twenty million free academic articles, including dissertations, thesis, and research publications. When you add the Chrome extension to your browser, it provides free access to relevant primary and secondary data sources that improve the quality of your systematic investigation. And the best part? It's free! 
Top Feature
Free access to research literature from top libraries. 
What You Can Do With It 
Enjoy instant access to primary and secondary data sources behind paywalls. 
Eliminate the costs of paying you to access research literature from academic libraries. 
9. Zotero Connector
Pricing: Free
Zotero Connector is a free tool that allows you to save data sources from your browser easily. Whenever you find some relevant information for your academic paper, you only need the click of a button to save it to Zotero for future access. This tool also allows you to take snapshots of web pages seamlessly. 
Top Features
Citation-generation
Open-source access to data sources. 
What You Can Do With It
Save and organize resources easily.
Generate citations for your reference lists. 
 Share research findings with peers. 
Enjoy free access to gated content. 
10. DocHub
DocHub is a free PDF editor and document-signing platform that helps researchers simplify their workflow and boost productivity. When you add the Chrome extension to your browser, you can start editing PDFs for free, creating forms and templates, and signing PDF documents right in your Chrome browser. 
Top Features
Free PDF editor
Create and export PDF documents
Seamless document sharing with collaborators. 
PDF document templates
What You Can Do With It
Open PDF files directly from Gmail, Google Drive, and Dropbox, and start editing right away!
Simplify document workflow
Sign PDF and other documents.
Edit PDF documents online. 
11. Citelighter
Pricing: Free
Citelighter is pretty similar to Apture Highlights. It works as a virtual highlighter that enables users to find and capture unique facts online and automatically cite sources for their thesis. Citelighter supports different citation styles, including APA, MLA, and Chicago referencing. 
Top Features
Intuitive online research platform
Speeds up research for multiple projects
Citation-generation 
Seamless organization of facts and resources
What You Can Do With It
Highlight and capture vital information found during your systematic investigation. 
Fact-check information before adding it to your research paper. 
Automatically cite sources for your thesis.
12. Evernote Web Clipper
Pricing: Free
Evernote web clipper enables researchers to take screenshots of relevant web pages and save them to their Evernote account. When you find any helpful information on the web, all you have to do is clip it to Evernote. It has several features that improve your overall user experience. 
Top Features
Full-page clipping
Bookmark resources
Screenshots and custom clips 
What You Can Do With It
Save relevant information for your research papers.
Organize data sources for easy access.
Eliminate dead links 
13. Search Highlighter
Pricing: Free
Search Highlighter works like a keyword finder. With this Chrome extension, you can swiftly scan web pages and documents for specific keywords instead of spending hours reading through them. It's free to use, and you should get the hang of it in no time. 
Top Feature
What You Can Do With It
Save time on research.
Adjust highlight functionality for better results
Find and highlight keywords on any web page. 
14. Diigo Web Collector
Diigo web collector is an all-in-one research tool that allows users to save relevant information to improve their research quality. With the click of a button, you can bookmark research papers and share these resources with your community via email or social media platforms. 
Top Features
Web page tagging
Sticky notes
Email and social media sharing 
What You Can Do With It
Highlight important information from web pages.
Automatically create lists and tags for information.
Bookmark links to archive web pages or to read later. 
Share curated content with research communities. 
15. MyBib
MyBib is a free citation generator that enables researchers to automatically organize their references using APA style, MLA format, and Harvard referencing style. Simply browse to any page on the internet and click the MyBib button to generate an automatically formatted citation for that page. It also works with web documents. 
Top Features
Citation-generator
Supports up to 9,000 citation formats, including APA style, MLA format, and Harvard referencing style
What You Can Do With It
Create a custom citation that matches your school's referencing style.
Automatically format web pages. 
Save and share citations for free. 
16. TLDR This
Pricing: Free
TLDR This works exactly as its name suggests. This Chrome extension automatically summarizes volumes of text, saving you tons of productive hours. Rather than spend time reading large volumes of text, you can use this tool to break it down into five or fewer bullet points. 
Top Features
Article Summarizer
Natural Language Processing
What You Can Do With It
Summarize web pages, articles, and research papers quickly.
Speed up your research process.
Extract valuable information from lengthy texts. 
17. EquatIO
Pricing: Free
EquatIO enables users to create mathematical equations, formulas, and quizzes in their research papers seamlessly. All you need to do is input a variation of the expression into your system, and EquatIO would transform this into an accurate on-screen formula. You can also use the voice feature in your computer to input mathematical equations. 
Top Features 
Google Applications support
Chemistry formula prediction
Voice dictation and handwriting recognition
Predictive texting 
What You Can Do With It
Input mathematical expressions into your research papers.
Hear your math expressions read out loud.
Create digital quizzes and input responses directly. 
18. Google Similar Pages
Pricing: Free
With Google Similar Pages, you can quickly discover related web pages that contain similar information as the one you're browsing currently. This is a great way to speed up your research and explore pages that might have information on the topic you're researching. 
Key Features
Fast web page discovery 
Website previews
What You Can Do With It
Speed up your research process.
Access information faster 
Discover relevant sources for your systematic investigation seamlessly. 
19. Save to Google Drive
Pricing: Free
The Save to Drive extension allows you to save web content, including images, documents, screenshots, and even audio recordings, to Google Drive directly. After installing the extension, simply add a browser action to save the current page you're viewing or use the Chrome print menu to save it as a PDF. 
Key Features 
Save files in incognito mode.
Document sharing
Document conversion 
What You Can Do With It
Automatically convert Microsoft Office files into Google Docs.
Organize and share documents with collaborators. 
Open, view, and rename saved files via the Google Drive document list. 
20. Google Scholar Button
Pricing: Free
The Google Scholar Button is a simple Chrome extension that allows researchers to access Google Scholar from any website. It comes with a browser button for looking up scholarly articles as you browse the web for data sources. 
Key Features
Chrome extension button
Query transfers from web search to scholar
Citation Generator 
What You Can Do With It
Find full texts of research papers from global libraries.
Format references using citation styles like APA and MLA. 
Save articles for future reference. 
21. Open Access Button
Pricing: Free
Open Access Button enables scholars to find free copies of full-text research papers for their systematic investigation. It also allows you to request access to documents blocked by paywalls or subscriptions from their publishers. 
Key Features 
Automatic access to full-text research papers
Automatic requests for paywalled documents. 
What You Can Do With It
Access primary and secondary data sources for research
Speed up your research process. 
How to Make Chrome Extensions for Academic Research 
At face value, it looks like there are just enough Chrome extensions supporting academic research. In reality, this isn't always the case. Sometimes, scholars need to build their Chrome extensions from scratch for one reason or the other. 
For instance, some of these extensions might not have all the features necessary for supporting systematic investigations since most of them are created by non-researchers. Another factor to consider here is pricing—although many Chrome extensions have free versions, you might have to pay for access to advanced features. 
All of these factors leave several options, including creating your own Chrome extension for academic research. Luckily, building one isn't as complex as it initially appears to be. Even if you do not have a background in tech, you can follow these steps to create Chrome extensions on the first try. 
Step 1: Create a new directory for the extension's files. 
Step 2: Create the manifest which forms the core of the extension.
Step 3: Install the directory holding the manifest as an extension in developer mode. 
Step 4: Add a background script to form the instruction for the extension. 
Step 5: Introduce a user interface such as a pop-up. 
Step 6: Layer logic for further user interaction.
Step 7: Diversify user options to give people more control over how the extension works. 
You can read this Google Documentation for a step-by-step guide on how this process works. 
Alternatively, you can outsource Chrome extension creations to software developers and web programmers who provide this service via marketplaces like Fiverr and Upwork. A quick search on both platforms would pop up relevant profiles, and you can look through their experiences and make a pick.
Note: Extensions and browser speed
Some of these extensions are heavy, run lots of scripts, and could potentially slow down your browser. This is why you may need to disable or even delete less useful extensions to avoid clutter and free up space
How to Delete, Remove or Disable Chrome Extensions 
It's pretty simple to disable extensions from your Chrome browser. If you've pinned the icon to your toolbar, you only have to right-click the icon and select "Remove from Chrome." Alternatively, you can:
Open Chrome on your computer
Click the three horizontal dots beside your profile's avatar and select "extensions."
Select the three dash icon beside the extension you'd like to remove 
Click on manage extensions and scroll down
Confirm your choice by clicking "remove extension."
Conclusion
While the right Chrome extension eases off several challenges associated with systematic investigations, they do not take the place of a well-defined research process. So, before installing one, be sure you've done the groundwork, such as asking the right survey questions, limiting researcher bias, and using suitable methods. With these, you can make the most out of whatever extensions you choose.