Feedback is great for getting information about people's views or reactions on a topic, and the best tool for receiving them is through a feedback form. It helps to gather information on what consumers think about a product, people's view in a person's performance of a task, attendees' evaluation of an event, etc. to make improvements.
Feedback forms are very useful tools for improving products or services, and even help businesses gain a better understanding of its customers and target market. It is considered one of the most efficient and economical methods of understanding customer behaviour and measuring customer satisfaction.
What is a Feedback Form?
A feedback form is a tool used to gather insights and relevant information about people's thoughts on an issue to gain some improvement. It is used by successful organizations for different things which include; customer feedback on products or services, employee feedback on company culture, attendees' feedback on an event, etc.
This form can help you gather relevant information that can be used to improve a company's product or service, work culture in an organization, and upcoming events. There are different types and examples of feedback form depending on the kind of organization and situation it is being used.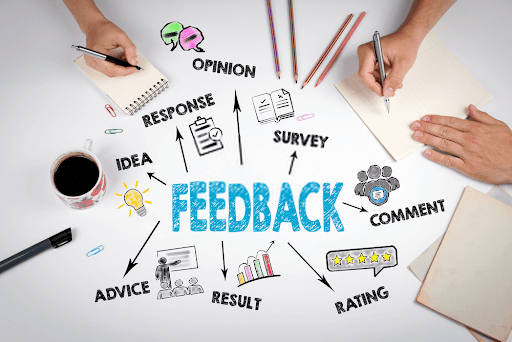 Types of Feedback
Customer Feedback
Customer feedback, sometimes called customer review is usually used by businesses to know what consumers think about the products they sell or services they offer. Businesses usually request for customer feedback after a customer has used their product or service.
It can either be requested through a brief interview or through a feedback form that may be sent to the customer immediately or after some time of them using the company's product or service. For example, a restaurant may verbally ask the customer what they think about the meal they just had or send them an online feedback form after they left the restaurant.
Some other examples of customer feedback request may be seen in;
A phone company sending a feedback form to a customer months after buying from them.
An organization asking a customer for their experience with the customer service.
A software company asking for an app review.
Employee/Workplace Feedback
These are constructive suggestions given to the employees by their reporting managers, supervisors and peers. However, it is not restricted to this alone but also comprises the suggestions that the employee would want to give to his/her manager, peers or the organization as a whole.
Employee feedback can be given by a current employee of a company, or by an employee as part of his or her exit survey. For example, an organization may want to know what employees think about the company culture and how it can be improved.
Some other causes include:
Peer performance evaluation of an employee.
Evaluation of an employee's contribution to a project.
Academic Feedback
This type of feedback involves giving students information about their performance against standard criteria. It is gathered from various sources including; academic grades, parents, lecturers, examiners, etc.
Academic feedback can also be given by students to the academic institution. This includes evaluating the course contents, teachers, school facilities, accommodation, etc.
Parents can also provide academic feedback to the institution through PTA meetings, parent consent forms, yearly feedback forms, etc.
Product Feedback
This feedback is given to manufacturers by consumers regarding a product or a certain feature of the product. It is valuable in providing insights into the target market and the product.
Product marketers can use product feedback to gain insight into what features are valued more than others. It can also help the company in making better decisions on the market to target and which product feature is okay.
Here are 17 online feedback form templates to collect adequate feedback for any situation
Customer Feedback Form Templates
A hotel feedback form allows customers to provide feedback about your hotel accommodation and services. Improve the standard of your hotel by taking suggestions from customers on how their experience was using your vote, and how you can serve them better.
For example, a hotel might have just installed a new virtual assistant in each room and require customer feedback on it.
This is a feedback form that can be assessed online through a link or QR Code. It can be used by any business with an online presence to collect feedback from its customers.
This feedback form can be shared through newsletters, social media, or embedded on a company website. With this online feedback form template from Formplus, you can gather useful information about your product, service, events, etc.
If you have just launched a new product, or would like to receive feedback on an old product in the market, then you should use this product evaluation form template. This form can be used by product marketers to get insights on how people view their product, whether it is loved by the consumers, in need of improvements, etc.
A software company who just added new features to its app may need to send a product evaluation form to its users to know whether they love or hate the new features
This satisfaction survey template makes it easy for restaurant owners or chefs to receive feedback from customers on the ambience of the environment, the taste of the food, service of the waiters, etc. This survey can be made easily accessible to customers immediately after eating by placing a scannable QR code on the table, a plate, or at strategic places in the restaurant.
This is done to improve the customer experience at the restaurant.
Use Formplus online complaint form template to receive customer complaints or employee feedback about your business and/or services. Make it easy for customers to send in their complaints whenever they are not satisfied with your product or service.
Employees can also send in their anonymous feedback or complaint regarding their view of the workplace.
5 Customer Feedback Question Examples
How would you rate our service?
Which of the following did you enjoy most from our menu?
Steak sauce
Tacos
Burger with fries
Smoked chicken wings
Italian soup
How long have you been using our product?
Less than 1 year
1 year
2 years
3 years+
Where did you hear about us?
Facebook
Instagram
Twitter
LinkedIn
Other _____
How often do you use our app?
Few hours daily
Once a week
Once a month
Few times a year
Employee Feedback Form Templates
Get regular feedback on employee performance from managers with the annual employee review form. This form makes it easier to evaluate employee performance against some preset conditions while encouraging objectivity and eliminating biases.
Get all the required feedback on job performance with an annual employee review form template from Formplus.
Increase employee productivity and morale by collecting their feedback on the condition of the workplace. Implement every relevant suggestion made by the employees to make them happy and satisfied.
Get started with this easy to use employee satisfaction survey template by Formplus or create your preferred survey.
Allow co-workers and students who work together to assess the performance or attitude to the work of their peers. The best set of people to conduct peer review are the people who have previously worked together with an employee, minus his/her superior.
Get started with the peer evaluation form using this Formplus template.
Employees who are exiting the company should give feedback about how employees are treated in the company. Companies should perform an exit interview for their former employees to receive company feedback and know the reason why the employee is leaving.
Employees leave a company for different reasons, but if the reason for an employee exit has to deal with terrible company culture, them employees need to work on it.
Make it easy for employees to report cases of sexual harassment by superiors, subordinates or coworkers in the organization with a workplace harassment form. Reports should be taken seriously and the culprit should be punished by the organization and also handed over to the authorities for further investigations.
There should also be proper investigation of harassment reports to ensure that the accuser is not laying a false accusation.
Evaluate a prospective employee after an interview with an interview evaluation form. This form makes it easy to assess an interviewee and decide whether they are a good fit for the job.
Use this interview evaluation form template from Formplus or create yours here.
5 Employee Feedback Question Examples
Employee Name _____
Department _____
How long have you been working at our company?_____
How satisfied are you with your career growth in the past 2 years? _____
Have you ever faced any situation of sexual harassment in the office?
Academic Feedback Form Templates
Get feedback from students on whether they are satisfied with their teachers, available resources, accommodation, etc. Use the suggestions gathered through this feedback to create a better learning environment and improve student satisfaction
This student satisfaction survey template from Formplus can be used by academic institutions.
Evaluate teacher's skills, manner of teaching and interaction with students through teacher evaluation. Teachers can be evaluated by the students and also superiors who will assess a teacher's knowledge of the course or subject to the taken.
The students will be the ones to evaluate things like the manner of teaching, interaction with students and punctuality.
Receive permission from parents before taking the children out on excursions, field trips, etc.with the parental consent form template. This form should contain a question that asks parents who are refusing to give their consent to state their reason.
The reason may be because the last school trip was bad and they won't allow their children to go again. Schools should pay attention to these reasons and work on improvement.
Collect feedback from students regarding their courses with this course evaluation form. Academic institutions can evaluate student's adaptability to the course contents and make amends where needed.
If students are having difficulty with understanding a particular course, the course content can be further broken down, maybe taught through an alternative approach, or removed completely.
5 Academic Feedback Question Examples
Are you okay with the course outline for this session?
Level of study _____
Course of study _____
How many credit units are you offering this year?_____
How would you rate your class with Professor Martin?
Event Feedback Form Templates
This feedback form is great for event organizers to gain important information or gather insights into what happened at an event and how it can be improved in the future. Event satisfaction surveys allow event attendees the opportunity to give their feedback on how the event went and the improvements which are to be made.
This form is used by Companies after an employee training session. The company can assess the trainer and training company through the training evaluation form.
Training companies who perform general training can also use this form to evaluate the course outline, trainee's understanding of the course, the lecturer's delivery, etc. Get yours from Formplus today.
5 Event Feedback Form Question Examples
What do you think about the event venue?
Good
Okay
Bad
Was the VIP ticket affordable?
Yes
No
How was the food?
Perfect
Not bad
Terrible
Were the panel sessions up to standard?
Yes
No
How was the restroom?
Very clean
Manageable
Terrible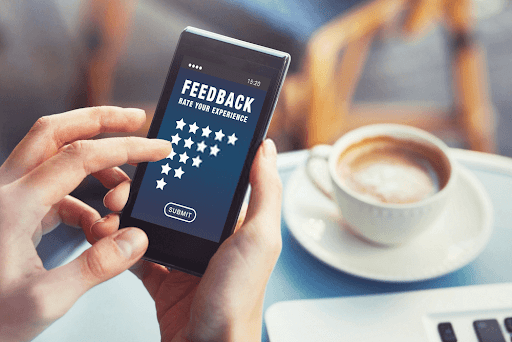 How to Collect Online Feedback From Customers
You can collect feedback from customers about your product or service through an email sent directly to their inbox. This can be sent together with newsletters or sent as a standalone message.
This makes it easy for customers to fill the feedback form anytime they like. With Formplus, customers can also save and continue later with a link sent to their mailbox.
Embed form link on your website
Embedding form link on your website makes it easy for customers to access. For example, customers who paid for their TV subscription online should be shown a link to the customer feedback form.
This form will ask questions like how easy and fast it was using the company's website or mobile app to pay for their subscription.
Share Feedback Form Link on Social Media
Practically everyone is on social media these days, and adding the link to your social media bio, making it a pinned tweet on your profile or sharing it on your pages is a very great way to get feedback from customers. This may not be the best option for businesses whose target market is not on social media, but it is a great feedback collection method.
Convert to QR Code and Print on Shirts & Banners
The forms can be made accessible on the go through a QR code that can be printed on shirts and other promotional materials. These materials may be shared with customers during an event, or together with the product purchased from the company.
It is common for product marketers to launch campaigns that are centred around this. For example, a company may launch a marketing campaign where people wearing shirts with the QR code will be stationed at strategic places.
Customers will then be challenged to find them, scan the QR code and fill the resulting form for a reward.
Text messages are a perfect way of collecting feedback from customers who are not online. The Formplus offline data collection tool allows companies to collect data from customers without access to the internet connection.
They get to respond to questions through a real time chat feature. The questions will be responded to through exchanging text messages.
Conclusion
Feedback forms are one of the most effective methods of receiving feedback from customers regarding a product sold or service rendered by a business. These forms make it easy for customers to provide businesses with their experiences, criticism, and suggestions.
There are different feedback form templates available on Formplus. These forms are not restricted to just customer feedback, as they include other feedback form types like; employee feedback, product feedback, and academic feedback.
Formplus feedback templates are user-friendly, with a simple design that can be easily customized by users.